2019 BMW 330i xDrive sedan: Small-car luxury that makes your day a breeze
Sometimes you want AND need a luxury car, but you have no valet and you really can't justify another car where the sticker comes in at more than your entire medical school tuition back in the 1990s. If this is you, take a look at this year's BMW 330i, the luxury small car that U.S. News & World Report calls "a driver's car" because of its sporty engine and handling.
Assuming you didn't go to the fictional Baby Doc medical school, as featured in the Doonesbury comic strips, the 2019 BMW 330i starts at $40,250, and that's cheaper that what you would now be paying for your child's tuition at any number of college's where Lori Laughlin or Felicity Huffman want their children to attend.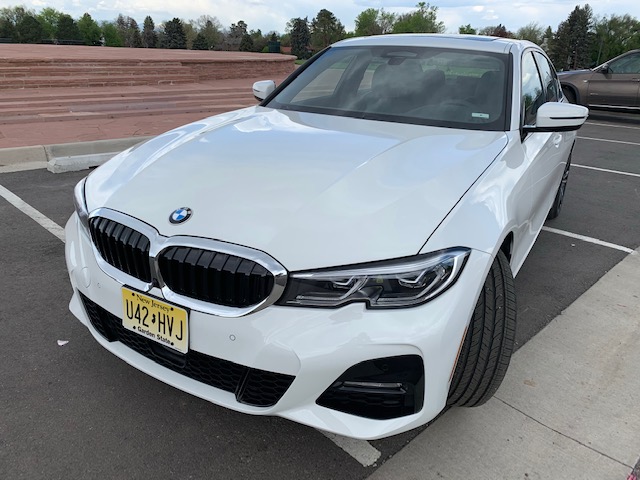 The base engine on the newly redesigned 2019 model is a 2.0-liter inline-4 offering 255 horses – and it really does kick arse everywhere you go.  Added with superior handling, you will feel the power and the luxury of Bavarian Motor Works and your hands, your feet, and your arse.
It's a roomy car, to be sure. There is a lot of trunk space for being a 'small car', giving you a total of 17 cubic feet.  For all you world travelers, packing all those Value-Added Tax items in the boot is always a concern, and the 330i takes care of that concern nicely. Add that on top of very comfortable, roomy seats for passengers of all sizes and shapes (to include big gals like me), and the 330i starts becoming a 'practical' car – and for some, once a luxury car starts taking on an aireof practicality, it can start losing its luster …. so don't tell your friends at country club how you also use your Beamer to go to Costco.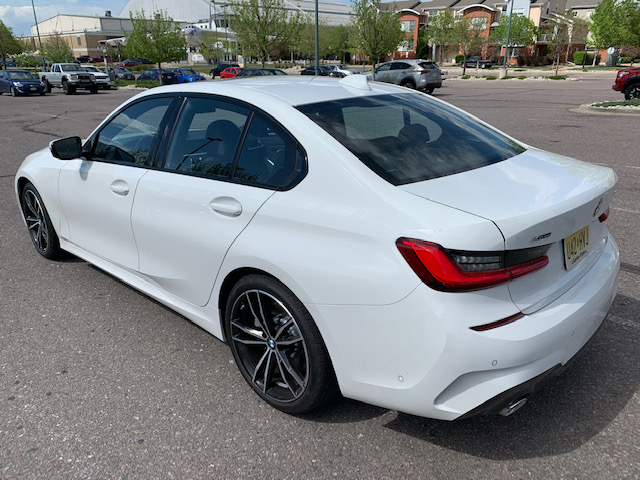 You can get the 330i as sedan, a sports wagon, a Grand Turismo, or just about any combo meal you want. I tested the xDrive sedan and what a blast that was. The final sticker on that was $57,420 with combined mileage of 28 mpg, but if you are seriously considering this car, you don't care about those details.  For those who are keeping track, however, mileage on the base 330i is 26 city / 36 highway.
I will admit, the technology was not terribly intuitive, or maybe I really am an old fossil when it comes to programming my car's onboard computer. I found myself having to navigate a number of screens repeatedly just to go from the music on my iPhone to satellite radio to climate control, and then if I needed to programme in an address, well, I really had to pay attention, often backing up and starting over. There must be a simple logic in there somewhere and perhaps I did not take enough time to learn it.  Thus, caution is advised, so take your time, as always.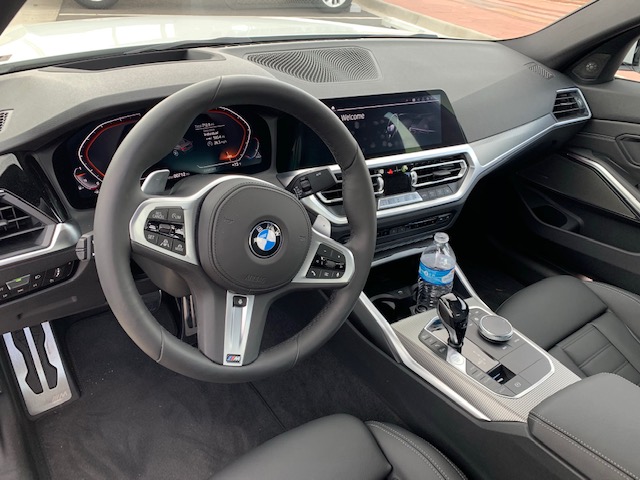 I will also admit that I'm still not sure what to make of the concept of 'small car luxury'.  I mean, shouldn't luxury be big and pretentious? If you are going to grand, shouldn't it be big and obnoxious and not have any hint of practicality?
I guess even hard times have hit the rich, the fabulous – and those who can afford a BMW.