2019 Lexus GX460: Your Midsized SUV / Powerhouse / Truck with a good dose of elegance
This is the car you buy if you like to off-road, like it a little rough and are not all that into being pampered but do like the finer touches that Lexus brings to the table – and to the road.
The GX is part of the second generation of this midsize family of SUVs that has a third row of seats (in name) and it is a reliable car indeed. It's a big car, to be sure, even though there are bigger Lexuses, like the LX, so please use caution when trying to park it a crowded Pride event. Luxury abounds inside but this is no rolling living room. It's more like a working man's garage where you can sit in it, enjoy all your tools, grab something cool to drink and relax in it all day long and just enjoy your manliness, with or without a fan cooling your manly parts.
I tested the GX 460 Luxury trim (GX is the model, 460 is the trim), which comes with a 4.8-liter V8 32-valve DOHC engine that offers 301 horsepower and 329 pound-feet of torque. That's a lot of power, and if you do like to go off-road, that will come in handy. Over hill, over Dale or whomever you may be dating, the GX can take it.
Starting at $52,505 (which, yes, is a lot of money), the GX comes in for less money than the LX and can accomplish a lot more if you plan on making it a workhorse.  The exterior colors are fairly basic: black, white, gray, dark blue and I think a few others that are easy to accessorize.  Well, those aren't the listed or advertised colors, but you can't get any really gay bright colors, inside or out, and I suspect if you are driving the GX, that's not your style.  If your tone and style is understated, the GX fits the bill.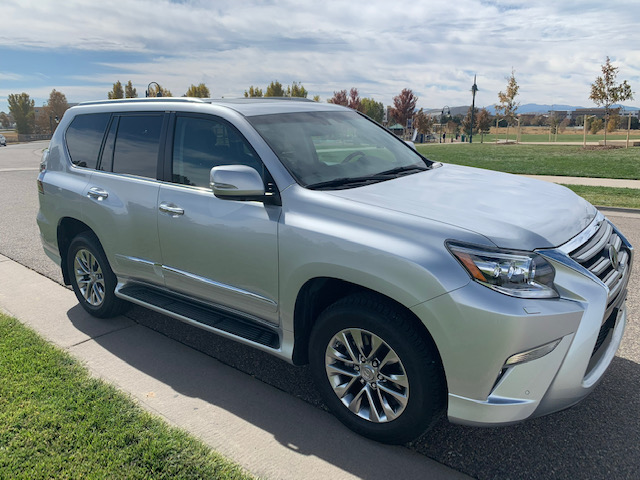 This is a good-looking car, to be sure. You'll sit tall in it and visibility all the way around is great, so that means you can see everything you are about to run over, intentionally or otherwise. There is plenty of room for your big friends who also sit tall in the saddle, and that's a nice thing to have when none of your pals can be called 'Tiny' with any sincerity.
Maneuverability around town was relatively easy, and opening up on the highway was even more of a joy. Using the technology was very easy, as almost everything was buttons or something simple that I could figure out without having to text my nephew and ask for help.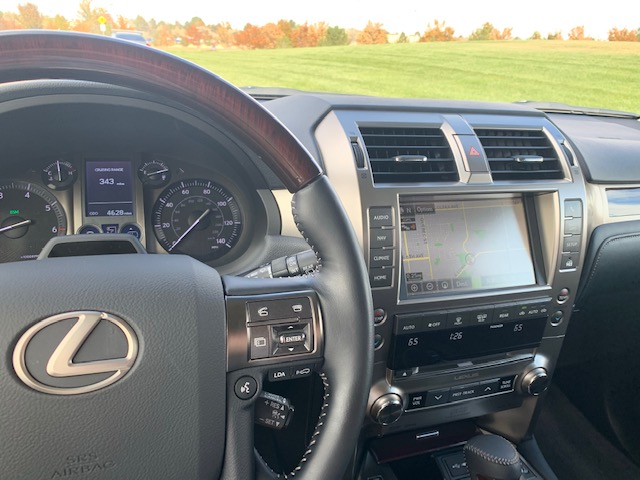 Mileage, however, does take a bit of a hit. An average of 16 miles per gallon is the norm. This is, after all a V8 engine with a curb weight of over 2.5 tons. It's big and beautiful, but it does like to drink, so caution is advised.
If you are a Lexus fan, I would also check out the RX line which is indeed a bit smaller and perhaps a bit more snug but it comes in almost $10K US cheaper and may be more in line with what you need, especially if your dwelling does not include off-street parking.
These days, it's still a challenge being gay and fabulous. It's even tougher trying to do it on a budget.
The 2019 Lexus GX just may be right in that sweet spot.