48 hours in London, a DIY royal tour
The British Royal family has captured the world's imagination for centuries, and in more recent times, the likes of TV drama The Crown, and the recent death of Queen Elizabeth II have endeared new generations to the royals.
With the ascension of King Charles to the throne of England, and all eyes on Harry, Meghan, William and Kate, the world is becoming more curious about what makes Britain's royal family special. So why not plan your own royal tour of Britain and explore the locations we're surely likely to hear and see more of as a new era begins?
We have devised a quick 48-hour itinerary for you.
CHECK IN:
In London's affluent Belgravia neighborhood, where Buckingham Palace is located, you will also find The Goring hotel, where the Duchess of Cambridge spent the night before her wedding to Prince William in 2011. The luxury hotel, built in 1910 by visionary Otto Goring, is said to be the last grand hotel of the Edwardian era with one of London's largest private gardens. Goring also equipped the hotel with some alleged world firsts – en-suite bathrooms and central heating in every single room.
DAY ONE:
09:30 VISIT WINDSOR CASTLE
Catch a train from Paddington to Windsor Castle, the oldest and largest inhabited castle in the world. Get there in time to see the Changing of the Guard, which happens on Tuesday, Thursday and Saturday each week. Save time and buy your Windsor Castle tickets in advance.
Home to the monarchy since William the Conqueror discovered it in the 11th century, today it was Queen Elizabeth II's weekend home.
On 19 May 2018, the castle was the setting for the wedding between Prince Harry and Meghan Markle; some 900 years after Henry I became the first royal to marry here. You can also pay your respects to the late Queen at the King George VI Memorial Chapel, which is part of St George's Chapel at Windsor Castle. The chapel was commissioned by Queen Elizabeth II in 1962 as a burial place for her father, King George VI, and was completed in 1969. St George's Chapel is the final resting place of ten monarchs including King Henry VIII alongside his third wife Jane Seymour.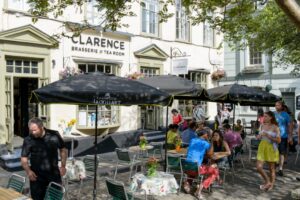 11.30 LUNCH LIKE A BRIT
Grab a re-entry permit from the castle shops and head into town for a spot of lunch, or book afternoon tea at the Clarence Brasserie and Tea Room, a few minutes from Windsor Castle.
13:30 GOD SAVE THE QUEEN, WE MEAN KING
Back in London, make a beeline for Buckingham Palace. For ten weeks in the summer and selected dates afterwards, the state rooms of Queen Elizabeth II's official residence (now King Charles's)  are open to the public, so take advantage to see the striking Throne Room, the Grand Staircase, and paintings by Vermeer, Rembrandt and others.
15:30 OFF WITH YOUR HEAD
The next stop on your royal tour will delight your inner magpie as you head to the Tower of London to see the world-famous Crown Jewels, a collection of 23,578 gemstones still used in ceremonies today — and always under armed guard.
Not all that glitters is gold though; this infamous former prison has held many famous guests, such as Guy Fawkes, Princess Elizabeth (to-be Queen Elizabeth I, daughter of Henry VIII and Anne Boleyn) and was the site of execution for three of King Henry VIII's six wives.
20:00 DINE LIKE ROYALTY
After freshening up at your hotel, dine at celebrity favorite Beach Blanket Babylon in Notting Hill where Prince Harry, Meghan Markle, and the Duke and Duchess of Cambridge are all said to have partied in a private room.
DAY TWO:
10:00 BE A-MAZED
Catch a train from Waterloo to Hampton Court Palace, one of King Henry VIII's former palaces. It's home to an exquisite recreation of his crown, and other attractions such as the world-famous maze commissioned by King William III in around 1700.
You can enjoy a themed tour, Tudor cookery display and, of course, the maze, as part of your Hampton Court Palace ticket. Be sure to refuel at one of the Palace's three cafés before you head back into central London.
13:00 TOUR THE PALACES
Although not open to the public, St James's Palace — King Henry VIII's former residence in Westminster – is still a working royal residence, hosting charity receptions and state visits. As such, you can't explore inside, but the beautiful architecture can be admired from outside.
Next, head to Clarence House, attached to St James's Palace on The Mall, and the official residence of the Prince of Wales and Duchess of Cornwall. Admire the architecture and gardens of this stunning townhouse, which opens to the public every August.
Kensington Palace is probably the most exciting to visit, as it remains home to so many royals. The official residence for the Duke and Duchess of Cambridge and their children, it was also Princess Margaret's former home and the birthplace and childhood home of Queen Victoria.
Wander through the Palace Gardens and enjoy the fascinating Sunken Garden, a secluded oasis planted in 1908.
HOW TO GET HERE:
Getting to Windsor Castle: Windsor and Eton Central station is approximately 30 minutes from London Paddington station, then it is a short taxi ride to the castle.
Getting to Hampton Court: Hampton Court train station is a ten-minute walk from the Palace and is served by London Waterloo, with stops at several London stations en route.
TOP TIP:
The Three Palaces Royal Pass includes admission to the Tower of London, Kensington Palace and Hampton Court Palace, saving 5% to 10% off individual adult and child tickets, and allowing visitors to skip the queues at each attraction.