A queer retelling of Shakespeare's As You Like It in Brooklyn
Brooklyn's Smith Street Stage, committed to presenting Shakespeare's classic stories in new and accessible ways, returns to Carroll Park for their annual free! outdoor Shakespeare performances with a captivating new production of As You Like It, June 7 – 25.
Things are not going well. After a bitter and hostile new regime takes over The Court, best friends Rosalind and Celia decide their only option is to escape the corrupting influence of wealth and power by heading to Arden, a neighboring community filled with the exciting possibility of love, family, and connection. There, they encounter fools, lovers, friends, exiles, philosophers, and musicians—and undertake a journey of self-discovery longer than the subway ride they took to get there.
While Shakespeare's 1599 romantic comedy offers a series of mistaken identities, witty banter and humorous situations that explore themes of love, self-discovery, and the transformative power of nature in the Forest of Arden, Smith Street Stage's As You Like It is set in modern-day New York City, bringing a fresh queer perspective to a timeless comedy.
Tobias Wong's fusion of original rootsy, newgrass music creates a relatable backdrop of New York City, juxtaposing the ambitious and binary world of finance and politics as represented by the Court, with the liberated, queer-affirming, and community-oriented atmosphere of Arden, an outer borough enclave. This immersive and site-specific experience offers representation for some spectators and a unique blend of intellect and entertainment for theater enthusiasts of all ages.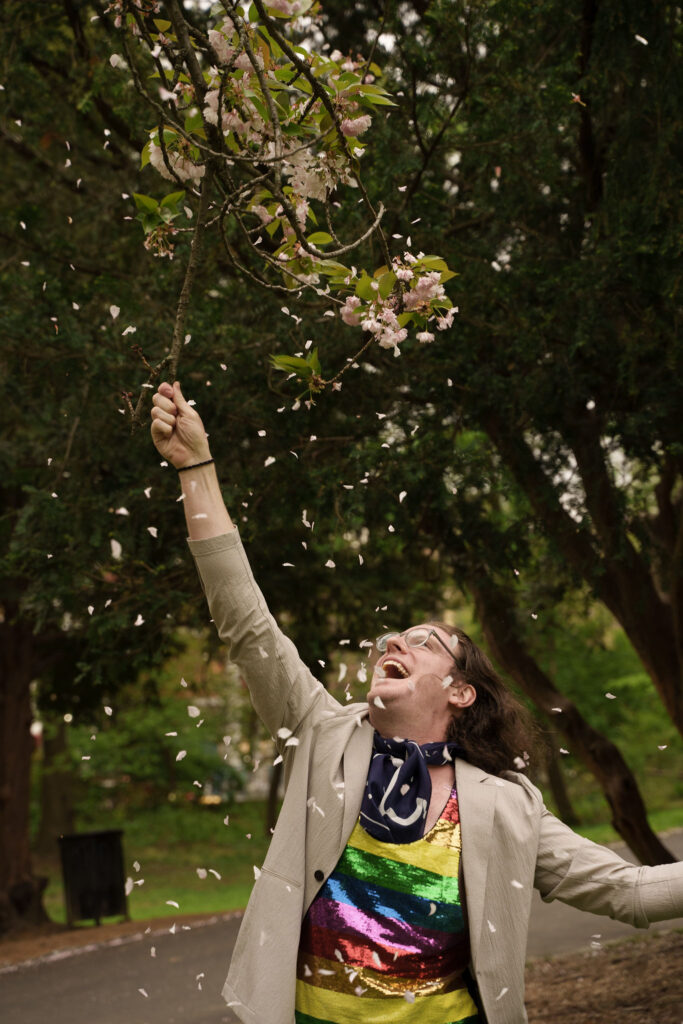 The work follows a diverse cast of characters on a journey of self-discovery, challenging the traditional heteronormative relationships often seen in Shakespearean gender-bent productions. It presents love as a connection between individuals, transcending prescribed gender identities and physical bodies. Presented during New York City's Pride Month and in a time of heightened concern for the LGBTQIA+ community, the production advocates compassion and support while exploring themes of displacement, identity, mental health, and forgiveness, inviting viewers to delve into these themes with empathy and understanding. In this retelling, Rosalind goes beyond shifting from one gender or persona to another; she embraces shedding a binary identity and celebrates her true self, adding depth and complexity to the humor for which As You Like It is known.
"Every summer, we challenge ourselves to make something great, and to invite our audience to find a reason to love Shakespeare as much as we do," explains Smith Street Stage's Artistic Director Jonathan Hopkins. "We believe that classical texts are not elitist, and our productions aim to make them deeply meaningful and widely accessible, and with our production of As You Like It, we invite our audience to witness characters who reflect their own experiences, depicting universal themes of love, family, and finding one's place in the world," he continues.
"A queer love story- and maybe more than one- blossoms in this production, as it does in Shakespeare's play," adds Director Katie Willmorth. "I wanted to create an Arden where that love could blossom without fear or judgement from the outside world. Our version of Arden is a world where people are believed when they say who they are and are free to pursue true love on their own terms. As You Like It is a play about people slowly making their way toward living life fully as themselves, which is a journey that is often funny, sometimes challenging, and ultimately joyful and rewarding."
Smith Street Stage presents As You Like It every Thursday, Friday, Saturday and Sunday evening at 7:30 p.m., June 9-25. Preview performances will be held June 7 and 8.
A limited amount of seating will be provided, and guests are encouraged to bring chairs or blankets to set up near the stage. No reservations are required, and admission is FREE.
VENUE DETAILS:
Carroll Park is located at Court Street and Smith Street, between Carroll Street and President Street in the Carroll Gardens neighborhood of Brooklyn and accessible by F/G trains to Carroll Street, the A, C, F, R trains to Jay Street Metro-tech, or the 2, 3, 4, 5 to Borough Hall.
REPERTORY NOTES:
As You Like It (1599)
Written by William Shakespeare
Directed by Katie Willmorth
Assistant Directed by Toni Kwadzogah
Dramaturgy by Rachel Towne
Composed by Tobias Wong
Costumes by Stephanie Echevarria
Stage Management by Aryn Geier
Set/Prop Design by Ezekiel Clare
Lighting by Wheeler Moon
Intimacy Direction by Shaun Bennet Fauntleroy
Fight Direction by Jose Maria Aguila
Run time: 105 minutes
Smith Street Stage's outdoor Shakespeare performances have become a beloved tradition, attracting a diverse audience from across the city. The company's commitment to affordable and consequential theater arts has made them a vital cultural institution in the Brooklyn community.