A warm invitation from Florida's Paradise Coast
Explore Florida's Paradise Coast with our travel guide for first-time LGBTQ+ travelers visiting Naples, Marco Island, and the Everglades for the first time.
LGBTQ+ travelers are known to travel to the East Coast of South Florida, which includes Fort Lauderdale and Miami, but what you may not know is that on the opposite coast, Florida's Paradise Coast, which includes Naples, Marco Island, and the Everglades, is LGBTQ+ welcoming, too! 
Florida's Paradise Coast is a safe, friendly destination, known for its luxe appeal, high-end shopping, world-class golf courses, fine dining, arts, and culture. 
NAPLES
Things to Do in Naples
Now that you have some idea of how welcoming the area is to the LGBTQ+ community, let's talk about the major travel destinations in the area. Let's start with Naples! In addition to taking in the city's vibrant, inclusive nightlife, LGBTQ+ visitors are known to eat, drink, and play at a variety of fun places in Naples, including The Mercato, Village on Venetian Bay, The Waterside Shops, 5th Ave South, Third Street South, Tin City, and Bayfront.
In October 2020, the Naples Pride Center opened to provide support groups, a walk-in clinic, and community events throughout the year, such as a Halloween Party, Backyard BBQ, and Movie Night. The organization's website also has an alliance page that lists more than 60 businesses affiliated with the Pride Center, including hotels, restaurants, and attractions. In addition to the Center, the local LGBTQ+ community also has its annual Naples Pride Fest, usually scheduled in June in Cambier Park. 
Bambusa Bar and Grill is the only LGBTQ+-owned and inclusive neighborhood bar in Naples for LGBTQ+ nightlife. Go for Drag Queen Bingo on Thursdays and Fridays and Drag Shows and dancing on Saturdays! On the menu, the fresh handmade pasta, the grouper sandwiches, and the grouper tacos are local favorites! Located on Naples Bay, LGBTQ+-owned Celebration Park Naples is the place to be if you enjoy a laid-back atmosphere with various food trucks and an open-air bar.

For a club vibe head over to Cavo Lounge for dancing, DJs, and the recently renewed once-a-month Drag Brunch.  At a higher price point, you can check out a themed brunch at Bistro 821 or the highly-recommended LGBTQ+ Owned Bha! Bha! Persian Bistro, which has received high accolades from Passport Magazine and The New York Times. Located in the city's Bayshore Arts District, the LGBTQ+-owned, sustainable spot Three60 Market and Wine Bar is known for its organic plates and its homemade sauces and jams. 
Afterward, you might want to check out Off the Hook Comedy Club, which hosts the Stand Up Dragged Down Show once a month! If you enjoy performing arts and theater, there's no shortage of that in Naples. Catch a touring Broadway show at Artis-Naples or check out other plays and performances at Theatre Zones, Gulfshore Playhouse, and the Naples Players at Sugden Community Theatre.  From the city's history to local indigenous culture, the museums here provide a wealth of knowledge worth checking out at the Immokalee Pioneer Museum and The Collier Museum at Government Center.

Where to Stay in Naples
Naples is currently home to four major beach resorts. The LaPlaya Beach & Golf Resort, Naples Grande Beach Resort, The Ritz-Carlton Naples, and the Edgewater Beach Hotel. Naples Grande Beach Resort is located in Clam Pass Park and is the only TAG Approved property in Naples, and offers an inclusive getaway full of nature, leisure activities, and incredible nearby sights.  
The Ritz-Carlton Naples is currently under renovation and is adding 92 luxury suites as well as 57 standard luxury suites set to re-open mid-2023.  The LaPlaya Beach & Golf Resort, Naples – scheduled to re-open later this year – is a AAA 4 Diamond Award recipient, Diner's Choice Winner, Pinnacle Award recipient, and named Best Golf Course by the World Golf Awards. It is also the No. 1 Most Romantic Hotel in Naples, according to USA Today and Gold Choice) Top 10% of Best Hotels in the Country) by U.S. News Reports.  The Edgewater Beach Hotel in Naples offers luxurious, all-suite accommodations for visitors of the Gulf coast.  So, visitors have their pick of luxury accommodations to stay when visiting Naples. 


MARCO ISLAND
Things to Do on Marco Island
Located a 30-minute drive from Naples, Marco Island is the perfect destination to enjoy jet skiing, paddle boarding, parasailing, and banana boat tours. All of these activities can be arranged through Marco Island Water Sports, which has two locations: one on Marco Island between the Marriott and Hilton resorts and also in Naples on the beach near the Ritz Carlton. And trikes, bikes, and Segways are just a few ways to get around the island and explore. 
On Marco Island, you can find a few destinations and venues that offer good restaurants and nightlife, such as the Esplanade & Marco Walk Plaza and the Shoppes of Old Marco. For art and theater aficionados, you should consider adding the Marco Island Center for the Arts to your trip itinerary. And to find out more about the local history including background info about the Calusa Indians – a trip to the Marco Island Historical Museum is recommended.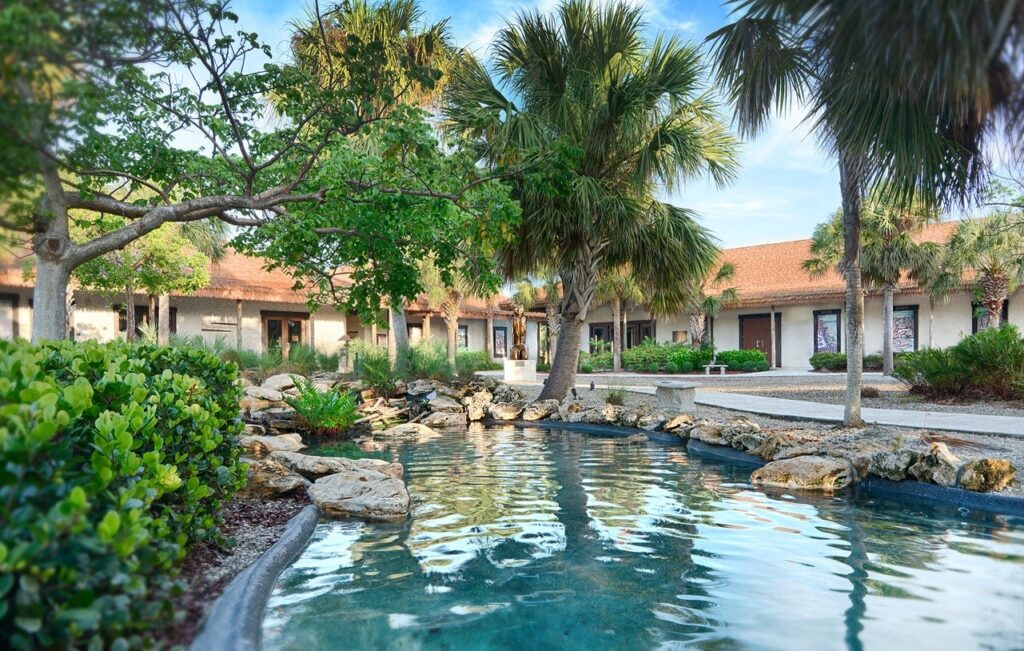 Where to Stay on Marco Island
On Marco Island, there are two major beach resorts. The Hilton Marco Island Beach Resort has a wide range of watersports and sightseeing tours to enjoy. Guests will enjoy their onsite amenities including the waterfront bar, restaurant, coffee shop, and roving cart for beachside drinks and snacks. The JW Marriot Marco Island Beach Resort is the largest resort among the large resorts in Collier County with 875 rooms and four pools. Breakfasts and happy hours are included. 


EVERGLADES CITY & THE EVERGLADES
Things to Do in the Everglades
If you enjoy being outdoors and communing with nature, then you should consider visiting the Everglades, home to the Everglades National Park, a UNESCO World Heritage Site, an International Biosphere Reserve, and a Wetland of International Importance. And there are numerous things to see and do in the Everglades, too! Take sea kayaks to explore uninhabited islands, take a photography tour with Florida Naturalists to learn about the local ecosystem, or take a pole boat tour with 5th-generation Everglades men and learn about the local heritage and culture. There are essentially two ways to tour the Everglades on Florida's Paradise Coast. One is relatively fast while the other is slower, but both are exhilarating in their own right. The fast approach is an airboat ride, which lasts between 30 to 45 minutes. The slower version is a swamp buggy tour, which can run from three to four hours.  Camping and fishing are other not-to-be-missed activities you should consider when visiting, too. 

The Everglades also has its share of quirky, but cool attractions, including the Smallwood Store/Museum, and also the smallest post office in the United States. If you enjoy black and white still photography, you should visit the Big Cypress Gallery to check out Clyde Butcher's incredible photography. And history buffs should make a stop at the Museum of the Everglades, where permanent and rotating exhibits provide visitors with an in-depth look at over 2,000 years of history in the area. 
After a day of sightseeing, you have a selection of restaurants to grab a good meal. Some recommended picks, include Camellia Street Grill, Havana Café, City Seafood, and Island Café.

Where to Stay in the Everglades
The Parkway Motel and Marina on Chokoloskee Island is the only LGBTQ+-owned property in Collier County, offering guest accommodations from standard motel rooms to the historic Smallwood cottage to a three-bedroom lodge. And yes, it's also a wedding destination for LGBTQ+ couples who want to tie the knot.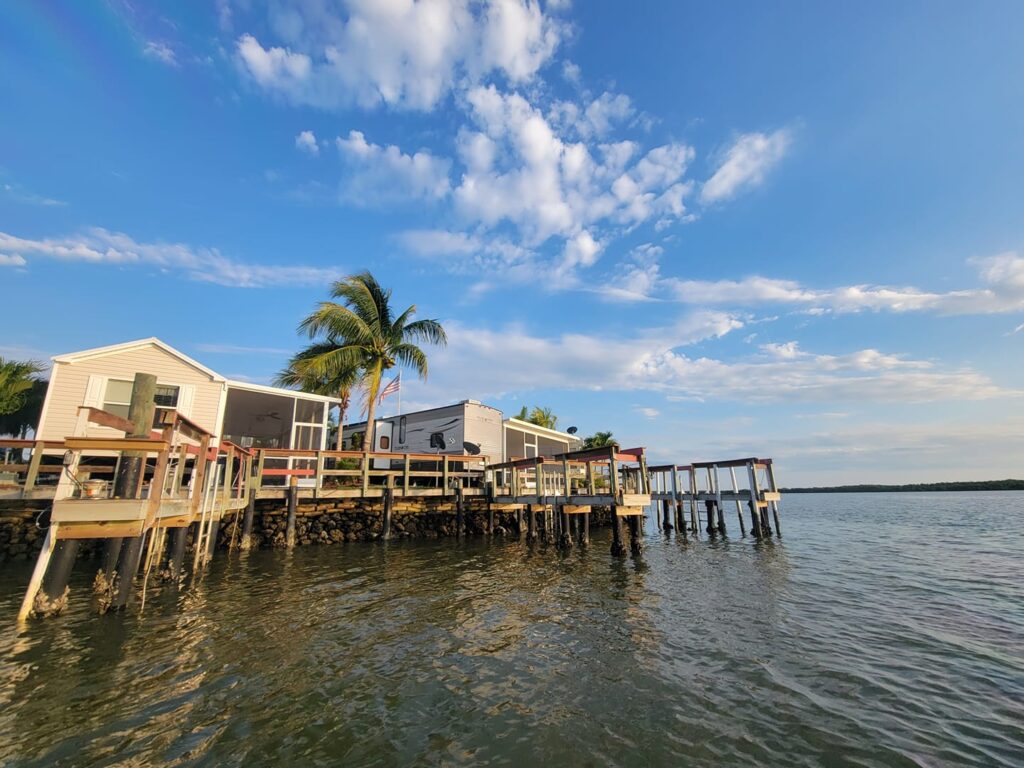 How to Get to Florida's Paradise Coast
You have a good sense of what there is to do and see on Florida's Paradise Coast; now, let's look at how to get there. In case you didn't know, Florida's Paradise Coast is located on the southwest gulf coast of the state, and it is also known as Collier County. Southwest Florida International Airport (RSW) is located in Fort Myers, which means it's a 30-minute drive from Naples and approximately 45 minutes from Marco Island. RSW Airport has nonstop service to 57 destinations – including San Francisco, Seattle, Milwaukee, and Montreal – and Eurowings Discover also has year-round nonstop service from Germany. 
Editor's Note: To push its stance to embrace diversity, the Naples, Marco Island, Everglades Convention and Visitors Bureau are proud members of the International LGBTQ+ Association (IGLTA) and the Naples Pride Business Alliance. In fact, Michelle Pirre has managed the LGBTQ+ Travel market for the CVB since 2017, has been recognized for her work with the community with awards such as the Naples Pride Ally of the Year Award in 2019. And most recently recognized at the New York Travel & Adventure Shows for Best LGBTQ Consortium.
Visit http://www.paradisecoast.com for more travel inspiration and travel ideas to help you plan your trip to Naples, Marco Island, and the Everglades – also known as Florida's Paradise Coast.