Gay romance Red, White & Royal Blue and its stars top IMDb chart
If you haven't already watched Red, White & Royal Blue on Amazon Prime Video, then you must add it to your watchlist ASAP.
Since its release, the film has dramatically spiked on IMDb's list of Most Popular Movies, and so have its two leading stars, both making 'Top 5' on the IMDbPro STARmeter chart.
According to IMDb's charts, the film currently sits at #4, as determined by IMDb users. What's more, up-and-coming actors Taylor Zakhar Perez and Nicholas Galitzine have surpassed some of the industry's most notable actors since the films release.
Taylor has risen over 1.2K spots, sitting at #2, above Barbie's Margot Robbie (#3). Nicholas has risen over 600 spots, sitting at #4, above leading stars, like No Hard Feelings' Jennifer Lawrence (#5) and Oppenheimer's Cillian Murphy (#6).
The STARmeter rankings chart the page views of the more than 200 million monthly visitors to IMDb worldwide, helping to determine the most popular titles and stars at any given time.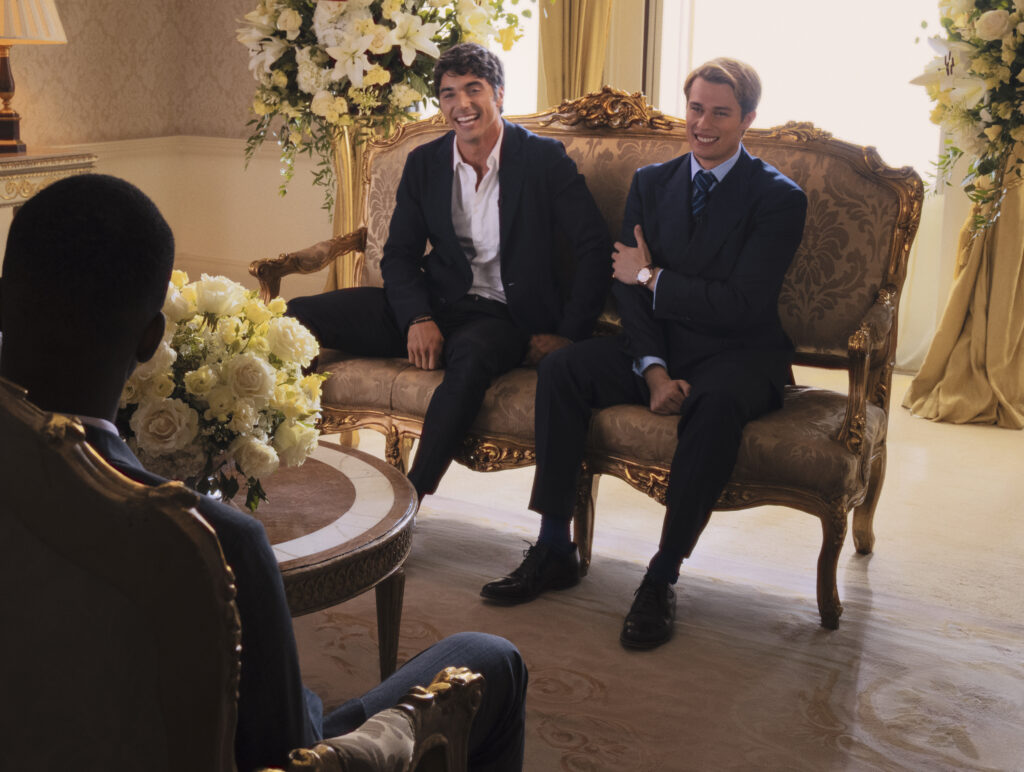 Red, White & Royal Blue, based on the New York Times best seller, premiered globally on Friday, August 11, exclusively on Prime.
It may just be the most feel-good gay romance we've ever seen! And it's certainly making history with its alternate universe/ripped-from-the-zeitgeist plot: Alex Claremont-Diaz (Taylor Zakhar Perez), the son of the President of the United States (Uma Thurman), and Britain's Prince Henry (Nicholas Galitzine) have a lot in common: Stunning good looks, undeniable charisma, international popularity … and a total disdain for each other.
Watch an exclusive clip from IMDb: HERE
Separated by an ocean, their long-running feud hasn't really been an issue, until a disastrous—and very public—altercation at a royal event becomes tabloid fodder, driving a potential wedge in U.S./British relations at the worst possible time. Going into damage-control mode, their families and handlers force the two rivals into a staged "truce." But as Alex and Henry's icy relationship unexpectedly begins to thaw into a tentative friendship, the friction that existed between them sparks something deeper than they ever expected…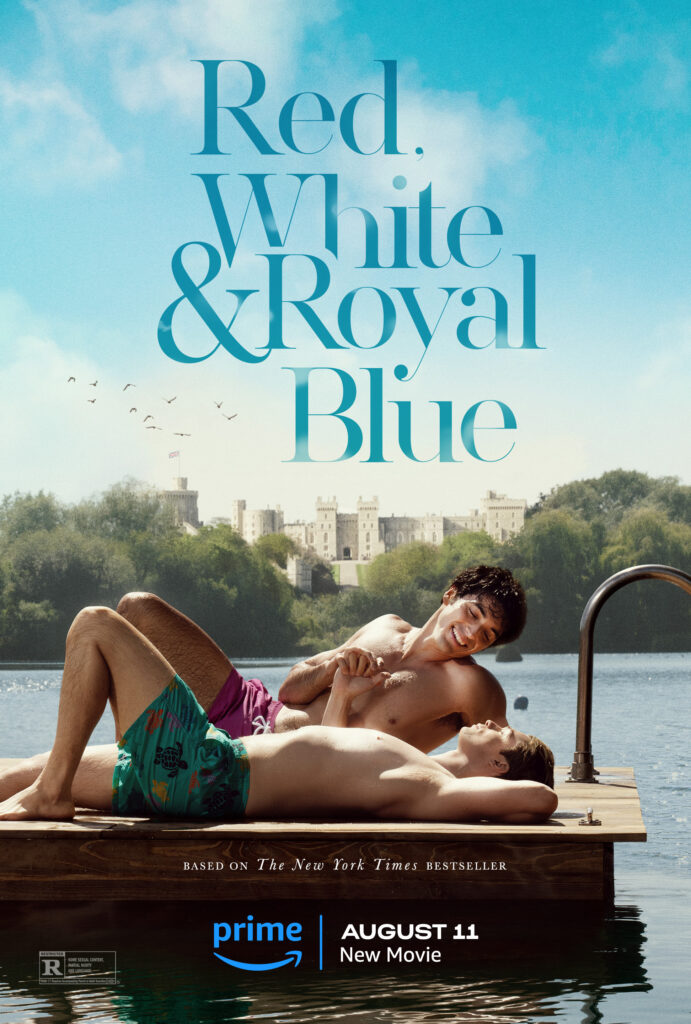 Based on Casey McQuiston's critically acclaimed New York Times best seller, Red, White & Royal Blue marks the feature film co-writing and directing debut of Tony Award-winning playwright Matthew López (The Inheritance).
It's a confident and slick film debut but it never leaves its sense of fun out of the picture while maintaining some heartfelt themes. These guys have it all but will they be allowed to have each other? The two male leads offer impossibly gorgeous eye candy as well as working as sincerely and radically romantic protagonists — coming from the keyboard of queer nonbinary author McQuiston. It's not often we get to see traditionally female romantic tropes mapped onto two male leads.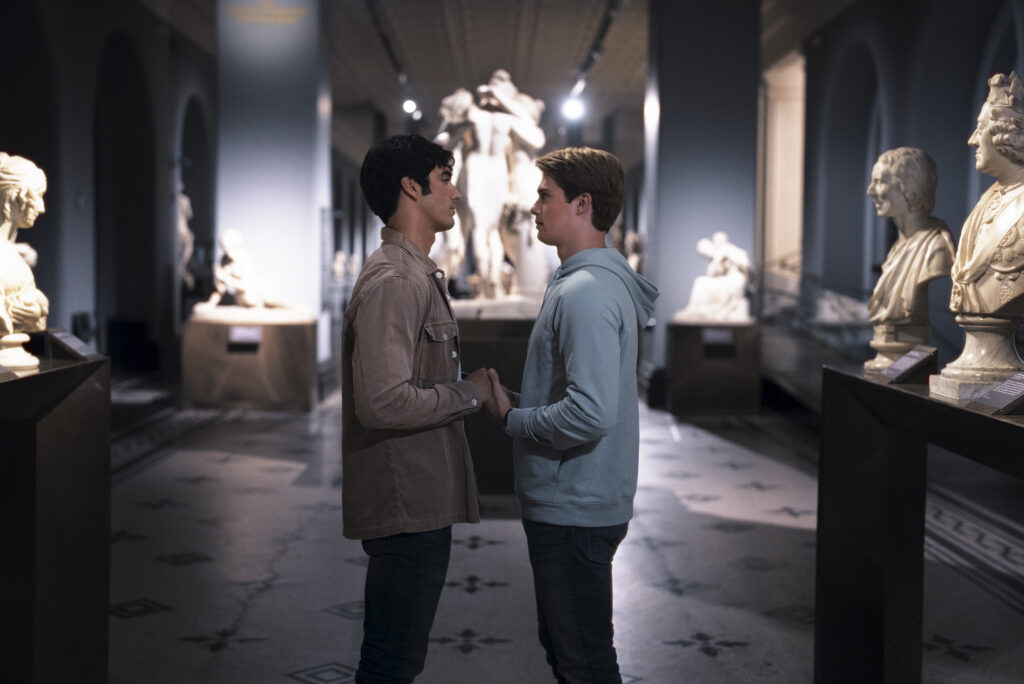 The film also has a lot of fun with the female characters: Thurman as the Prez; and Sarah Shahi (The L Word OG) as a very feisty and verbal White House handler (she has some of the movie's best lines).
Red, White & Royal Blue is romantic and a little bit raunchy, too—the eagle-eyed may just spy a condom wrapper and lube on the bedside table of a certain scene. But that doesn't means the kids can't watch this. They can. In the recent New York City press screening an audience mostly filled with very young women were screaming with delight and adoration. If you're a queer parent with a tween/teenage daughter or son, this might just be the best thing you will watch with them all year!
To prepare for the royal release, check out these clips from the film:
"Cakegate"
"Where Is She?"
"Press Interviews"