Allison Russell releases new single, announces Fall tour
Four-time Grammy-nominated singer, songwriter, poet, activist, and multi-instrumentalist Allison Russell has released her latest single, "Snakelife" from her recently announced new album, The Returner.
The song is a haunting meditation on transformation: "I used to dream, but now I write; I wield my words like spindles bright; To weave a world where every child Is safe and loved; And Black is beautiful and good."
The Returner was written and co-produced by Allison along with dim star (her partner JT Nero and Drew Lindsay) and was recorded over Solstice week in December 2022 at Henson Recording Studios in Los Angeles, CA. It features Russell's "Rainbow Coalition" ensemble: Elenna Canlas, Elizabeth Pupo-Walker, Ganessa James, Joy Clark, Kerenza Peacock, Larissa Maestro, Mandy Fer (Sway Wild), Megan Coleman, Meg McCormick , SistaStrings (Chauntee & Monique Ross) , Wendy & Lisa (Wendy Melvoin & Lisa Coleman aka The Revolution) and Wiktoria Bialic.
Since the release of her debut solo LP two years ago, Outside Child, Russell's often devastating, deeply moving, cathartic celebration of survivor's joy has become one of the most acclaimed albums of the past 10 years. Now comes the second chapter, The Returner, a body-shaking, mind-expanding, soulful expression of liberation, love, and self-respect that serves as a fierce declaration of joy for all survivors that have made it to the other side. Allison, JT, and Drew, built The Returner from the bottom up with a rhythm-first, genre-fluid approach. The improvisational energy of great female artists sparked the album's fierce joy, and provided a wider canvas for Allison's immense, unlimited talent. In all, the new album doesn't just deliver on the promise of the last two years, it exceeds all reasonable (and unreasonable) expectations and affirms Allison Russell's place among music's most vital artists⎯and The Returner, as one of 2023's most essential recordings.
The Returner will be released on September 8th, 2023, via Fantasy Records and is available for pre-order HERE.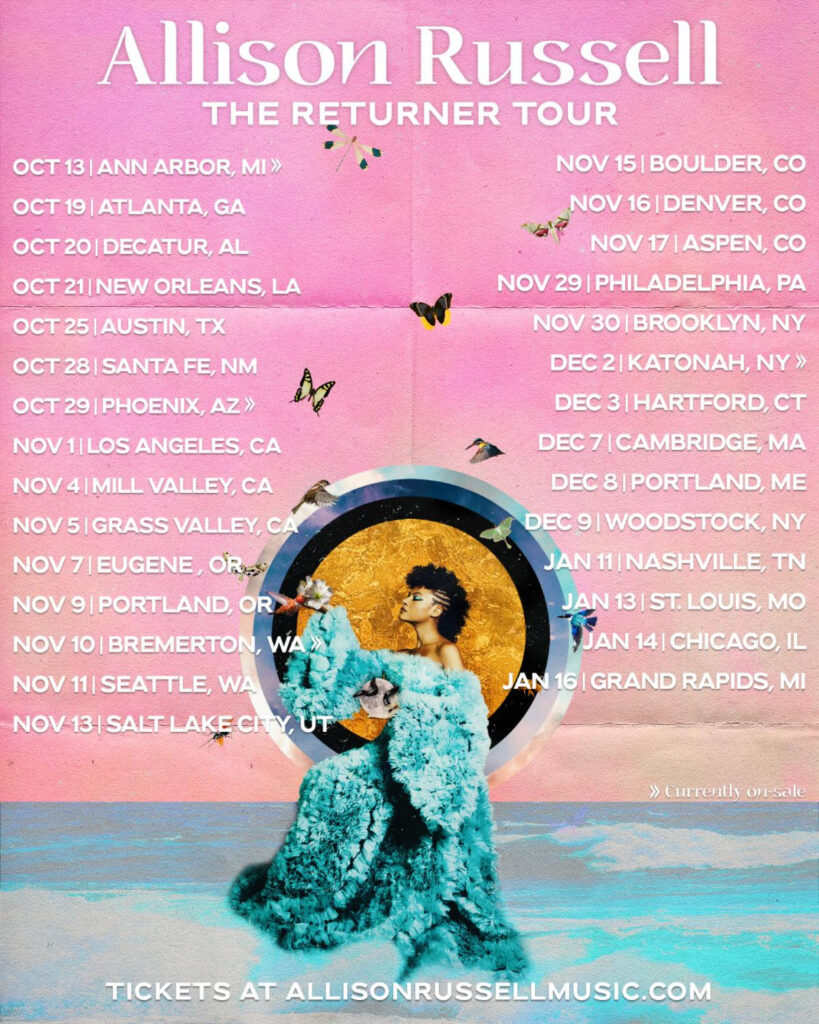 Russell also announced a major U.S. headlining tour. The shows kick off October 13th at The Ark in Ann Arbor, MI and wrap up in January of 2024. Highlights include The El Rey Theatre in Los Angeles on November 1st, Music Hall of Williamsburg in Brooklyn on November 30th and The Basement East in Russell's adopted hometown of Nashville on January 11th. Prior to the headlining dates she'll appear at Bristol Rhythm & Roots Festival, FreshGrass Festival, Farm Aid, XPoNential Music Festival and more. Tickets are now on sale HERE.