Annual Monumental Yard Sale Celebrates Unique Shopping in Provincetown
The mantra of a weekend in Provincetown has long been "sun, sand, shopping — and more shopping." The distinctive retail scene along Commercial Street, the main drag, is a quintessential part of the Provincetown experience.
Shopping in Ptown hits an all-time high during the annual Monumental Yard Sale Weekend, which will be held on Indigenous Peoples Weekend, October 10 – 12, 2020. Each year, town residents, as well as retail shops, participate in the unusual sale where visitors can find one-of-kind treasures lining the sidewalks and yards all over town. With about two and half months until the holiday season, this weekend outdoor shopping extravaganza is the ideal time to book a Provincetown getaway and start checking off the list.
The distinctive retail scene in Ptown, the leading LGBTQ+ getaway destination in the United States, is legendary and as vibrant and unexpected as the destination itself. In a welcome absence of chain stores, Commercial Street feels like an exotic bazaar, clustered with small boutiques curated by proud and independent owners. The emphasis is on unique, one-of-a-kind shops that offer handcrafted wares and ethically sourced items, with a premium on quality and creativity. 
Provincetown has shops like Boichick for "mocs, bois, womxn, lesbians, tomboys, NBs, queers, folx, and fluids." Politics come to the forefront at Adam's Nest which sells T-shirts and clothing supporting LGBTQ Pride, Planned Parenthood, Black Lives Matter and Gays Against Guns, among other causes. Coffey Men Shore Leave is for stylish casual wear that is designed by owner Scott Coffey and made in the shop.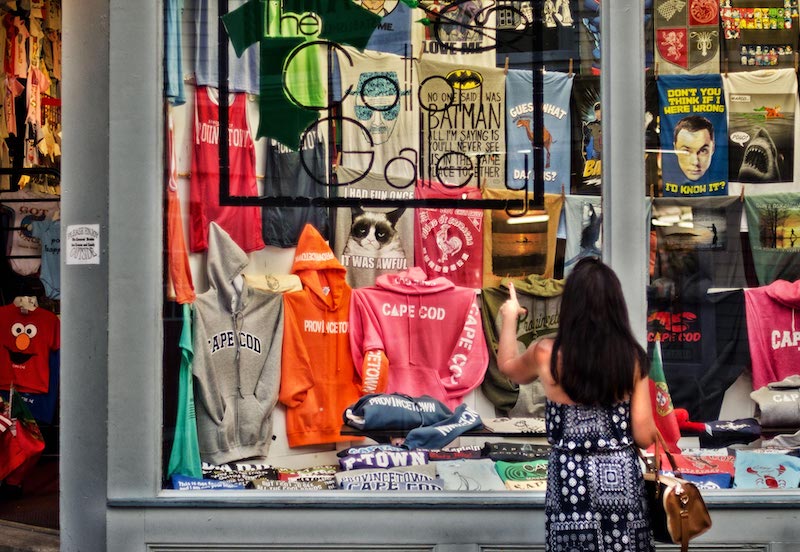 If all you get from Provincetown is a T-shirt, that's a good thing. Ptown does T-shirt shops like no other place and has shops like Mate and D. Flax that offer original designs with statements in keeping with the Ptown vibe. Tim-Scapes has strong and unusual graphic designs on their T-shirts, as does Hook Provincetown.
Design and décor shops are among the standouts, not surprising given the number of fashion designers and interior decorators who call Provincetown their summer home. Arcadia, which originated in Manhattan's Chelsea neighborhood, has men's and women's jewelry, along with a range of ethically sourced and sustainably made goods. John Derian, the namesake shop of the NY designer and Provincetown resident, is a standout for decoupage, Penkridge Porcelain, 18th century pickling jars and printed papers and fabrics from Antoinette Poisson in Paris.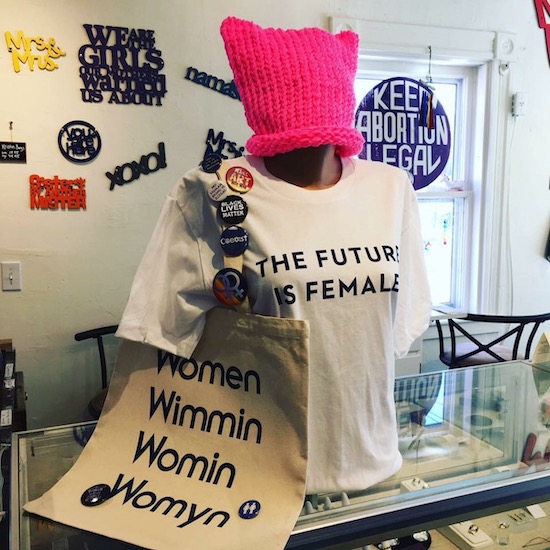 Shor is for custom home furnishings and accessories while Roots Home & Garden has destination maps, a selection of Proud Mary gift boxes, and is the only store in the region selling design goods from Chilewich. Botanica is a unique gift shop with furnishings, textiles, and ceramics, many of them one-of-a-kind. Womencrafts is Lesbian-owned and operated since 1976, with a mission to promote the work of female artisans, authors, and musicians. It is one of Provincetown's oldest shops and one of the last remaining feminist bookstores in the country. 
Adult products can be found at Shop Therapy , which also features beads and bells, tie dye and posters, with a large selection of silver jewelry, while Toys of Eros offers a creative range of adult toys as well as a sex museum.
Personal adornment comes in the form of jewelry created by the town's many artisans, such as Atlantic Artisans, Michael's Jewelry and Christina's Jewelry, with more provocative pieces from House of LaRue.
During this period of "safecation" travel, visitors are asked to wear masks when stopping in at a shop or gallery, to observe the rules about the number of shoppers allowed inside, and to visit the Town of Provincetown website for the latest safety protocols before arriving.