Art exhibitions pays tribute to gun violence survivor Gabby Giffords
Gabby Giffords recently visited Bonnie Lautenberg's museum exhibition at a time when legislation is currently being proposed in Florida that would allow people without any permits or training to carry concealed firearms.
People who have never passed a background check or fired a gun in their lives will be allowed to carry a concealed gun in public. Similar laws in other states have led to dangerous increases in gun homicides.
Currently, people who want to obtain a concealed carry permit in Florida must pass a background check, complete firearm safety training, and meet heightened eligibility standards. These provisions help ensure people with a history of violent behavior cannot carry firearms in public places.
Between July of 2021 and June of 2022, more than 7,600 Florida residents with a disqualifying history were prevented from acquiring concealed carry permits for these same reasons. This new permitless carry legislation would strip these important provisions.
"I created this artwork especially for Gabby Giffords," says Bonnie Lautenberg. "I added tears streaming down the face of the Statue of Liberty, the two simple words 'Guns Kill' on her crown, and locations of mass shootings written across Lady Liberty's arm."
"It saddens me deeply that the list of so many places keeps growing where Americans continue to lose loved ones to gun violence," adds Lautenberg.
The artwork is currently on view at the Jewish Museum of Florida-FIU in Miami Beach, where the exhibition Lady Liberty: A Bonnie Lautenberg Retrospective has received rave reviews – with national acclaim by Artnet News as one of the "Must-See Museum Shows During Art Basel Miami Beach".
Bonnie Lautenberg divides her time between New York and Florida, where she has a second home in Palm Beach. The artist was selected by the Jewish Museum of Florida-FIU to headline its new season due to her rising national acclaim, and because Florida is her home during part of the year (the museum's mission is to exhibit the work of Florida artists).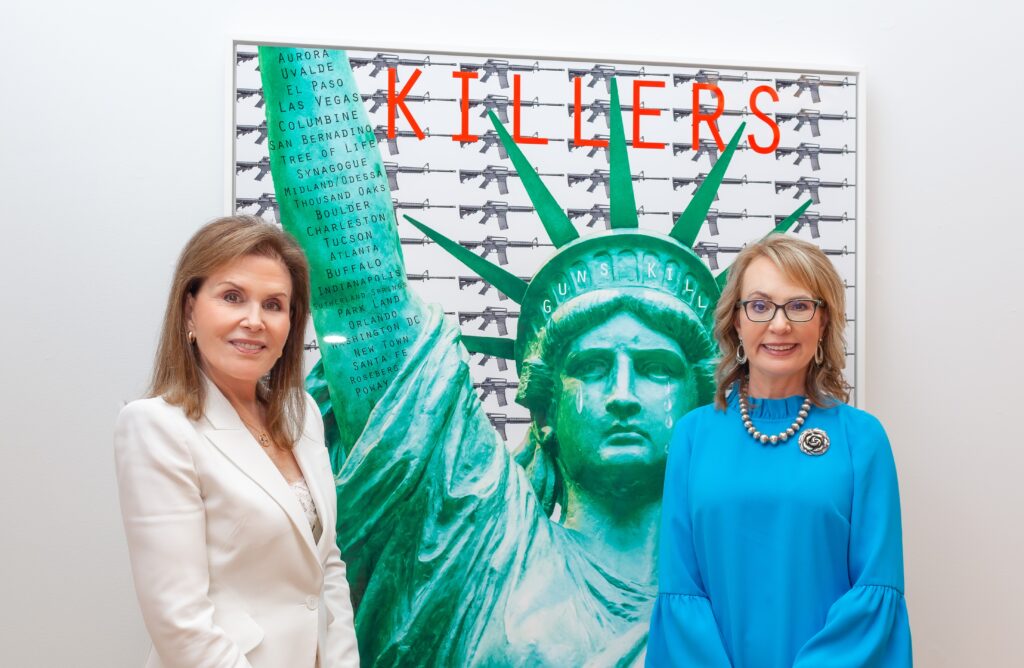 Located in South Beach's historic Art Deco District, this museum was originally the first Synagogue in South Beach – making this a full-circle moment for Giffords because she recently took the spiritual milestone step of completing her bat mitzvah as an adult. Giffords' father was Jewish, and she has been exploring and studying her Jewish faith for more than 20 years.
Working with Lautenberg to present this initiative here is especially moving for Giffords, because this is the State of Florida's official museum dedicated to telling the story of more than 250 years of Florida's Jewish history, arts and culture.