Bears in the City Celebrates 8th Anniversary with Jam Packed Digital Festival
Celebrating eight years serving the LGBT+ community, entertainment enterprise Bears in the City takes their party to the internet with a jam packed digital festival.
At 7pm ET on Saturday, May 23rd , Pat O'Rourke hosts a four hour celebration of drag and independent music artists, which will stream on the Bears in the City Facebook page as well as their YouTube channel.
Launched in 2012, Bears in the City has changed the landscape for bear events in the Orlando, Florida community. Combining a love for drag, bears, and live music, O'Rourke has made a point of celebrating artistry in all forms within his bear events.
Predominantly based out of the historic Parliament House Resort in Orlando, O'Rourke refused to let the current pandemic ruin the celebration, so an online showcase was put into motion and the performers were eager to celebrate the company's eighth anniversary.
RuPaul's Drag Race star Ginger Minj, drag royalty Chantel Reshae (Miss Continental Elite 2015), bearded queens Bearonce and KayKay LaVelle, and gender-fluid artist MRMS Adrian are just a few examples of the incredibly diverse talent that will be showcased.
Joining the show from 3 different states across America as well as the UK, LGBT+ musicians Tom Goss, Paul M, Bobby Jo Valentine, and Justin Utley along with allies Chasing Jonah and Zack Maruniak will be playing live sets during the four hour extravaganza.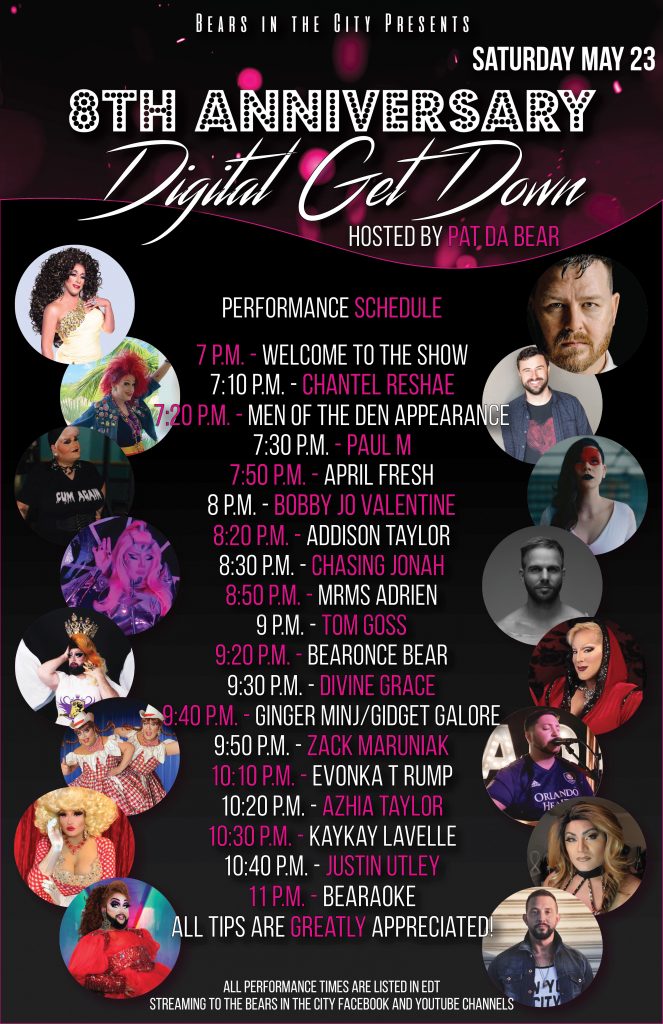 Following the live performances, O'Rourke, using his stage name Pat Da Bear, will host a 45-minute streaming Bearaoke performance, where viewers can join the host in the setting that brought him to prominence within the Orlando LGBT+ community.
"When I started this journey I didn't let myself believe that I would still be doing this and loving it so much, but to see how many people were excited to be a part of this show reaffirms my belief that Bears in the City has made a difference in our community," says O'Rourke, of the past eight years at the helm of Bears in the City.
"Without these amazing entertainers and the people that come out to support, I wouldn't get to do what I love and for that I will be forever grateful."

Follow Bears in the City on Facebook, Instagram and Twitter, and visit the website for more information.