Ben Platt's Theater Camp headed to Hulu and digital this month
Theater kids, and theater kids at heart, rejoice! Searchlight Pictures' heartwarming and hilarious ode to the stage, Theater Camp, arrives on Digital and Hulu on September 14.
The "sweet, wacky and very funny" film (Johnny Oleksinski, New York Post) is Certified-Fresh on Rotten Tomatoes™ and Hulu subscribers can stream it beginning September 14 when it debuts on the platform.
Fans can add the movie to their digital collection also on September 14 when Theater Camp becomes available to buy from all major digital retailers including Prime Video, Apple TV, and Vudu, with exclusive behind-the-scenes bonus content.
Ben Platt and Molly Gordon play Amos and Rebecca-Diane — lifelong best friends and drama instructors at a rundown camp in upstate New York. When clueless tech-bro Troy (Jimmy Tatro) arrives to run the property (into the ground), Amos, Rebecca-Diane and production manager Glenn (Noah Galvin) band together with the staff and students, staging a masterpiece to keep their beloved summer camp afloat.
Platt and Gordon chose the world of youth theater because that's where they originally connected — they have known each other since they were 7 years old. They knew well the unique vibe of drama teachers—at once inspiring, liberating, and unhinged—and wanted to create a whole staff of these larger-than-life characters to play off each other, as well as campers of all ages.
"We know theater camp. We went there. We lived it and we've been processing the insanity for years," said Gordon and Lieberman. "We've spent the week on vocal rest, worn the fake mustaches and snuck a kiss with the actor playing our dad. It's a beautiful, highly specific oasis that needs to be taken seriously and also fully exposed for the wonderful, insane place that it is."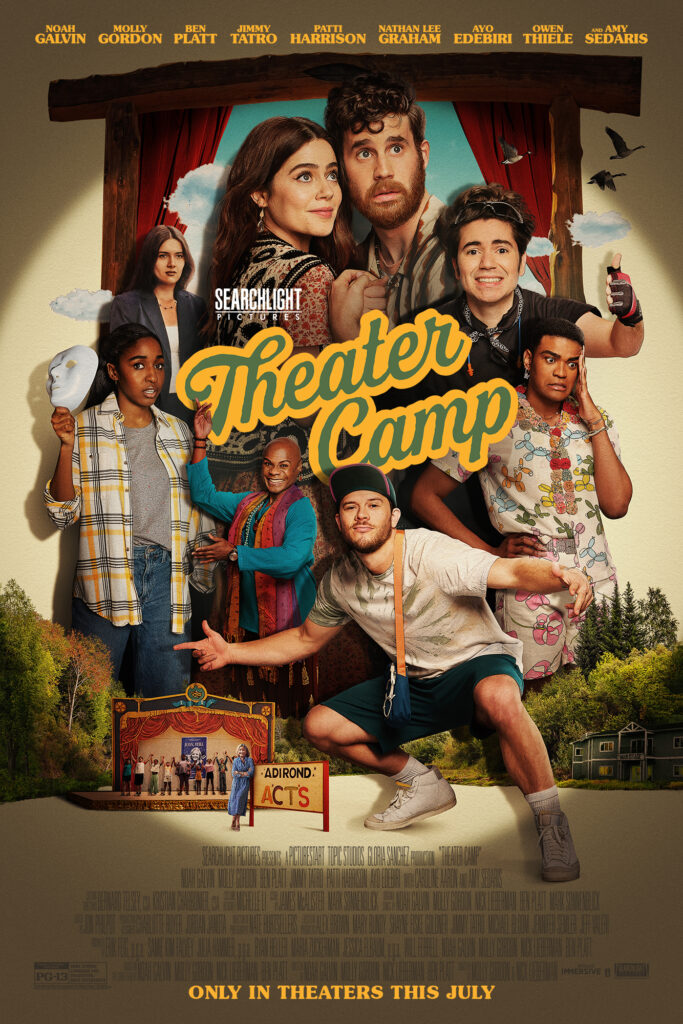 Directed by Molly Gordon & Nick Lieberman with a screenplay by Noah Galvin, Molly Gordon, Nick Lieberman, and Ben Platt, Theater Camp is based on their 2020 short film mockumentary of the same name, which was written by engaged couple Platt and Galvin, as well as Gordon and Lieberman.
Theater Camp also stars Patti Harrison, Nathan Lee Graham, Ayo Edebiri, Owen Thiele, Alan Kim, Alexander Bello, Bailee Bonick, Kyndra Sanchez, Donovan Colan, Vivienne Sachs, Quinn Titcomb with Caroline Aaron and Amy Sedaris.
The feature film was recently described by Platt in the Just For Variety podcast, who is united in the movie as well as the podcast with Galvin, as "our first child together."
The couple announced their engagement on Instagram in November after Platt proposed to Galvin.