Brooklyn-based artist Golden takes out Queer|Art award for Black trans women visual artists
Queer|Art, New York City's home for the creative and professional development of LGBTQ+ artists, has announced the winner of the fourth annual Illuminations Grant for Black Trans Women Visual Artists.
The recipient is Golden, a Brooklyn-based visual artist. They will receive a $10,000 cash grant, professional development support, and individual studio visits with members of the judges panel to support their practice. 
2023 Illuminations Grant Judge, Jonathan Lyndon Chase writes: "Golden's visual photography evokes power, vulnerability, beauty, and glowing prowess. There are meditations on self reflection, communal embrace. The documentation on lived experiences in the Queer community and personal self expression are reminiscent of a home feeling."
2023 Illuminations Grant Judge, Lauren Haynes continues: "Golden's photographs stood out among this year's very strong group of visual artists. Each image left me wanting to see more and to engage more deeply with their practice—I am excited to see how Golden's work continues to evolve."
Golden's art practice over the years has been centered around using photography, performance art, and poetry to document, question, and expand the archive of Black trans life in the United States. It is at the intersections of self documentation, family, queer imagination, and Black love where they believe their work is most boundless and referential. Born in the historically Black ecosystem of Hampton, VA, with roots in Pocomoke City, MD, Golden was raised by unrecognized field and factory workers, poets and photographers, local archivists and historians. This influence of the Black American South is felt most clearly in their work's ability to speak from and towards collective freedom. They write, "the ethos of my art practice is to utilize living archives of self documented photographs of Black trans life within, outside, and surrounding the home, paired with the poetics of Black speech to build, document, and articulate the breath between Black trans living and survival in the United States."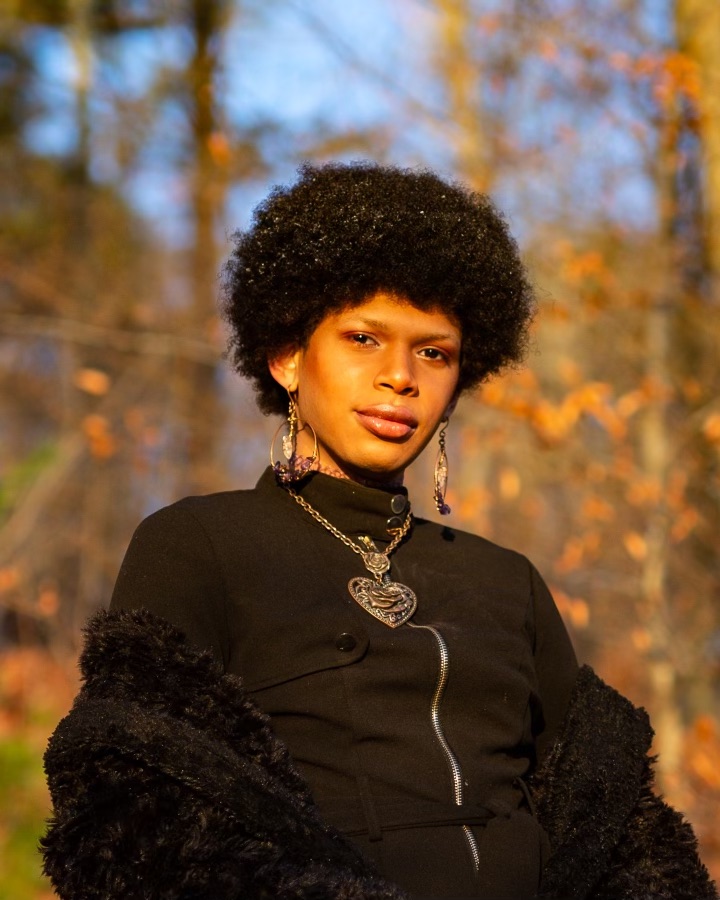 As the fourth annual winner of the Illuminations Grant for Black Trans Women Visual Artists, Golden was selected from a pool of 51 applicants. The judges, who were chosen by Queer|Art to review applications for the national grant include visual artists, performers, and curators from around the country: Jonathan Lyndon Chase, Lauren Haynes, and Jade Kuriki Olivo (Puppies Puppies). Developed and named in partnership with Mariette Pathy Allen, Aaryn Lang, and Serena Jara, this annual grant draws attention to an existing body of work, sheds light on the under-recognized contributions of Black trans women visual artists, and provides critical support to their continuing work. 
About Golden, Winner
Golden (they/them) is a Black gender-nonconforming trans femme photographer, poet, educator, & community organizer raised in Hampton, VA (Kikotan land), currently residing in Brooklyn, NY (Lenapehoking land). They are the author of A Dead Name That Learned How to Live (2022), a Lambda Literary Award Finalist (2023), and the photographic series On Learning How to Live, an Arnold Newman Prize Finalist (2021). Golden is the recipient of an Isabella Stewart Gardner Museum Luminaries Fellowship (2019), a Best of the Net Award (2020), a City of Boston Artist-in-Residence (2020-2021), a Mass Cultural Council Fellowship in Photography (2021), a Women Photograph Project Grant (2021), & a Tufts University Art Galleries Creative Futures Fund Grant (2022). They hold a BFA in Photography & Imaging from New York University.
On receiving the 2023 Illuminations Grant, Golden writes: "This award will allow me to complete the installation for my debut solo exhibition, I'm Never Alone, and solidify a live/work space for me close to community in Boston, Massachusetts. At this moment of precipice, rigor, & transformation in my career, I'm glad to be able to center stability, more time for family, and reflection with these funds. Since the start of the pandemic, I feel like I've been running towards this break so I really want to honor what more internal time for experimentation & collaborative work can feed back into my self-portraiture practice."
In addition to Golden, four other visual artists were acknowledged as finalists for this year—Fatima Jamal, Steven Anthony Johnson II, Catching On Thieves, and Jhona Xaviera.