Butch lesbian comic Maggie Faris has a new album coming out
Blonde Medicine has announced the upcoming comedy album from Maggie Faris, Tougher Than A Honey Bee.;
The album is due out November 25, available everywhere comedy is streamed and sold. You can pre-order the album here.
The self-described "adorable lesbian" and host of mock TV DIY show DIYkeIt Yourself might just be the funniest comic you haven't yet heard of. At first glance you might mistake her for the Hannah Gadsby of the Midwest—if you swapped Minneapolis for Melbourne.
Faris won the Funniest Clip of the Year and the Silver Nail award at the Aspen Comedy Festival. Curve Magazine named Maggie Faris one of the Funniest Lesbians in America. Another competition win made Maggie the Public Address Announcer for the St. Paul Saints professional baseball team, which led to an appearance on ESPN2's Cold Pizza for her unique style and memorable announcements. She was also voted "Best Comedian" by her Minnesota peers and won The Advocate Magazine's national search for the Next Funniest Queer Comedian. 
"I have been doing stand-up for over 20 years," says Maggie Faris. "But I have always struggled to talk about my own stories and my own issues." This third stand-up album from Maggie Faris was recorded in front of sold out crowds at Sisyphus Brewing in Minneapolis. The brewery regularly has events, most recently Wensgay Night Comedy Show on October 26 featuring Faris.
The album showcases Faris's growth as a comedian. She uses her signature silly style to tell hilarious stories about being a butch lesbian and a snow plow driver for the Department of Transportation. Her love of the Minnesota State Fair is on full display, and she caps the album with a live rendition of her ultra-catchy original song "The Great MN Get Together."
Faris has been invited to perform at Bridgetown Comedy Festival, Gilda's Laughfest, Laugh Your Asheville Off, Out Loud Comedy Festival in San Francisco and The Women in Comedy Festival in Boston. Maggie delighted crowds as "best of the fest" at the 10,000 Laughs Festival and she performed at the inaugural Madison Comedy Festival. She has opened for great comedians like Jeff Ross, Dave Attel, Jay Pharoah, Michael Che, Maria Bamford, Daniel Tosh, Kathleen Madigan, Jimmy Pardo, Todd Glass, Lewis Black, Damon Wayans, and Fortune Feimster.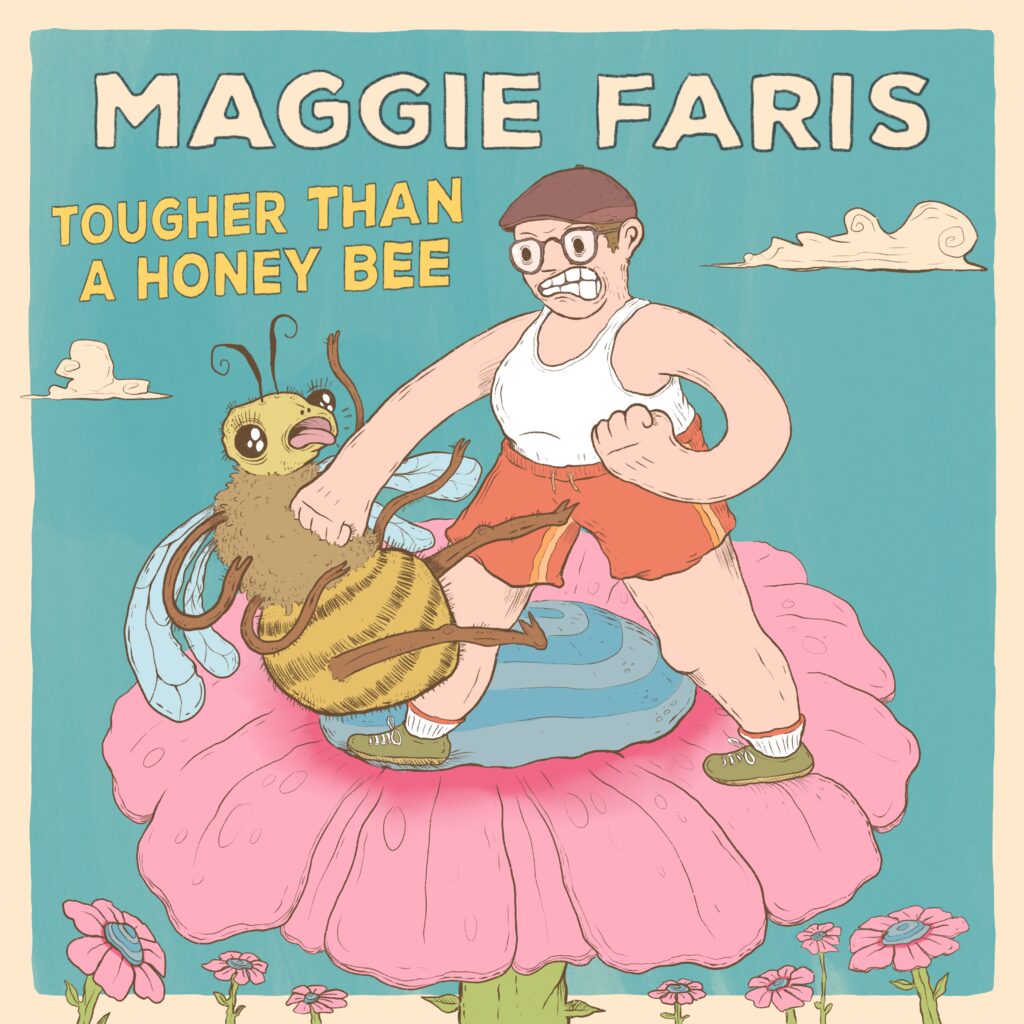 Maggie Faris, Tougher Than A Honey Bee:
01. The Very Funny Maggie Faris, Everyone!
02. My Pronouns
03. The Alphabet Mafia
04. Tougher Than a Honey Bee
05. Being Gay in Modern Times
06. The Butchest Job I Could Think Of
07. "Should We Tie This Down?"
08. The Best Day at Work
09. Connecting With My Co-Workers
10. My Wife's a Vegan
11. Extreme Maggie
12. Shame On You, Crowd!
13. Bad Nose Whistle
14. The Cherub & The Monkey
15. A Special Day at the Fair
16. A Special WEEK at the Fair
17. Tying Up the Set With a Ribbon
18. The Great MN Get Together (Live)
 Follow Maggie Faris online: Website | Instagram | Twitter | Facebook