California lesbian couple renew vows at 40,000 feet
Kris Perry and Sandy Stier, two of the plaintiffs who fought California's Proposition 8 to the Supreme Court, have renewed their vows on board an Air Tahiti Nui Dreamliner as part of their 10th anniversary getaway to Tahiti.
Kris Perry and Sandy Stier, two plaintiffs in Perry vs. Hollingsworth, renewed their vows on board an Air Tahiti Nui Dreamliner as part of their 10th anniversary trip to The Islands of Tahiti. Last weekend, the flagship carrier of French Polynesia hosted the couple for their milestone anniversary aboard a flight from LAX to PPT on Saturday, June 3 — almost 10 years from their original wedding date in June 2013.
Chief purser Rodrigue Chan, who identifies as gay, led the couple's vow renewal ceremony in the plane's Poerava Business cabin. The ceremony commemorated not only the couple's anniversary, but that of every other same-sex couple afforded the opportunity to marry as a result of the couple's victorious fight for equality in the state.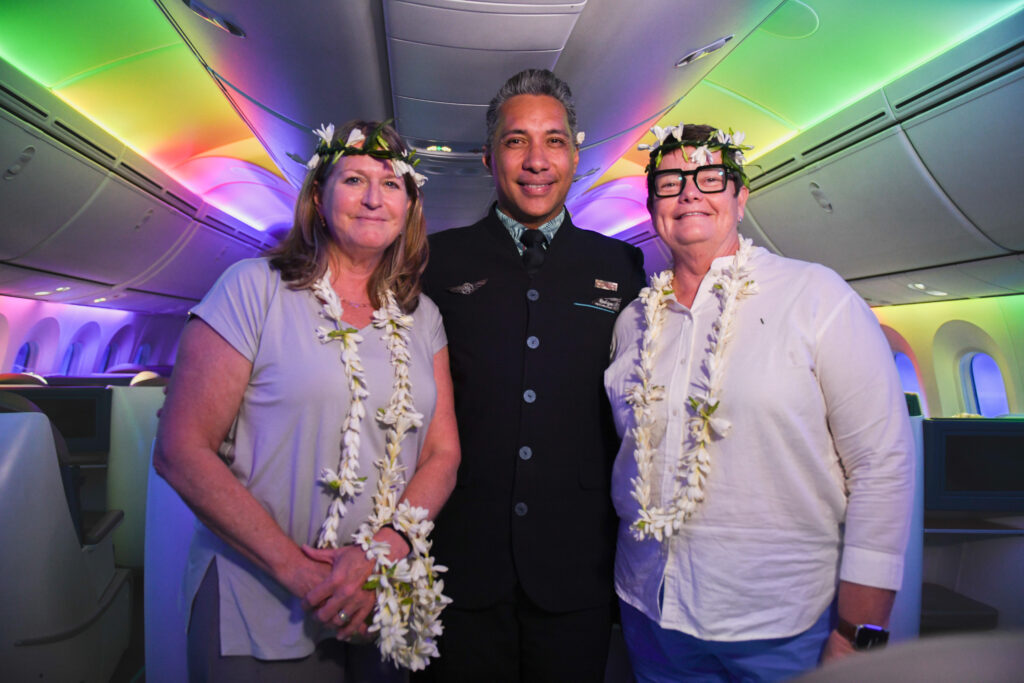 "Air Tahiti Nui is honored to host Kris and Sandy's vow renewal ceremony in-flight as part of their dream anniversary getaway in one of the most inclusive destinations in the world," said Caroline Borawski, Air Tahiti Nui's Vice President of the Americas. "The Islands of Tahiti are known for their incredible hospitality for all people, and Air Tahiti Nui is proud to be a part of that culture that not only accepts but celebrates LGBTQIA+ individuals and their contributions to a more equitable future."
To honor the trailblazing couple's fight for their civil rights and to rejoice in ten years of marriage, Air Tahiti Nui partnered with Tahiti Tourisme, Conrad Bora Bora Nui, and Hilton Hotel Tahiti to facilitate an incredible romantic escape. The couple will enjoy a 5-night stay at the award-winning Conrad Bora Bora Nui, in a luxurious overwater villa nestled between the soaring backdrop of the iconic Mount Otemanu and the clear blue lagoon. The beautiful new Hilton Hotel Tahiti will also host the couple for a night in an ocean-view suite.

"We're delighted to celebrate ten years of marriage and equality, as well as tens of thousands of LGBTQ couples, in a place that has a legacy of embracing all of us," said Kris Perry.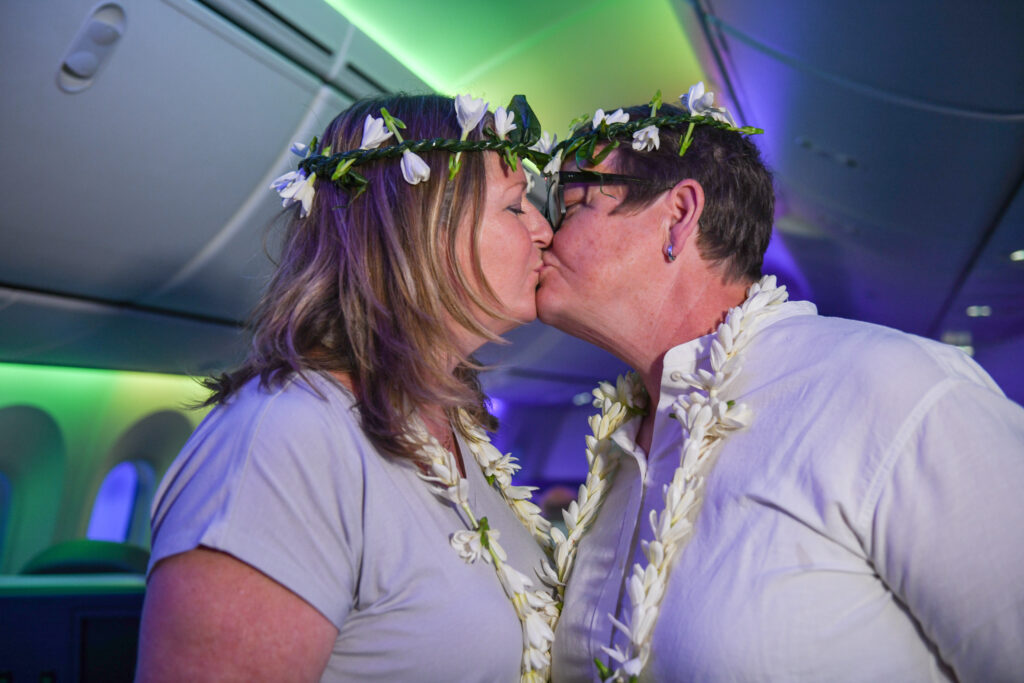 Vow Renewal Package
To further commemorate this milestone, Air Tahiti Nui partnered with the award-winning Conrad Bora Bora Nui to launch a new Vow Renewal Package, offering all couples the opportunity to renew their vows in paradise. The package includes two separate options for accommodation, including an Overwater Villa or Beach View Villa. The following rates are per person, based on double occupancy, for departure from October 2, 2023 to October 31, 2023; or November 12, 2023 to December 4, 2023, or January 20, 2024 to March 3, 2024. The package launched today, and can be booked here, including:
· Round trip coach class air from LAX to Tahiti on Air Tahiti Nui
· Round trip air from Tahiti to Bora Bora on Air Tahiti
· All transfers
· 1 night at Hilton Hotel Tahiti, King Ocean View room
· 4 nights at Conrad Bora Bora Nui, Tropical Villa with Beach View (Starting at $4249) OR 4 nights at Conrad Bora Bora Nui, Overwater Villa (Starting at $5309)
· Daily breakfast for two in Bora Bora
· Opuhi Renewal of Vows Ceremony at Conrad Bora Bora Nui
o Includes wedding planner, Polynesian priest, wedding Certificate inscribed on local tapa, a bottle of Champagne, Billecart Salmon Brut, and a two-tier wedding cake
The Islands of Tahiti have a long history of diverse understandings of gender and sexuality, often recognizing a third gender and atypical gender roles. In addition, transgender individuals and same-sex relationships have historically been accepted within their communities. It is this legacy of acceptance that Air Tahiti Nui strives to bring to all of its passengers.
For more information on the airline or to book a flight, visit www.airtahitinui.com.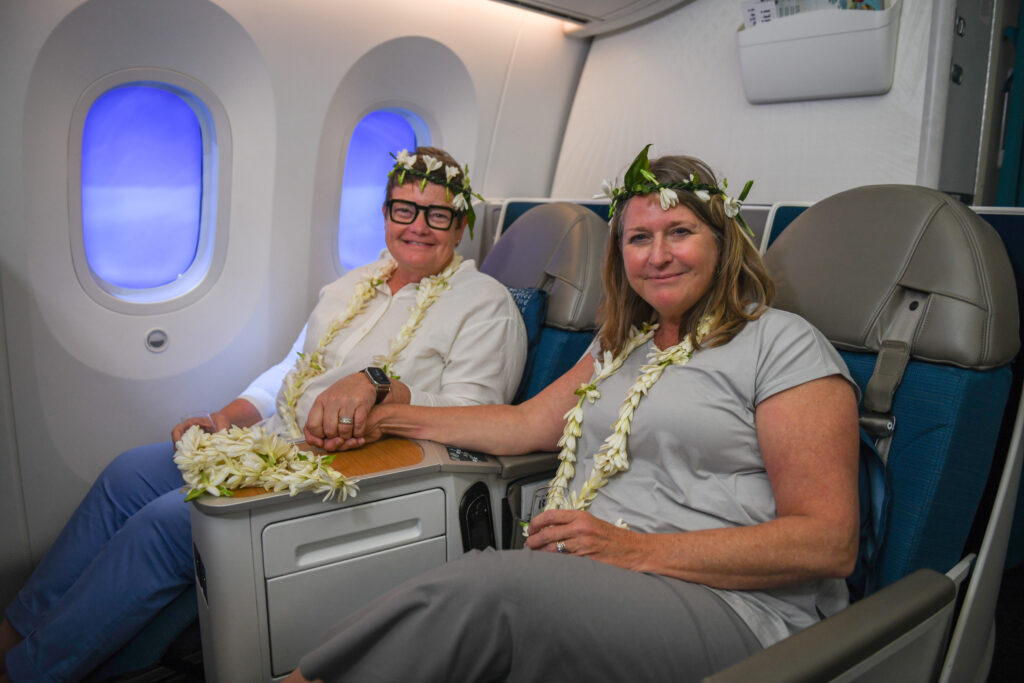 About Air Tahiti Nui
Air Tahiti Nui links the South Pacific with four continents as the leading carrier to French Polynesia, with daily non-stop service to Tahiti from Los Angeles, and is one of only two airlines to offer a selection of non-stop flights connecting Los Angeles and Paris. With new non-stop service to Tahiti from Seattle, Air Tahiti Nui is the only airline connecting the Pacific Northwest and French Polynesia. Headquartered in Papeete, Tahiti, Air Tahiti Nui operates from its Tahiti base to destinations in 10 countries in cooperation with a number of codeshare partners including Alaska Airlines, American Airlines, SNCF, Air Calin, Air New Zealand, Japan Airlines, Korean Air, Qantas and LATAM. Follow Air Tahiti Nui on Facebook facebook.com/airtahitinuinorthamerica and Instagram @airtahitinui. For more details, please visit www.airtahitinui.com.
About Tahiti Tourisme
Tahiti Tourisme North America (TTNA) is the Destination Marketing Organization (DMO) for the country of French Polynesia, more commonly known as The Islands of Tahiti. As the DMO for The Islands of Tahiti, TTUS oversees all marketing, advertising, public relations, promotions, events and travel advisor programs in the United States, Canada and Mexico. TTNA works regularly with airline, cruise line, hotel, resort, tour operator, travel advisor and consortia partners from prospective business development to product launch and ultimately into marketing initiatives.
About The Conrad Bora Bora Nui
Conrad Bora Bora Nui boasts 114 stunning guest rooms and villas at the resort. The modern and well-appointed accommodations have been thoughtfully designed around Bora Bora's key features – the lagoon and Motu Tapu. All suites and villas are inspired by traditional Polynesian décor and have been designed to deliver comfort, space and breathtaking views. Conrad Bora Bora Nui blends Tahitian history and legend with modern design and amenities. Dining concepts include an overwater lounge and swim-up pool bar serving international cuisine, while the full-service Hina Spa offers an indulgent oasis with seven indoor treatment rooms and one open-air space overlooking the lagoon. The resort also features an expansive infinity pool, Kids Club, fitness center, tennis court, retail spaces and complimentary activities such as kayaking, snorkeling, scuba diving, stand up paddle boarding, and sight-seeing boat tours.
About Hilton Hotel Tahiti
Located in Papeete, the capital of French Polynesia, the 200-room Hilton Hotel Tahiti honors a rich island heritage and has been reimagined with the sophisticated traveler in mind. With its spa, three on-site restaurants and the largest pool on the island, the resort is the perfect place for travelers to experience true Polynesian culture or as a respite to relax and refresh between islands. For more information or to make reservations, please visit Hilton Hotel Tahiti or call +689 40 86 48 48.