Candle magic for Fall and Halloween by two LGBTQ+ candlemakers
Gay Candle Co. and Rebels and Outlaws help us light up spooky season.
As autumn arrives and Halloween approaches, candles take on a special significance in setting the mood for the season. The warm, flickering glow of candles complements the changing leaves and cool, crisp evenings, creating a cozy and enchanting atmosphere. Whether nestled in carved pumpkins to illuminate eerie Jack-o'-lanterns, adorning spooky mantelpieces, or scattered throughout the home, candles infuse a touch of magic into fall and Halloween decor. The scent of seasonal candles, like pumpkin spice, apple cider, or cinnamon, evokes memories of autumn festivals and gatherings, enhancing the season and adding dimension to the festive ambiance. In the gentle candlelight, memories of those who have passed as well as stories of ghosts and goblins come to life, and the spirit of Halloween is truly embraced, making candles an essential element of these delightful seasonal celebrations.

We're fully embracing into the fall season this year and reached out to Gay Candle Co. and Rebels and Outlaws Sacred Ceremony, two LGBTQ+ candle makers, for insight into their work and the season.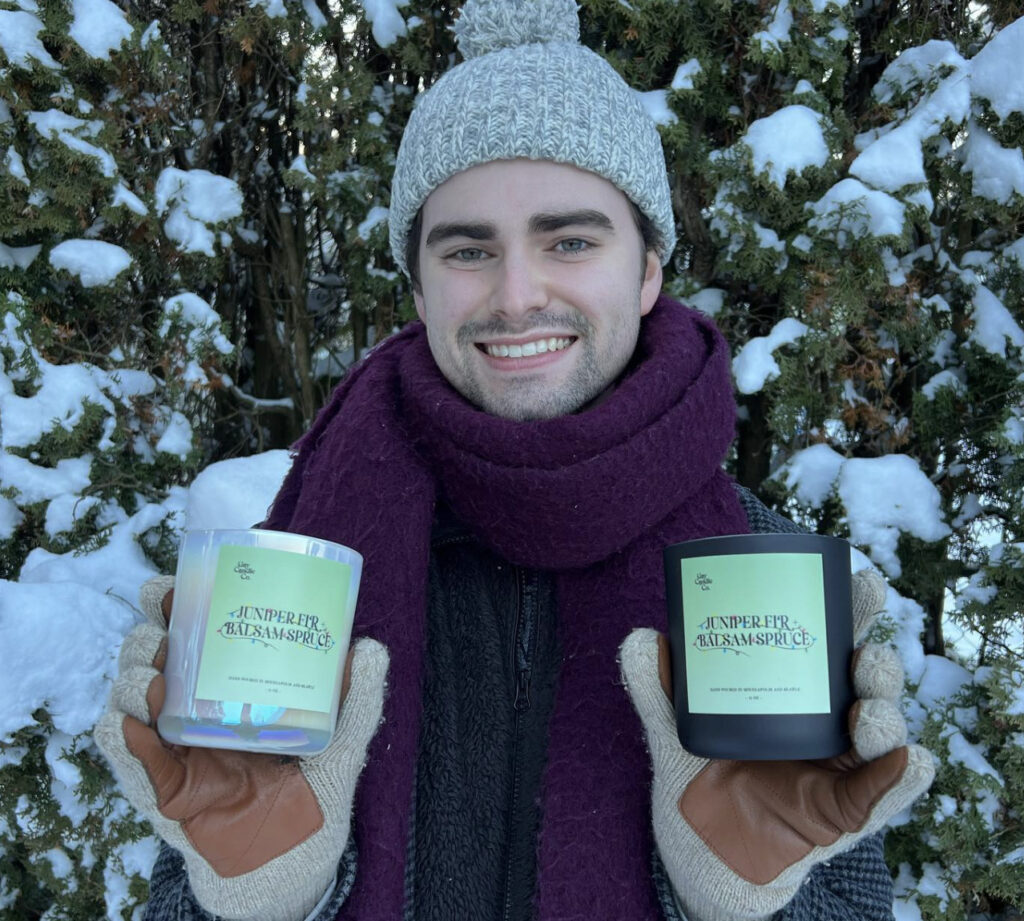 Gay Candle Co.
Gay Candle Co. offers a wide range of seasonal and everyday candles to lean into this season. This fall they are offering Pumpkin + Persimmon and Apple rind + Cinnamon candles ($39 each). Co-founders Cameron "Cam" Dutt and Max Cvitanov note that "Pumpkin + Persimmon is a sensory journey through autumn where citrus and spice blend into cozy warmth, like a comforting hug on a crisp fall evening. Meanwhile, Apple Rind + Cinnamon is like stepping into a cozy kitchen where holiday treats are in the oven.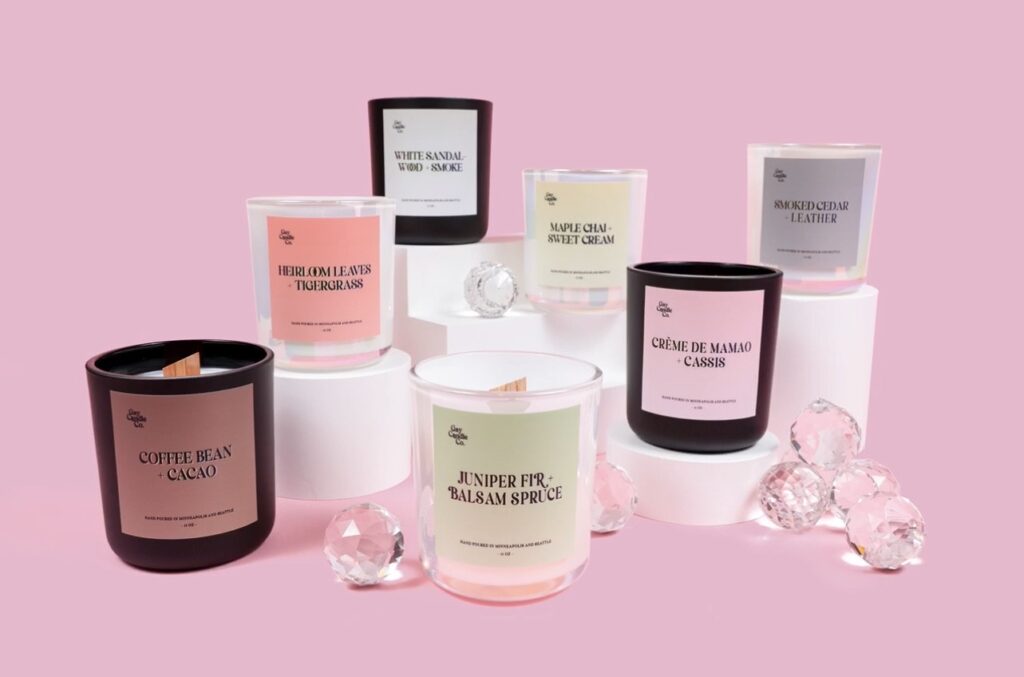 The fragrances embrace you in a warm, edible embrace." We asked about how Gay Candle Co. came about, and the founders shared that the brand "started on a Minneapolis apartment floor around 2:00 a.m. on a typical college weekday night. Cam was studying for a dental board's exam and in a stressed panic, purchased candle making supplies to explore a new career if dentistry didn't work out. Fortunately, the exam was passed but more importantly, Gay Candle Co was born. Friends received candles, asked for more, shared with friends and businesses, and all of a sudden, candle making was more than a hobby. Max jumped onboard and was instrumental in growing the brand with his background in merchandising and retail sales."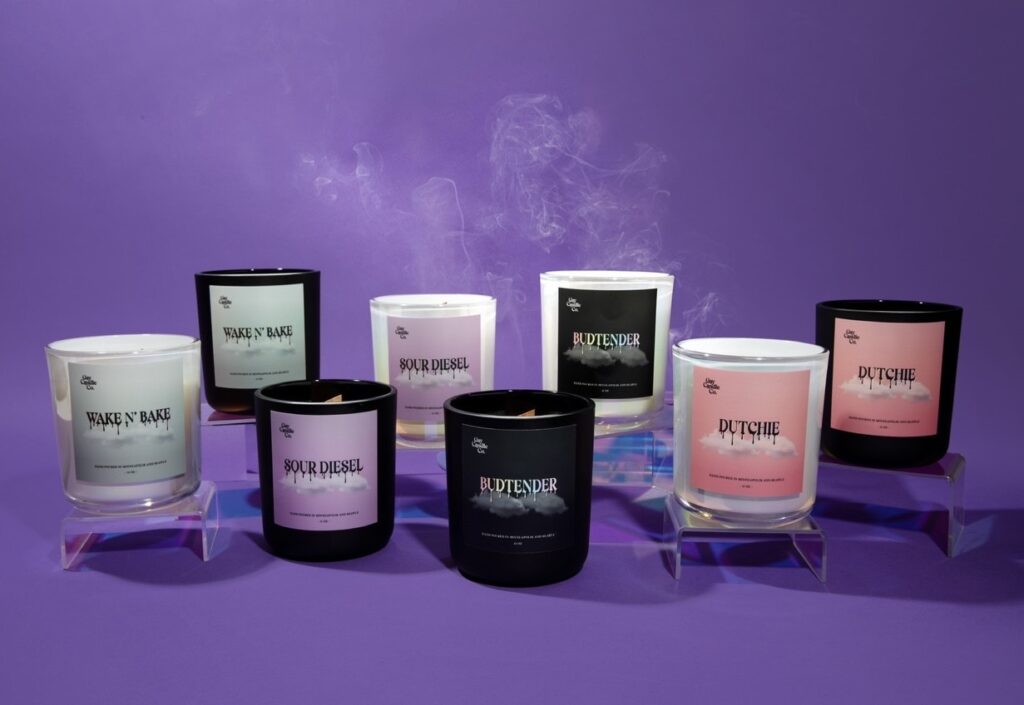 Gay Candle Co. is special because all raw materials are ethically sourced, clean, and renewable. The brand is committed to sourcing high quality materials that are environmentally friendly. Their candles are made with biodegradable coco apricot creme wax, non-toxic fragrance oil, and FSC Certified wooden wicks. During production, each raw material is crafted into the beautiful final product by members of the queer community. Cam and Max mention, "we are passionate about candle making because it gives us an avenue to explore our creative expression (i.e.: mid century mod Daddy Candle)."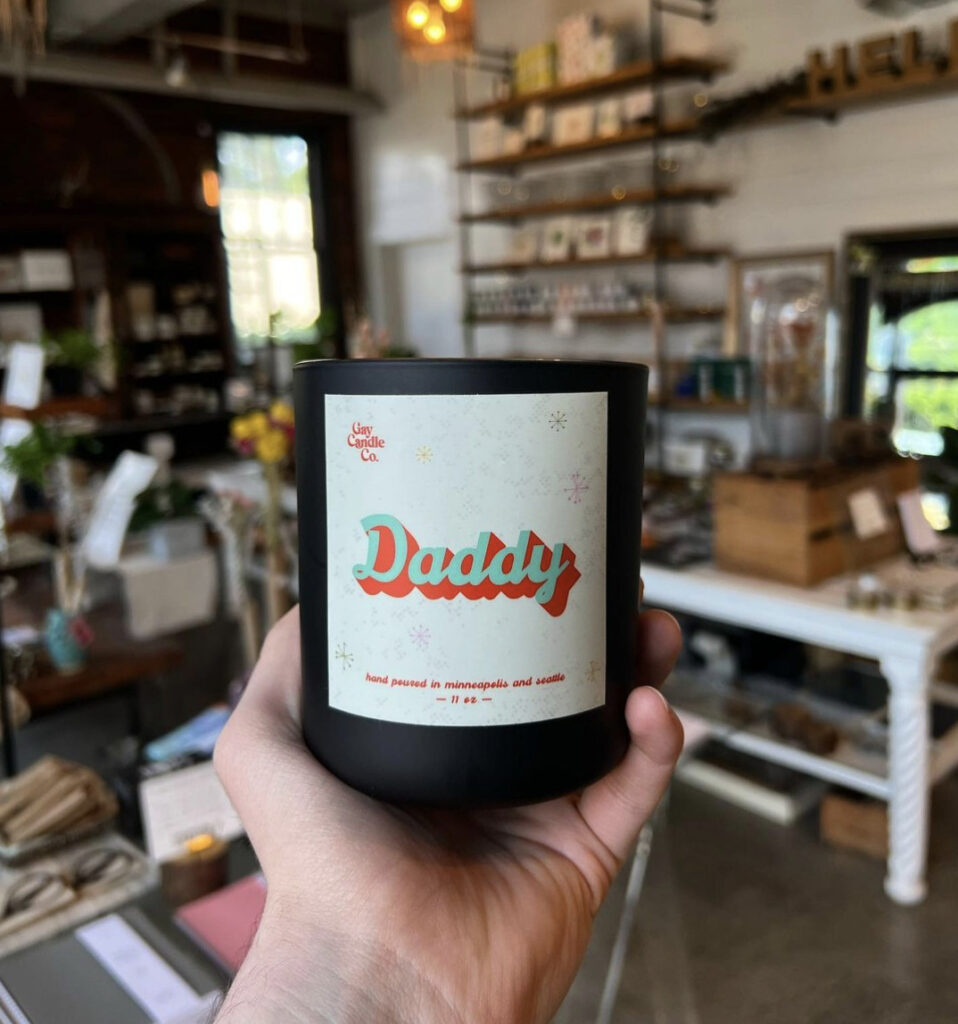 Gay Candle Co. is enthusiastic about using their craft as a vehicle for positive change. A part of each sale is donated to incredible organizations that do important work for the community. These organizations include the Human Rights Campaign and most recently they are donating an added $1 from every purchase to The Center for Reproductive Rights.

Click here for more information about Gay Candle Co. 
---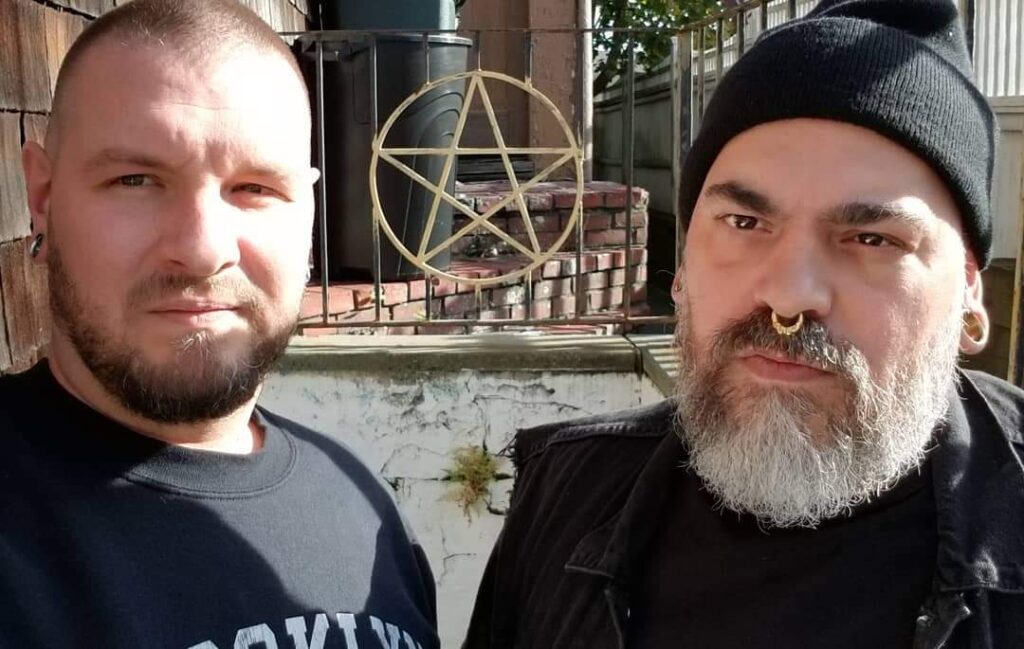 Rebels & Outlaws
Rebels and Outlaws Sacred Ceremony presents a distinctive opportunity for artists, caregivers, and those seeking a creative haven to craft their sacred space and makeup station. Conceived by makeup artist James Vincent and activist Jeremy Meek, this innovative concept seamlessly fuses the art of makeup with mysticism, promising an unforgettable experience. Central to this transformative journey are the unguided meditation candles, infused with blessed inspiration and meticulously crafted under the moon's influence.
When asked about the origins of Rebels and Outlaws Sacred Ceremony, James Vincent notes "We were consulting on a big product launch with a major celebrity. Jeremy was producing events and I was developing and creating. They offered me a lucrative position and a big title, but I was feeling burned out but thought the money and offer were too good to ignore. I went to Provincetown to run an artist retreat I do every year and when I got home Jeremy said are you taking the job. I said I wanted to make candles. I had done them when I was young with my grandmother and used them in my meditation and gave them as gifts. I wanted a way for people to protect their energy and prepare their space and offer unguided meditation. I am sure he thought I was crazy, but Jeremy bought me a candle making kit and helped make candles." Jeremy Meek adds, "His hobby turned into a growing business, so I left my production gigs and started to build the business full time."
These candles serve as potent conduits, channeling specific energies that individuals aspire to manifest in their lives, drawing from ancient traditions. Whether on a bustling set, at the workplace, or during moments of profound personal reflection, Rebels and Outlaws Sacred Ceremony candles radiate a gentle glow and aid in sustaining focus, supplying a tangible anchor for heartfelt intentions. Each candle, a labor of love, marries artistic expression with intentionality.
James adds, "I think it is a craft that allows me to share my passion for color and scent in a way that hopefully creates a special moment or aesthetic in someone's home. Scent is such a powerful emotion connected to experience and memory. I think the act of creating something for someone's home or creative or workspace is humbling. They are guiding lights along a path that commences from anywhere and leads to everywhere, instilling strength and offering direction. These are not merely candles; they are intricate works of art that forge a profound connection between intention and the material realm.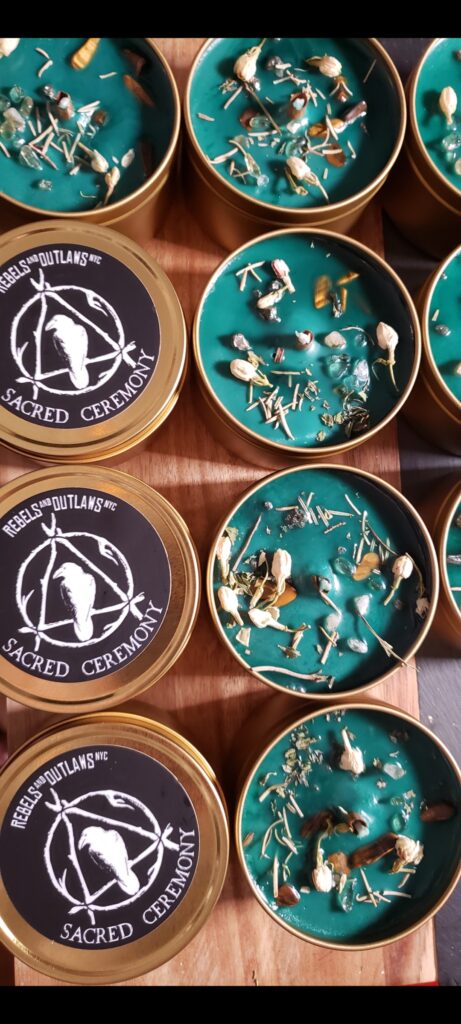 The Rebels and Outlaws Sacred Ceremony candles stand out as the duo both come from backgrounds in community action and activism. They share that "We believe that gratitude and intention and activation all start with self-care and connection and our candles are designed to help bring that. All of our ingredients are organic, sustainable and ethically sourced and we work exclusively with small businesses focusing on female, queer and BIPOC owned. Each candle uses crystals, herbs and florals in the finishing as well as the color and scent of the candle to curate an experience and make a little magic."
Rebels and Outlaws Sacred Ceremony candles encompass a diverse array of captivating scents and intentions, making them versatile for a multitude of purposes. As we step into fall James provided us with a few recommendations, noting "I think two of our new candles are really beautiful and benefit some important causes. I also have a few seasonal favorites. Our new Lavender Menace Sacred Ceremony Candle ($28) is unlike anything I have ever experienced. Jeremy developed a layered accent that has notes of Provence Lavender but is herbaceous with notes of eucalyptus and sage and has a resinous, sexy and smokey feel. Proceeds benefit inclusion tennessee and Hetrick-Martin Institute for LGBTQIA+ Youth, two of the queer charities we align with."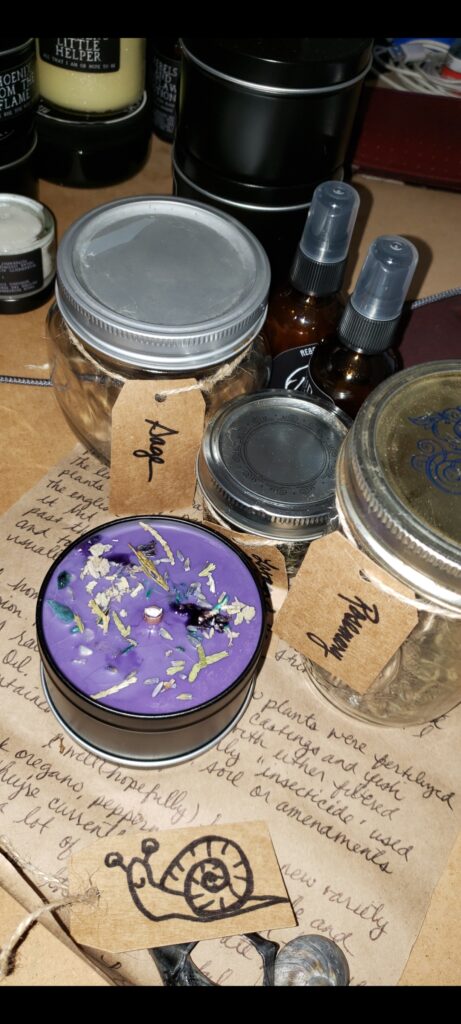 They also recommend the Dolly Parton: Smoky Mountain Songs Candle ($18), noting it is a "take on Catholic Devotional Candles but celebrates some of our favorite music icons. Our Dolly candle raises money for Tennessee Equality Project and the artwork is designed by queer artist and performer Joe Dulude II who is an Emmy-nominated makeup artist with credits including Wicked and Beetlejuice for Broadway and has had his paintings celebrating queer art and identity featured in galleries and museums."
"Joe uses AI and paint in this series to explore the act of transformation and technology. It is finished with Angelite and Amethyst and has the scents of the smoky mountains after a rainstorm."
They also recommend the Balance & Harmony Sacred Ceremony Candle ($28) for autumn. With notes of vanilla and clove and earthy spices. This candle was inspired by New England autumns from James' childhood. Their Phoenix From the Flame Candle ($28) is a smokey, rich and deep candle that they refer to as "very sexy." The deep burgundy candle flickers with carnelian and citrine and is a relaxing and sexy accent to remind you of, in their words, "who the fuck you are."
Click here for more information about Rebels and Outlaws Sacred Ceremony.
---
Why choose queer candles?
As we wholeheartedly embrace this fall season, we've journeyed into the realm of LGBTQ+ candle crafters through the eyes of Gay Candle Co. and Rebels and Outlaws Sacred Ceremony, discovering their unique contributions to this enchanting time of year. When thinking about the importance of candles specific to the LGBTQ+ community, the Gay Candle Co. duo shares.
"Candles are a must have for LGBTQIA+ individuals because they have the ability to create a comforting, safe space that reflects an individual's personality and values. The warm, soft light makes any space feel more welcoming, encouraging relaxation and intimacy. They are multisensory, evoking memories, interests, or favorite seasons. Candles also can contribute to mindfulness — allowing people to unwind and disconnect from the outside world. In essence, candles contribute to the creation of a personal haven, a place where you can relax, refresh, and recharge."
James Vincent from Rebels and Outlaws Sacred Ceremony adds, I think for many LQBTQIA + people creating a safe and healing space in your own place is empowering. I think the last few years have been exhausting and self-care and moments to pamper away are essential in the world. I think the ceremony of lighting candles, meditation, gratitude and connection allow us to be stronger and more prepared for our world, world and community as we carry self-care out into the world."