Cannabis gifts that cure what ails you
Soothing, sustainable, and gradually becoming a household staple. Here are a few of our favorite cannabis skincare products and injestibles.
BLUNT
Blunt Skincare, founded by Stas Chirkov, a proud member of the LGBTQ community, is an all-natural skincare brand that marries a passion for justice, cosmetic chemistry, and cannabis. A percentage of each purchase goes to civil rights nonprofits such as ACLU. ISOLATE Pure CBD Balancing Face Oil is a chill pill for stress, textured, or blemish-prone skin. A lightweight treatment with calming properties suitable for all skin types, it's 100% vegan, formulated without artificial ingredients, parabens, PEGs, or mineral oils.
MOONROCK Full Spectrum Renewal Face Oil is full-spectrum protection: nutrients, antioxidants, and cannabinoids. This product is a plush facial oil formulated to nourish and protect free radicals, leaving your skin radiant and vitalized. SEED Hydrating Face Oil is a lightweight, nourishing yet fast-absorbing face oil for day or night. This product locks in the moisture while repairing skin's natural barrier, suitable for all skin types and made of a blend of cannabis and sacha inchi seed oils and absorbed deep into the skin.
Born and raised in the Siberia region in Russia, Chirkov received his masters in chemistry at Moscow State University and after graduation, moved to New York City to begin his career in the beauty industry as a chemist at L'Oreal. He continued his career as an engineer at Johnson & Johnson and spent time researching chemicals that can be harmful to the environment. One ingredient that was not harmful to the environment was the cannabis plant, plus it has major skin benefits.
TONIC
TONIC was founded by health coach Brittany Carbone who was looking for a way to heal her anxiety and depression. She began combining CBD with ashwagandha root to create a stress-relieving, mood-boosting, adaptogenic powerhouse, and the results were life-changing. TONIC was the first to combine CBD and herbs as Carbone did in 2017, and since then these formulas help the user find more balance and calmness.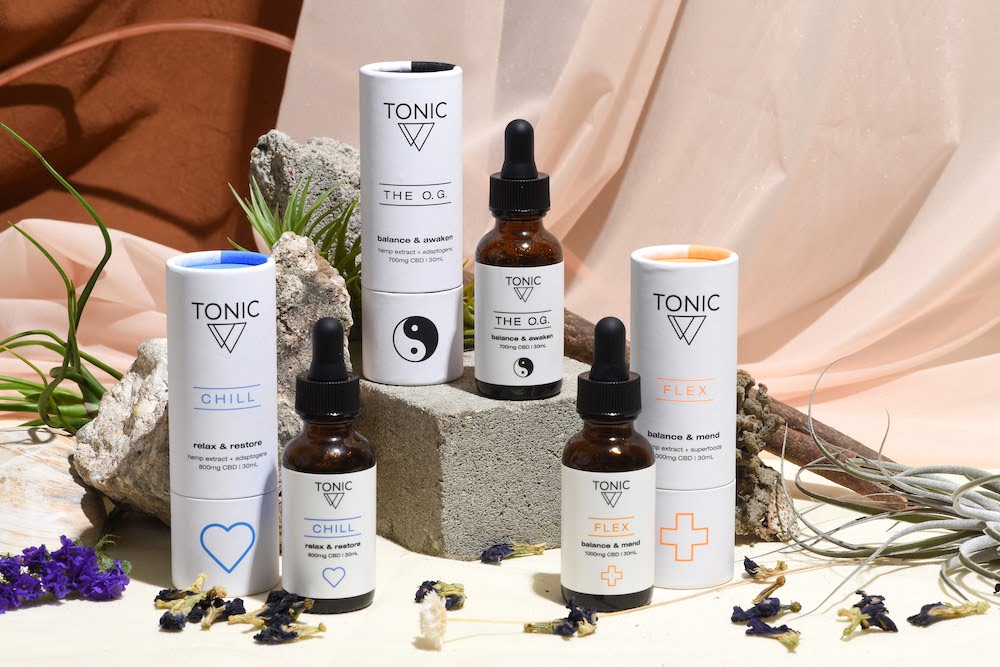 For example, if you are stressing out over work, a relationship, or perhaps getting on a plane, CHILL relax & restore with hemp flower extract, ashwagandha, lemon balm, passionflower, black seed oil, MCT oil, and pure maple is a pleasant-tasting supplement that literally works like a chill pill. This mood tincture really works. But you can also use TONIC on your face! TONIC's universal skincare renewal oil, Outer Space, is a silky, delicious-smelling, relaxing multi-correctional face and body oil that really works to hydrate and smooth. Outer Space makes dry patches, irritations, and fine lines disappear while keeping your skin glowing, clear, balanced and healthy. Antioxidant-rich and packed with phytonutrients that boost skin radiance, fight signs of aging and protect against environmental stressors that cause skin damage, it's a great winter face oil.
NANOCRAFT
Nanocraft, makers of premium hemp-derived CBD products, have something for everything that ails you. Whether that's insomnia, muscle pain, immune deficiencies, and more. Co-founders Stefan McKellar and Todd Erwin saw the difference CBD made in their lives, as well as the lives of loved ones, and felt a calling to bring the benefits of hemp to the sports market. A favorite with athletes, NanoCraft is a premium and strong brand with proprietary formulas that really work.
Nanocraft's products are formulated to be highly bioavailable to the body, making you capable of receiving benefits in their most concentrated form. The zero wasted nutrients and dramatically better absorption mean faster, better, more concentrated results. There are so many ways to benefit from CBD, including topicals, drops, gummies, powders, and softgels. Nanocraft offers them all with original formulations combining electrolytes, vitamins, and superfoods with broad-spectrum hemp while guaranteeing specific levels of minor cannabinoids like CBN, CBG, and CBC.
Here's what we tried and loved, because each premium product really worked!
CBD oil tincture for sleep. Assists with recovery, relaxation, and a powerful recharge
Utilizes a suite of known sleep support agents in tandem with highly bioavailable broad-spectrum CBD and CBN to assist you with flawless, continued rest
With a taste of relaxing lavender, a blend of passionflower, a touch of melatonin, and a dream of CBN, this calming blend is the perfect way to prepare your mind and body for deep, restorative sleep
Extra Strength CBD Roll On Stick
A muscle and joint topical
Loaded with an impressive 500 mg of broad-spectrum hemp-derived CBD Oil, along with an array of natural herbs and soothing essential oils, offering a sense of calm and well-being during times of recovery, rest, and relaxation
CBD Oil Drops – Gold Series Tincture
Strong, high potency CBD oil
High-quality CBD oil is packed with a wider variety of cannabinoids, terpenes, and other vital nutrients that make up the "entourage effect."
The Gold Series is a great option for the CBD user who wants to benefit from all that hemp has to offer
Broad-spectrum CBD softgels infused with an ingredient (dry yeast fermentate) clinically shown to assist with immunity
These potent softgels are powered to help with cellular defense and respiratory support
Within two hours, the active ingredients assist with boosting natural killer (NK) cells, blocking pathogens from passing the mucus membrane, and assisting to release a strong dose of antioxidants to fortify your body's defenses
And even better, Nanocraft gives $1 for every product sold to the NanoCraftKids program and provides discounts through its First Responders program.
CANNASMACK
CannaSmack offers hemp-infused lip balms and oils with funky designs made to inspire the rebel in you. Enjoy natural and vegan lip balms in delicious scents such as pineapple mango cherry, watermelon, and root beer. Enjoy the flavors of summer year-round while hydrating your pucker! And if you are headed for some fun in the sun, or maybe you're going skiing, be sure to apply the lip butter, hydrating cleansing oil, and tattoo balm to take care of yourself from top to bottom. Eco-friendly and woman-owned, affordable brand starting at $10 and available on Amazon.
Indulge your skin with CannaSmack's dry skin essentials, including their hydrating toner spritz, hydrating cleansing oil and more! Plus, CannaSmack is a certified plastic negative organization, so you're also not harming the planet when you purchase these products.