Celebrate National Crafting Month with artist Beau McCall!
March is National Crafting Month! Harlem, New York City-based, critically-acclaimed, mixed media artist Beau McCall's merchandise recently launched on sale at the Museum of Arts and Design (MAD) in NYC. If you are in Manhattan and want a souvenir that is beyond, not to mention created by a prominent queer Black artist, do drop by!
Beau McCall began his journey into mixed media arts through crafting and the use of the button! Read his interview with Queer Forty here.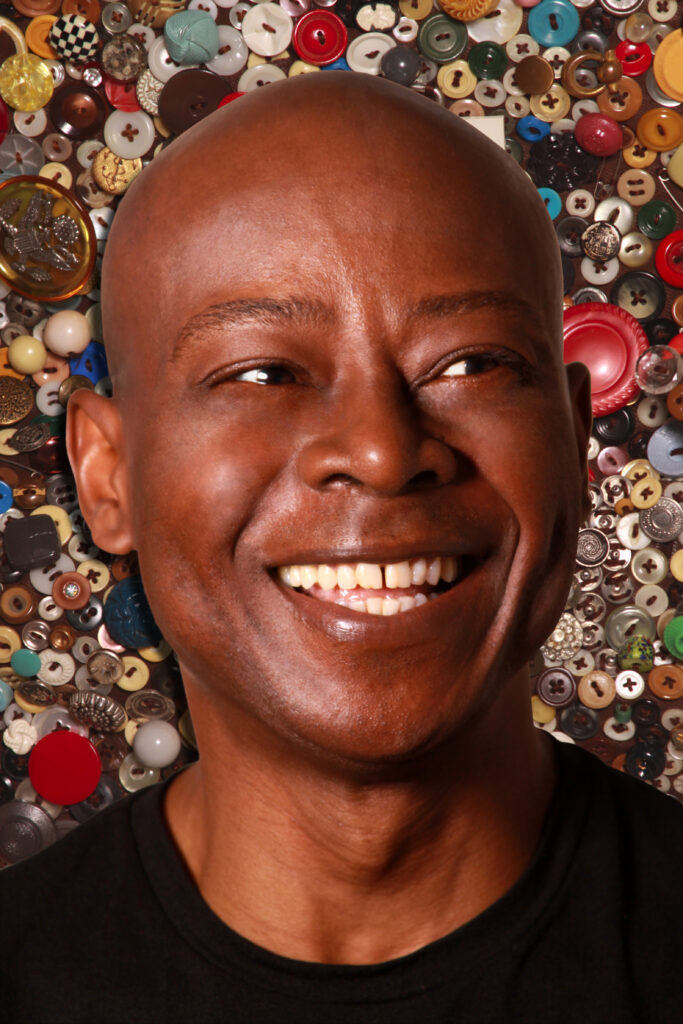 Now, McCall is pleased to announce a special limited-edition collaboration and a window installation for The Store at MAD, the retail arm of the Museum of Arts and Design (MAD). Merchandise will be available for sale now exclusively at The Store at MAD—both in-store and online—and the window installation is currently on view. The Store at MAD is located at 2 Columbus Circle in New York City and is open from 10:00 am to 6:00 pm Tuesday through Sunday. 
For his special limited-edition collaboration McCall merges his button-embellished wearable art and incorporates upcycled MAD-branded T-shirts. These shirts have been reimagined as Triple T-shirts (TTT), McCall's wearable art line where he combines three or more T-shirts into a one-of-a-kind seamless flowing garment that can be configured to be worn in six unique styles. Each style—from poncho to hoodie to shawl and beyond—brings dynamic versatility to traditional T-shirts.
Each TTT features an image or two from McCall's handmade wearable art that is created using clothing buttons. An example of McCall's button wearable art recently entered the Museum of Arts and Design's collection and is on view currently in Craft Front & Center: Exploring the Permanent Collection. A select number of TTT also feature upcycled New York-themed T-shirts, celebrating the city that McCall and MAD call home. 
Additionally, McCall's button necklaces will be on sale in The Store, a renowned destination for art and fine jewelry lovers. The necklaces, composed of a mix of donated and found buttons sourced from around New York City, are double-sided for versatile wear and come in a variety of sizes and colors. 
"By combining his creative use of buttons and T-shirts, Beau has created statement pieces that elevate two everyday items into one-of-a-kind works of wearable art," said Sathya Balakumar, Director of Merchandising for The Store at MAD. "It's a chance for the MAD community to own a piece from a celebrated artist whose work is part of the Museum's collection." 
Beau McCall Fashion Photos, by Harlem Photographer, Dracinc | Donn Thompson

Beau McCall Fashion Photos, by Harlem Photographer, Dracinc | Donn Thompson

Beau McCall Fashion Photos, by Harlem Photographer, Dracinc | Donn Thompson

Beau McCall Fashion Photos, by Harlem Photographer, Dracinc | Donn Thompson
"I've shopped at The Store at MAD for many years and now I'm excited to finally have some of my merchandise in this iconic shopping destination," said McCall. "The limited-edition Triple T-shirts are the perfect way to merge my work with buttons and T-shirts in a fun and creative way. I hope that shoppers and collectors will find joy in my wearable art. And after experiencing my window installation I hope that they leave with a deeper appreciation for the humble button and the everyday T-shirt."
On Wednesday, June 21, 2023, The Store will host an event with the artist to celebrate on International T-shirt Day by highlighting the limited-edition TTT collaboration. More information will be available on The Store website in the coming weeks.
The Store at MAD, The Museum of Arts and Design, 2 Columbus Circle New York, NY 10019. Hours: Mon: Closed; Tue – Sun: 10:000 AM – 6:00 PM. Visit online at: thestore.madmuseum.org