Condom brand Jems releases campaign to encourage sexual health awareness in seniors
Hey youngsters, are you talking to your grandparents about sex? According to condom brand Jems' "F#cking Old" campaign, it's more necessary than you may think!
It's time to have 'the sex talk', but this time it's with your grandparents. This STI Awareness Month, Jems, a body-safe condom brand committed to tackling an outdated industry to include a multiplicity of gender and sexual expressions, is launching a bold new campaign to reach an unexpected audience: seniors.
With sexually transmitted infections rising at a dangerous rate, 'F#cking Old' is encouraging younger Canadians who are comfortable in talking openly about sex, to speak with their elders about safer sex.
To launch the campaign, Jems has partnered with Jane Johanson, daughter of globally-recognized sex expert and beloved Canadian television personality Sue Johanson, former host of the Sunday Night Sex Show. Jane is the co-creator of the 2023 CSA award-winning documentary "Sex with Sue" and is no stranger to discussing taboo sex topics.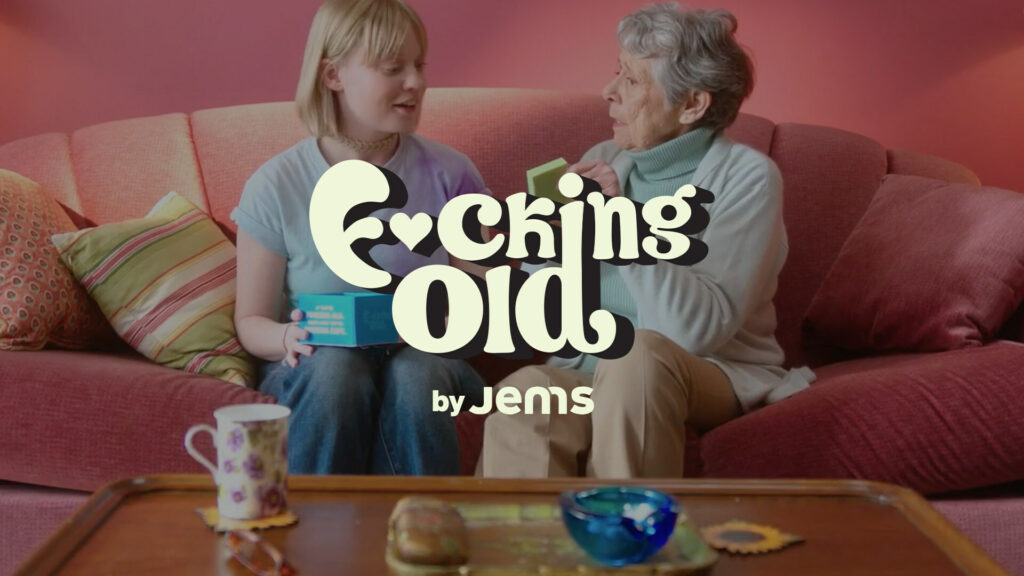 "Talking about sex with your parents or grandparents may be awkward, but frankly, has never been more necessary," said Johanson. "This campaign is about harnessing the power of Gen Z who talk about sex easily, and often over their vast social media networks, to bring that conversation to the older generation who often don't understand their risks." In addition to the partnership with Ms. Johanson, TikTok creators and other social influencers, Jems has also created a collection of F#cking Old hard candies, inspired by the long-time association between hard candies and seniors.
The rise of sexually transmitted infections (STIs) among Canadian seniors is due to the fact that many seniors who leave long-term, monogamous relationships and re-enter the dating scene are unaware of the risks associated with STIs and hookup culture. In the past decade, STI rates for seniors over 65 have risen by 267% for chlamydia, 340% for syphilis and 388% for gonorrhea.
The F#cking Old assorted hard candies are each wrapped with a conversation starter around safer sex, all you have to do is pick a flavour, unwrap it, and start a conversation about 'wrapping it up'. Each one has a message inside.
"Ultimately, the candies are a sweet prompt to help bridge the gap and promote healthy sexual habits amongst seniors," says Whitney Geller and Yasemin Emory, co-founders of Jems. "Instead of your grandma giving you a hard candy, this is a chance for you to give her one and ignite a conversation about sexual health and the spread of STIs, amongst a generation who is at risk."
The candies are available in four sweet characters and will be sold in a bag or box, with the box also including Jems condoms. They include:
Bedroom Berry will spark a discussion around having a safer sex talk with your partner
Bawdy Banana will have you bonding over the importance of using protection
Pleasurable Pear will open up the conversation on knowing when to get tested
Sensual Strawberry will provide the perfect chance to discuss the joys of getting it on
Jems is a condom brand and sex-ed platform, built on the desire to create something for everyone and normalize sex and condom use. F#cking Old is an extension of Jems' commitment to making sexual wellness more inclusive for all. F#cking Old was developed in partnership with Dentsu Creative Canada.
The 'F#cking Old' hard candies, designed to help spark conversations are available for purchase at: jemsforall.com/pages/fckingold with 100% of sales proceeds donated to Action Canada for Sexual Health & Rights, committed to advancing and upholding sexual and reproductive health and rights globally.
About Jems
Jems is a body-safe condom, made with natural latex and 100% silicone lube. With every ultra-thin condom, we are committed to tackling an outdated industry to include a multiplicity of gender and sexual expressions. Jems wants to change the way people relate to condom use and open up the conversation around safer sex practices!
About Dentsu Creative
Part of Dentsu International, Dentsu Creative is a Global Creative Network that transforms brands and businesses through the power of Modern Creativity. Led by 9,000 experts across the globe to work seamlessly together to deliver ideas that Create Culture, Shape Society and Invent the Future.
SOURCE: Jems