Crown your inner king with these coronation-worthy gifts
Don't be a drag, be a queen—or king. To celebrate the upcoming ascension of King Charles III, we have some gifts fit for a king to make you feel a little more like your royal self.
Whether you're hosting a tea party or just looking for something to mark the occasion of King Charles III's coronation, this curated collection will have everything you need to commemorate the King's official ascension to the throne of England on May 6.
While Charles has remained silent on LGBTQ+ rights, his support of our community could really come in handy, considering that gay sex acts remain illegal in several countries that were colonized by Great Britain. For example: Uganda's law punishing "carnal knowledge against the order of nature." That law, Section 140 of the criminal code, was a British colonial inheritance and applies to sodomy.
Having said that, British queen Sir Elton John has previously come to the defense of Charles. "You can't change a culture and people's way of thinking overnight. But you can certainly step in the water and have a good go. If you don't step in the water, nothing's ever going to get done," Elton said in 2018, Gay Times reported. "I think Prince Charles, when he is made Head of the Commonwealth, will do those kind of things."
Well, that day is fast approaching so in the meantime keep calm and think positively with these Brit-inspired gifts and collectibles.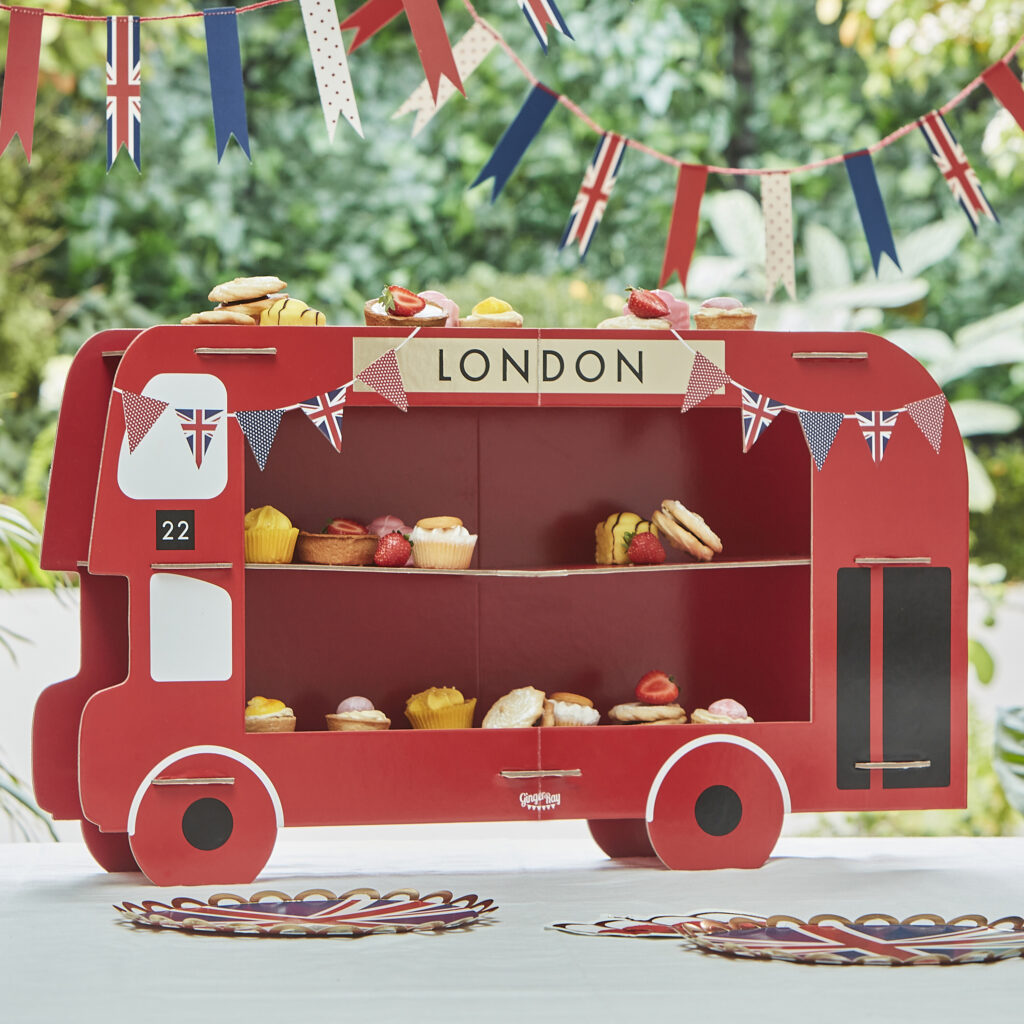 London Bus Cupcake Stand
Anyone for afternoon tea? Indulge in the much-loved British tradition with this cute cardboard London Bus Treat Stand from Ginger Ray. Wow your guests and display delicious cupcakes, cookies, tarts, sandwiches, and savory treats in this treat stand for your coronation party!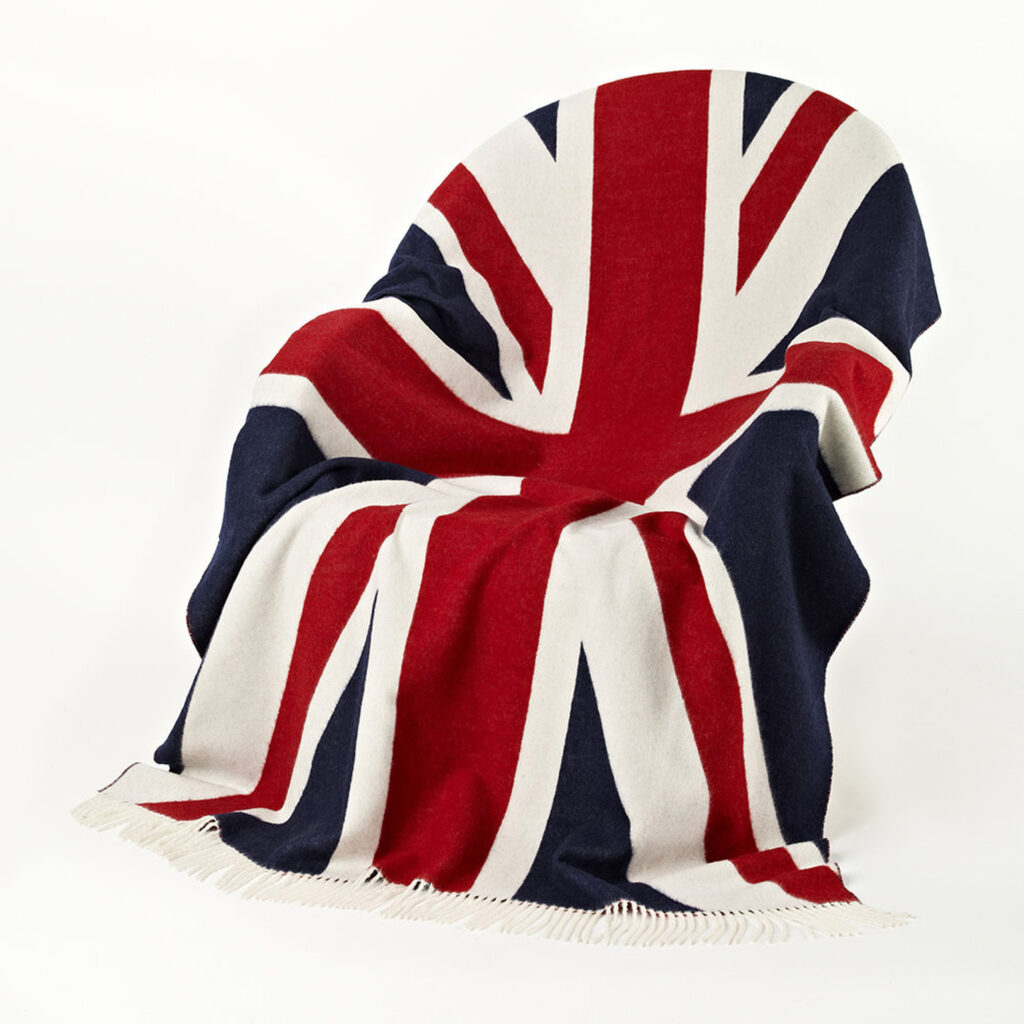 Union Jack Luxury Merino Throw
This handy luxe blanket from Annabel James is the perfect addition for cozying up indoors or spreading on the lawn for a Spring-Summer picnic! This supersoft Merino lambswool Union Jack throw with deep fringe is perfect for throwing over the back of the sofa, on the bed, or even in the car to add extra warmth. This patriotic design celebrates Britain in its classic red, white and blue colors. British made, and British quality from one of this country's last remaining vertical woolen mills.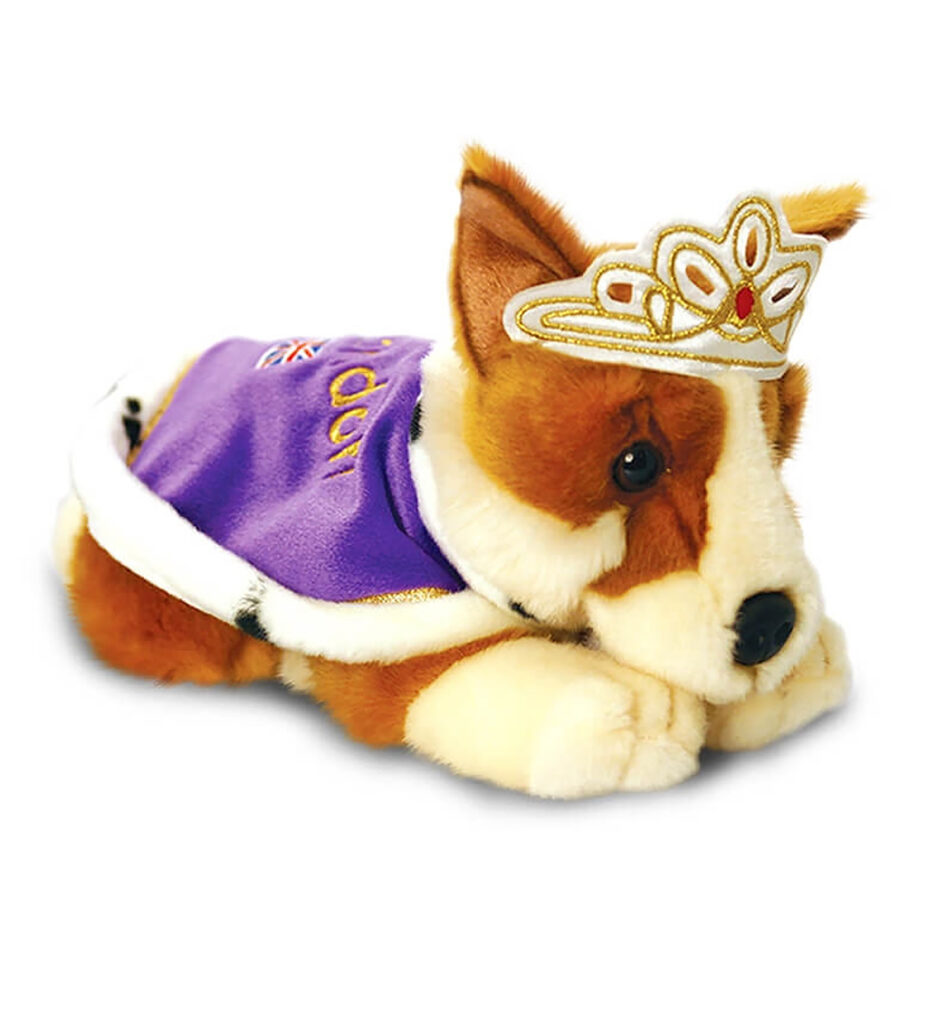 Royal Corgi Soft Toy
The Corgi has been associated with Her Majesty The Queen for a long time, and has been a favorite of the Royal Family since 1933. Own your own adorable and ultra soft corgi toy complete with tiara and royal cape.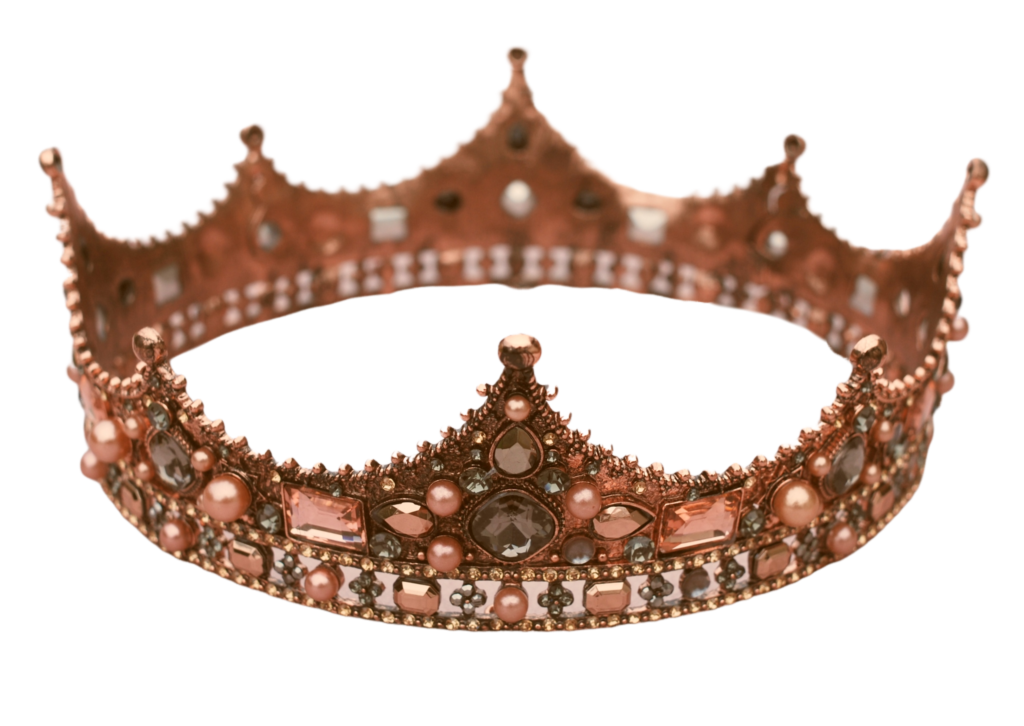 QueenMee Rose Gold Crown
Influencers, cos players and drag queens love this rose gold crown, as it is a piece of costume attire that also has an old-world, antiqued finish, fit for a Medieval Queen. The crown is finished with copper, pewter and rose gold colored gems and faux pearls; enjoy wearing ancient treasure on your head!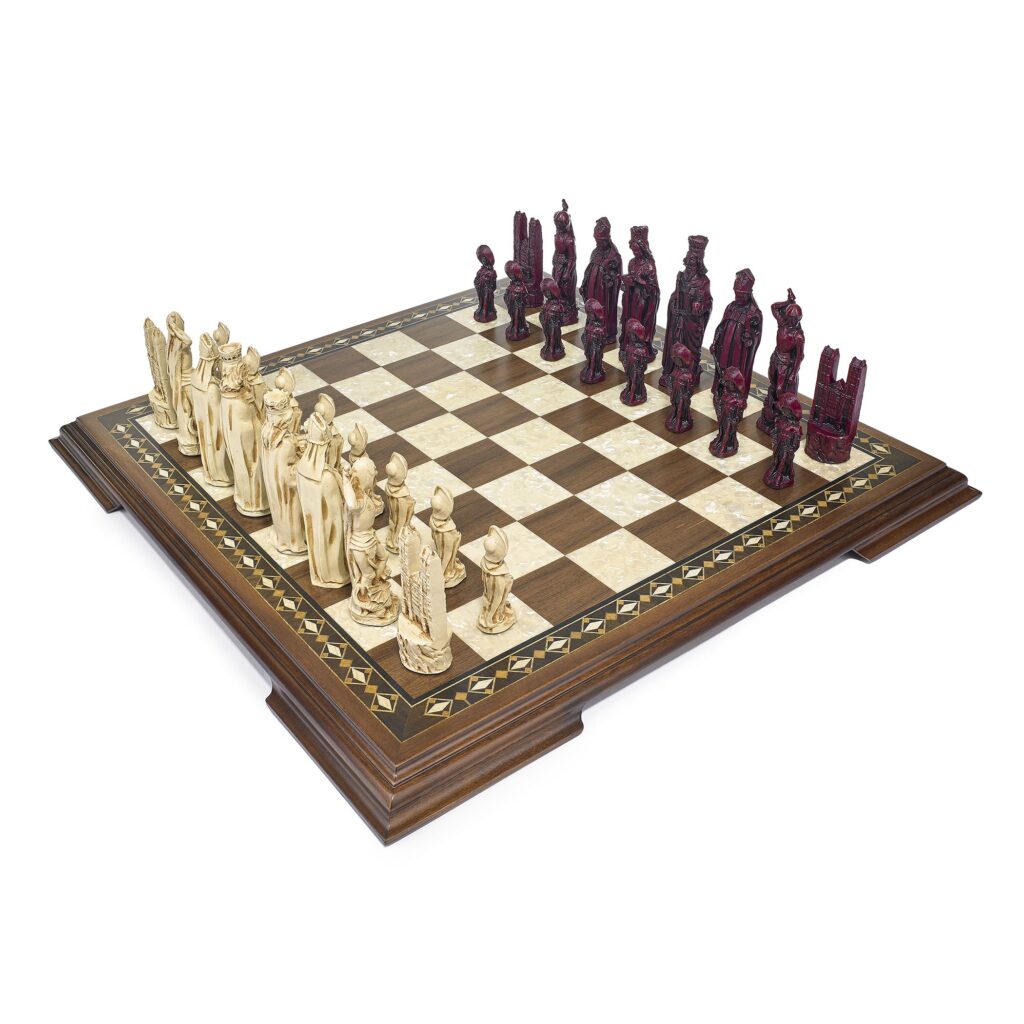 Westminster Abbey Burgundy and Cream Chess Set and Board
This burgundy and ivory chess set has been created modeled from statues, figures and artifacts in and around Westminster Abbey. The king of the chess set is based on St Edward the Confessor who is the patron saint of the Abbey and one of the earliest monarchs to be buried there. The queen is based on St Helen who was reported as finding the true cross in Jerusalem. The bishop is based on St Dunstan who was Bishop of London and brought the first Benedictine monks to the site where the Abbey now stands. The knight is based on St George, the patron saint of England. The castle mimics the West Towers of Westminster Abbey. The pawns are based on St Roch who was reported to have cured the plague. What a history lesson! This set comes with a beautiful handmade 50cm chess board which has been individually crafted using ancient marquetry techniques. The board is made using Walnut veneer and high quality synthetic mother of pearl which has been hand polished.
Crown Necktie and Crown Embroidered Cosmetics Bag
Inspired by the St Edward coronation crown, this Purple Coronation Silk Tie would make a stylish addition to any wardrobe.
The iconic crown motif is interspersed with the St Edward's patonce cross from the Abbey's coat of arms. The tie is made in the UK and it is 100% silk, lined and comes in gift packaging. The St Edward's Crown is used to crown the new monarch by the Archbishop of Canterbury during the coronation ceremony. Westminster Abbey has been the coronation church since 1066.
And whether you're butch or femme, you can surely bring a handy touch of royal glamour to your makeup, shaving, or skin care routine with this Crown Embroidered Cosmetic Bag. Made with royal purple plush fabric and gold metallic detailing this bag is fit for a Queen!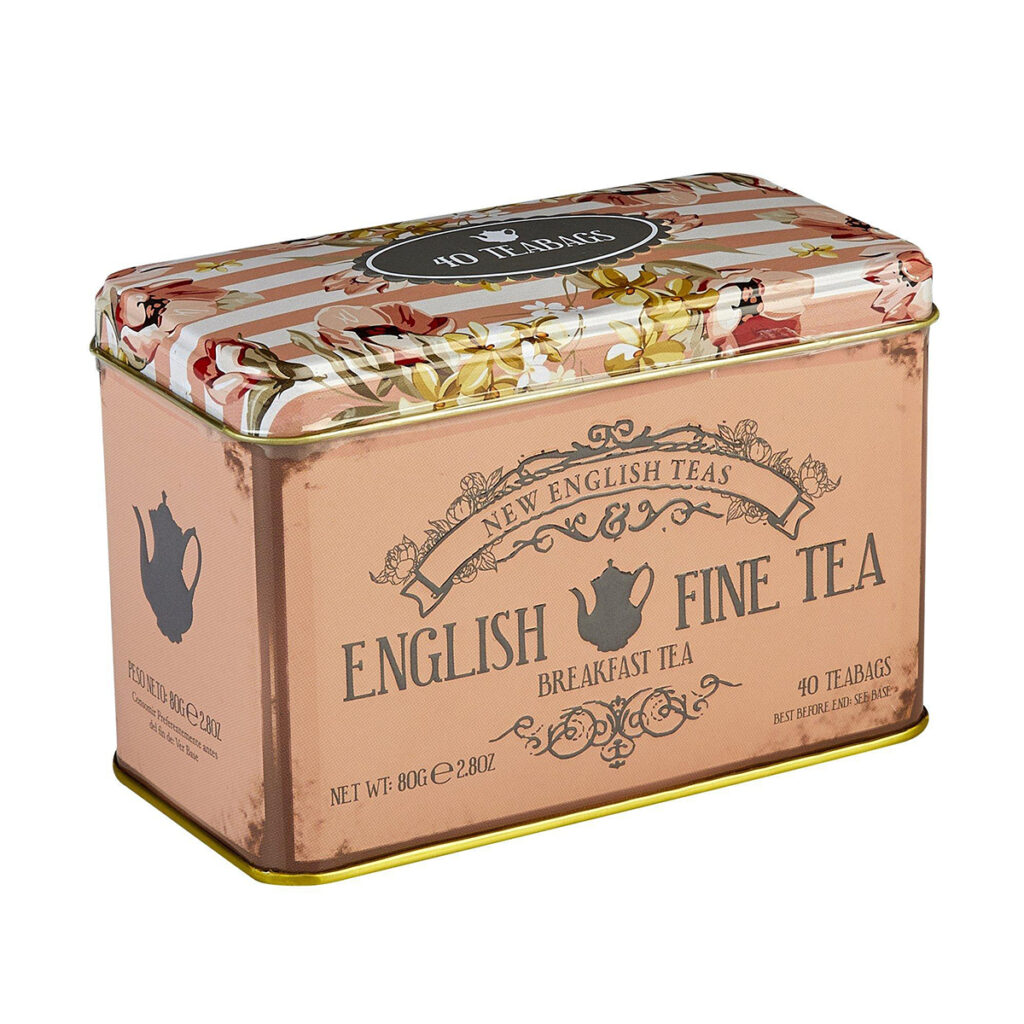 Floral English Breakfast Tea Tin
This beautiful tea tin features a classic floral design which evokes the feeling of an English country garden in the summertime. The tin contains 40 teabags filled with English breakfast tea. New English Teas was founded 30 years ago by the great grandson of Arthur Brooke – the original creator of the Brooke Bond Tea brand. The company specializes in providing high quality teas in attractively designed gift packaging featuring English icons and landscapes. Products are sourced ethically to ensure that everyone involved in producing the Teas and Tins has been treated fairly. In addition the company donates 10% of its profits to support selected charities in different parts of the world.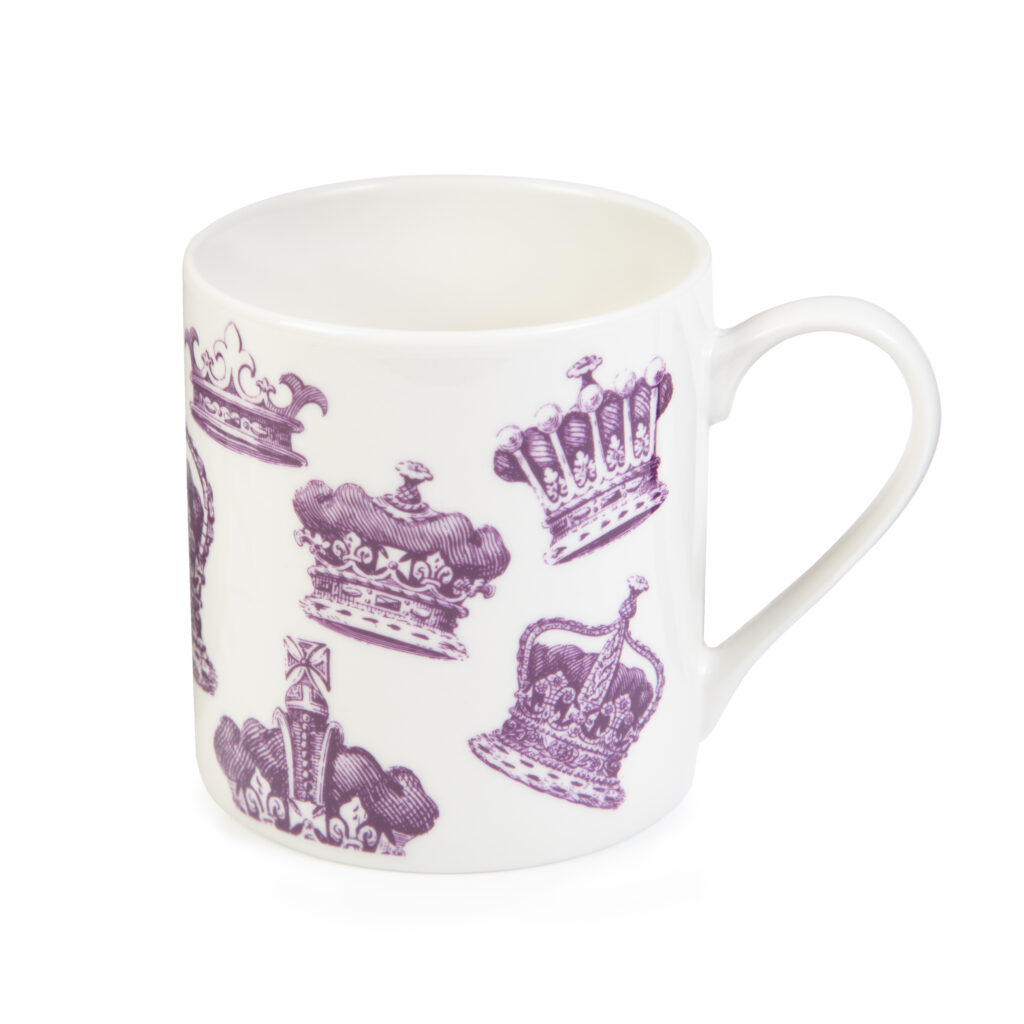 Crown Bone China Mug
And when you feel like a cup of fine English tea, what to put it in? Bring a touch of royal glamour to your morning or afternoon tea routine with this crown bone china mug. This white mug with royal purple crowns is fit for a King or Queen when having their favorite cuppa, whether that's coffee or tea!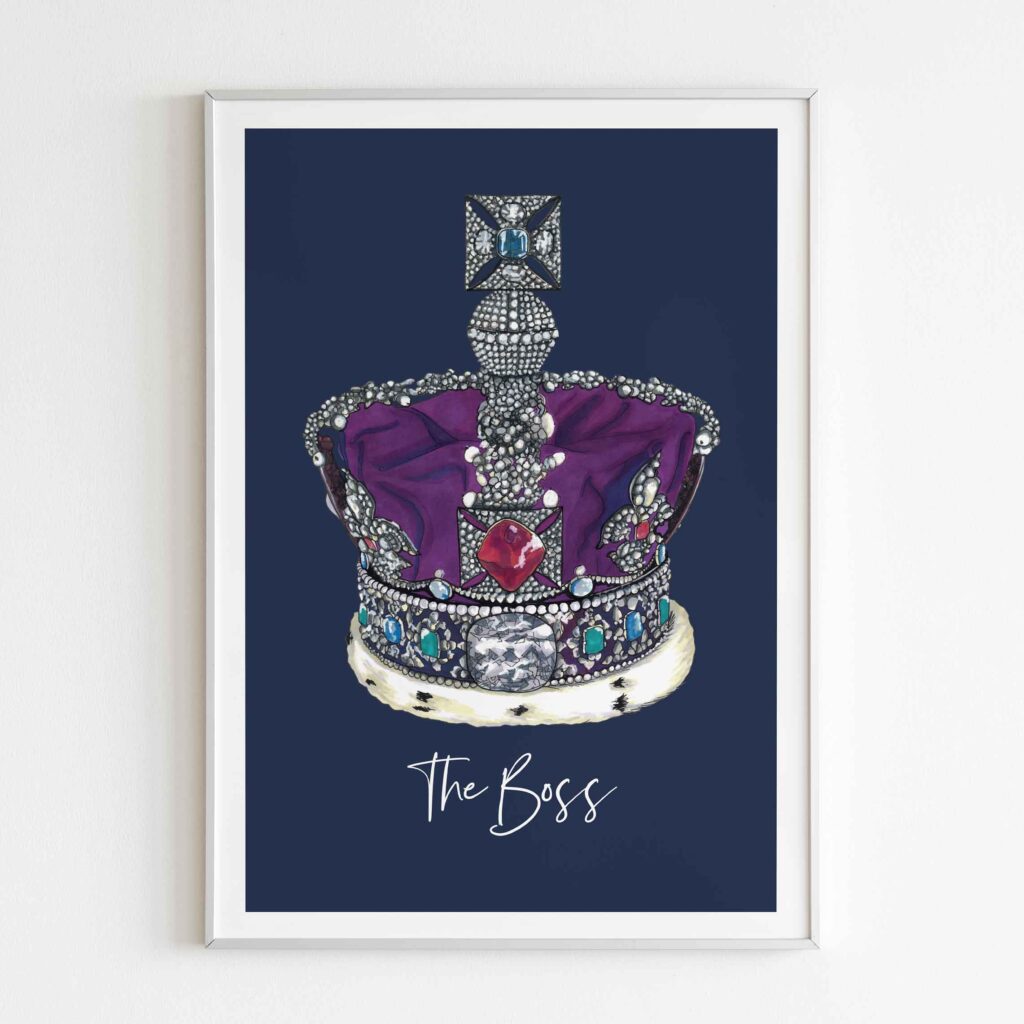 The Boss Art Print
Remind yourself of your true nature daily with this beautiful, patriotic—and possibly ironic/iconic—print, depending on how you look at it. This hand drawn illustration of The Imperial State Crown by My Noodle Bug is sure to elevate your private chambers or work space and get the message across about who is in charge.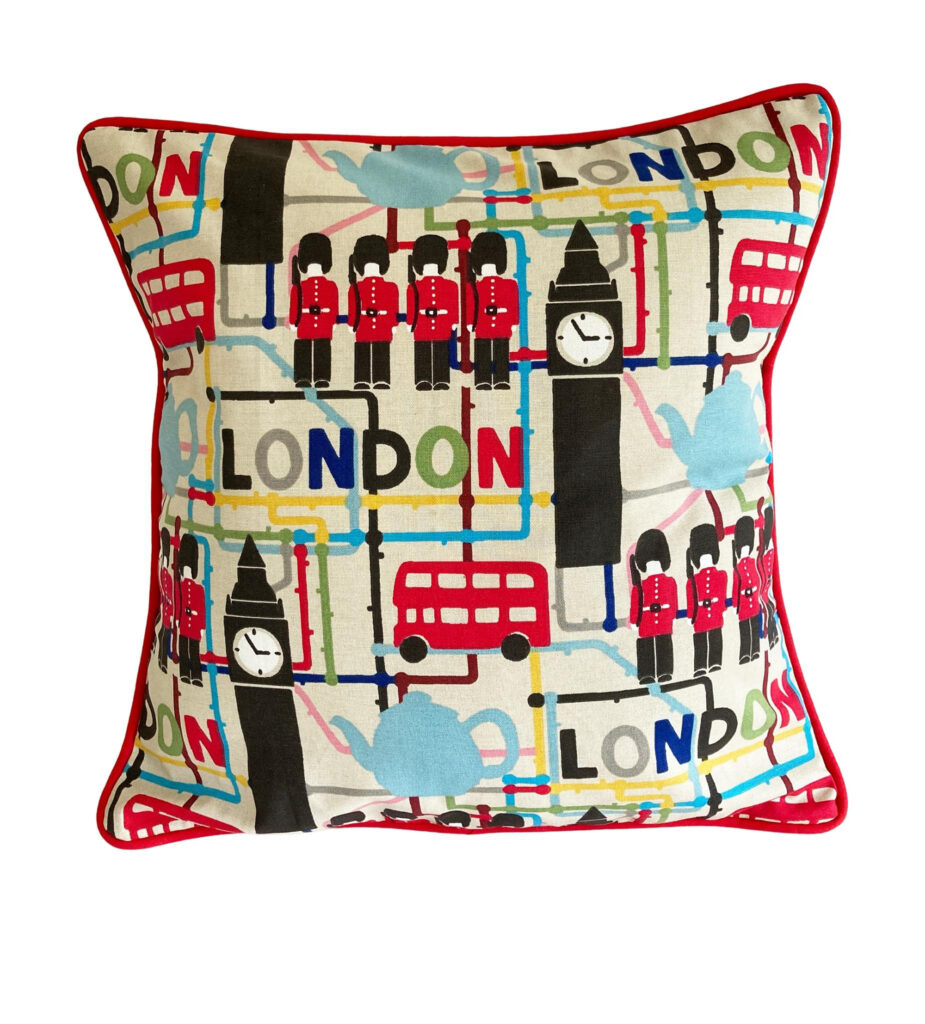 London and Bunting Cushion Covers
This British cushion cover screams LONDON! Tube map, Queen's guards, red buses, Big Ben and even teapots, what more could you want? It is a really jolly colorful print against a beige background. The fabric is a good weight canvas like fabric. Each cover is backed with a heavy weight blue drill fabric with an envelope opening and trimmed with cheery red piping. The internal seam edges are zigzag stitched to help prevent fraying. The cushion cover measures 42.5cm x 42.5cm to fit a 45cm x 45cm insert.
The cushion cover with its jolly Union Jack bunting print will add some cheer and Brit cottage chic to your home! Handmade in the beautiful Chiltern Hills. Each cover is then backed with red twill fabric, with an envelope opening, and trimmed with blue piping. The internal seam edges are zigzag stitched to help prevent fraying. The cushion cover measures 42.5cm x 42.5cm so to fit a 45cm x 45cm insert.