Diversity in Web Content Highlights Palm Springs' Cinema Diverse
I am so honored to participate in my favorite LGBT film festival, Palm Springs' Cinema Diverse.
I love this festival as it's more compact as instead of 10 days, it's all done in 3-4 days. It actually has grown in popularity and has added screenings the following weekend in Cathedral City.
For the third year in a row, I have curated web series segments. Entitled, WebOUT, I have a segment each night at 5:30pm.
On Saturday, Sept. 21, I will focus on mostly new web series. Besides through YouTube, REVRY and HERE TV have a lot of great content and are definitely worth checking out – and of course, more fun with an audience in Palm Springs. This program features these wonderful shows.
"The New York Effect" gives a definite taste of the East Coast and adds a great Latin flavor. Its endearing creator and star Juan Rivera will be in attendance for his screening. The pilot episode follows Rivera's character as he starts a new life after a break-up.
The uber-talented Brian Jordan Alvarez, who was often seen on this season's "Will & Grace" as Jack's boyfriend, has created and stars in many great web series. While it's not a new show (it's new to us!) I reached a few years back and will screen "Stupid Idiots," which he stars with the show's creator Stephanie Koenig.
"After Forever" is already a bonafide hit, winning several Emmy Awards this year for its first season. Created by and starring Mitchell Anderson and Kevin Spirtas, this web series has high caliber talent from TV and Broadway and is definitely worth the following it's already achieved.
Scout Durwood is a name you must know – if not, learn it now. She's more than a triple threat and her episodes from "Take One Thing Off" make it hard to pick just one segment to show. Do we showcase her amazing writing? Her comedic delivery? Or her outstanding singing voice? Thought we could use a musical break in this program so come catch a Durwood music video. Scout herself will be at the screening and I can't wait to meet her.
"How It All Began" is quite a sweet story that should appeal to those who like gay daddy love stories. What starts off as an older man having a great night with a sexy younger man, ends with what might be more than a one night stand. A story worth following.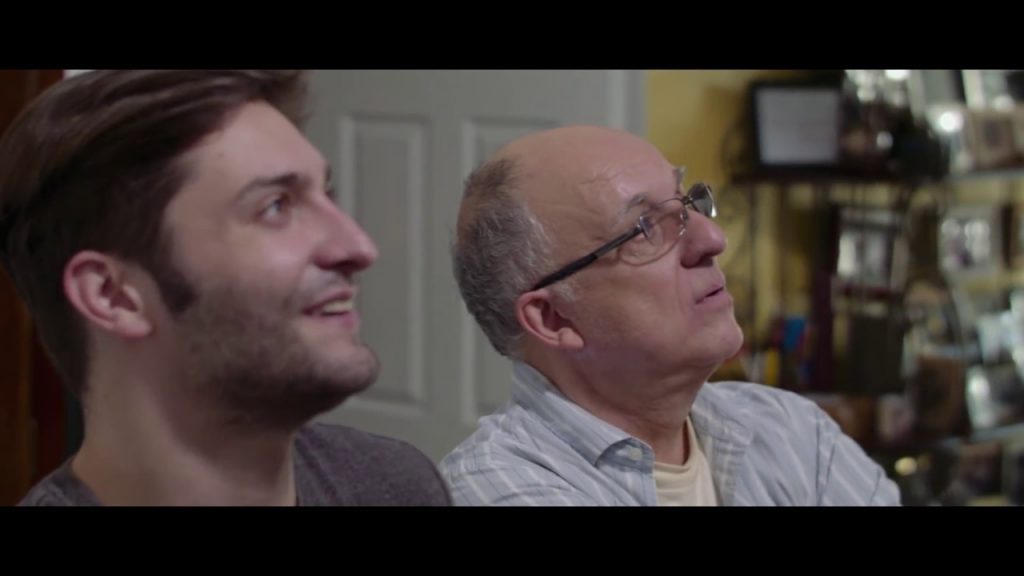 Thanks to my subscription to HERE TV, I was able to view a ton of content and picked some great winners there.
"Danny the Manny" has many noteworthy episodes but I picked one that involves dressing up, dancing around the house and guest-starring the always lovely Miss Coco Peru.
"Single Man Problems" has an adorable leading man who exposes all of the reasons why some of us are single. Our episode shows us some of the pluses and drawbacks from app chat!
"Tiny Nuts" can be described as if you made Seinfeld younger, hipper and a lesbian, you'd have this show. It takes everyday escapades and finds the humor in these situations.
REVRY is also a great source for LGBT web series. We're screening some of their coolest and newest.
"To Be Me" is a thought-provoking drama of a young man struggling with his gender identity. It seems before he's had a chance to move forward to identifying as a woman, he is forced to return home to be with his conservative father, making his identity as female take a back burner.
We likely will learn you can't put off who you are.
"Same Same" is a great ensemble piece of lesbian characters that won me over as soon as I heard the term in the show: Lesbro. It's in the urban dictionary – guess I haven't been there in a while.
Or program ends with the world premiere of the REVRY original "Sink Sank Sunk," which stars Oscar nominee Laura Linney in a story of a son who steps in the assist in finishing a project his mother started. Very layered so we can't say more.
The entire festival runs Sept. 19-22. Get tickets and learn more at psculturalcenter.org/filmfest/movie/webout-tales-of-mannys-idiots-and-various-nuts