Donatella Versace visits Los Angeles LGBT Center, hosts designer master class
On Monday, the Los Angeles LGBT Center welcomed Donatella Versace, the Chief Creative Officer of Versace, for a tour of the nonprofit and a keynote conversation that was open to the public.
Ms. Versace's visit celebrates the announcement of a scholarship program for LGTBQ+ fashion students, supported by the Versace Foundation and the Council of Fashion Designers of America (CFDA).
Ms. Versace toured the Center's vast array of services, where she met with the Center's frontline workers and service providers from our Senior Services, Culinary Arts, and Youth Services departments. To accompany her visit, the CFDA brought the designers Pia Davis of No Sesso and Sergio Hudson to host a "fashion masterclass" with young people enrolled in the Center's Youth Academy. The Los Angeles LGBT Center offers a wide range of programs and services for LGBTQ+ youth, including housing and education services, school-based programs, the LifeWorks mentorship program, and Models of Pride—the world's largest free conference for LGBTQ+ youth.
Afterwards, Ms. Versace sat down with the Center's Chief Marketing and Communications Officer, Phillip Picardi, for a fireside chat about her career in fashion and her advocacy for the LGBTQ+ community.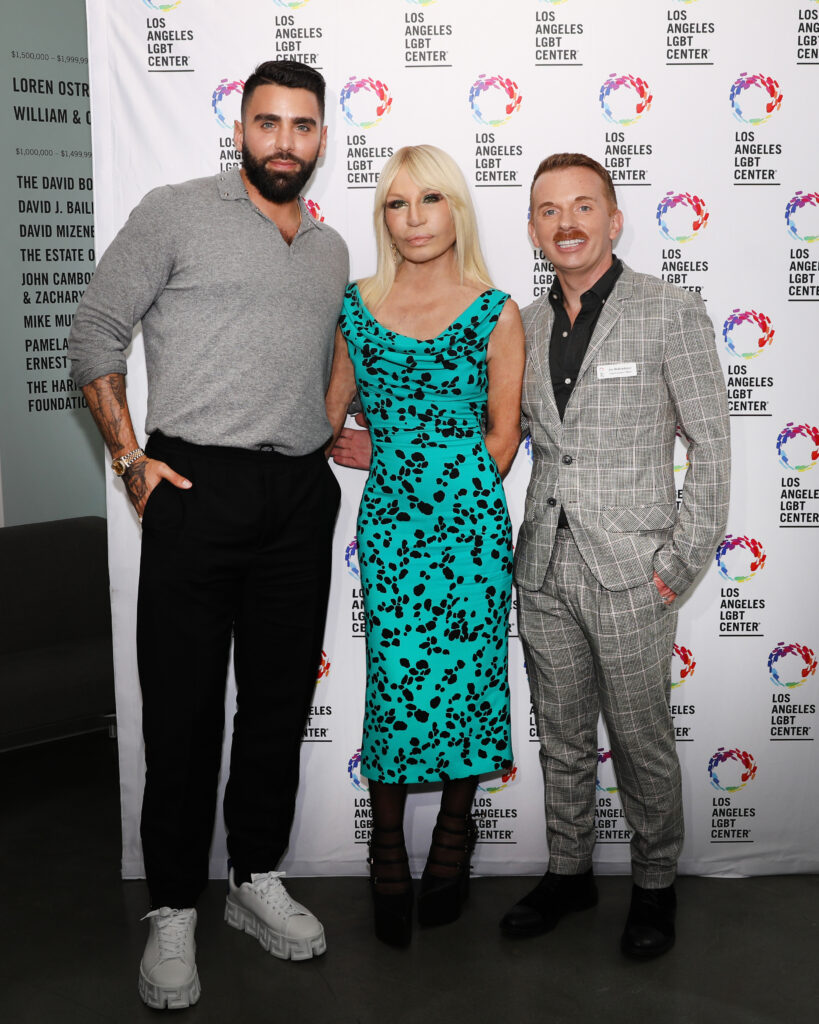 "I was truly honored to be at the Los Angeles LGBT Center today to officially launch our scholarship with the CFDA to support LGBTQ+ students. Seeing the work of this incredible organization in person was so important for me. The support they give to the people who need it most is invaluable, and I am thrilled to be a small part of helping the work they do. It was also a wonderful chance to bring together our fashion community. Together we are all stronger," said Donatella Versace.
She was introduced by the Center's CEO, Joe Hollendoner, who said he was "personally very moved by Donatella's visit."
"I have seen firsthand her commitment to uplifting the beauty in our community, and in all of us as individuals. It's been a pleasure to welcome her to the Center," he said.
About the Los Angeles LGBT Center
Since 1969 the Los Angeles LGBT Center has cared for, championed, and celebrated LGBT individuals and families in Los Angeles and beyond. Today the Center's nearly 800 employees provide services for more LGBT people than any other organization in the world, offering programs, services, and global advocacy that span four broad categories: Health, Social Services and Housing, Culture and Education, Leadership and Advocacy. We are an unstoppable force in the fight against bigotry and the struggle to build a better world; a world in which LGBT people thrive as healthy, equal, and complete members of society. Learn more at lalgbtcenter.org.