Shea Couleé sashays her way in the Marvel universe
Shea Couleé might just be having the best year ever. Fresh off of a top four placement in the Rupaul's Drag Race All Stars All Winners season, news broke yesterday that Shea was to be cast in Ironheart.
Ironheart is Disney's and Marvel's 2023 TV series following Dominique Thorne as Riri Williams, a genius inventor who creates the most advanced suit of armor since Iron Man. Thorne is set to be introduced to viewers in the upcoming Black Panther: Wakanda Forever.
Details of who Shea Couleé will be playing in Ironheart have not been revealed but she did take to Twitter to share her excitement:
News of Shea's casting in Ironheart comes in addition to her recent announcement of her involvement with the Smirnoff Show Up, Show Off! Competition for which we had the opportunity to sit down and chat with this legendary legend. Please enjoy the interview presented in its entirety below.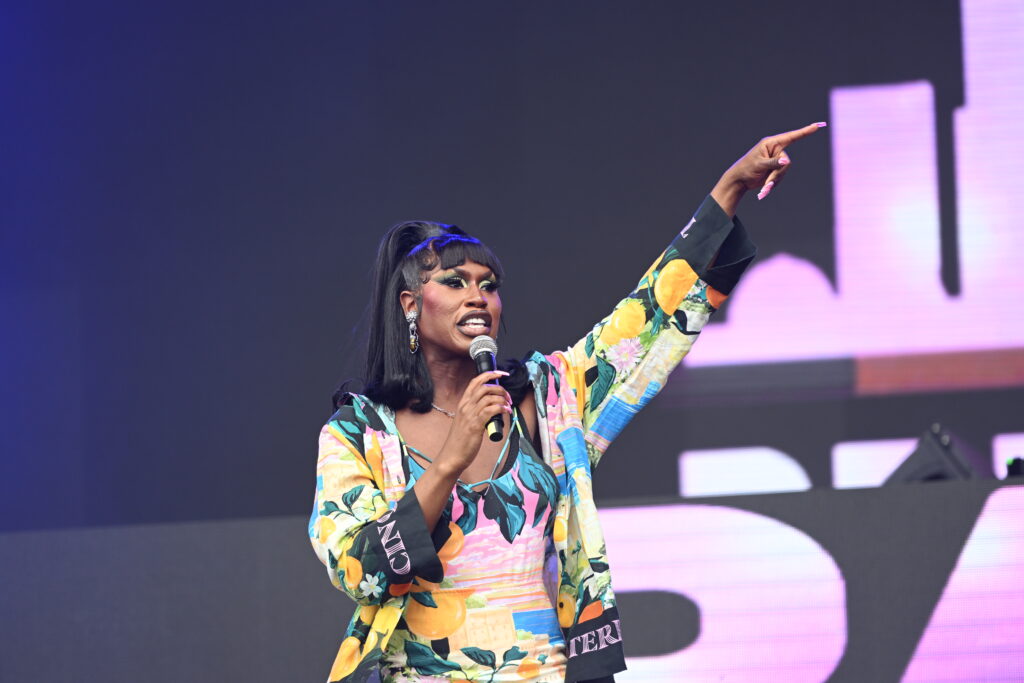 It's safe to say that Shea Couleé, the breakout star from Rupaul's Drag Race Season 9, winner of All-Stars 5 and current competitor of the All-Stars, All-Winners season, had a pretty fabulous Pride season. Not only did she have a chance to perform with the legendary Madonna (more on that later) but she also announced her partnership with Smirnoff for their Show Up, Show Off! Drag Competition at Chicago Pride.
The Smirnoff Show Up, Show Off! Competition invites all drag queens, kings and every unique flavor of drag performer in between to showcase their talent at a series of brunch-themed events taking place across the country. The competition will be hosted by a series of gag-worthy guests around the USA and decided on by the fans who will be voting via the Smirnoff Instagram page. The fiercest entertainers will take the stage in New York City in October for the finale where the winner will be named Mx. Smirnoff No.21, receive a $50,000 talent contract and serve as the newest ambassador representing the LGBTQUIA+ community for Smirnoff Pride 2023.
We recently had a chance to sit down with Shea to discuss her involvement in the competition, the evolution of drag and the importance of community.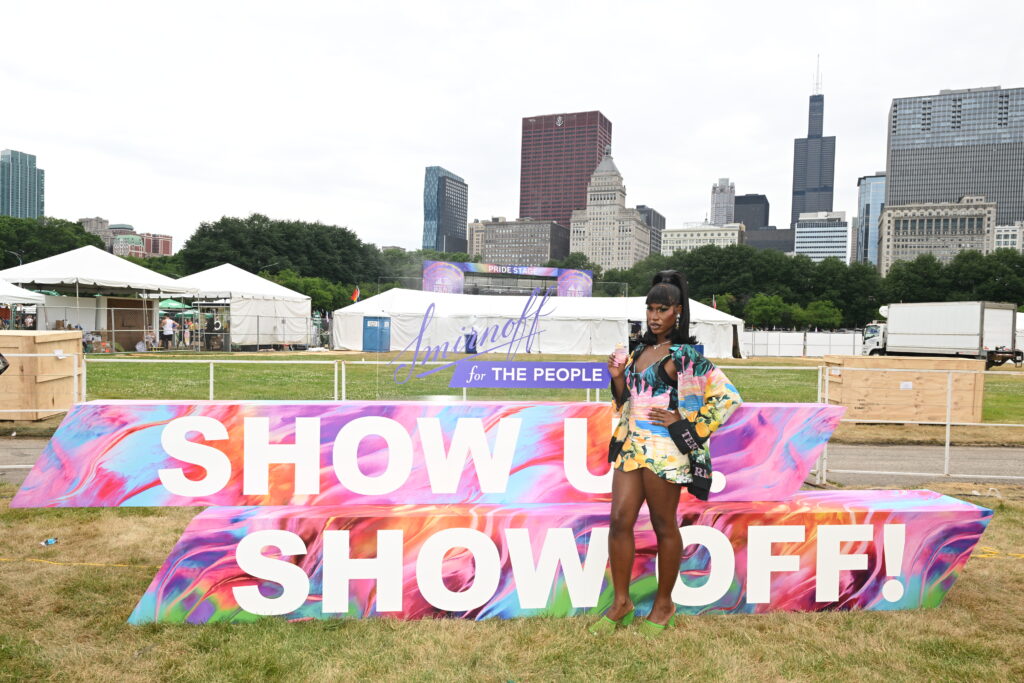 Queer Forty (Q40): Hi Shea! It's a thrill to speak with you. We are so excited for the Show Up, Show Off Competition! What can you tell us about it and your decision to work with Smirnoff?
Shea Couleé: I'm really excited that I finally get to partner with Smirnoff because I've been a fan of theirs for a really long time. The first adult beverage I enjoyed was a Smirnoff Ice. (Laughs) I know many of us can probably vibe with that as I'm sure that's the case for many people.
We have such a fun program that we are putting together, and I do not want to give too much away, so just hang tight. Just know that this competition is going to be sick'ning and I cannot wait to roll out the whole thing for you!! Within the next coming weeks, you can expect to see some more details coming from us telling you exactly what you can expect from this amazing competition.
Q40: Oooh I can't wait! I just know its going to be fantastic!! I'll be keeping my eyes peeled! So I guess in line with the competition, what do you think makes a drag superstar? And is there anybody on your radar?
Shea: Honestly, I am such a humongous fan of drag, it goes so much beyond Drag Race. There's so many unbelievably talented and undiscovered, kings, queens and afab (assigned female at birth) performers out there.
There are so many things that Drag Race has done for the community but there's only so many opportunities that they can give at any given time. That's why I'm so glad that we can come in, partner with Smirnoff and create an additional platform for so many unbelievable performers out there.
And I would love to say which people that I have my eyes on but I would hate for it to seem like they'd have an unfair advantage, so I would just say that I love everybody! (Laughs)
Q40: I hear that! (Laughs) I love hearing that you're using your platform to elevate lesser-known performers. How do you keep your drag constantly evolving? Where do you pull inspiration from and how do you keep it so fresh and fashion forward?
Shea: You know, I said it on All Stars 5 and it really is the truth that my drag, in its purest form, is a love letter to black women. I am just always so deeply inspired by so many beautiful, intelligent, creative, smart and funny black women, and for me, my drag just an evolution of what I see reflected in the world. I see beauty and I only want to find ways to incorporate it into my own personal experiences and then reflect it back in a way that inspires others.
Q40: I love that! So, I would say this question gets thrown around a lot, but I think its valid. What would you say is the future of drag and where do you see yourself in it?
Shea: For me the future of drag is limitless. It really really is, and I feel like the more that people see and consume drag, the more that they feel inspired to try out drag for themselves- because drag is for everybody! You know? Drag is for everybody!
And I feel like my position in the future of drag is honestly just to help and inspire and also amplify other voices and create platforms and spaces for people to share their drag with the world.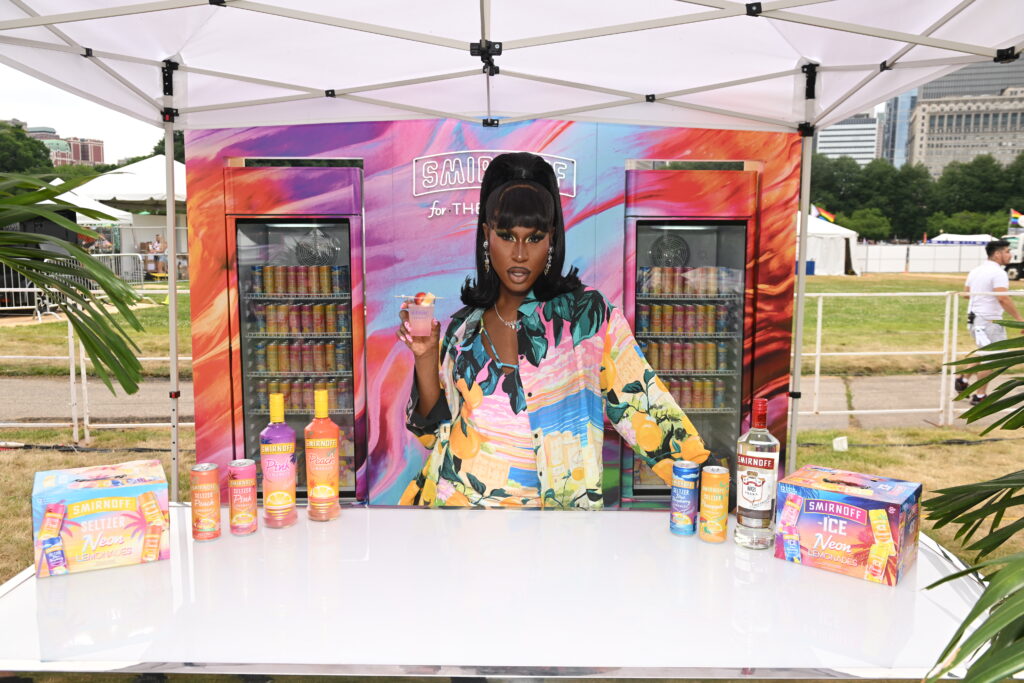 Q40: I know you made this initial announcement at Chicago Pride and the event looked super fun, but I think I also spied some pictures of you at Madonna's Pride event in NYC just days before. Were you involved with her Pride performance at all?
Shea: (Laughs) Yes I was. That was..wow what a whirlwind- because you know, Chicago and NY Pride happened at the same time. It was definitely a really surreal experience being able to go and perform with Madonna. I mean, Jean Paul Gaultier, they had someone fly 11 hours from Brazil to bring me the Blonde Ambition corset!
It was really unbelievable to be able to have these really impactful experiences, being able to be around someone like Madonna and then go to Chicago and announce this amazing Show Up and Show Off competition that we're doing.
Q40: Yeah girl, you had a big weekend, a big Pride weekend. (both laugh) You can't beat that!
Shea: That's June baby!
Q40: What would you consider some of your career highlights post Drag Race?
Shea: Well one for starters would be this iconic partnership with Smirnoff. I'm extremely excited about this and I cannot wait to share more details with you later…
In addition to that I think, for me, walking in a Savage X Fenty show, getting a chance to meet Rihanna. This happened on Drag Race but getting to meet Naomi Campbell and have such an amazing experience with her. Developing a beautiful relationship with Valentino and being named one of their "Valentino Divas" was really amazing for me.
You know, I think back to when I started drag, 11 years ago, and the dreams that I had for myself and where I saw myself going, and I just feel like right now I'm finally tapping into those big dreams that I had for myself, and I feel like it's only just the beginning.
Q40: As your career keeps going is there anybody living or dead that you'd want to collaborate with?
Shea: Ok..um..Beyoncé, Naomi Campbell, and as far as who's not living anymore… Whitney Houston, Michael Jackson, Thierry Mugler…those would be my top list of collaborators.
Q40: That's a pretty solid list! (laughs) And for my last question I would just ask, how would someone like you advise people in the 40+ community to stay engaged with the community at large? How would you invite them to do that?
Shea: What I would say to the older members of our community is to please not be hesitant to engage with millennials, Gen Z'ers. I know we talk a lot and act like we know everything but it's really important for us to engage with you so that we can learn the really important lessons and history of everything that you've had to do to get us to where we are.
I feel like sometimes the younger generation does take that for granted and I can definitely, without a doubt, understand some of the frustrations of the older members of our community when the younger ones try to speak over them. But, I ask that you reach out to us with love and help us to better understand all of the sacrifices that our elders and forefathers and foremothers have made for us, because we need that. It only makes us stronger as a community.
Q40: That's beautiful Shea. Thank you for your time and your candor. This was amazing and a true honor.
Shea: Well thank you so much, I really appreciate that!