Everything LGBTQ+ coming to HBOMax this September
Despite the recent and very public difficulties over at Warner Bros. Discovery, owners of HBOMax, the show must still go on. With September comes the fall television season and while there is a decent amount of new content coming to the streaming network, it is decidedly light on original series. This is likely due to the runaway success of House of the Dragon which has only gone up on viewership during its second week, but is it enough to keep HBOMax afloat during this turbulent time of reorganization? Only time will tell.
In the meantime, we have curated a list of queer content coming to HBOMax this September.
Shows:
The Vampire Diaries Season 1-8 (2009-2017) – September 4
Developed and produced by gay horror master Kevin Williamson (Scream), this series follows the life of Elena Gilbert, a teenage girl who after losing her parents in a car accident, falls in love with a 162-year-old vampire named Stefan Salvatore. Their relationship becomes increasingly complicated as Stefan's mysterious older brother Damon Salvatore returns, with a plan to bring back their past love Katherine Pierce, a vampire who happens to look exactly like Elena.
Damon, initially upset with Stefan for forcing him to become a vampire, eventually forgives his brother but also falls in love with Elena, creating a supernatural love triangle. Both brothers attempt to protect Elena as they face various villains and threats to their hometown of Mystic Falls, Virginia. The brothers' history and the town's mythology are revealed slowly through flashbacks as the series goes progresses.
Besides the queer sensibility brought to the show by Williamson, there are four featured queer characters in the show including Bill Forbes, Nora Hildegard, Josie Saltzman and Lucas Parker.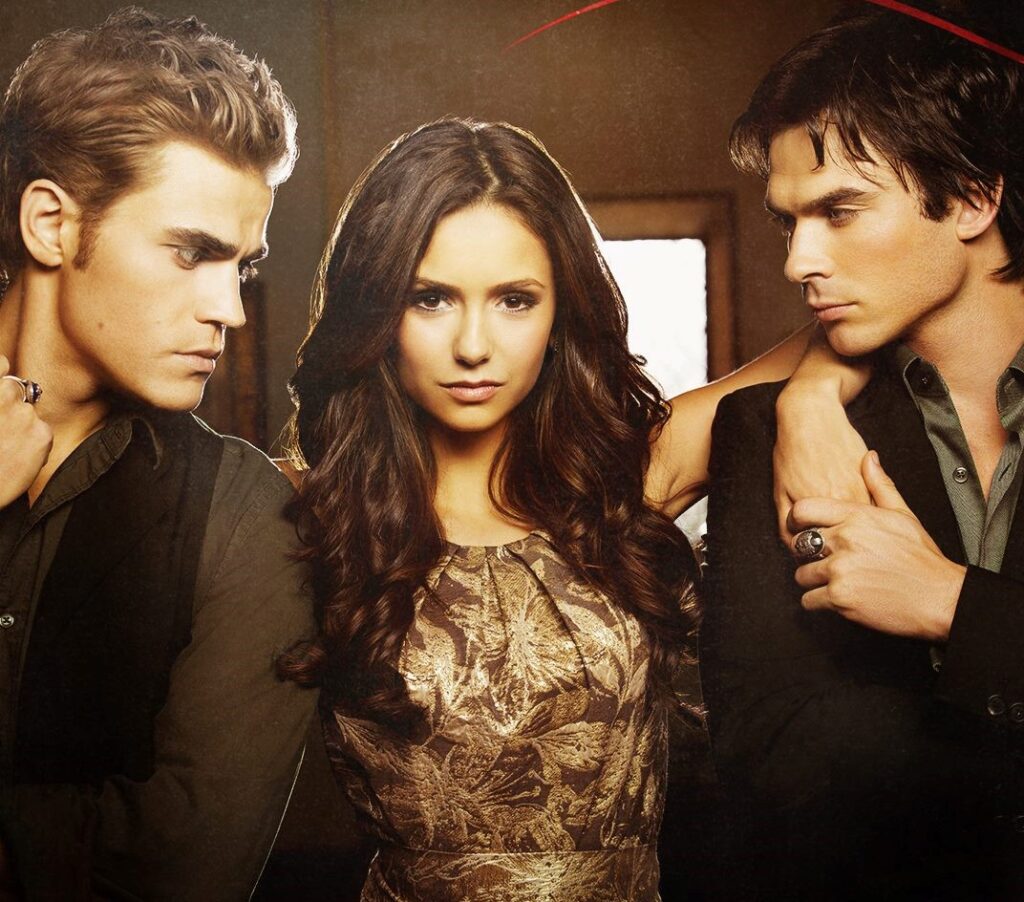 Tom Swift Season 1 (2022) – September 9
Tom Swift is the main character of six series of science fiction and adventure novels for kids that emphasize science, invention, and technology. When developed for television in 2022 the character was reimagined from a white teenager to a gay black billionaire.
The show follows the devilishly charming inventor (played by Tian Richards) who is described as a young man "with unlimited resources and unimaginable wealth" who many men would kill to be — or be with. When his father, Barton, disappears on a landmark trip to Saturn, Tom begins a quest to unravel the truth at all costs.
Los Espookys Season 2 (2022) – September 16
In Los Espookys, queer comedians Julio Torres and Ana Fabrega play a pair of weirdos. Andrés (Torres) is the unbothered, narcissistic heir to a chocolate fortune who also happens to have awesome magical powers. Meanwhile, Tati (Fabrega) is so dim she makes Rose Nylund look like a genius. They are a part a crew of friends who start a business in which they dream up creepy experiences for their clientele.
Torres and Fabrega are also co-creators of the series with SNL alum Fred Armisen, so the entire show has a queer vibe to it. Definitely worth checking out!
Gotham Seasons 1-5 (2014-2019) – September 30
Gotham tells the story behind Detective James Gordon's rise to prominence in Gotham City in the years before Batman's arrival. It features several prominent queer characters including Oswald Cobblepot (The Penguin), Barbara Kean, Renee Montoya and Tabitha Galavan.
Good Behavior Seasons 1& 2 (2016-2017)
Co-created by gay showrunner Chad Hodge, this show follows Letty Raines, a thief and con artist whose life is always one wrong turn, one bad decision, from implosion; just how she likes it. The plot features a queer storyline involving Letty's former flame Kyle Dash.
Movies:
Tammy (2014) – September 14
After getting fired and finding out her husband is cheating, Tammy (Melissa McCarthy) hits the road with her profane, alcoholic grandmother Pearl (Susan Sarandon). Shenanigans ensue. The movie features Kathy Bates as Lenore, Pearl's cousin, playing a lesbian married to Sandra Oh.
Cat People (1942) – September 1
An American man marries a Serbian immigrant who fears that she will turn into the cat person of her homeland's fables if they are intimate together. This horror classic has long been considered queer coded using Irina's 'otherness' as metaphor for lesbianism.
My Week With Marilyn (2011) – September 1
Colin Clark, an employee of Sir Laurence Olivier, documents the tense interaction between Olivier and Marilyn Monroe during the production of The Prince and the Showgirl (1957). While not explicitly queer in content, Marilyn is a gay icon for the ages, so we thought you'd like to know about it.
Elvis (2022) – September 2
From the mind that gave us Moulin Rouge!, comes Baz Luhrmann's newest masterpiece Elvis. The movie follows the life of music icon Elvis Presley, from his childhood to becoming a rock and movie star in the 1950s, all the while maintaining a complex relationship with his manager, Colonel Tom Parker.
Again, while not explicitly queer Luhrmann's filmmaking style, with its opulence and glamour, has become a favorite in the LGBTQ+ community and so is included on this list.