Fabulous theater books to delight queer culture vultures
Theater and live performance have been a beacon of light for queer talent for decades, and the contribution of LGBTQ+ actors, playwrights and directors has run parallel with the modern gay rights movement.
Three new non-fiction books—two memoirs and one biography—offer in-depth recollections of the theater scene of the 20th Century, which offered a playground and refuge for talented gay men and women who made vast artistic contributions, whether celebrated in plain sight or struggled with a life in the closet. Here's why theatre queens and thespians will love these three books!
Leading Lady: A Memoir of a Most Unusual Boy by Charles Busch
Long before drag enjoyed the renaissance of today, Busch was channelling his favorite leading ladies and creating great parts for that he could play, while dressed as a woman. It's not quite drag and it's not quite female impersonation and as cross-gender performance it connects to Elizabethan theatre, pantomime, cabaret and vaudeville.
Charles Busch's captivating memoir entices from the first pages as the author dishes about friend Joan Rivers—and it's an intriguing ride from there! Busch is a New York legend, a multitalented performer, creator and writer: Tony Award-nominated playwright of The Tale of the Allergist's Wife and the long-running hit Off-Broadway play Vampire Lesbians of Sodom. Busch also wrote and starred in the film versions of his plays Psycho Beach Party and Die, Mommie, Die!, the latter of which won him the Best Performance Award at the Sundance Film Festival. He has been honored with a special Drama Desk Award for career achievement as both performer and playwright, and he also received the Flora Roberts Award for Sustained Achievement in the theater by the Dramatists Guild.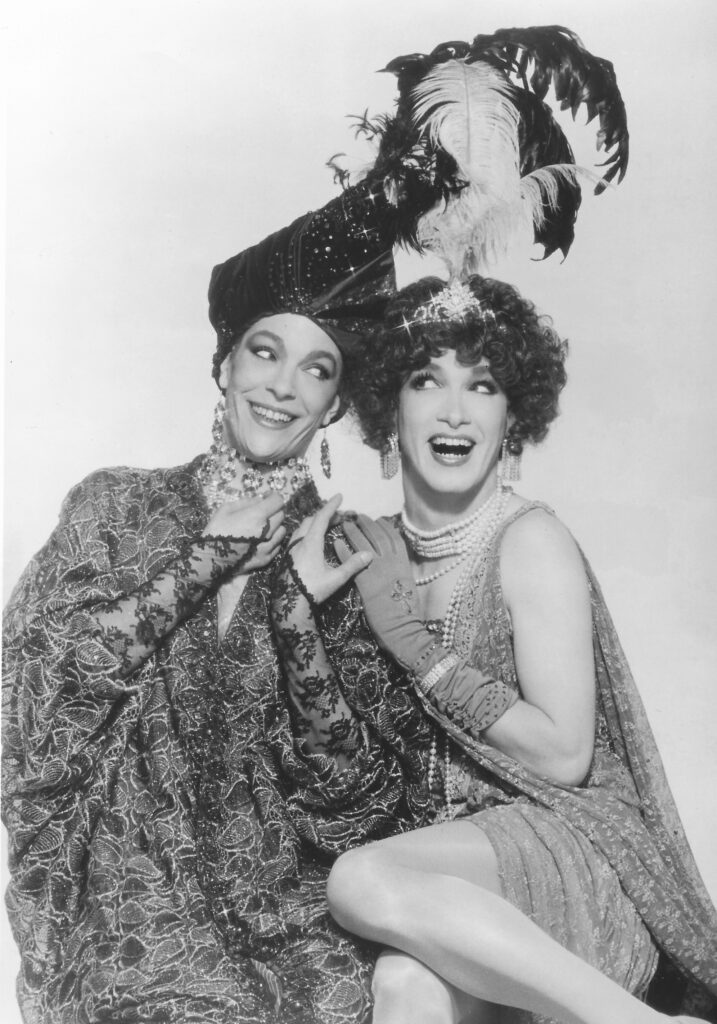 And so Busch knows how to tell a story—especially if it is driven by a complex female character. A female-identified gay man raised in a matrilineal context, Busch is completely devoted to his heroines of Hollywood's golden age and 19th Century theatre's grande dames.
In this book, Busch treads lightly over psychology and politics, acknowledging that perhaps he was seeking a mother figure, after losing his own to a sudden heart attack when he was seven. And perhaps he was trying to provide distraction and joy during the horrible height of the AIDS crisis. But really, Busch is telling a story that might have come from Auntie Mame or Gypsy or Stella Dallas: of a foundling child who moved to Manhattan to live with his theater-loving, proto-feminist Aunt Lil, who encouraged and nourished her nephew's artistic talents. Eventually, he discovered his gifts for writing plays and performing as a male actress. Along the way he meets a variety of icons: Angela Lansbury, Debbie Reynolds, Greta Garbo, Elaine Stritch, Linda Lavin, Carol Channing, Marian Seldes, Claudette Colbert, Valerie Harper, Kim Novak, Bea Arthur, Zoe Caldwell, and many others.
The anecdotes are bite-sized and delicious. The pace is snappy and jumps around in time, creating an impressionistic and thematic paradigm rather than chronological. Busch was using women's dressing rooms and being invited to women's events in the 1980s and '90s before drag was seen as a political act.
Leading Lady is a name-dropper's delight with some unexpected encounters in the mix (Patrick Swayze! Natasha Lyonne) but it's also full of disarming warmth, and a kind, knowing, and mischievous sense of humor that is all too rare these days in an era of Insta-fame and cancel culture. It also makes a convincing case for the value of 'drag' as a form of feminism.
Coming September 12.

---
The Star Dressing Room: Portrait of An Actor by Alan Shayne
This is a fascinating book which puts you right in the heart of New York City in the post-World War II years as a young and struggling gay actor, Alan Shayne, pursues his dream of becoming a star of stage and screen.
Shayne, who is still with us at the age of 97, tells of how he moved from the Boston suburbs to the Big Smoke and struggled to make ends meet before serving in the war, coming back and doing Summer Stock, and attempting to live a life as a broke, young, closeted gay man — who also had doomed love affairs with women.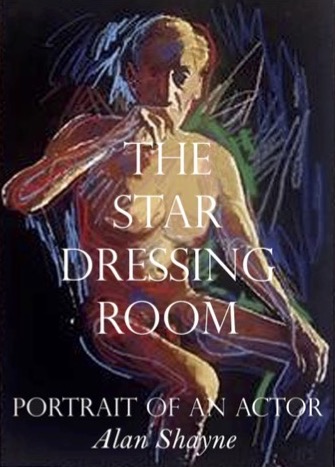 The book is filled with fascinating real life characters: Louis, his first male love, and his 'beard' wife, the captivating lesbian Jackie, who chain smoked, drank martinis on the rocks and would have been at home in a Patricia Highsmith novel!
The past is recounted by Shayne with clarity and immediacy, and there is a poetry to his recollections of summer theater in Nantucket, performing for the troops on remote Pacific Islands during WWII, and scraping by in savage Manhattan summers and winters.
The Star Dressing Room is a real page turner and a thoroughly enjoyable account of a bygone era. Shayne may not have reached the heights of stardom he desired (he went on to have an award-winning career behind the scenes in TV's golden age), but he sure did meet some legendary stars along the way and the anecdotes he shares about iconic 20th Century performers such as Billie Holiday, Greta Garbo, Katharine Cornell, Marlon Brando, Charlton Heston, Lena Horne — and an ensemble of thespians who have been lost to time — are fascinating. He also went into analysis during its nascent stage and made some discoveries about relationships. (Spoiler alert: He's still with his partner of 65 years!) The Star Dressing Room is unflinchingly honest, unpretentious, and uproariously funny. Shayne's voice is warm and confidential and reading the book almost puts you in one of his gossipy Manhattan actors' parties during the golden age of Broadway. Thank goodness he decided to put it all down on paper so those fabulous memories would not be lost.
Available now.
---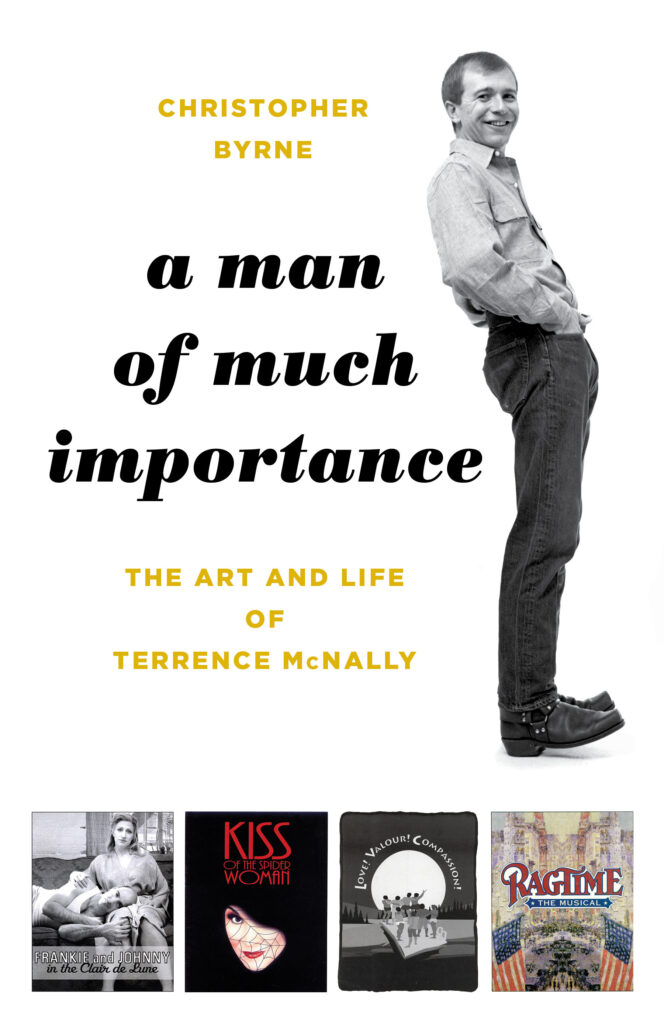 A Man of Much Importance: The Art and Life of Terrence McNally by Christopher Byrne
If you've ever wondered what it takes to become a great American playwright of the modern age, this biography could prove instructive! This is a traditional-style biography of Terrence McNally, mostly in chronological order and looking for early influences and the motivation behind McNally's best-known works, including Frankie and Johnny in the Claire de Lune, Master Class, Love! Valor! Compassion! and others and sometimes feels a little at arm's length from McNally probably because its author Christopher Byrne, while being an admirer of McNally's, is a theater critic. But this is also one of the strengths of the book. Byrne has a wide-ranging knowledge of 20th Century American theater and its history and landmarks, and he draws on the texts themselves as source material and to make his own conclusions about what McNally was thinking, feeling, and aiming for. And so reading this book is like getting an MFA in theater, and meeting some fascinating folks along the way. Even though anecdotes about Edward Albee, Nathan Lane, Christine Baranski, Liza, Chita, and the gang etc. are second hand, they're still fabulous — as is the realization that a little guy from Florida, who grew up in Corpus Christi and originally thought he would be a journalist, became one of the better and more prolific dramatists of the late 20th Century. A passion for Shakespeare, opera, and Albee as a boyfriend surely helped, as did alcoholic parents and his homosexuality, which sent his famous themes of belonging against the odds into play. It's a must-have for theater queens and theater students alike, as it offers a window into the life-altering, heartbreaking world of the stage, and just offers more evidence of why we love it so much.
Available now.