Falling in love with Cape Town, South Africa
I first visited South Africa six years ago with a group of friends. It was one of the most incredible journeys I had ever been on, and I knew I wanted to return. I fell in love with Cape Town and of course, all the animals we saw while on safari, so when the opportunity came to visit the country again, I knew I couldn't pass it up.
Cape Town is one of my favorite cities in the world. Words can't describe how beautiful the city is especially when you venture outside the city center and explore the beautiful scenic overlooks surrounding the Cape of Good Hope offering stunning views of the Atlantic and Indian oceans.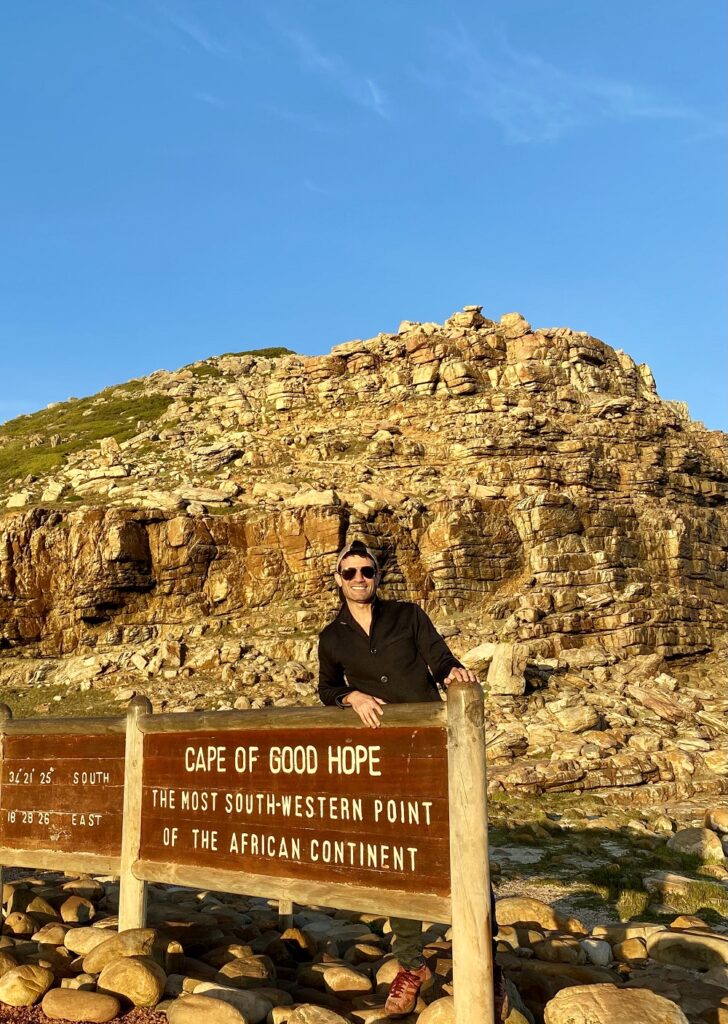 I stayed at the Capital 15 on Orange, a modern boutique hotel located just outside of the city center which boasts a grand lobby, a fully equipped fitness center, and a wonderful restaurant. Most hotels in South Africa include breakfast so be sure to research those options before you book. The breakfast buffet at the Capital 15 was one of the best I've ever had. It will help you save a bit of money even though at the moment, the exchange rate is quite favorable for American tourists.
My favorite aspect of Capital 15 was the room. I've stayed in many hotel rooms over the years, and this one comes close to the top of my list. The room features a king-size bed with luxury linens, an enormous bathroom with a walk-in shower and a separate soaking tub as well as unobstructed views of Table Mountain, one of Cape Town's most famous landmarks.
Speaking of attractions, the Victoria & Alfred waterfront is a must-see destination. Somehow, I skipped this on my last visit to Cape Town, but I quickly realized why it should be on top of everyone's list. The area contains dozens of restaurants, shops, and entertainment options and is the perfect place to grab lunch or dinner while gazing out into the harbor.
This is also the launching point of our Cape Town helicopter tour. I had never flown in a helicopter before, so I was a bit nervous, but the team at NAC Helicopters made the process simple and kept us safe while we viewed the city from the sky. For being a travel journalist, I have a strange fear of flying, so being thousands of feet in the air is a bit unnerving, but the views were incredible.
South Africa is known for its incredible wines. If you are looking to visit some vineyards while in Cape Town, Jeep Tours Cape Town offers tours of the Stellenbosch region, just a quick 45 minutes from the city. We had the opportunity to stop by three beautiful vineyards and sample some of their world-class wines including Chenin Blanc and Pinotage, the signature grape of the region. Jeep Tours Cape Town have personal relationships with each vineyard they visit and therefore have access to private spots not available to the public. The woman-owned business can customize trips from a small party to a large group and if you would like to just visit LGBTQ vineyards or those which employ LGBTQ winemakers, they can make that happen as well.
Gay culture is plentiful in Cape Town. Almost everywhere you visit will be welcoming to LGBTQ tourists, but if you are looking to grab a cocktail at LGBTQ-specific spots, try Café Manhattan and Beefcakes, where the servers are shirtless and offer guests the opportunity to take shots off their scantily clad bodies…or so I've heard!
The next day we flew out to Port Elizabeth, just a quick one-hour hop from Cape Town, where we were met by our drivers to bring us to Shamwari Game Reserve, a private game reserve that offers multiple 5-star accommodations, an animal rehabilitation center, and a Born Free campus which rescues animals who were used in a circus or purchased for pets. Born Free operates in multiple countries throughout the world including Kenya, Ethiopia, and Australia.
Driving up to our resort on Shamwari was like a scene out of a movie. We passed zebra, and herds of impala and springbok as we cruised along the dirt road. The staff at Long Lee Manor was waiting for us with warm hand towels and refreshing beverages before showing us to our rooms, which came complete with a heated bed for those chilly safari nights as well as an outdoor shower so guests could feel at one with nature.
Monkeys love parading around the property with the intention of stealing food, so we were advised to never leave our doors open otherwise we may come back to stolen merchandise.
Long Lee Manor is comprised of 18 private rooms, a pool and pool house, a spa, and a full-service restaurant. Guests can relax with friends and family while they play board games and stare out into the vast savannah hoping to spot wildlife that frequents the watering hole.
After a quick change into my safari outfit, we headed out for our first game drive in hopes to spot some of the Big 5 – which include elephants, lions, leopards, cape buffalo, and rhinoceros.
Animal sightings are never guaranteed on safari. The reserve we were on was almost 40,000 hectares (100,000 acres), so the chances of spotting wildlife can vary depending on the time of year, weather, migration patterns, and behavior. Our guide Jacques has been a ranger for many years and is able to spot wildlife from what seemed like a mile away. Our first sighting was a few warthogs, then as we turned the corner, we ran into a family of elephants. Seeing these majestic animals in the wild is just awe-inspiring.
Although we kept our distance, we were still about 50 feet away, in striking distance if the animal wanted to charge us. Fortunately, we just sat in our vehicle and watched as the family ate their meal and interacted with each other. Elephants are one of nature's most intelligent animals and develop feelings and bonds just like humans. Jacques told us a story of how he witnessed a calf being born and the others in the herd started trumpeting and dancing in celebration of the birth.
A few miles further up the road was a mother rhinoceros with her calf. The horn on the mother rhino was probably two feet in length and we were told spotting her with her young was very tricky as they hadn't been seen in months.
As the sun began to set over Shamwari, we headed back to the resort for a Boma dinner, where we dined on traditional African foods outdoors around a communal fire. The meal consisted of a delicious soup and numerous types of meat. As we broke bread and recanted tales of the day's activities it was hard not to pinch myself in disbelief. I was on safari for the second time, and it was just as magical as the first. It was a moment I didn't want to take for granted.
The next morning, we woke up with the birds and began the second game drive of our stay. The mornings tend to be very chilly, and we were advised to dress in layers as the temperature fluctuates throughout the day. The good thing about morning drives is this is when animals are the most active.
About 20 minutes into the drive, we spotted two male lions, a young nomad being chased out of the territory of the elder lion. The young lion ran through the grass knowing he was not welcome. After he no longer viewed the nomad as a threat, the elder lion took a rest as we watched the encounter from about a football field away.
More sightings quickly followed; cape buffalo, springboks, impala, hippopotamus, rhino, and three female lionesses taking a much-needed afternoon rest. They are the hunters of the family so saving their energy is always well-deserved.
As the day drew to a close, the staff at Shamwari had one last surprise for us, a sundowner, which is basically a cocktail reception in the bush. The staff set up a full bar, appetizers, and some chairs around a campfire. We spent the next hour sipping cocktails and watching the sunset over the mountains. Something so small meant so much to all of us and made for an experience we won't soon forget.
Guests at Shamwari can also opt to visit the Shamwari Wildlife Rehabilitation Centre, which helps to rehabilitate and care for sick, injured, abandoned, or orphaned animals. Once these animals have been nursed back to health, they are released back into their natural habitat.
It's not an interactive visit, but an informative and educational experience, to give animals the best chance at a successful release. The Wildlife Rehabilitation Centre at Shamwari is a registered facility and as such, animals in need come from all over the Eastern Cape. The primary goal is to ultimately return all the animals back to the wild once they are healed.
As tired as we all were after our two-week adventure through South Africa, we didn't want to leave Shamwari. It is a truly majestic place that is well worth the visit. I vowed to return and share these memories with other friends and family.