First-ever Newark LGBTQ Film Festival announces full line-up
Organizers for the first-ever Newark LGBTQ Film Festival have announced the full line-up for the event, which will unfold April 14-16 at various venues throughout downtown Newark.
 "Our narratives are part of the fabric and history of Newark, New Jersey, and the United States," said Beatrice Simpkins, Executive Director of the Newark LGBTQ Community Center. 
"This film festival will liberate us and provide a platform for speaking the truths of our important and diverse lives, while also bringing a focus to the City of Newark. We want to empower LGBTQ+-BIPOC creatives who use film as their vehicle of artistic expression, and honor their important contribution to culture, art, and improving the lives of others."
 Friday, April 14 – Newark Museum of Art
The festivities commence with an Opening Reception on Friday, April 14, 5:30-7:00 PM at the historic Newark Museum of Art (49 Washington Street). Hosted by the inimitable Harmonica Sunbeam, and featuring DJ No Request spinning the beats, the reception is free to the community with advance registration.
Immediately following, at 7:15 PM, the festival's opening night feature, The Inspection, is Elegance Bratton's deeply moving film inspired by his own story, of a young, gay Black man, rejected by his mother and with few options for his future, who decides to join the Marines. The screening will conclude with a special panel discussion featuring local LGBTQ Veterans touching upon their experiences in the military.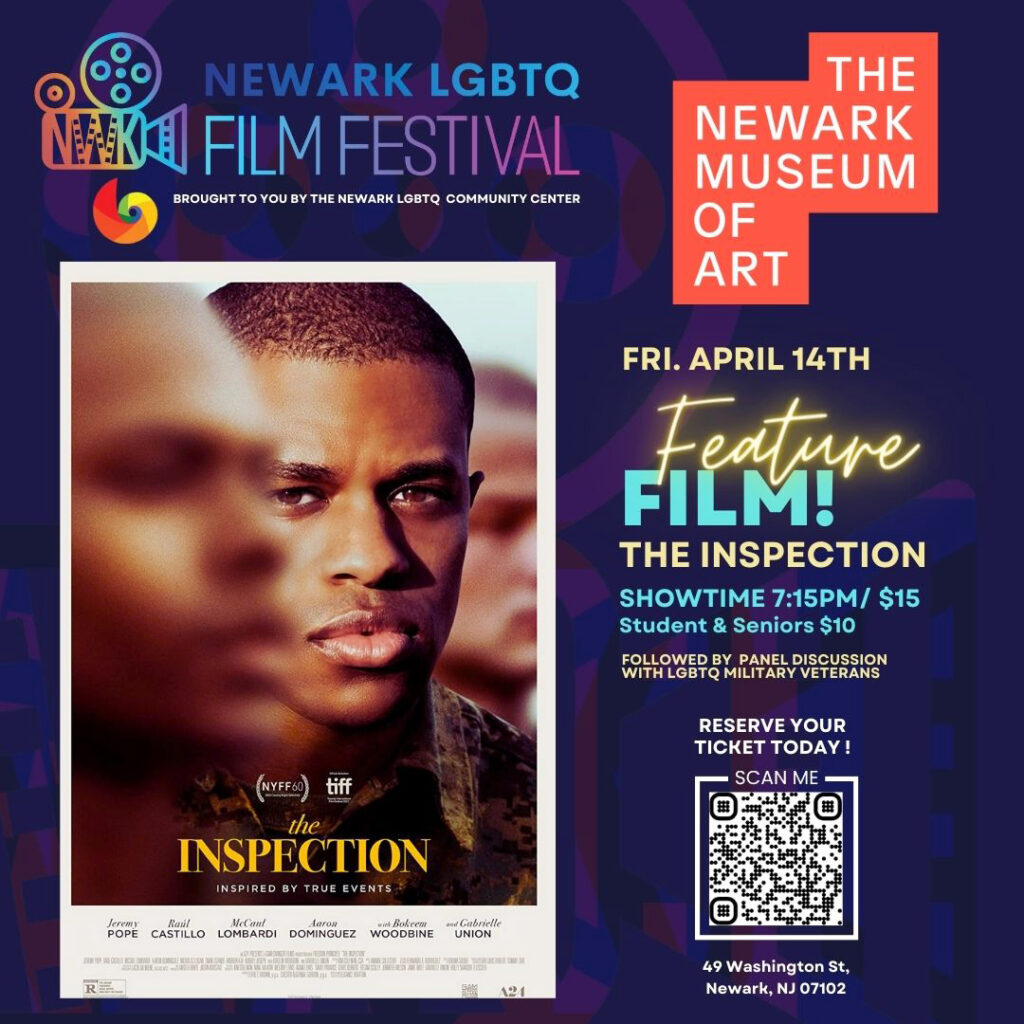 Saturday afternoon, April 15 – Essex County College
The festival moves to Essex County College (303 University Avenue) for its afternoon offerings on Saturday, April 15.
 First up at noon, a free, retrospective presentation of Dreams Deferred: The Sakia Gunn Film Project, will look back at the murder of Sakia Gunn, a 15-year-old student who was fatally stabbed in a gay hate crime as she waited with her friends at a Newark bus stop. 
Following a screening of the documentary about Sakia's murder, which galvanized Newark's LGBTQ community, a panel discussion will bring together filmmaker Charles Brack, along with members of Sakia's family and the Newark community, to discuss the ongoing impact of Sakia's death and, from the vantage of 20 years later, where things stand today.
At 1:30 PM, the feature documentary Black As UR, directed by Michael Rice, looks at how violence against Black queer and trans folks continues to be a painful reminder that Black LGBTQ+ people are still striving to be understood and valued by other members of the Black community.
At 2:00 PM, Rule of 3rds, by Sabbuur (Saki Bomb) Ikhla, follows the dramatic sparks that fly when Nikki accidentally bumps into her ex-lover Stephanie during a routine rideshare. The screening also includes an episode of Jillian's Peak, a Newark-based series from creator Charzette Torrence, who recently passed away.
 And at 3:45, a free panel discussion, Breaking Into Filmmaking, explores exactly that from the perspective of several local professionals working in various aspects of the industry.
Saturday evening, April 15 – NJ PAC Black Box
The NJ PAC Black Box (New Jersey Performing Arts Center, 1 Center Street) is the setting for two relationship-oriented screenings on Saturday night.
First up, at 6:00 PM, the shorts program, Date Night, serves up an assortment of loves found and loves lost…and all the points in between.
And at 8:00 PM, with subtle, vulnerable performances, the narrative feature Nana's Boys looks at the intimate life of a couple who are confronted with the fact that their relationship is not as solid as they thought.
Sunday, April 16 – Rutgers Paul Robeson Center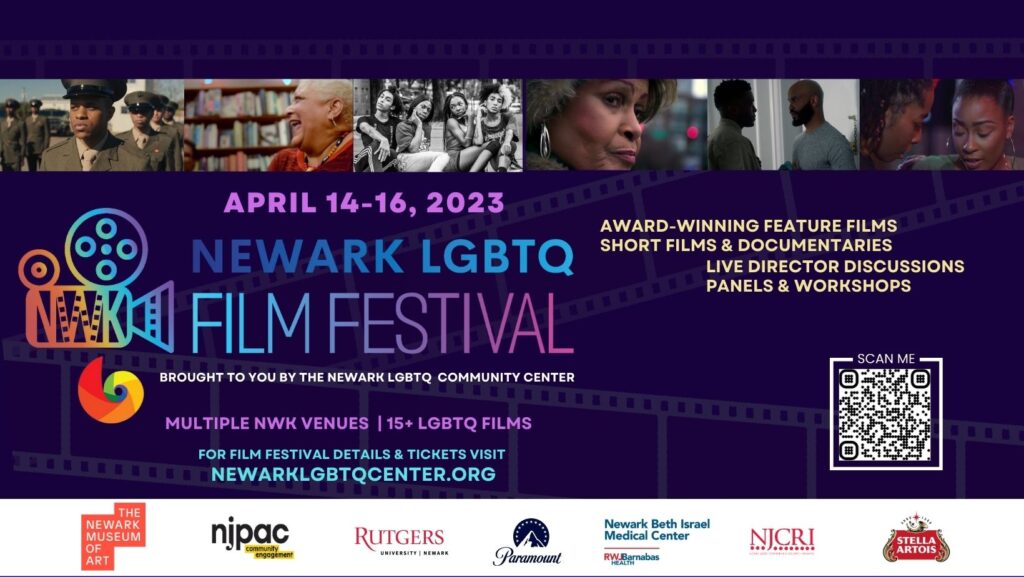 The festival's final day of programming takes place at Rutgers Paul Robeson Center (350 Dr. Martin Luther King, Jr. Blvd).
The afternoon kicks off at 12:00 PM with the documentary Jewelle: A Just Vision, from award-winning director Madeleine Lim, which shines a joyful and hope-filled spotlight on novelist, playwright, essayist, poet, and journalist Jewelle Gomez.
At 12:15 PM, in midst of renewed assaults on the rights of LGBTQ people, the shorts program Safe Space is a visit to the lessons of the past…and a celebration of the spaces where the LGBTQ community has been able to come together as themselves over the years.
At 1:45 PM, All In Family, presents a range of works that explore the particular trials and tribulations of family life in the LGBTQ-world.
At 2:15 PM, Casting Workshop For Actors is a free event for those looking at working on the performer side of the camera.
And at 4:15 PM, the festival concludes on an inspirational note with Mama Gloria, a look at Chicago's Black transgender icon, Gloria Allen, who blazed a trail for trans people like few others before her. At once a portrait of a groundbreaking legend who aged with joy and grace, the film is also a celebration of unconditional love–the love Gloria received from her own mother and the love that she gave to her chosen children, the young, homeless, transgender people around her.
Director Luchina Fisher, who was driven by the love she has for her own teenage transgender daughter, Gia, in creating this exhilarating documentary, will be on hand for a chat after the screening.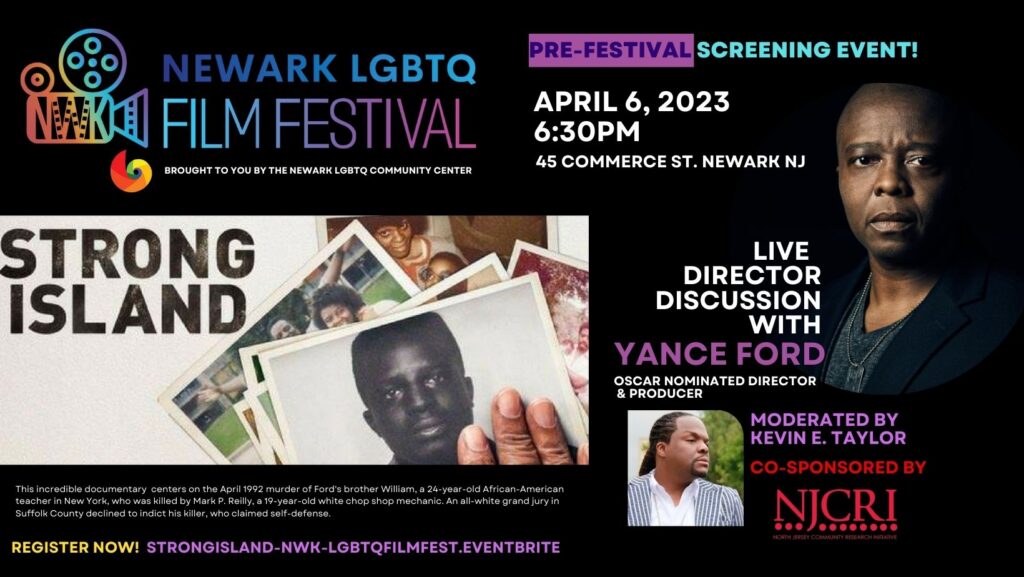 Presented by the Newark LGBTQ Community Center, the mission of the Newark LGBTQ Film Festival is to amplify the voices, vision and works of film that would otherwise struggle to find a mainstream audience, but which have a significant impact in raising awareness around lives and issues of queer people and queer communities of color. 
The event, organized in alliance with community partners and major sponsors that include the LGBTQ Advisory Council of NJPAC Community Engagement, as well as the Newark Museum of Art, North Jersey Community Research Initiative-NJCRI, Paramount, Rutgers University-Newark, RWJ Barnabas/Newark Beth Israel Medical Center and Stella Artois, will bring people together while celebrating the rich history and bright future of artistic contributions from the LGBTQIA+ BIPOC community in Newark and beyond.

For more information and tickets, visit the Newark LGBTQ Film Festival website: https://www.newarklgbtqcenter.org

FESTIVAL ADMISSION:
Tickets, passes and event registration are available via Eventbrite at NWK-LGBTQFilmFestival2023.eventbrite.com
Admission is free with advance registration to the Opening Night Reception (4/14), to Dreams Deferred: The Sakia Gunn Film Project (4/15), and to the Saturday filmmaking panel and the Sunday casting workshop.
Tickets to the opening night screening are $15 general/$10 students & seniors; tickets to all other screenings are $10 general/$7 students & seniors.
A limited number of All-Access Festival Passes, covering admission to all screenings and events, are available for $45.
ABOUT THE NEWARK LGBTQ CENTER
The Newark LGBTQ Community Center is a volunteer-run, community-based organization committed to providing safe space, programs, and services that support the well-being of the LGBTQ community and our allies in the Newark, New Jersey area.
For more information, visit https://www.newarklgbtqcenter.org