First-ever TikTok Visionary Voices announced!
TikTok is gearing up for their Pride Month campaign, which will feature in-app programming, LIVEs and events that will honor the impact that LGBTQ+ creators have year-round. They have also announced the first-ever TikTok 2023 LGBTQ+ Visionary Voices List, recognizing visionary creatives, business owners and culture changemakers who are innovators in their fields, using TikTok to educate, entertain, and advocate for the LGBTQ+ community, on and off the platform.
The first-ever LGBTQ+ Visionary Voices List honors visionary LGBTQ+ creatives, small business owners and culture disruptors on TikTok who are making an impact in their industries and raising the bar across culture and entertainment. Our honorees reflect backgrounds in beauty, education, fashion, food, music, dance, activism and more.
Meet the creators
@hal.baddie (she/her)(New York, NY) – Devin Halbal is a social media icon, known for her off-the-cuff phrases, like "Met Gala behavior," and for spreading positivity through her lifestyle content, her travel journey and daily mantra videos on TikTok. She hopes to inspire other transgender women to have adventures and live their lives to the fullest.
@jaegurley (they/them)(New York, NY) – Jae Gurley, a Black fem nonbinary creator, uses their gift of performing and storytelling to share their journey of self discovery through lifestyle videos on TikTok that center on the importance of embracing individuality to encourage people to live their "most confident Bougie B life."
@mercurystardust (she/her)(Madison, WI) – Mercury Stardust is a professional home maintenance technician, performer, and award-winning activist. Recognized as Trans Handy Ma'am, her unique brand and expertise in the home repair space earned her fame on the internet. With over 2.3 million followers on TikTok, Mercury uses her platform to share DIY tips on home maintenance. She also recently participated in a "TikTok-a-Thon" fundraiser to celebrate Friday's Transgender Day of Visibility, raising over $1 million for trans health care.
@octopusslover8 (he/him)(Los Angeles, CA) – Comedian and content creator Jake Shane became known for his PSAs and reimaginings of significant historical events through the eyes of Gen Z. He uses his platform to share light-hearted videos, while opening up raw conversations about mental health and sharing his own experience and journey with treatment for severe OCD and anxiety, which he has struggled with since the age of 7.
@thezletnis (she/her)(Toronto, Ontario) – Am and Noey are queer sisters who have captivated diverse audiences through their content focused on self-expression, inclusive fashion, and LGBTQ+ advocacy on TikTok. Their mission is to foster a community where everyone is encouraged to embrace their true selves and celebrate the beauty and power of authenticity.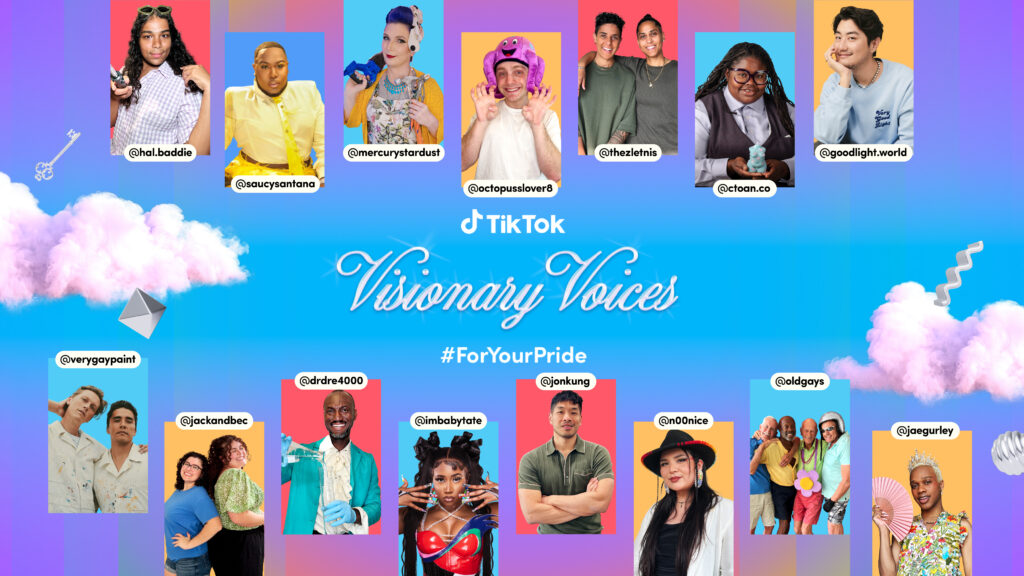 Meet the industry disruptors
@saucysantana (he/him)(Perry, FL) – Saucy Santana is a vibrant artist with an infectious and bold personality. Santana's first-ever song, "Walk Em Like A Dog," was a viral hit with tens of millions of streams. With chart-topping tracks like "Material Girl," his strong presence in the LGBTQ+ community, and co-signs from notable artists like Nicki Minaj, Rihanna, and Cardi B, Saucy has gained a worldwide following.
@imbabytate (she/her)(Atlanta, GA) – Fueled by self-love and manifested dreams, Tate Farris is an ever evolving artist who is known for her music that spans summery pop, amorous R&B, and hard-hitting hip-hop and for creating viral moments on TikTok with sounds like the confidence-boosting "I Am," the playful "Hey, Mickey!," and her feature on Ashnikko's massive single "Stupid."
@drdre4000 (he/him)(Boston, MA) – Andre Isaacs, an associate professor of chemistry, uses his platform to push the envelope on the capacity of the STEM community and challenges normative STEM culture through dances, skits, and educational content to demonstrate what an inclusive space could look like for the next generation of scientists, primarily those with marginalized identities.
@jonkung (he/they)(Detroit, MI) – Jonathan Kung teaches people not only how to cook, but also how to express their cultures and personalities in their food. Jon combines their passion for food and authenticity in their videos on TikTok and encourages people to embrace their heritage, passion, and pride.
@oldgays (he/him)(Cathedral City, CA) – Mick, Robert, Jessay, and Bill are the four voices behind The Old Gays, known for performing the latest dance trends on TikTok. Through their humorous and heartwarming TikToks and fun surprises, they have won over young and old fans alike. The ensemble advocates for the LGBTQ+ community and continues to spread their messages and stories through their platform.
Small-medium-sized businesses
@ctoan.co (she/her)(Milwaukee, WI) – Jodyann Morgan is a queer Black candle business owner of CTOAN Co., who uses her platform to celebrate all bodies, candles, and food. She creates and designs candles from a completely gender-neutral perspective in an effort to celebrate the human form while infusing joy, heart, and a whole lot of love!
@n00nice (she/they)(Rapid City, SD) – Eunice Straight Head is an Indigenous artist who identifies as Mnicouju Lakota from the Cheyenne River Sioux Tribe Reservation. They use photography as a foundation to branch out into vario us creative forms, such as fashion, cosplay, beading, sewing, and more to bring Indigenous representation to the media.
@goodlight.world (he/they)(New York, New York) – David Yi, a journalist and proud Korean American, is the co-founder of the gender-inclusive beauty brand Good Light Cosmetics. They have been recognized as a GLAAD-nominee, and have authored PRETTY BOYS. They aim to use Good Light as a brand and platform to center non-binary folks who have long been excluded in the beauty industry and beyond.
@jackandbec (she/her)(San Antonio, TX) – Jack and Bec are sisters, illustrators, designers, and makers, who create art to uplift their underrepresented communities. Their art focuses on themes around body positivity, deaf pride, LGBTQIA+ pride, mental health awareness, and social justice.
@verygaypaint (he/they)(Los Angeles, CA) – Nicholas Scheppard and Jenson Titus are comedians-turned-painters and the duo behind Very Gay Paint, a muralist company centered around their own queerness and colorful designs. From comedic skits to vibrant mural artwork, they entertain and inspire their community while emphasizing their own queerness and colorful designs.
Celebrating #ForYourPride and our LGBTQ+ community IRL
In June, we'll be hosting multiple IRL moments to celebrate our LGBTQ+ community. We're set to host the next installment of our Visionary Voices Salon series, honoring our inspiring LGBTQ+ creator community, and will also be putting on the first-ever TikTok Pride Creator Ball celebration in Los Angeles.
#ForYourPride – In-App programming Hub
In June, join us as we celebrate Pride and our LGBTQ+ community through a series of in-app initiatives, LIVE events, and a variety of themed hashtags including #ForYourPride, #PrideMusic, and #LGBTQBusiness.
Throughout the month, our #ForYourPride in-app hub will feature inspiring stories from creators and LGBTQ+ owned businesses including @lovewithpride, @rainbowcertified, @everywhereisqueer, @icedabove, @milky.tomato, @musiccitycreative, @thegrowinggroves, @queerency, @verygaypaint and NGOs including @itgetsbetter, @translifeline, @humanrightscampaign, @gamergworls, @glaad, @pride_site, and @lgbtq. Our #PrideMusic programming is also set to feature GRAMMY-Award winning singer/songwriter @samsmith and rapper-singer @iamdoechii_.
Pride on LIVE – Join the Celebration
On June 15, we have an exciting 'Pride on LIVE' creator-led panel featuring some of our most influential and innovative queer creators. The panel will be live-streamed from the @tiktoklive_us account and will feature conversations and programming with creators surrounding their career and representing the LGBTQ+ community. Be sure to follow @tiktok and @tiktoklive_us for more info on our programming and LIVE schedule lineup!
#PrideMusic – Sounds that Inspire
During Pride and beyond, we will celebrate the music and culture that embodies #PrideMusic. Throughout June, our sounds page will feature special music guests including GRAMMY-Award winning singer/songwriter @samsmith and rapper-singer @iamdoechii_, along with a suite of genre and guest playlists.
Celebrating TikTok's Internal LGBTQ+ Community
Championing and celebrating our LGBTQ+ employees here at TikTok is something we take seriously year-round. As a part of our company-wide Pride celebration, TikTok's very own LGBTQ+ employee resource group (ERG) PRIDE will be hosting a series of Pride Month events and internal programs, from LGBTQ+ film screenings to Pride marches, that celebrate the full spectrum of intersectional identity groups throughout Pride month and Juneteenth.