Take a peek at the final official trailer for Scream VI
Ever since the teaser trailer for Scream VI dropped in December, fans have been anxiously awaiting the official trailers which tell us all we need to know about the Paramount release. Watch the final official trailer here!
Queer fans have had a long lasting love affair with the franchise since its inception given that it was based on an original idea and screenplay from gay writer and now executive producer Kevin Williamson who, depending on who you talk to, infused lots of gay subtext into the original film.
All suggestions and subtext aside, Scream finally gave us our first explicitly queer antagonist in last year's part 5 with Mindy Meeks, played by lesbian actress Jasmin Savoy Brown who became an instantaneous fan favorite.
In the new trailer we see Ghostface chasing Sam (played Melissa Barrera) and Tara (portrayed by budding queer icon and Wednesday actress Jenna Ortega) into a New York City bodega where they unleash a torrent of violence while in pursuit of the terrified Carpenter siblings. From there we are are re-introduced to Scream 4's Kirby (Hayden Penettierre) and the beloved Gale Weathers (Courtney Cox) who will apparently be helping our survivors track down the new Ghostface. We are then whisked into Gale's apartment where it looks like she has a major showdown with the killer. The trailer then flashes to several of the main cast in moments of jeopardy and finally lands on our queer heroine Mindy Meeks being grabbed over her mouth.
Check out the new trailer below and then scroll down for the original teaser trailer and a look at the official poster.
Scream VI arrives in theaters March 10.
___________________________________________________________________________________________________________________________________________________
The first teaser trailer for Scream VI has been released by Paramount!
The Scream series is one of the most beloved horror franchises by queer audiences, and there is good reason for that. Kevin Williamson, the creator of the franchise, is a gay man, and he wrote Scream parts 1, 2 and 4, in addition to having a producing role in parts 3, 4 and 5. His influence over the story and the 'meta' universe it plays out in has always been a key part of the success of these films. Happily, he will again return to the franchise as an executive producer for the highly anticipated sixth installment of the series, set to hit theaters on March 10, 2023.
There has already been some controversy surrounding the film. The leading lady of the franchise, Neve Campbell who plays final girl heroine Sidney Prescott has bowed out of the film over a very public disagreement with Paramount over her salary. The star insisted that she was being severely underpaid for the work and time she has invested into the success of these films, a point that co-stars and fans alike are only too eager to agree with. Courtney Cox, however, the other leading lady of the franchise, will return in the upcoming film.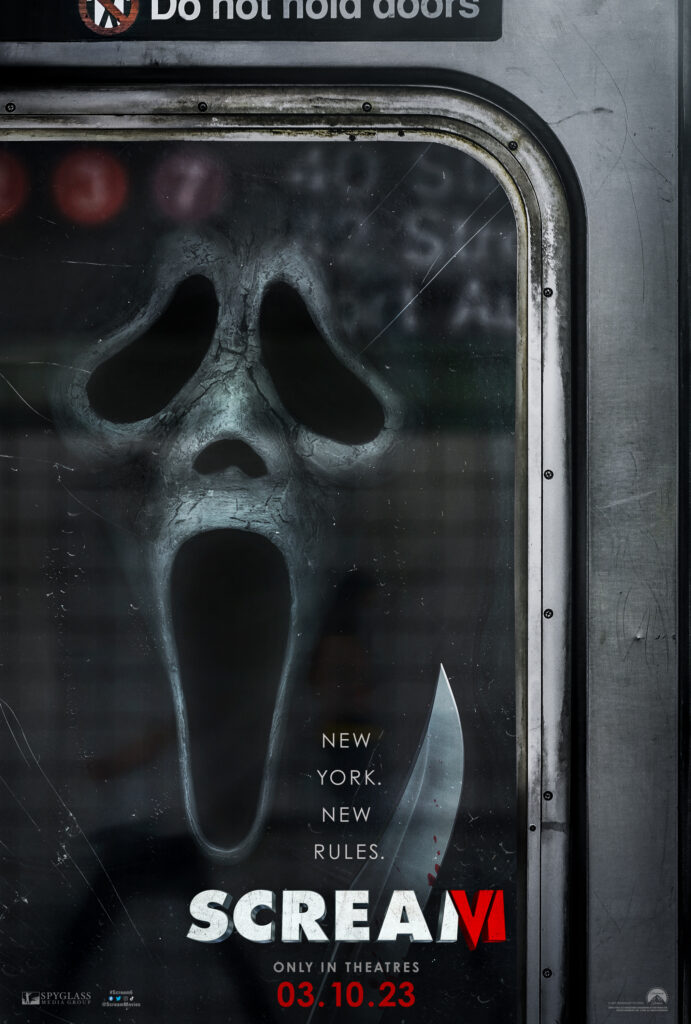 This chapter of the saga sees Sam Carpenter (Melissa Barrera), her sister Tara (Jenna Ortega), Mindy Meeks-Martin (Jasmin Savoy Brown) and her brother Chad (Mason Gooding), the survivors from 2022's Scream, relocate to New York City from Woodsboro as a way to move beyond their recent traumas. Gale Weathers (Courtney Cox) has already been living in NYC as was established in the last film, so it's doubtful that this choice of relocation is purely coincidence. Naturally, Ghostface tracks them all down and chaos ensues- but who will survive this time?
Stakes are high for this chapter of the story given the absence of Neve Campbell, but there is also a lot that fans are looking forward to. Fan favorite Kirby Reed (Hayden Penettierre) will make her long awaited return to the franchise after a feverish fan campaign to bring the character back after her apparent, but not explicit, death in part 4. In addition, queer fans are very excited to see how writers James Vanderbilt & Guy Busick further the storyline of our first gay character in the Scream universe, lesbian protagonist Mindy (portrayed by an actual lesbian actress).
No matter what they do, however, it is all but certain that Scream VI is primed to be another box office smash for directors Matt Bettinelli-Olpin & Tyler Gillett based on the success of part 5 alone. It will definitely be the fans' reaction to this installment that will ultimately determine the future of the franchise.
Scream VI  will be released in theaters March 10.