Take a look at the teaser for George Michael Freedom Uncut
GLAAD has released a teaser clip for the new documentary George Michael Freedom Uncut.
GLAAD, the world's largest lesbian, gay, bisexual, transgender, and queer (LGBTQ) media advocacy organization, along with Sony Music Entertainment and Trafalgar Releasing, presented a new clip from the upcoming autobiographical feature documentary GEORGE MICHAEL FREEDOM UNCUT. Additionally, GLAAD.org has posted an in-depth interview with co-director and producer of the film, George Michael's songwriting partner and long-time collaborator, David Austin.
David Austin said, "We are very proud to Partner with GLAAD – George was proud of his sexuality and campaigned throughout his life for everyone to have the freedom to be who they wanted to be and love who they wanted to love."
Anthony Allen Ramos, Vice President of Communications & Talent of GLAAD, said, "Pride Month is a perfect opportunity to remember the trailblazing legacy of George Michael within the music industry and beyond. The release of GEORGE MICHAEL FREEDOM UNCUT will help audiences learn so much about the performer's extraordinary life. It is truly special to see the film's never before seen footage and personal stories about his touching love story with Anselmo Feleppa, who unfortunately left us far too early."
The deeply autobiographical feature documentary narrated by the late Grammy® Award winner is a poignant and moving tribute to the legacy of one of Britain's greatest performers.
In his final work George Michael reclaims the narrative of his career, personal life and controversies in collaboration with co-director, producer and friend David Austin. This feature-length documentary will be released as a global cinema event on Wednesday, June 22.
Throughout the film, Michael reveals openly and honestly the two distinct sides of his life: his very public music career and his private personal life that cameras never truly saw. Michael was heavily involved in and dedicated to the making of this documentary before his tragic passing in 2016.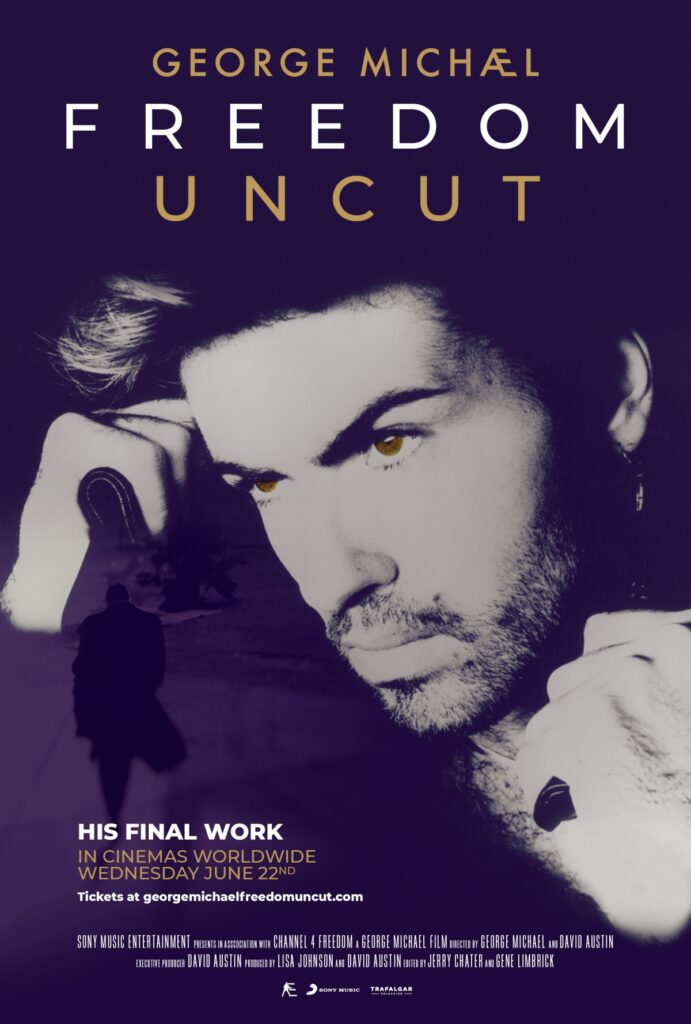 The documentary features many music and entertainment luminaries including George Michael himself, Stevie Wonder, Sir Elton John, Ricky Gervais, Nile Rogers, Mark Ronson, Tracey Emin, Liam Gallagher, Mary J. Blige, Jean Paul Gaultier, James Corden, Tony Bennett, Cindy Crawford, Naomi Campbell, Christy Turlington, Linda Evangelista, and Tatjana Patitz.
George Michael's third studio album Older will be re-released on vinyl on July 8 as part of a box set which also includes an Upper vinyl, an essay recounting stories behind the album and previously unseen photos. Available for pre-order here.
About Sony Music Entertainment Premium Content
Sony Music Entertainment's (SME) Premium Content division is a full-service content development studio showcasing the Company's global legacy, scale and robust offerings for top creative talent around the world. Designed to provide our artists and creators with unique opportunities to captivate new global audiences, the team develops, produces, and distributes a range of premium projects across film, television, podcasting, gaming and more. Tapping into SME's vast portfolio and catalog libraries, the division champions innovative ideas and collaborations across the Sony entertainment companies to amplify our artists' creative vision and engage fans with captivating content across all formats.
About Trafalgar Releasing
Trafalgar Releasing is the global leader in event cinema distribution. A subsidiary of Trafalgar Entertainment, Trafalgar Releasing's global operations include production, acquisition, marketing, and distribution of specialised content to over 8,000 cinemas in more than 120 countries worldwide. A full spectrum of releases includes world-class opera and ballet (The Metropolitan Opera, Royal Opera House), award-winning theatre (including The King and I: from the London Palladium, Kenneth Branagh Theatre Company's The Winter's Tale, and 42nd Street), iconic moments (Monty Python's Life of Brian 40th Anniversary, David Bowie is happening now, They Shall Not Grow Old), heritage music acts (Metallica & San Francisco Symphony: S&M2, Depeche Mode: SPIRITS in the Forest, Oasis Knebworth 1996) and contemporary music sensations (BLACKPINK THE MOVIE, Coldplay: A Head Full of Dreams), including four global events with K-pop superstars BTS (Burn The Stage: The Movie, Bring The Soul: The Movie, Break The Silence: The Movie and the record-breaking live concert broadcast Permission To Dance On Stage – Seoul: Live Viewing).