Now showing: Todd Haynes' May December
May December starring Natalie Portman and Julianne Moore is a new drama from Carol director Todd Haynes.
After their relationship ignited a tabloid saga two decades ago, Gracie (Julianne Moore) and Joe (Charles Melton) now lead a seemingly perfect suburban life. Their domestic bliss is disrupted when Elizabeth (Natalie Portman), a famous television actress, arrives in their tight-knit community to research her upcoming role as Gracie. As Elizabeth ingratiates herself into the everyday lives of Gracie and Joe, the uncomfortable facts of their scandal unfurl, causing long-dormant emotions to resurface.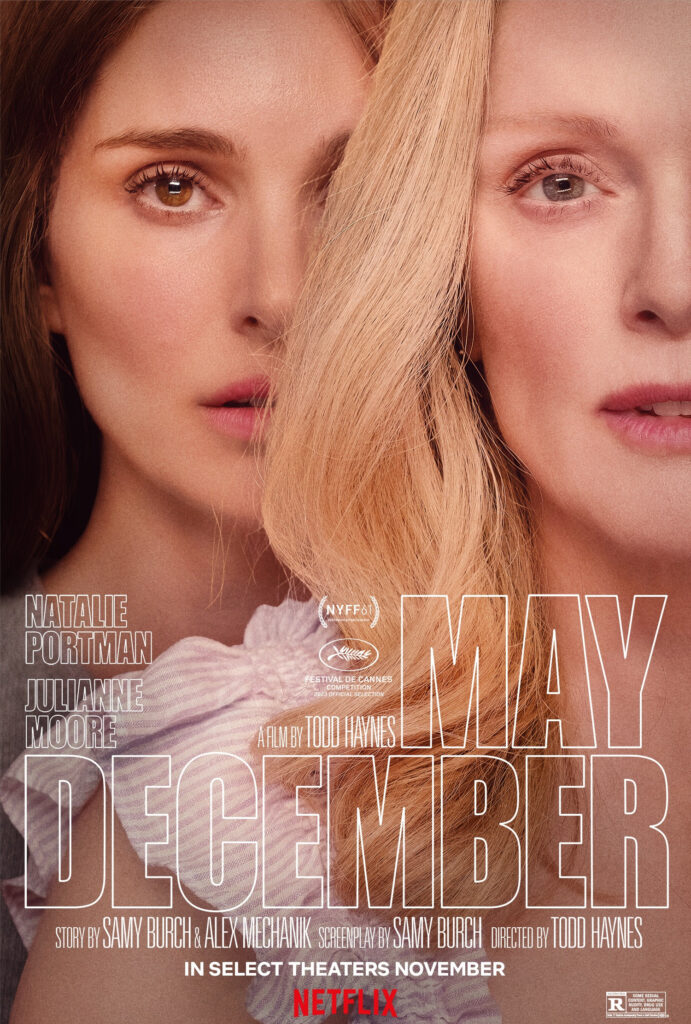 Portman takes on her most challenging role yet — playing Julianne Moore. Television star Elizabeth (Portman) preparing for the role of Gracie (Moore), half of a notorious tabloid relationship that's now part of the distant past. But as Elizabeth digs for inspiration, the past begins to invade the present, and long-forgotten feelings take center stage.
Natalie Portman (Black Swan, Jackie) plays Elizabeth, Julianne Moore (Safe, Still Alice) plays Gracie, and Charles Melton (Riverdale, The Sun is Also a Star) plays Joe. 'May December' is a term for a relationship with a wide age gap between partners — in this case, Gracie and Joe. That was also a theme in Carol.
In May December, popular television actor Elizabeth (Natalie Portman) heads to Savannah, Georgia, to research a part in a new film that follows a scandalous tabloid romance. That love affair — between Gracie (Julianne Moore) and Joe (Charles Melton) — was once a fixture of the gossip pages. After all, Joe is significantly younger than Gracie, who served time in prison when they were caught together. When she was released, the pair were married, and they now have two children together who are about to graduate from high school. At first glance, their untraditional marriage looks more predictable than Elizabeth expected. But soon, her observation brings long-dormant feelings to the surface, and the decades-old scandal reveals deeper and deeper layers. From first-time screenwriter Samy Burch, May December is a deliciously witty film about performance and exploitation that juggles surreal melodrama with humane perception.
"We are all so proud and moved to have been invited to open the New York Film Festival with the North American premiere of May December," Haynes told Netflix earlier this year. "It is a festival that plays a role in my work and life like no other in the world, since it enshrines the cultural life of this city, which is both my creative home as a filmmaker and, as ever, the eternal site of artistic possibility." Haynes is no stranger to NYFF; five of his previous films have premiered at the festival, including Carol, Wonderstruck and I'm Not There.
May December opens at Film at Lincoln Center on November 17. Get tickets here.
The film streams on Netflix in the U.S. and Canada on December 1. Follow on social media: @MayDecemberFilm