.Gay Is Good – Domain Launch Brings Historic LGBTQ Online Representation
The Domain registry "Top Level Design" today announced the public launch of top-level domain (TLD) ".gay", enabling consumers, businesses and registrars to join together online in a new way – taking up the banner in honor of every LGBTQ pioneer who helped pave the way, from the first Pride march 50 years ago, to today.

With .gay domains now available to LGBTQ people, groups and corporate allies of all sizes around the world, this launch takes an important step to connect communities, support businesses and provide clear access to pertinent services and information. In addition to keeping LGBTQ communities safer online, .gay is also setting an industry standard by donating 20 percent of all new registration revenue to benefit LGBTQ nonprofit groups.

"Now more than ever, LGBTQ visibility, community connection, and the distribution of health information is paramount. We're proud to amplify representation and foster digital Pride by broadly sharing .gay with the world," said Ray King, Top Level Design CEO. "We've already seen incredible interest and support from Fortune 100 companies and small businesses to LGBTQ brands and public figures, with hundreds of .gay domain names registered during our pre-launch phases."

The launch of .gay is meaningful, not only through representation, but through industry-leading anti-hate measures timed at launch to guarantee that .gay as an entire namespace will always be an LGBTQ-friendly space. All .gay domains and registrants will exceed industry standards by prohibiting harassment, hate speech, and anti-LGBTQ content, and are subject to the ".gay Rights Protections" policy. This policy provides enforceable remedies that allows the registry to respond and take down sites that are reported and found to be in violation.

JOIN THEM  – EVERYONE IS WELCOME

The .gay domain was created to inspire businesses, organizations and individuals to stand together for something bigger. From leading companies and innovative brands, to small businesses and community organizations, .gay early adopters have already begun building a robust community.

"We've always said that different domain extensions give customers a chance to express themselves with their entire domain. The launch of .gay presents an incredibly exciting opportunity, bringing increased visibility and celebration to our customers," said GoDaddy Registrar Vice President, Paul Bindel.

GoDaddy is an early adopter of .gay, and is also working to help LGBTQ people tell their stories through .gay's namespace. GoDaddy has partnered with six different employees and influencers to create websites using the .gay domain name. These sites are a celebration of real people's stories and creations from the LGBTQ community, including some GoDaddy UNITED employees.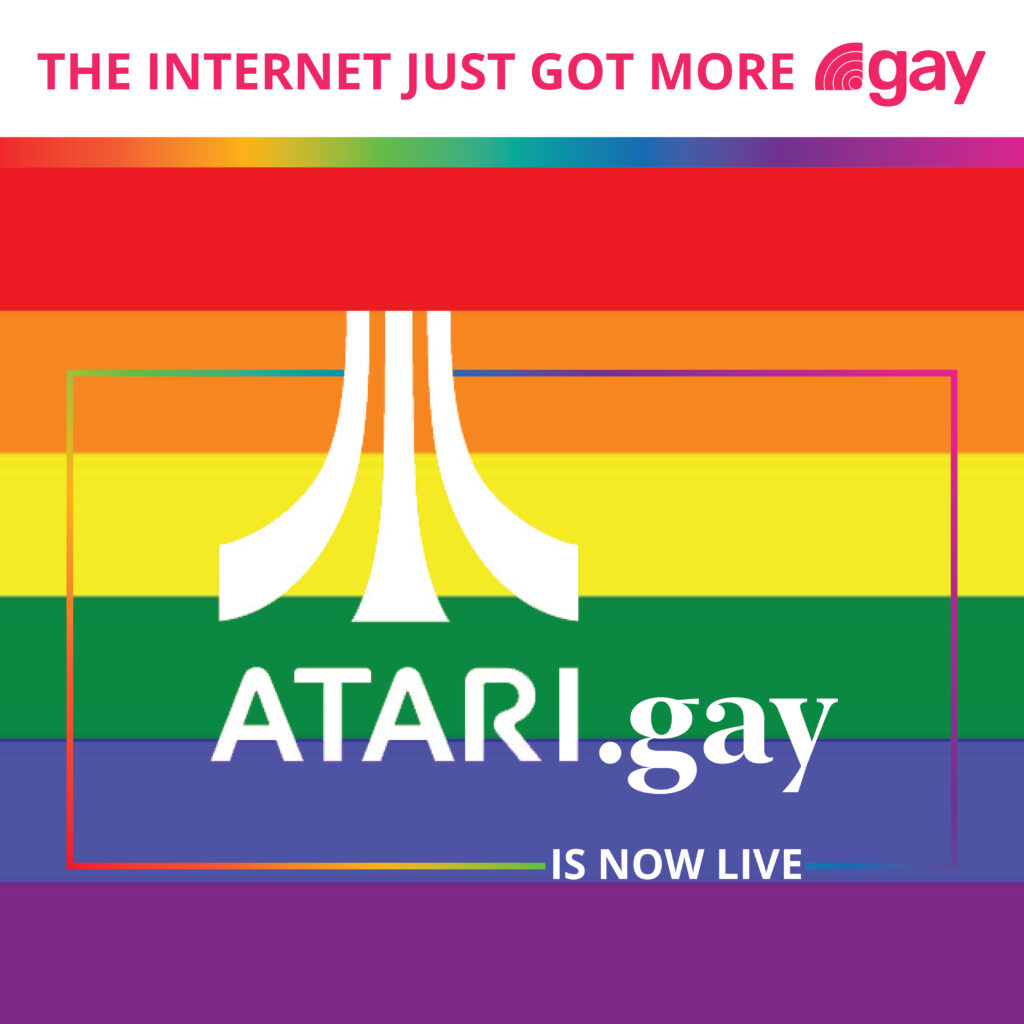 "Atari and our partners at Qutie are longtime supporters of, and advocates for, the LGBTQ community," said Atari VP of Marketing, Tony Chien. "For over forty years, Atari has been a diverse entertainment brand dedicated to creating meaningful, fun and inclusive experiences. Representation is important, and by collaborating with the team at .gay, we want to prominently show LGBTQ people that Atari has always seen and supported them – and will continue to proudly do so."
The complete list of early adopters and featured sites is available at www.ohhey.gay. Highlighted early adopters and purchasers of the .gay domain include:

LGBTQ brands: Grindr, MisterBandB, Instinct
Small businesses: Perky Planet Coffee, The Fit O.G., Process Sense
Nonprofit groups: CenterLink, PFLAG, Gay Games, Billie Jean King Leadership Institute, Adam Lambert's Feel Something Foundation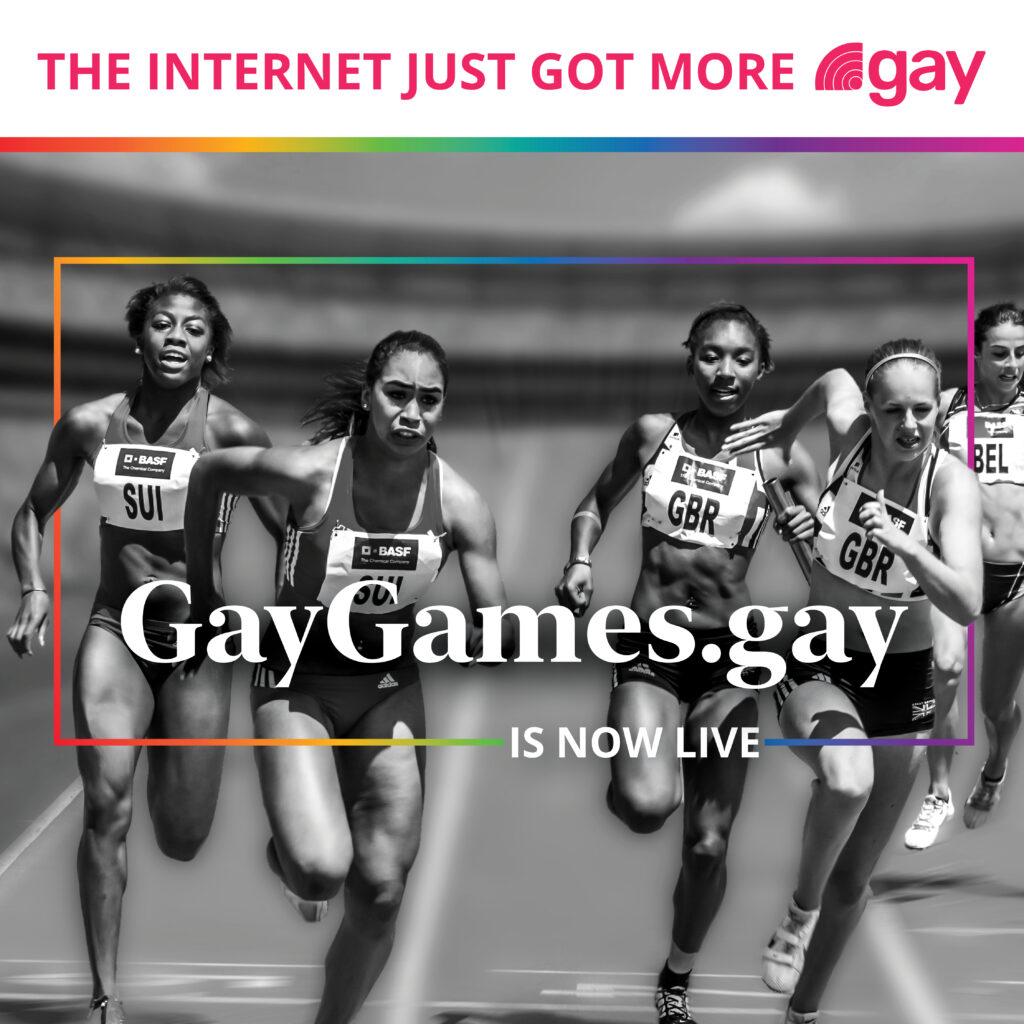 THE LIBRARY IS OPEN

In celebration of the historic launch of the .gay domain, ahead of National Coming Out Day (October 11) and LGBTQ History Month (October), .gay will also premiere an online video series called "The Library," created in partnership with Two Penguins Productions to serve as a record of queer life and history.

This digital gay library will help educate and inspire LGBTQ individuals and allies. Each bite-size episode features a diverse cast of LGBTQ activists and creators who share their perspectives on important LGBTQ issues, from the importance of visibility to what it means to be an ally. The inaugural season with 10 episodes includes Top Chef alum – Gregory Gourdet, Team Dresch rocker – Kaia Wilson, trans advocate – Trystan Reece, among many others.

These keepers of "The Library" join the growing family of .gay supporters and early adopters that also include LGBTQ icons like George Takei, Billie Jean King and Roxane Gay.

"I have all my LGBTQ content under one roof with my fabulous new page george.gay," said LGBTQ pioneer, Star Trek actor and longtime community activist, George Takei. "I'm excited to see who is going to join me and sign up next. The gays are taking over!"

COMMUNITY SUPPORT IS THE .GAY DIFFERENCE

The .gay domain makes an unprecedented, industry-leading commitment by donating 20 percent of all new registration revenue to benefit LGBTQ nonprofit partners and their missions. .gay is honored to support inaugural beneficiaries GLAAD and CenterLink – two organizations that offer vital tools and life-saving services to LGBTQ communities – with $34,400 already donated and an additional $40,000 generated by early registrations. Additionally, through its dedicated Community Resource Program, .gay offers free domains to applicants looking to digitally foster LGBTQ spaces and services.

"The .gay initiative is another critical step in continuing to spread LGBTQ visibility and representation across the internet," said John McCourt, GLAAD's Senior Director of Business Development and Integrated Marketing. "GLAAD's mission is to accelerate acceptance for the LGBTQ community through the media, and the proceeds from our partnership with .gay will enable us to continue this core work, while also supporting local LGBTQ centers, via CenterLink, who provide direct services to our community during this unprecedented time of need."

.gay is committed to making continual donations – the more domain names registered at launch and thereafter, the greater the ongoing donation will be. At launch, all registrars are encouraged to match.