GLAAD unveils massive anti-bullying campaign for Spirit Day
Every year, GLAAD, the world's largest LGBTQ media advocacy organization, puts major effort into Spirit Day, and this year will be no different, with epic plans revealed!
GLAAD has announced that New York City's iconic Empire State Building will go purple on Wednesday evening, October 19, ahead of Spirit Day on Thursday, October 20. RuPaul's Drag Race fan favorite Jujubee and Presenting Sponsor of Spirit Day, Sally Hansen, will participate in a ceremonial lighting of the Empire State Building with GLAAD.
The world's largest and most visible anti-bullying campaign has attracted the support and participation of the following:
Aly & AJ, Ben Aldridge, Louis Van Amstel, Jonathan Bennett, Mayim Bialik, Sue Bird, Kent Boyd, Aria Brooks, Sterling K. Brown, Kristin Cavallari, Margaret Cho, CNBC, Jason Collins, Wilson Cruz, Shannon Dang, Kelsi Davies, Heather Dubrow, Daniel Durant, Mikalah Gordon, Belinda Gosbee, Mollee Gray, Faithe Herman, David Hernandez, Ty Herndon, Jeka, Jane, Ken Jeong, Carson Kressley, Cheryl Ladd, Lisa Linke, Don Manicini, Mayan Lopez, Alexis Lynn, Matty Maggiacomo, Idina Menzel, Mothé, Maren Morris, Chris Mosier, Netta, Joy Oladokun, Jim Parsons, DJ "Shangela" Pierce, Olivia Ponton, Kyla Pratt, Adam Rippon, Jai Rodriguez, Jake Wesley Rogers, Lily Rose, Amy Schneider, Wanda Sykes, Brooklynne Webb Gregory Zarian, faith leaders Guthrie Graves-Fitzsimmons, Brandan Robertson, Father James Martin, and Bishops Megan Rohrer, Brenda Bos, and more.
Plus, the casts of:
The Cleaning Lady, The L Word: Generation Q, Rupaul's Drag Race, Freeform's Good Trouble, The Come Up, The Real Housewives of Beverly Hills and Single Drunk Female, HBO's We're Here joining on-air talent across major TV and cable networks and shows as participants including ABC, CBS, PBS, MSNBC, NBC News' TODAY, the 3rd Hour of TODAY and TODAY with Hoda & Jenna.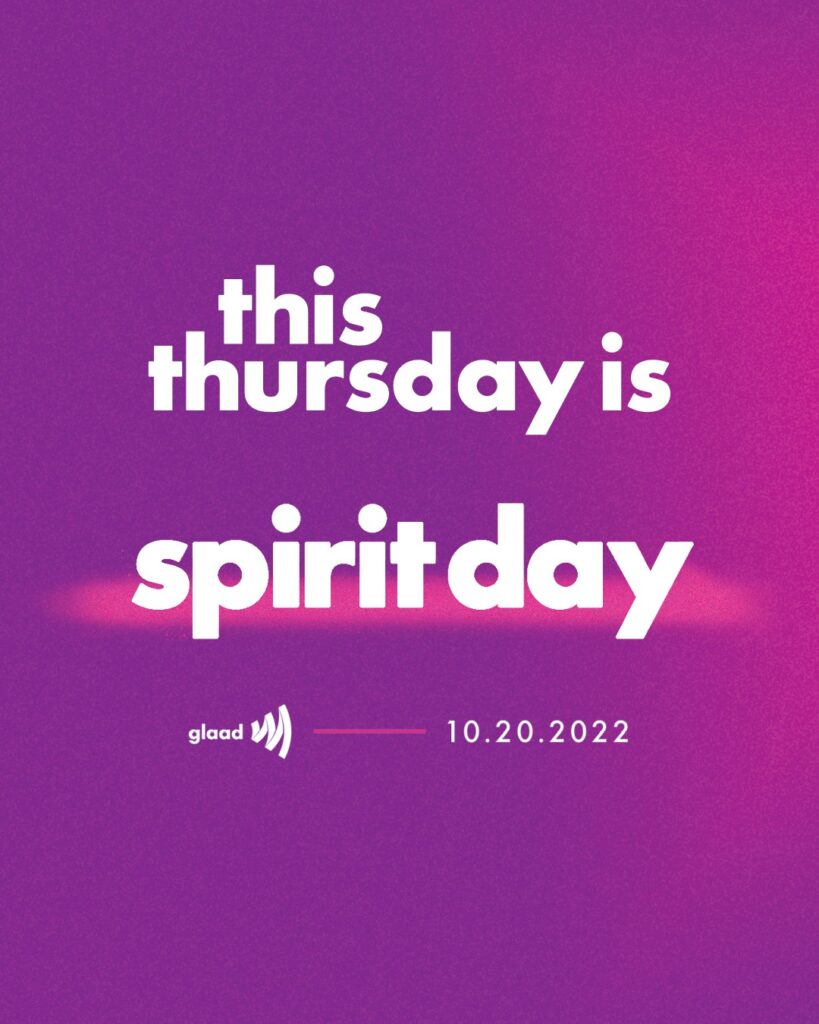 What Is Spirit Day?
On Spirit Day, millions of people around the world will wear purple or go purple online in a unified stand against bullying and to show support for LGBTQ youth. Purple symbolizes 'spirit' on the rainbow flag. Each year, Spirit Day draws the participation of celebrities, corporations, media outlets, sports leagues, schools, faith institutions, national landmarks, and individuals.
For more information visit glaad.org/spiritday and follow #SpiritDay.
GLAAD organizes hundreds of celebrities, media outlets, brands, landmarks, sports leagues, tech leaders, influencers, faith groups, school districts, organizations, colleges and universities in what has become the most visible anti-LGBTQ bullying campaign in the world. Purple symbolizes spirit on the rainbow flag.
The annual tradition was started in 2010 by high school student Brittany McMillan, in memory of the LGBTQ youth who lost their lives to suicide. McMillian encouraged her friends to wear purple on a day in October — a day that came to be known as Spirit Day.
Today, LGBTQ youth, and especially our trans and nonbinary youth, are experiencing a level of scrutiny in schools we have never seen, leading to an environment rife with stressors beyond the peer-to-peer bullying of the past. From book bans to sports teams bans, to bathroom restrictions and teachers barred from using preferred pronouns, the means by which a student can express themselves and see others like them are increasingly being challenged.
GLAAD's 2022 Social Media Safety Index found severe harassment for LGBTQ users when compared to 2021. This anti-LGBTQ rhetoric then translates to real-life harm and has been cited as drivers of many of the nearly 250 anti-LGBTQ bills introduced in states around the country this year alone, many of which target our LGBTQ youth.
About GLAAD
GLAAD rewrites the script for LGBTQ acceptance. As a dynamic media force, GLAAD tackles tough issues to shape the narrative and provoke dialogue that leads to cultural change. GLAAD protects all that has been accomplished and creates a world where everyone can live the life they love. For more information, please visit www.glaad.org or connect with GLAAD on Facebook and Twitter.