Go fish with Kelly McCoy of RiverGirl Fishing Company
Lesbian entrepreneur Kelly McCoy talks about her outfitter business, fly fishing, and the LGBTQ+ community in Todd and Boone, North Carolina. 
Even at a young age, Kelly McCoy had a special connection with nature, growing up in Hokes Bluff, Alabama. She would visit the lake in her backyard and scoop up anything that she could bring home and examine under a microscope. 
"There was one time I brought a whole bunch of tadpoles and put them in the basement," she recalled. "They all grew their legs and hopped out one day when I was at school. I thought my mom was gonna kill me. It was quite the cleanup when I got home."
Her passion for the outdoors and the exploration of nature stuck with her as she grew older. McCoy would leave her hometown in Alabama to matriculate into Mississippi State University, where she received a Bachelor of Science in Fisheries, and then moved to Florida where she was a marine biologist for five years. 
In 2005, she moved to Todd, North Carolina – a population of almost 2,000 people – with an ex-partner, but it was the beauty of the high country that captivated her, reminiscent of her grandmother's homestead in Georgia. 
Todd is located 11 miles from the LGBTQ+-friendly town of Boone, or as McCoy jokes, "a 20- to 25-minute drive away, depending on whether there's a cow in the road or a high-speed chase after a tractor."  It's also the town where she met her wife, Renata, at RiverGirl in 2014, and the two women were married a year later on July 24, 2015, at 4:24 pm. Twenty-four is McCoy's favorite number.
Becoming an integral part of the community, owning a local business, and getting married were signs that her life was and is deeply rooted in Todd, especially now that she and her wife are in the process of building what they call an 'off-grid house,' located 8 miles away from Boone, known for its carefree, liberal vibe.

She took a leap of faith. McCoy sold her four-wheeler for $5,000 and started RiverGirl Fishing Company in 2006, located on the second floor of the Todd Mercantile, which included a bakery. At that time, RiverGirl's space consisted of a desk and a little counter space full of fish-related trinkets and gadgets that she had purchased on eBay or collected on her own, including her 200-gallon tank with fish. 
Unfortunately, no one in Todd even knew her small business existed because there was no visible sign outside of the bakery. Regular customers that walked into the Todd Mercantile were the only people who noticed McCoy's fledgling business was located on a floor above the bakery with the sweet cinnamon scent wafting in the air. 
After some coaxing, McCoy made an outdoor sign to lure people inside, and eventually, a friend would soon convince her to spread her wings and move to a much larger space located in the town's Train Depot.
Today, RiverGirl Fishing Company is an outfitter that offers kayaking, tubing, and eco-tours. Customers can also rent innertubes, boats, and bikes, or just stop by to see their farm animals, such as Nigerian dwarf goats, chickens, and their star mascot a potbelly pig.
Wahoo's Adventures, High Mountain Expeditions, and River and Earth Adventures are three outfitters that followed after RiverGirl opened in Todd, a small town, that at one time, only featured, a Bakery-Mercantile, a General Store, the post office, and two churches.
McCoy's love for the simple life and fly fishing are just a few reasons she lives in Todd. For LGBTQ+ folks who want to try fly fishing, she recommends not going out and spending a lot of money on fishing gear until you're sure you enjoy the sport. If you really want to plan a fly-fishing trip to the area, you should know that smallmouth bass and trout are the most popular catch.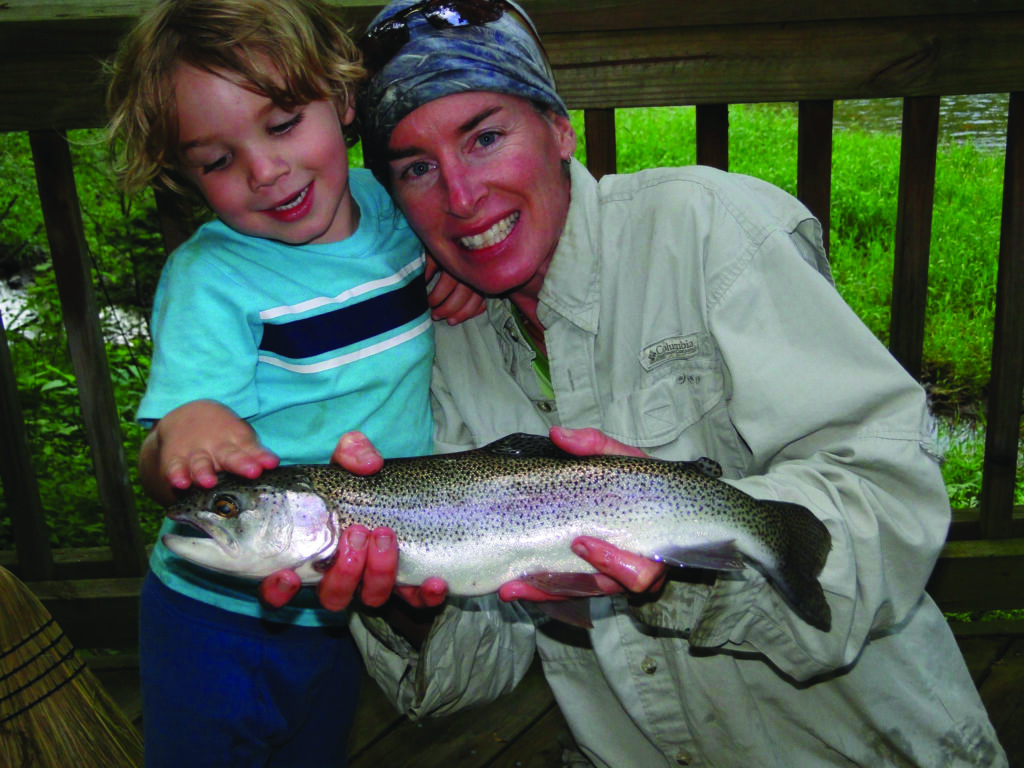 "The best times to catch trout are going to be in the spring and the fall because in the spring the trout have gone through a cold period and so in the spring they're going to bulk up to feed after not eating as much during the winter." She continues, "In the summer, the streams are going to get a little bit warmer, so the trout are not going to feed as much as well. Winter and summer are the slow periods for trout. But smallmouth bass is what you want to shift to in the summer when the trout bit stops a little bit." 
In addition to flexing her fishing and business savvy skills, McCoy has worked for the local fire department for 13 years, and she's currently the EMS Captain. These are all signs that she has made Todd her home, especially now that she and her wife are in the process of building what they call an "off-grid house," located 8 miles away from Boone, known for its carefree, liberal vibe.
She admits, "In Boone, you have Appalachian State University and that's where you'll definitely see more diversity." She said LGBTQ+ travelers will feel welcomed in Boone and Todd. She's never been 'bothered' for being a lesbian, but she also revealed that she rarely brings up her personal life, especially with older locals. The situation usually raises more questions, when all McCoy really wants is to live her life without explanation. 

In talking to McCoy, we learned that Todd does have a small LGBTQ+ community – some connected via Facebook and some McCoy says she's never met in person. "Out here in Todd, I could probably list on one hand five lesbian couples and three gay-male couples that live within five miles of Todd," she said. 
Always busy, McCoy does take time to unwind and relax. That's something she's had to learn to do. She enjoys kayaking because it allows her to explore places and take a closer look at her natural surroundings, and she's also gained a newfound appreciation for tubing on the New River. 
According to McCoy, most of RiverGirl's revenue comes from renting innertubes for $20 each during the week and $25 on the weekends. She explains the low-key experience to us. "It's sitting in a tube with a backrest and a cup holder with another tube with a cooler with sandwiches and drinks. You're attached to all your friends floating and drifting as all your stresses melt away."
RiverGirl Fishing Company also hosts Wind Down Wednesdays, which usually starts during the second week in May at 5:24 pm. Those 20 minutes give people in Boone enough time to leave work and make it to Todd to socialize with other locals over a glass of wine or grape juice for kids. It's a mid-week destress activity. 
"We go kayaking for an hour and a half. We have a rope swing we jump off. We call it our mid-week baptism," said McCoy. "We're not really kayaking or paddling, we're just drifting." It's just one way the out-and-proud Todd resident uses outdoor experiences to unite locals and bring the community together. 

Visit RiverGirl Fishing Company's website for more information about Kelly McCoy and how you can plan an outdoor adventure or learn how to fly fish in Todd, North Carolina.
This article first appeared on our sister site, Vacationer.