Halloween 2022 gift guide for pets
Humans shouldn't have all the fun on Halloween. Here are some cool gifts perfect for spoiling your four-legged family during spooky season.
Skully Halloween Squeaky Dog Toy
Barc London's Skully squeaky dog toy is part of Barc London's designer toy range. Forget boring, predictable pet toys! Shaped like a skull, this squeaker will give you all the Halloween vibes you need this season! Available in a luxury pastel blue color, the design-friendly toy is made from lightweight synthetic rubber (TPR), it's non-toxic and recyclable, boasting a good abrasion resistance and tear strength. The perfect Halloween gift to get pups involved in October's spooky festivities, it makes a high-pitched squeak when chewed. Plus it's practical, and helps protects dogs' teeth from being worn down.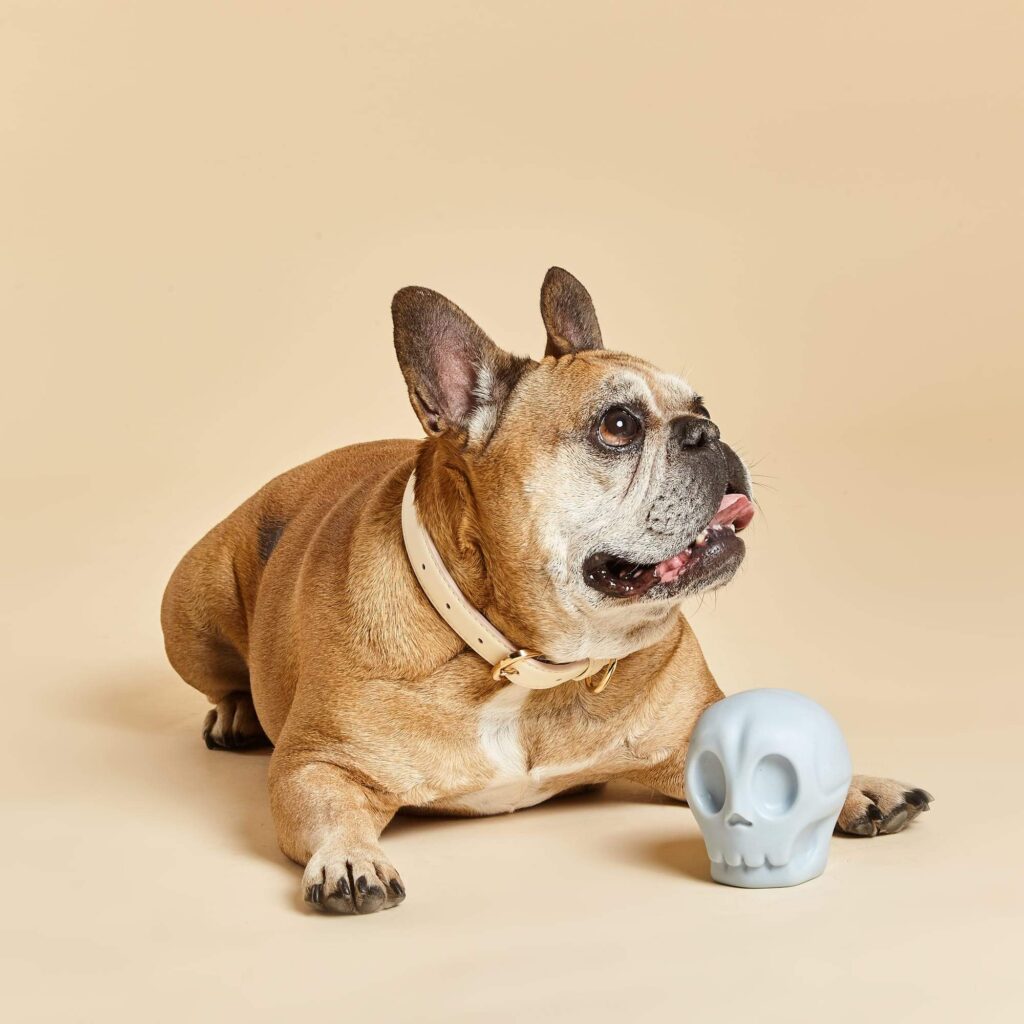 Recyclable Cat Wrapping Paper and Gift Tag Set
Nothing says Halloween season treats like this Moggy Cat— Paws and Claws Series beautiful and bright wrapping paper with tag. Meow-vellous for all occasions, the wrap is quality 500mm x 700mm, printed on 120gsm FSC certified uncoated paper (100% recyclable). The gift tag measures 85mm x 55mm, printed on 400gsm FSC certified uncoated paper. (Ribbon is not included). This stylish and fun wrapping paper is printed and made in the UK.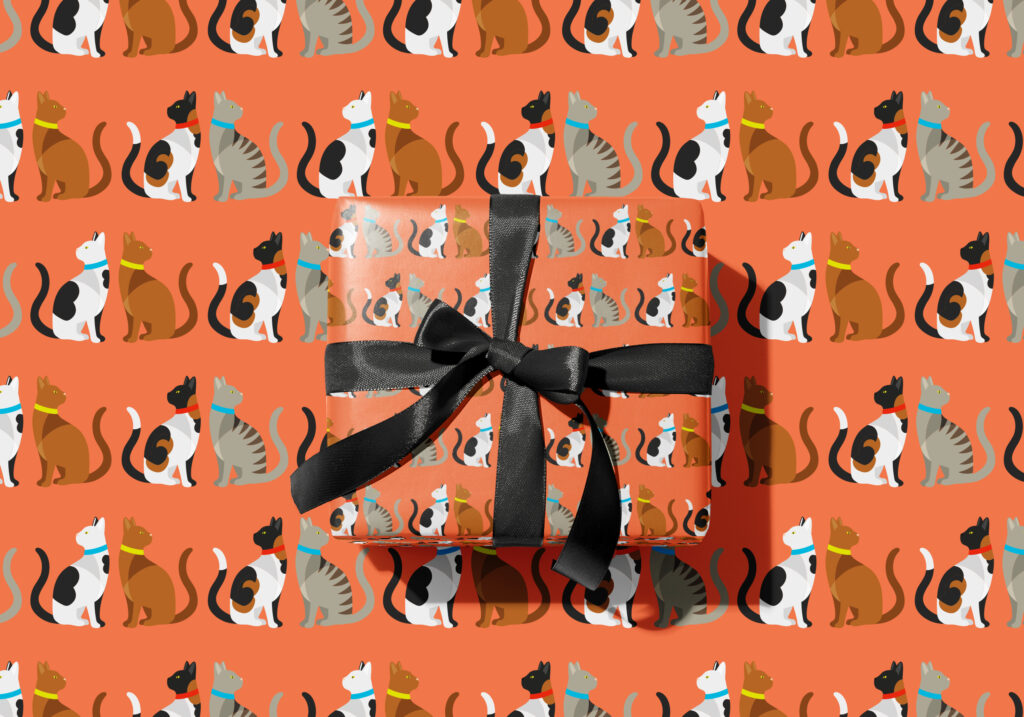 Halloween Pumpkin Socks for Dogs
A fun, simple, and practical Halloween dog costume as the weather gets cooler! Each Halloween Pumpkin sock from Frightfully Fun Socks features a cute orange striped design with a laughing pumpkin and anti-slip grips on the soles. Great for getting the whole family dressed up and involved in the Halloween activities. Fits small to medium size dogs, and as you can see by the logo practically perfect for pugs.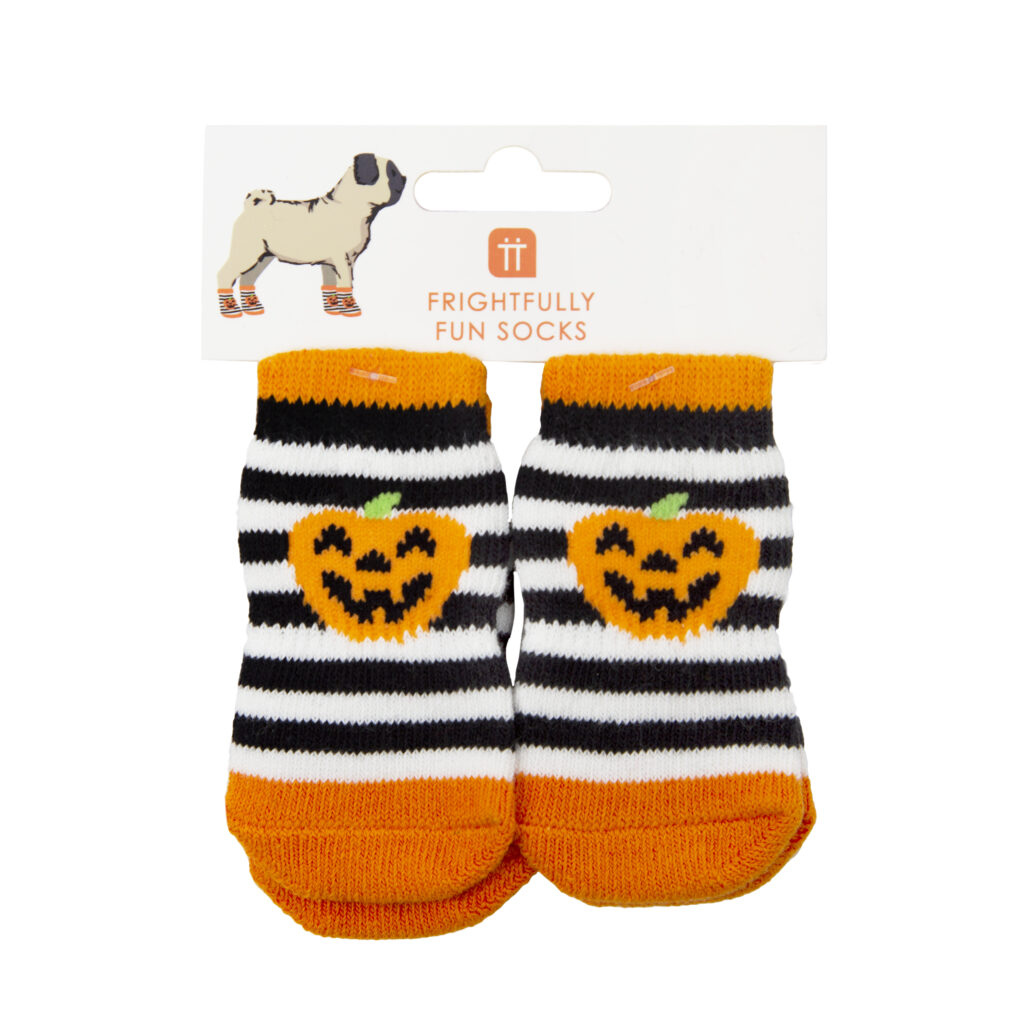 Personalized Dog Collar
Keep track of your kitty or pup with this personalized pet ID tag for dogs or cats in the shape of a bone, decorated with spiders, stars and spiderwebs for Halloween. Get your pet ready for Trick Or Treat with this colorful collar tag, crafted by The Blue Penguin Handcrafted co. Made from durable aluminum, the tag is suitable for most types of pets. Waterproof, lightweight, double sided, free split ring included.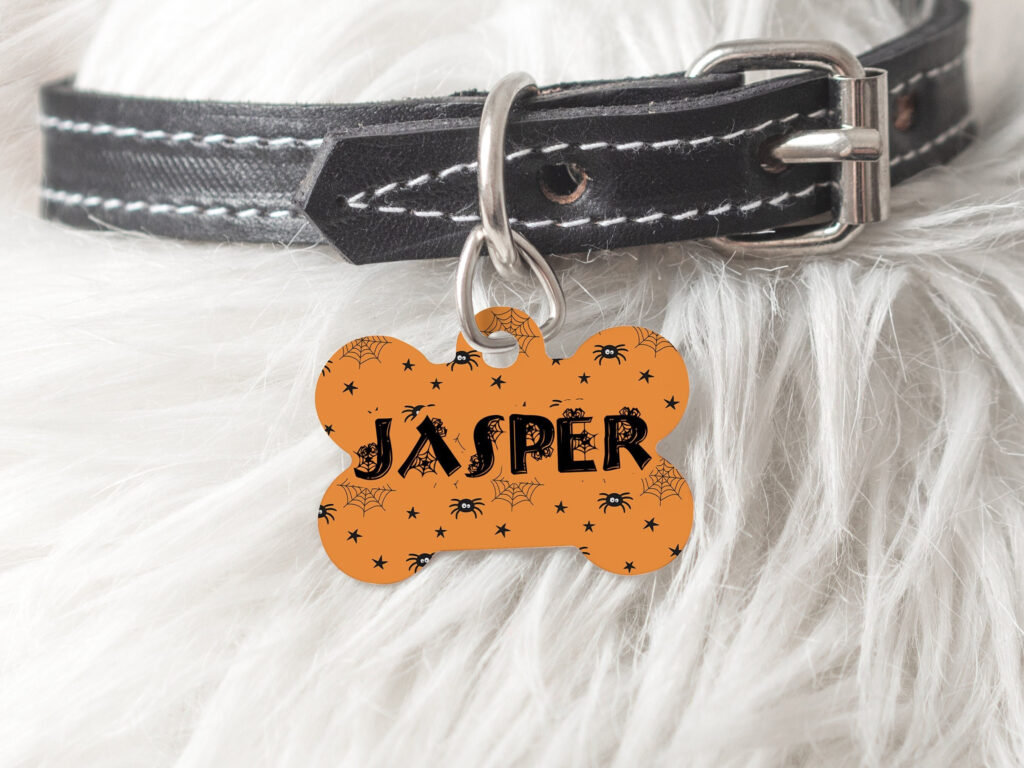 Suede Spider Cat Teaser Toy
This Spider Teaser Toy is made for fearsome kitties and will stand up to the sharpest teeth and claws. The item is made with love in London with offcuts from Cheshire & Wain's leather cat collars to ensure no materials go to waste. It's a durable, fun and stylish addition to your cat's toy collection and is perfect for a kitty that loves to stalk creepy-crawlies! Made with Italian suede and leather offcuts complete with silver rivet eyes, high-quality elastic tie and eight legs for your kitty to stalk and chase! Bright orange extra strong elastic loop tie, plus a spare piece of elastic. Just pull the spider across the floor for your cat to chase or hang the loop on a door handle so they can play with it at their leisure.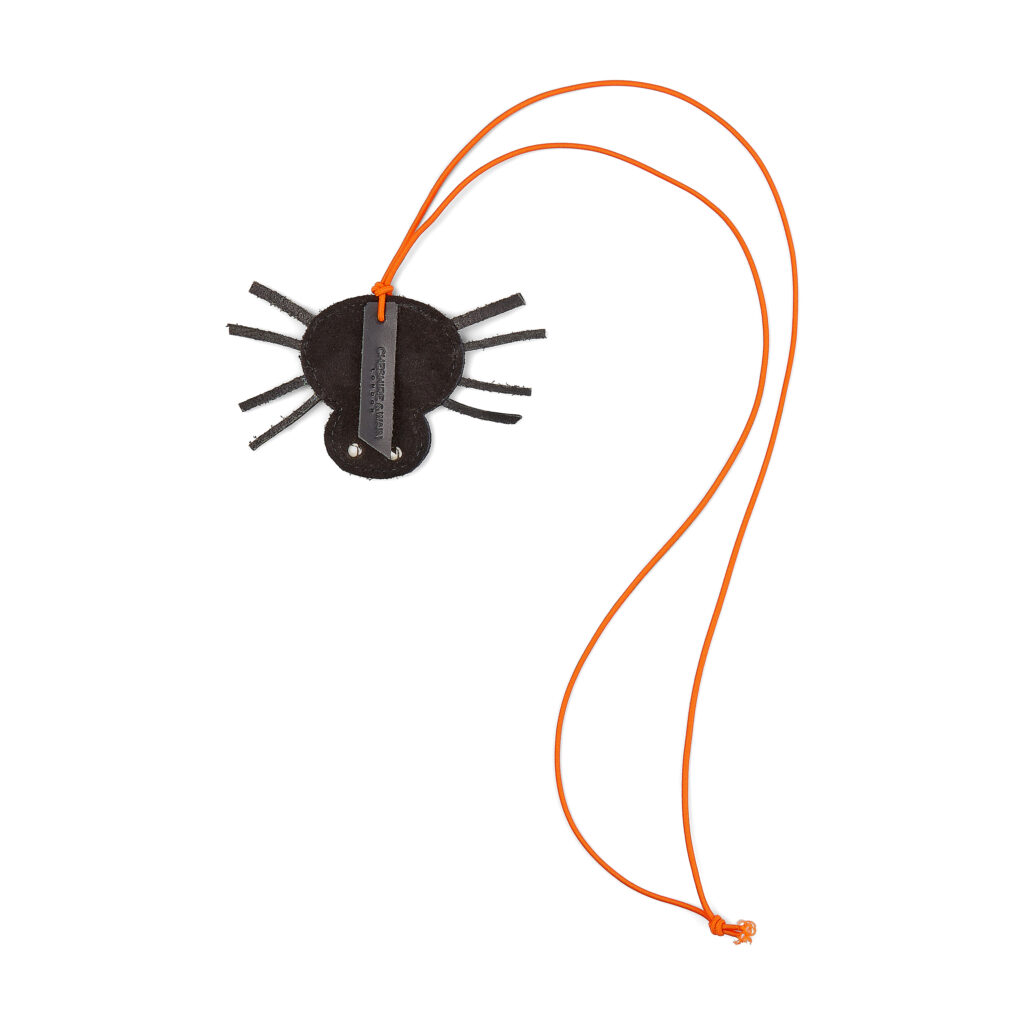 Chewy Halloween Goody Box
Online pet food and accessories suppliers Chewy can be an easy, one-stop shop for fun stuff and this Halloween is no different. Their limited-edition, Halloween-themed Goody Box is back and comes with five items: fun toys, and tasty treats that'll keep your dog entertained while you also enjoy the holiday. The goody box bundle gives you a total savings of up to 30% and comes in two sizes, for small-medium and medium-large dog breeds. Goodies inside: three spooky toys and two full-size tasty treats like honeyed apple & cinnamon snacks.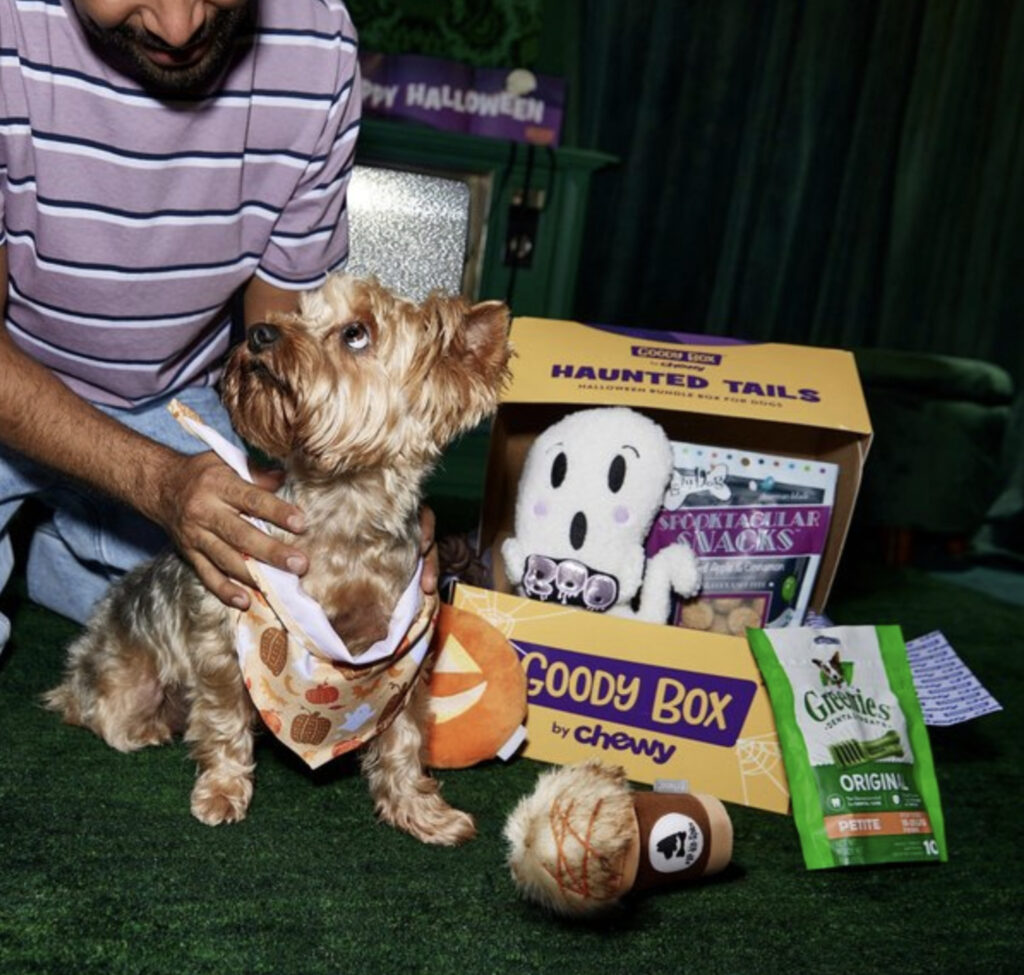 Ghost Dog Collar Charm
The "must-have" Halloween collar accessory for dogs! This spooky, limited edition take on the award-winning BowDangles is sure to bring some joy to your daily dog walk and give you some great Instagram-worthy Halloween snaps! This striking white-to-black engraved ghost pops on all coats and looks especially striking on darker dogs. BowDangles are a Wren & Rye original dog accessory, meticulously designed and lovingly made in the UK. They attach to your dog's collar in the same way as a pet tag or collar charm and pack all the punch of a bow tie, but are smaller and infinitely more durable and easily wiped clean. Made from two-tone black and white perspex.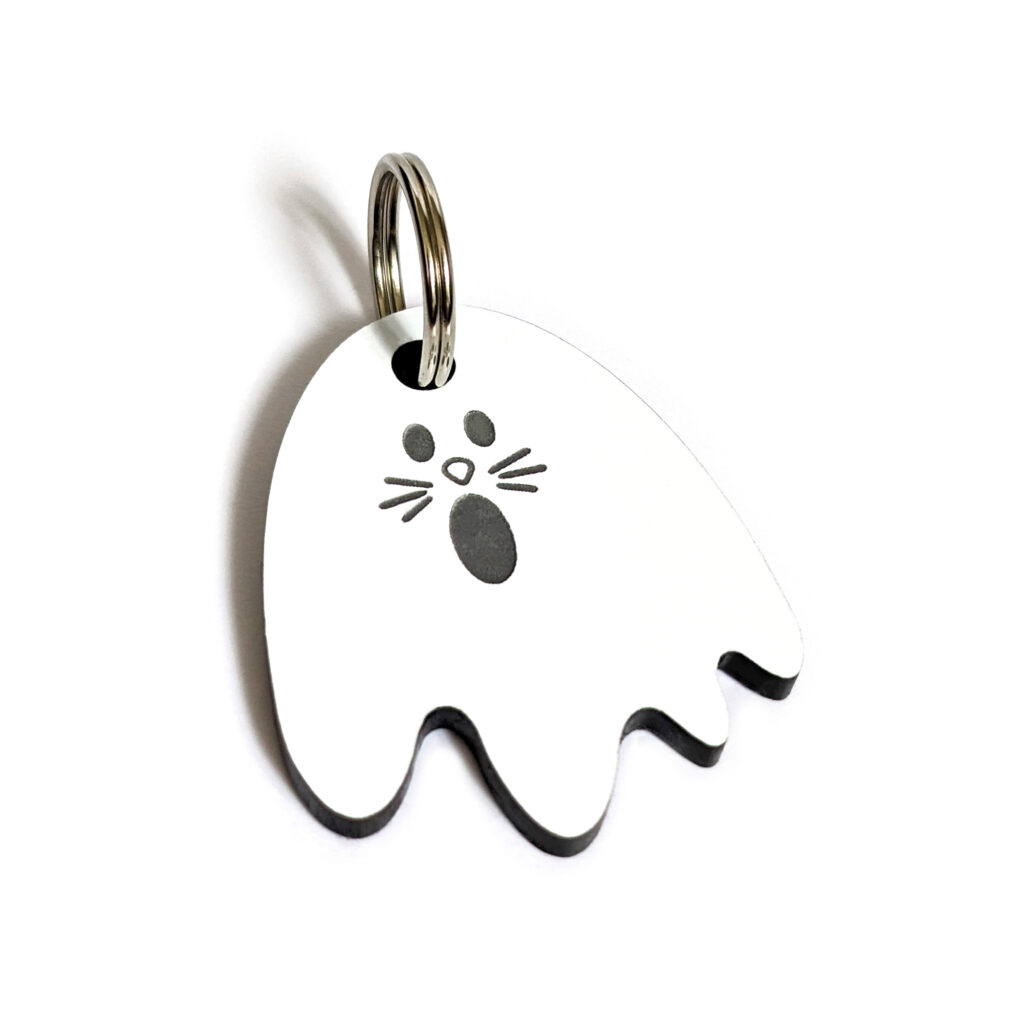 Frisco Cat Toys With Catnip
Pack of three adorable cat toys made in the likeness of Undead Friends: a zombie, a mummy and a vampire for triple the Halloween fun. Each toy has catnip to make your kitty go wild. Crinkle paper inside each undead friend stuffed toy creates extra excitement for your kitty. Soft and plushy so it's the perfect Halloween nap buddy, too. Super affordable and hours of fun for even the fussiest feline, and of course it's from Frisco.