Happy New You! Products that promote renewal
Our pick of products that will help rejuvenate you for the New Year.
It's been a tough couple of years to say the least. Many of us have been getting by leaning on some bad habits. But we have a few little items that are good for you and will have you feeling tip-top for 2022.
PATH
word for 2022 is Hydration! Hydration! Hydration! Get on the path to wellness with PATH, the only bottled water company we know of that offers purified water with electrolytes in a durable, endlessly reusable single-wall BPA-free aluminum bottle. Say goodbye to single-use plastic bottles and hello to a truly sustainable approach to water and cold liquids. At 23.03 fl. oz. this bottle is the perfect size for walking, running, biking, or your favorite fitness class. The water itself tastes great — choose from Sparkling, Still or Alkaline, all three waters are pH balanced with electrolytes for taste. Starting at less than $3 a bottle, it's a deal!
Cani Fresh Wellness
Feel amazing and at the top of your game with this handy pocket-sized oral spray containing a fast-acting formula in four different modes: Boost, Mend, Fresh, Sleep. We tried Fresh, and it really is rejuvenating. Cani Wellness has created this line of Vegan, Non GMO, Gluten Free oral spray supplements that give you a little help just when you need it. Cani Fresh contains Vitamin B6 and B12 plus L-Theanine to promote a sense of energy with calmness. This is the perfect little friend for that situation that demands you to be your best self, be it a date or a meeting, this is a little helper.
The Patch Brand
We feel like we have discovered a super power! The Patch Brand has developed a series of patches for different needs: Focus, Energy, Immunity, and Stress Relief. And they work! These tiny little transparent adhesives are invisible when applied on the inside of your wrist or anywhere you feel comfortable wearing them for maximum absorption. Infused with the appropriate vitamins and stimulants to achieve the desired result. If you're tired or hungover, for example, the Energy Patch with caffeine, taurine, green tea, B3, B5, and B6 is guaranteed to boost your energy levels. If you're feeling run down and like you're coming down with something the Immunity Patch with its Vitamin C, Zinc, Vit. D, Ginkgo, and Echinacea will boost your immune system!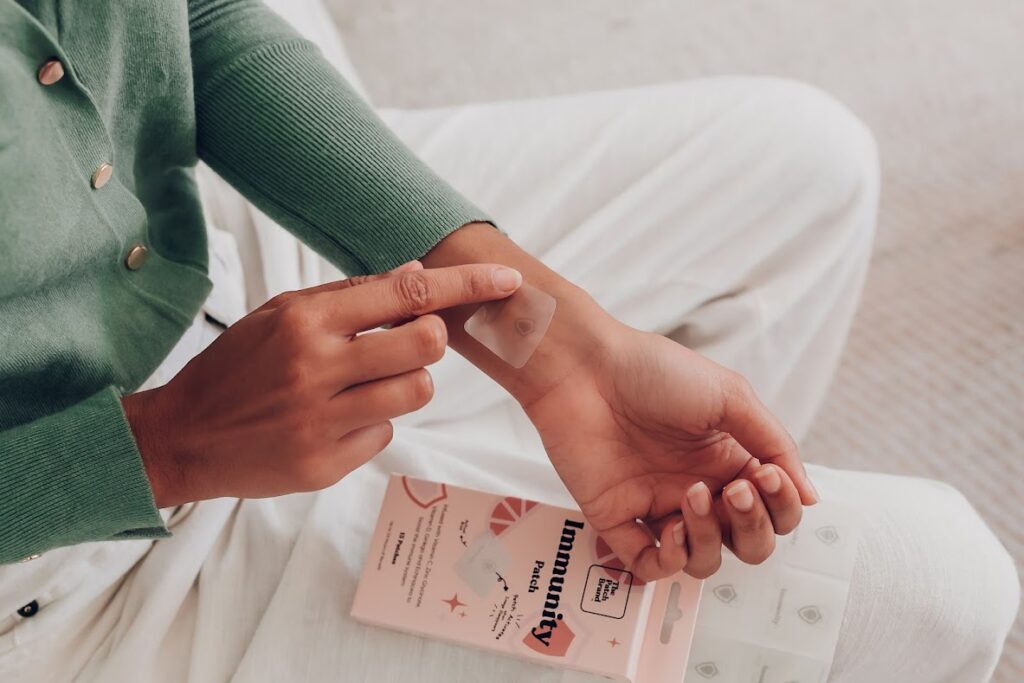 Karuna Prebiotic Whole Plant Wellness Drinks
Have you been drinking too much coffee, booze and sodas? We have! Get off that train with this line of Super Juices, Better Coffees and Whole Plant Smoothies. Karuna has created whole families of beverages that that operate on the principle that what you ingest works better than medicine. When you find yourself reaching for the diet cola, coffee, beer, or a glass of Malbec … not that there's anything wrong with those in moderation, reach instead for a bottle of Karuna (or Karviva Unwined!). These USDA Organic, BPA Free, Non GMO Verified, Low GI and Gluten Free drinks are tasty blends of fruits and offer plant-based vitamins, packed with prebiotics to help probiotics do their work. Benefits include a healthy digestive system, more energy, boosted immune system, healthy hormone balance, cholesterol reduction, weight and reducing loss.
Attitude Natural Care Super Leaves Science
Do you know the feeling of washing your face but never feeling really clean? Attitude Super Leaves Micellar Foaming Cleanser is natural and effective and will have you feeling like you turned over a new leaf. Your skin is actually a magnet for microbes, pollutants and bacteria, and the ingredients in this product detoxify and gently cleanse the delicate skin on your face. Choose from Lemon Leaves, Orange Leaves, White Tea Leaves or Unscented, there has never been a better time to incorporate the beneficial properties of plants into your daily ablutions.
Good Made Great Foods
We tried Good Made Great Foods Elderberry & Vitamin C Spice flavor for that little extra boost in the morning. What is unique about this great-tasting supplement is that you can drink it in cold water or as a hot and soothing beverage. Just 15 calories a packet, the Spice flavor, for example, delivers a helping of Acerola Cherry Juice, Elderberry Juice, Vit. C, Phosphorus, Magnesium, and Potassium. Sweetened with Stevia and Monk Fruit, this is the beverage you can reach for instead of the energy drink! They also have a Coffee Sweetened Collagen Protein Supplement, great for bone, joint, and skin health.