A cannabis self-care gift guide
It's been a long year in lockdown so pamper yourself with products that will calm and rejuvenate you.
Hemp is a variety of the Cannabis sativa plant species that is grown specifically for industrial use. It can be used to make a wide range of products, and like bamboo, is one of the fastest growing plants on the planet and therefore considered sustainable. CBD oil is a product that's derived from cannabis. A type of cannabinoid (the chemicals naturally found in marijuana plants) it is not intoxicating or psychoactive in effect — that's another cannabinoid, known as THC. But CBD oil does have myriad health benefits including alleviating chronic pain, insomnia and anxiety, and promoting anti-aging. Here are some great products that will have you turning a new leaf.
TRUST BIOLOGIC
People are now incorporating cannabis into their daily routines to keep reduce inflammation, promote balance, and fight cellular breakdown. TRUST Biologic is spearheading the use of lesser-known cannabinoids in its wellness products and skin products, such as its divine-smelling 50/50 cream, the first all-body cream to combine equal parts CBD (cannabidiol) and CBG (cannabigerol) to provide instant relief from inflammation due to pain, rash, or irritation. It also works wonders on age spots, discoloration, sun damage, dryness brought on by winter, and overall discomfort. We also tested the CBD Facial Serum and noticed instant hydrating results, especially around the eyes and lips. The CBD Gel Caps work from within and have a calming effect on mood and promote sleep regulation.
TRUST Biologic's licensed estheticians and PhD chemist board members have built products specifically aimed at Baby Boomers based on actual feedback and usage. The brand is so sure of their quality products they offer a 100% money-back guarantee, and certificates of analysis with lab documentation for all of the ingredients used.
LIFE ELEMENTS CBD BATH BOMB
Lockdown has kept us away from many of our more relaxing pursuit such as swimming, spas, sport, and all of the hydrotherapy that gives the body a good but gentle workout.
Now you an relax fully in the comfort of your own bath tub with a 300mg CBD Venus Bath Bomb from Life Elements. Named after the Goddess of Love and made with 300mg of organic CBD, the Venus Bath Bomb is the way to start a steamy evening with your partner or purely for your own indulgence and de-stressing in these intensely stressful times. The bomb contains natural ingredients such as Sweet Orange and Sandalwood to promote intimacy, relaxation and the beginnings of a romantic evening of love and yes, self-love.
REMEDIO WELLNESS
Brothers and co-founders, Stan and Nicholas Thompson, decided to enter the business when their grandfather's health began to decline back in 2018. "My brother and I had learned about the benefits of hemp-based products to alleviate pain, but as we considered our options, we discovered that there wasn't enough transparency or integrity in the market," says Stan.
Both Stan and Nicholas had already experienced the benefits of CBD in their lives, and wanted nothing but the purest and most effective product for their ailing grandfather. Looking at the lack of transparency in the burgeoning hemp-based wellness industry, the duo decided they could do better. After months of testing countless suppliers of pure hemp extract throughout the United States, they secured a partner and began the long process of planning and research. At the beginning of 2019, the brothers were inspired to take things a step further and decided to establish Remedio Wellness.
"The product we formulated helped our late grandfather find peace and dignity in his final years with us," shares Nicholas. "It was moving to see just how much CBD could help people manage chronic pain and illness, and we wanted to share this gift with other people."
The company's plant-based remedies come in three main products: Drops are formulated for daily use to aid in calm and focus, reduce stress, pain, and inflammation. Soothe Balm contains one of the strongest topical formulations in the market, with 1000mg of broad-spectrum hemp extract in every jar. Rest contains a concentrated blend of hemp cannabinoids, formulated to promote calm, tranquility, and sleep. The products are bundled to suit consumers' needs: the Day & Night Formula combines the 500mg Drops with 900mg Rest Drops to promote balance and calm throughout the day, while the Body & Mind Formula combines 1000mg Drops with the Soothe Active Renewal Balm to promote holistic well-being.
AFORE BY DR. FEW
Dr. Julius Few has formulated a groundbreaking CBD Mist to help you come back into the limelight looking like your best self. Aforé™ by Dr. Few was developed after years of research as a first-of-its-kind CBD Effusive antioxidant facial mist that is a handy way to refresh the face and body throughout the day, whether at work or play.
This ultra-lightweight, delicately fragrant mist hydrates the skin, providing an instant glow so you're ready to take on the world. Pleasantly citrus in smell, it's perfect for spritzing on your face to wake up, or to calm and reduce redness after exertion. How does it work? CBD's natural anti-inflammatory properties combine with green tea, vitamin C, and witch hazel to help soothe the most sensitive skin.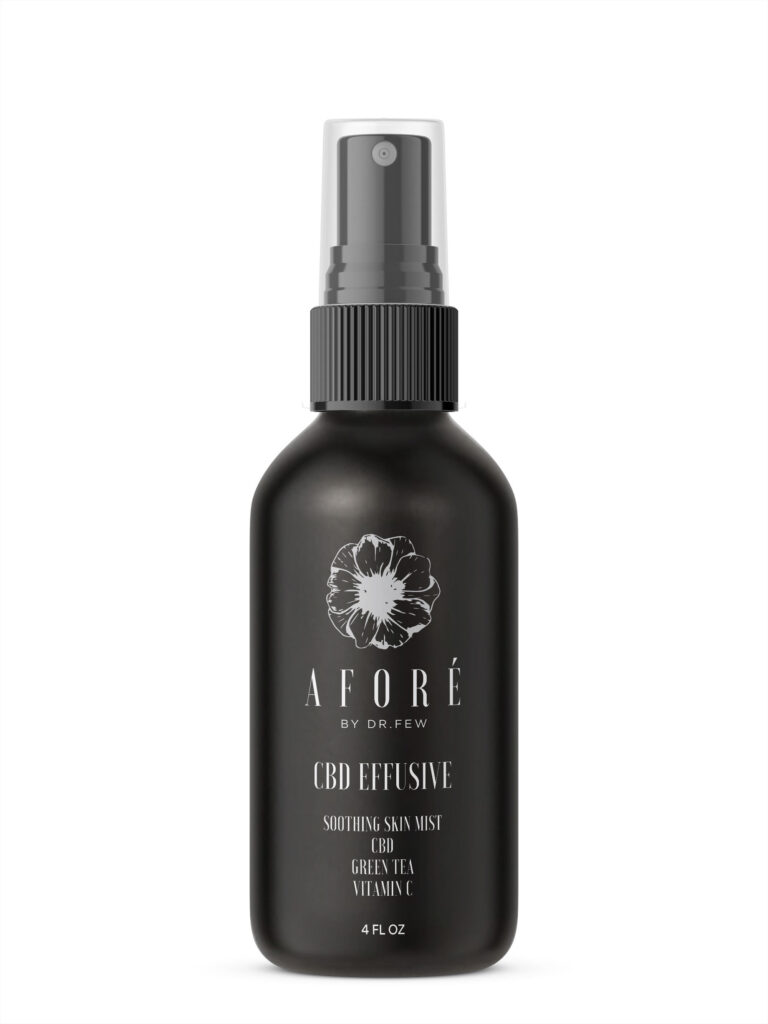 What's groundbreaking about this little bottle? Formulated using 100 milligrams of CBD nano-emulsion, this is the first face mist to use water-soluble CBD synergistically with plant extracts and antioxidants. CBD Effusive's unique nano-emulsion solution is more potent than CBD oil, the mist absorbing into skin more effectively. What a perfect way to sprit into Spring!