HRC ushers in new era of change with rousing speeches, Black excellence
The Human Rights Campaign (HRC), the nation's largest LGBTQ+ civil rights organization, hosted its Greater New York Dinner on Saturday and the night was remarkable for a number of reasons, including the presence, energy and charisma of HRC president Kelley Robinson, White House Press Secretary Karine Jean-Pierre, actress Ariana DeBose, and others.
Robinson, who is the latest president of one of our community's most vital equal rights advocacy groups and the largest LGBTQ political lobbying organization in the United States, transformed the stage of the Marriott Marquis ballroom into a pulpit from which to preach her and our commitment to advancing LGBTQIA+ rights. During her muscular, inclusive and optimistic speech Robinson instilled motivation and hope into a crowd concerned about a challenging year ahead. HRC's newest president radiated serious preacher vibes that had the audience rising to their feet, and not for the last time in the rousing evening event.
"In this new chapter, HRC will center on equality and liberation for all. Period. Without exception," said HRC President Kelley Robinson. "Yes, I'm talking about trans justice, racial justice, reproductive justice, and a whole lot more…In this new chapter, HRC will have the audacity to build a world where LGBTQ+ people can be safe, celebrated, and joyful in all aspects of our lives. We're gonna keep building workplaces that work for all of us. We're gonna keep building schools where all kids are welcome. We're gonna build a health care system grounded in equity and inclusion. We're gonna keep fighting to defeat stigma and end the HIV epidemic in our lifetime. We're gonna keep lifting up artists and actors and changemakers, so we can show the world what queer lives look like, what queer brilliance is." 
The dinner also featured speeches by Senate Majority Leader Chuck Schumer and Senator Kirsten Gillibrand, both of whom spoke of their career-long support of the LGBTQ community, especially in matters such as marriage equality, and their commitment to continue doing so. 
"My daughter, Allison, is gay," said Sen. Schumer. "Her wedding day was one of the happiest moments of my life. But one of the most terrible moments of recent years was the night I was with my family having dinner, in September of 2020, when we received the news that Justice Ruth Bader Ginsburg had passed away. I remember that awful feeling around the dinner table – and I distinctly remember the question my daughter and her wife asked, 'Could our right to marry be undone?' It's a question sadly, that millions asked across the country. That's why I was so proud to lead the Senate in passing the Respect for Marriage Act."
Artist Kehinde Wiley was honored with the HRC National Equality Award and the audience was treated to a visual retrospective of some of his most important work including the historic portrait of former President Barack Obama. Wiley spoke of his mission as a painter to produce the kind of canvases that he never saw hanging in museums.
"The humanities and fine art matter in life, and we can possibly change the lives and the trajectories of young black and brown children all over the world, simply by modeling excellence," said Wiley. "I want to say tonight that, in the end, what we have is a room full of people with a story to tell. The story of democracy in America is a strong one, but unless it's placed properly it will never endure. The thriving of Queer people in the West is one that we have to water and give some light and allow to endure. But unless we all together surround it, it won't endure. Let's stop playing games, let's actually become models for something."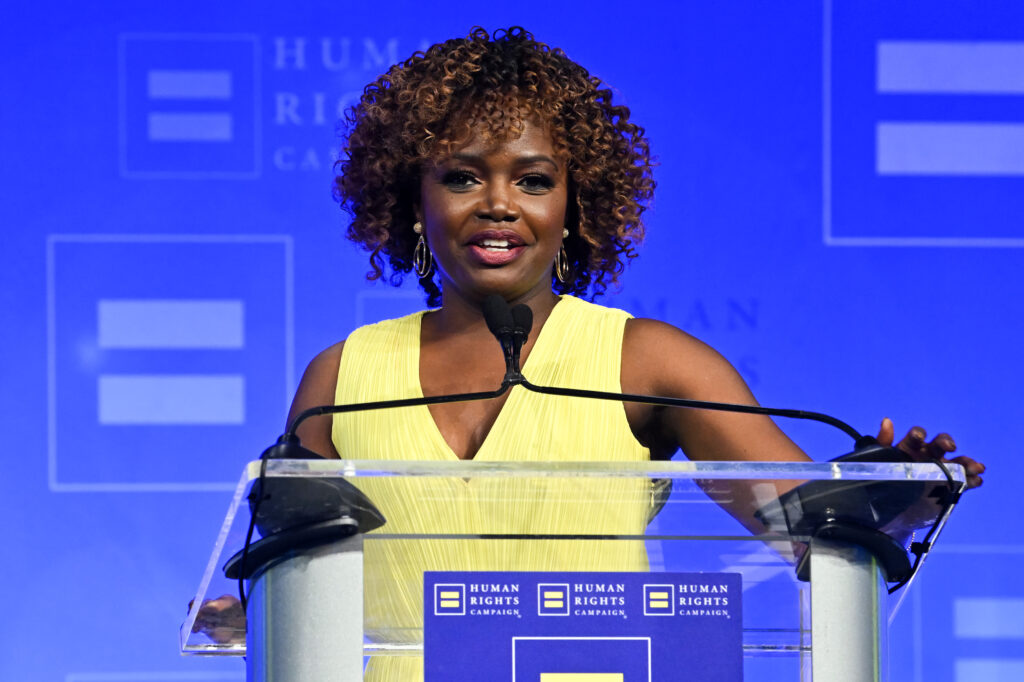 White House Press Secretary Karine Jean-Pierre spoke of how the diversity of New York City helped give her the tools to get her to where she is today as the first out queer woman of color working closely with the President of the United States.
Veteran standup comic and activist Dana Goldberg combined her usual razor sharp observational humor with her political commitment to wind up the crowd and put them in a bidding mood for the auction and in a matter of seconds, or so it seems, at least $40,000 had been raised.
Then came the moment we had all been waiting for: Academy Award-winning actress Ariana DeBose was honored with the HRC Visibility Award, presented by actress and Saturday Night Live alum Cecily Strong. DeBose looked dapper in a black suit but that did not deter her from kicking off her speech with a pro dancer's high-kick, and she reminded us that with her performance in West Side Story she became the first openly queer woman of color and the first Afro Latina to win an Academy Award for acting, a feat which will open the door for others to walk through.
"The visibility is not only for me. It's for others – and it's a privilege and an honor to speak up and speak out on their behalf. I also now know visibility to be an act of bravery," said DeBose. "Again, not only for me – but for the young and yearning, the closeted and cloistered, those who are fighting for the simple right to be treated with the same dignity and respect that every heteronormative person is granted. Visibility is about bravery. An act of sheer will and courage to wake up everyday and be exactly who you are in a society that will have you believe that it's unsafe to do just that in order to maintain the status quo of comfortability."
Prior to the dinner, guests mingled over cocktails, conversation and music as they tried to catch a glimpse of the LGBTQ+ luminaries and A-list allies walk the blue carpet, including Ali Krieger, Ashlyn Harris, Brita Filter, Catalina Cruz, Jackie Cox, Jan Sport and Milan Garcon and Robin de Jesus.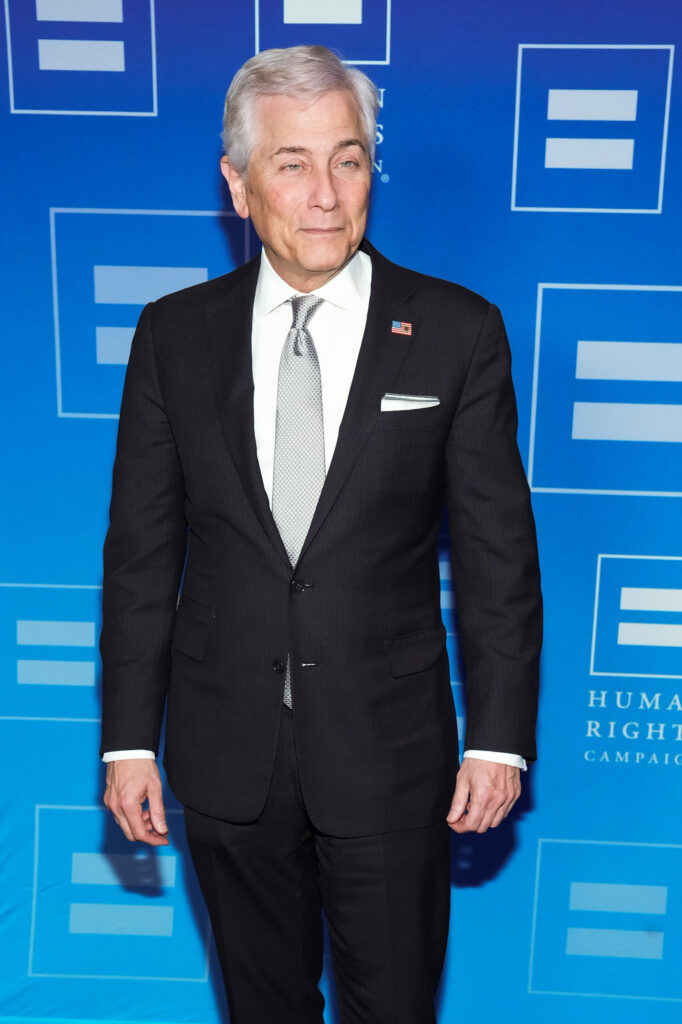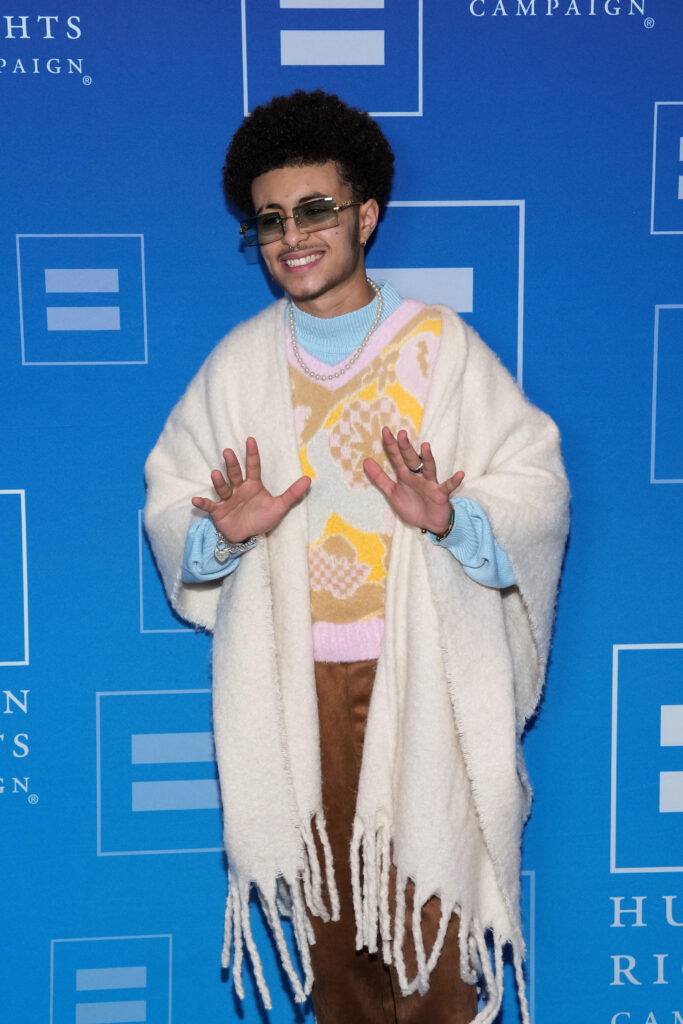 After the dinner, guests kicked on to the afterparty for more cocktails sponsored by Smirnoff and Bulleit Bourbon and conversation.
The HRC Greater NY Dinner honors those who work tirelessly for LGBTQ+ equality. The Human Rights Campaign Equality Award recognizes an individual or organization that embodies the passion and dedication to advancing LGBTQ+ equality. These attributes align with HRC's mission of creating a country that inspires and engages all Americans to work toward ending discrimination against LGBTQ+ citizens and realizing a nation that achieves fundamental fairness and equality for all.
Visit and support HRC here.