'Innocent Boy' is a frightening queer allegory of capitalist greed and corruption
We've all been there ‒ Stuck between "a rock and a hard place", as they say. However, for a young, Black trans boy named Penny (Unique Jenkins), this almost seems like an understatement.

In Brock Cravy's frightening, queer, neon-western horror short Innocent Boy, a peculiar cast of fantastically sketchy characters occupy a dark, abandoned, trashy, drug-ridden farm house located just off of a long, dusty road in rural Texas. The house, frequently visited by travelers looking for a good time, features a group of queer hustlers led by a loathsome Madam, who they all call Momma (Michael Vincent Berry). These hustlers prey on the desolate souls who visit them in a desperate attempt to treat their own mental and emotional anguish. 

When a murderous cowboy (Kamy D. Bruder) rolls into town, young Penny quickly sees this as an opportunity to feed the physical and emotional hunger that has been ignored by the neglectful Momma, and mocked by his physically and verbally abusive brother in trade, Cooter (Ian Michaels). Deprived of every opportunity to feed himself, Penny is now forced to make some very tough decisions.

Innocent Boy holds no prisoners. Writer/director Brock Cravy isn't here to hold our hand through this and tell us everything will be ok. We sit in complete discomfort as we experience every bit of Penny's desperation and emptiness. This is a beautifully shot, terrifying narrative of greed, hunger and deprivation.
Momma represents the excessive cupidity and corruption present in our society. When left to fend for themselves, Penny and his brother fight each other for scraps, and fall deeper into the clutches of Momma's greed and corruption in the process. Innocent Boy is a horror movie about capitalism.

Unique Jenkins is perfect in the role of young Penny, whose eyes are always desperately searching for love and affection in the dark, hopeless place he now calls home. Michael Vincent Berry is exceptionally terrifying as the psychotic and neglectful Momma, who dances in the dark, seemingly disconnected from all but one of her "babies".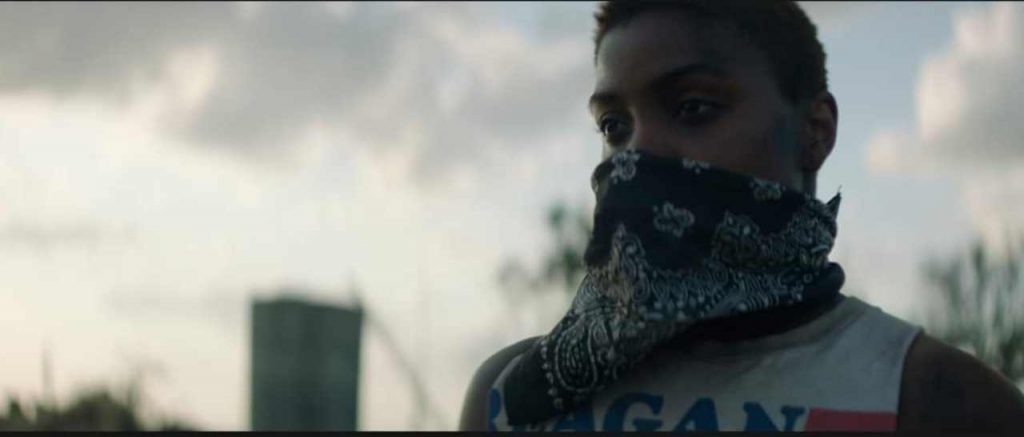 Ian Michaels is convincing as Cooter, who readily succumbs to the pressures of corruption, while Kamy D. Bruder nails the unforgiving rage and lust of the murderous cowboy. The talented ensemble also includes Saul Vasquez as Gabriel, and Becky Nitschke as Joyce Moore.

Karissa Leicht's gorgeous cinematography perfectly captures the gloomy and crepuscular world that these characters live in, while Madeleine Rose does an effective job with Momma's ghastly, purposely botched makeup.  

Innocent Boy, the first project to be produced by The Contested Edge, and Cravys' first narrative, won 'Audience Choice' and Best Direction' at the Las Vegas Queer Arts Film Festival on Sunday, November 10th. This is the second best director win for the veteran producer and first time director, having previously won the coveted award at the Independent Short Awards in Los Angeles. 

The film has also won Best LGBTQ+ Short, Best Cinematography, Best Acting Ensemble, Best Sound Design, Audience Choice and Best Direction. The controversial queer horror premiered at the historic Raleigh Studios in Hollywood, and has additionally been welcomed into international mainstream and underground festivals in Mexico, Russia, Germany, Portugal and the UK.