It's easy being green with these lush decorating ideas
Summer is a time for growth and we have some home decor that can bring a feeling of botanical tranquility into your space.
One of the things many of us discovered during the dreadful pandemic was that plants — and green things in general — feel and can be therapeutic.
Maybe it's the visual pleasure of watching something grow even as your own life feels like it's on hold. Maybe it's the vague scientific impression that plants release oxygen and purify the air. And maybe it's a very basic human need: to want to feel connected to nature, whether that's the atmosphere of a forest, a jungle, or a shady glade.
Real or artificial, these soothing sentiments and arboreal aesthetics can be brought inside the home, especially into work and living spaces through just a few design choices that incorporate inspirations from the botanical world. We've found a few decor products from around the world that can bring greenery into your abode. As the world gets crazier day by day, transform your surroundings into a natural haven and delight your inner biophile (yes, that's a thing).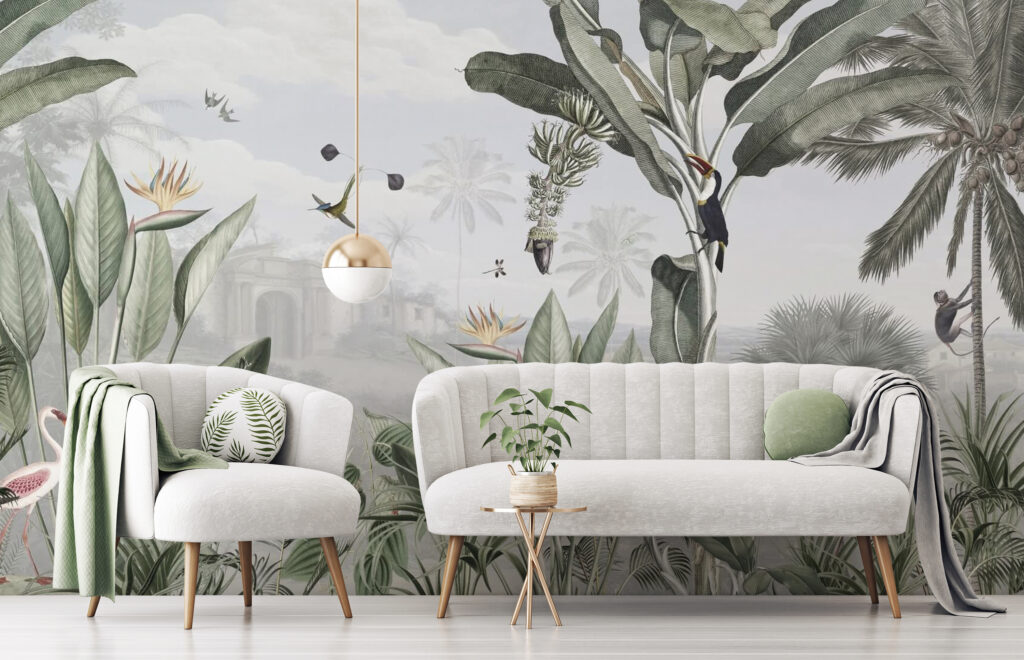 Botanical Beauty Mural by Sir Edward
Escape into this fanciful, deluxe and 19th Century inspired made-to-measure wallpaper mural. It isn't just wallpaper, it's an entire tropical botanical landscape featuring tropical vegetation, plus monkeys, macaws, flamingoes, and other species. Available to order onto a variety of wallpaper types including paste the wall and peel and stick that's great for rented accommodation. Check out the entire range at www.wallsauce.com
---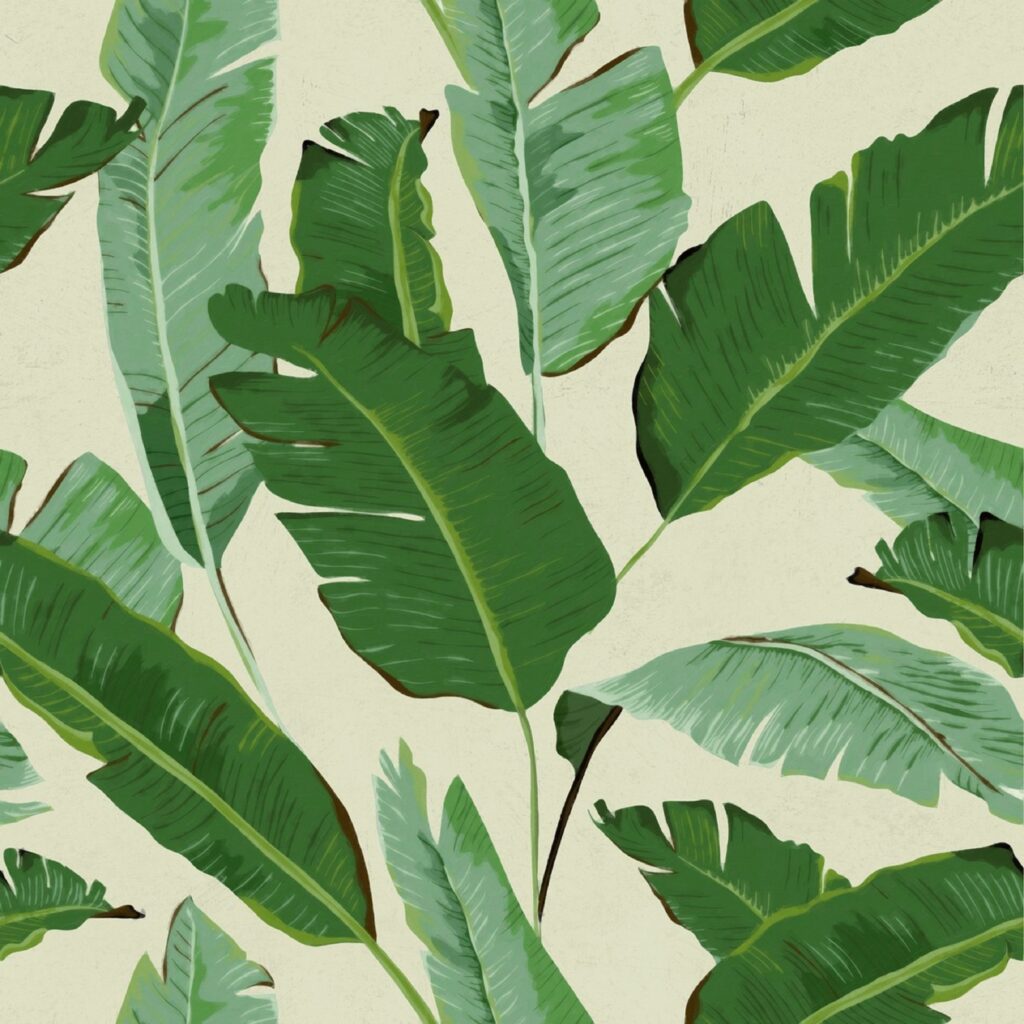 Mindthegap Tropical Vibes Banana Leaves Wallpaper
Just want wallpaper that leaves the mural narrative out of it? Bring the pattern of the tropics to your room with a beautiful premium wallpaper from Mindthegap that highlights the shape of banana leaves against a neutral background. The elegant and simple design traces each leafy shape, allowing them to command attention with their individuality and sense of movement. The Banana Leaves statement wallpaper is a great choice for home decoration projects that need a fresh, tropical vibe, without overpowering the atmosphere. Complement the wallpaper with lively colors either in furniture, accent pieces or fabrics accessories, and create the vibrant feel of an authentic equatorial getaway.
---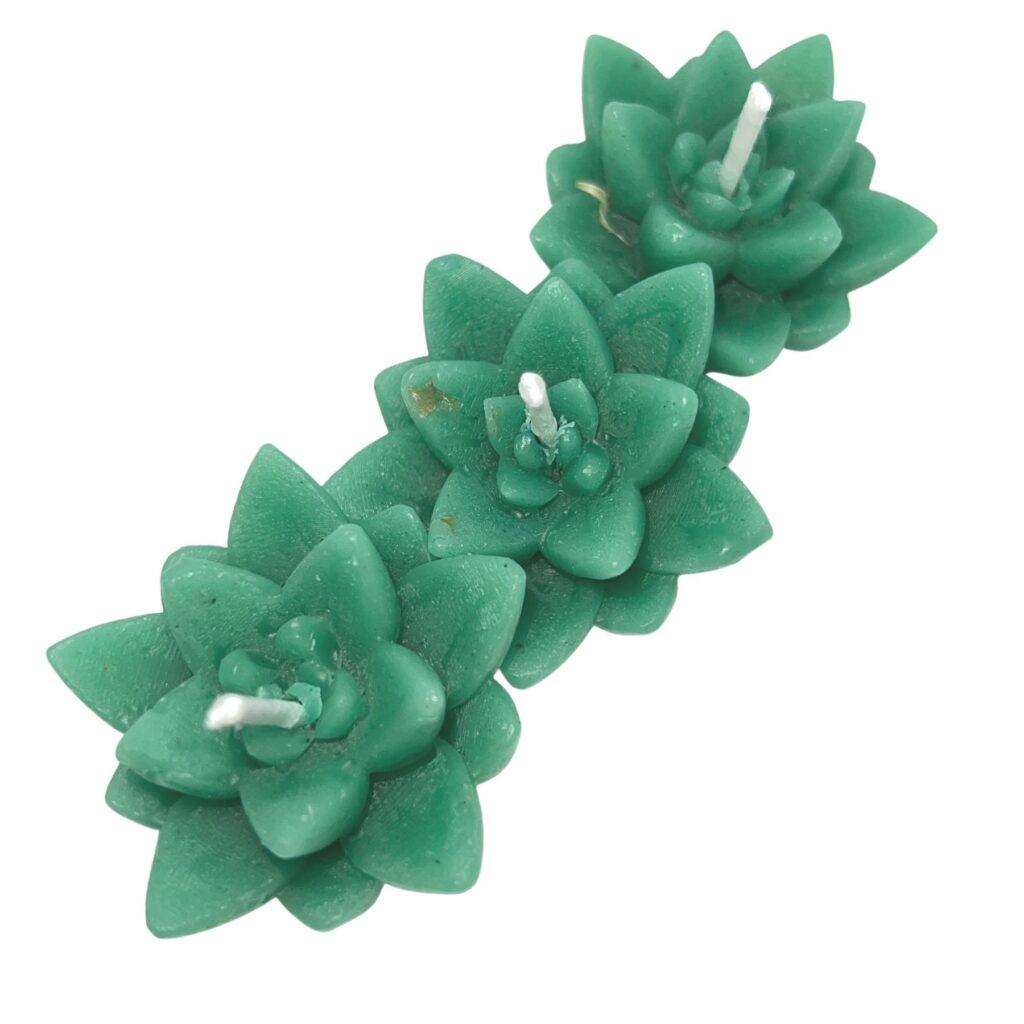 Green Witch Garden Apothecary Candles
Bring the shape of living plants into your home and bathroom in the form of these petite, hand-cast candles. Each candle weighs about 1 ounce and are made of Green Witch Garden's apothecary blend wax and 100% natural colorants. Since the candles are hand-made in small batches with plants and natural food grade micas, leafs and flowers, the colors and textures will vary in consistency. They will be within the color range depicted but if you are needing to match a specific color for your design the folks at Green Witch are happy to help match based on a photo you send. For more choices visit Green Witch Garden Intention Candles.
---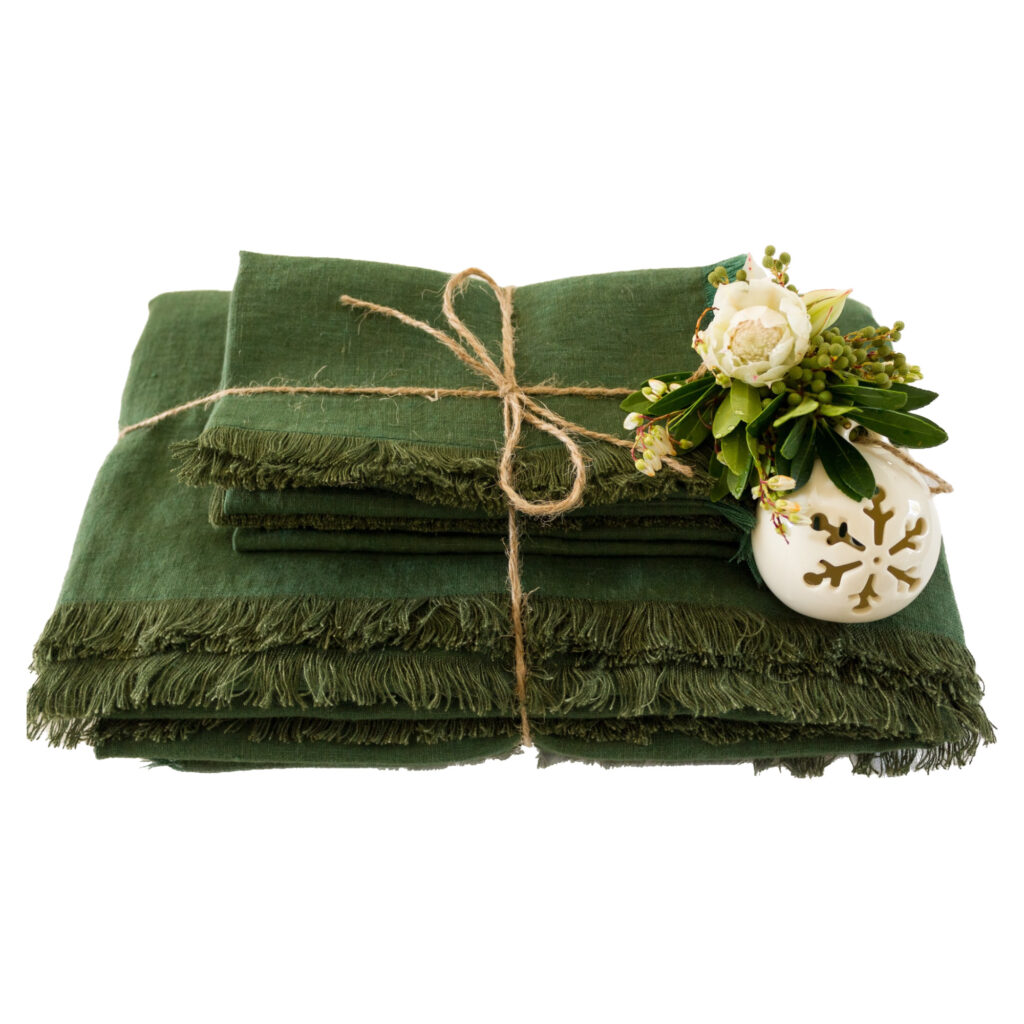 Enchanted Forest Linen Tablecloth
Transform your dining table into the forest floor or a manicured lawn! provide the perfect background for white or vibrantly colored china and bright silverware! This magnificent linen tablecloth in moss green provides a rich contrast to your tableware and stemware. It's versatile for all styles of gatherings, formal and casual, and happens to be a handy color for Christmas, too! The moss green evokes nature and pairs beautifully with so many colors such as white and grey through to pastel tones. www.linenbarn.com.au
---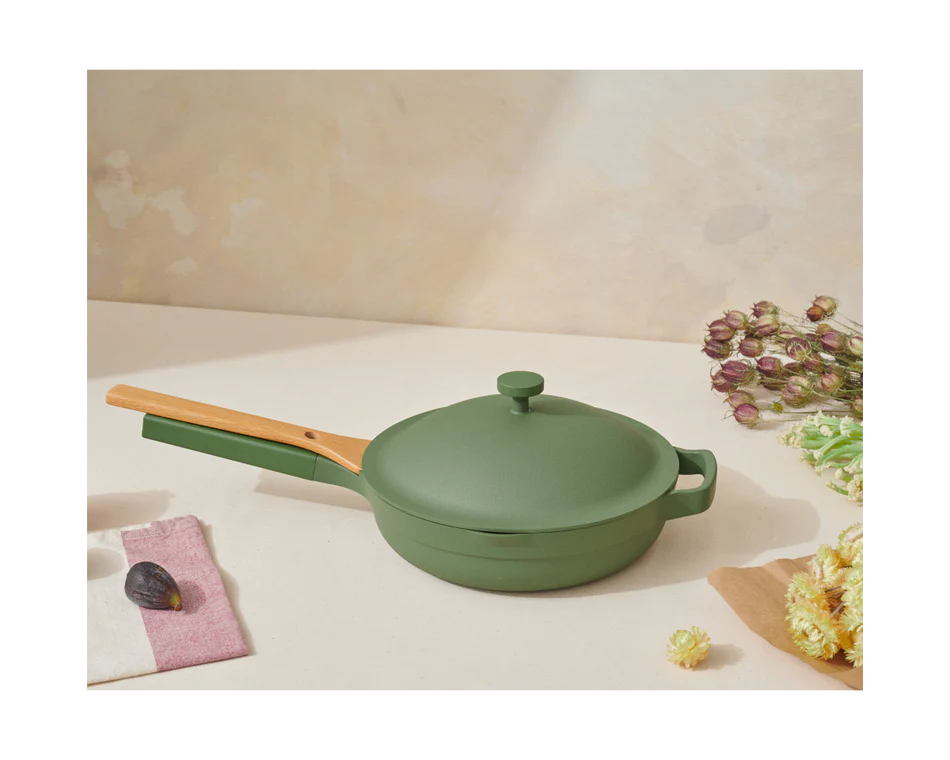 Always Pan in Sage
Described by some as a "kitchen magician," we have to say the main appeal of this many-in-one frying pan is its appealing matte surface finish in a range of subtle, decor-worthy colors. Coming in Sage, a muted earthy green, this nonstick pan also works as a steamer and a saucepan and is available at www.fromourplace.com. The manufacturer claims that this one item replaces your fry pan, saute pan, steamer, skillet, saucier (if you have one!), saucepan, nonstick pan, spatula, and spoon rest. The surface and thermodynamics of the pan mean you can braise, boil, sear, steam, saute, and fry—and that color means you can serve straight out of the pan!
---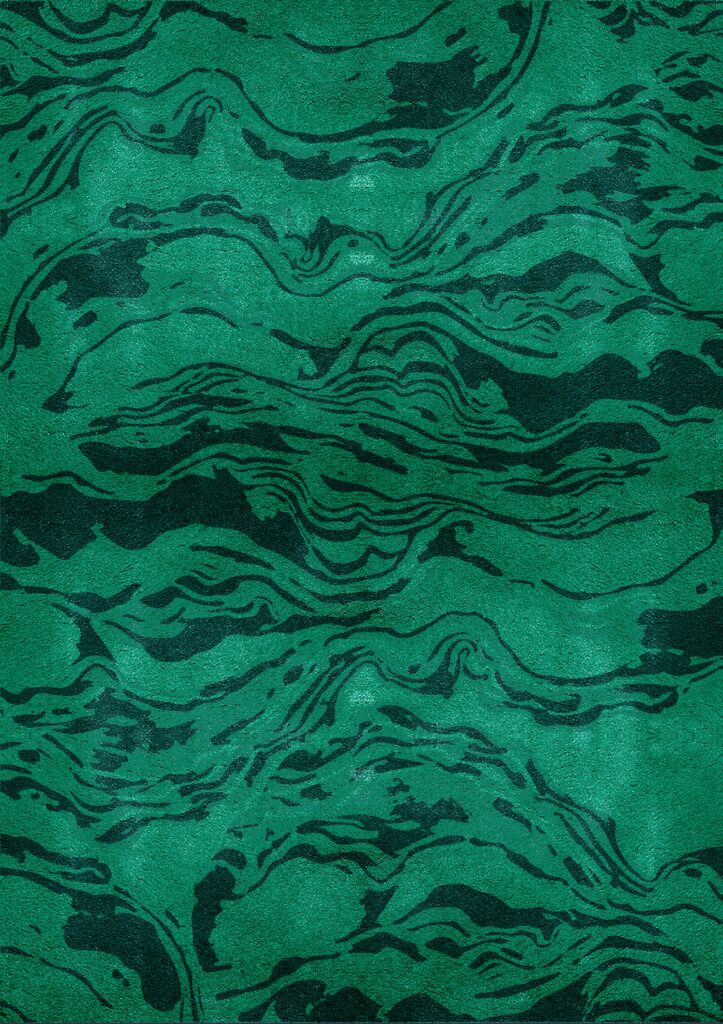 Botanical Collection Congo Rug
Congo rug was inspired by the Congo Rainforest, one of the oldest tropical forests in the world, situated on the African continent. The Congolian rainforests are a broad belt of lowland tropical moist broadleaf forests which extend across the basin of the Congo River and its tributaries in Central Africa. The emerald green colored contemporary rug coneys this richness in its design and in its construction: the flowing patterns and the use of hand-tufted and overtufting techniques combined with natural wool and botanical silk. https://www.covethouse.eu/
---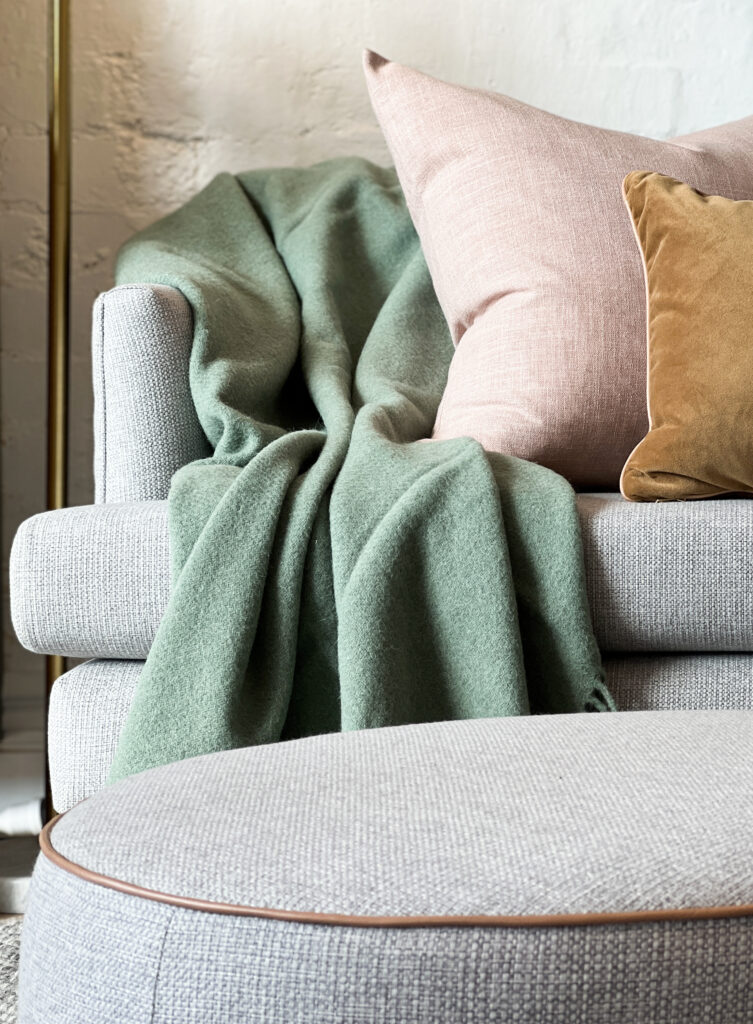 Forest Green New Zealand Wool Throw Blanket
Thinking ahead to fall, here's a bold choice for a cozy throw blanket. Brighton Collection's New Zealand Wool Throw Blanket in Forest is paired here with Norsu Interiors' Cushion Range and Ottoman to create the simple and gentle feeling of a simple country home or perhaps a cabin at the edge of the woods. All products are available at www.norsu.com.au.
---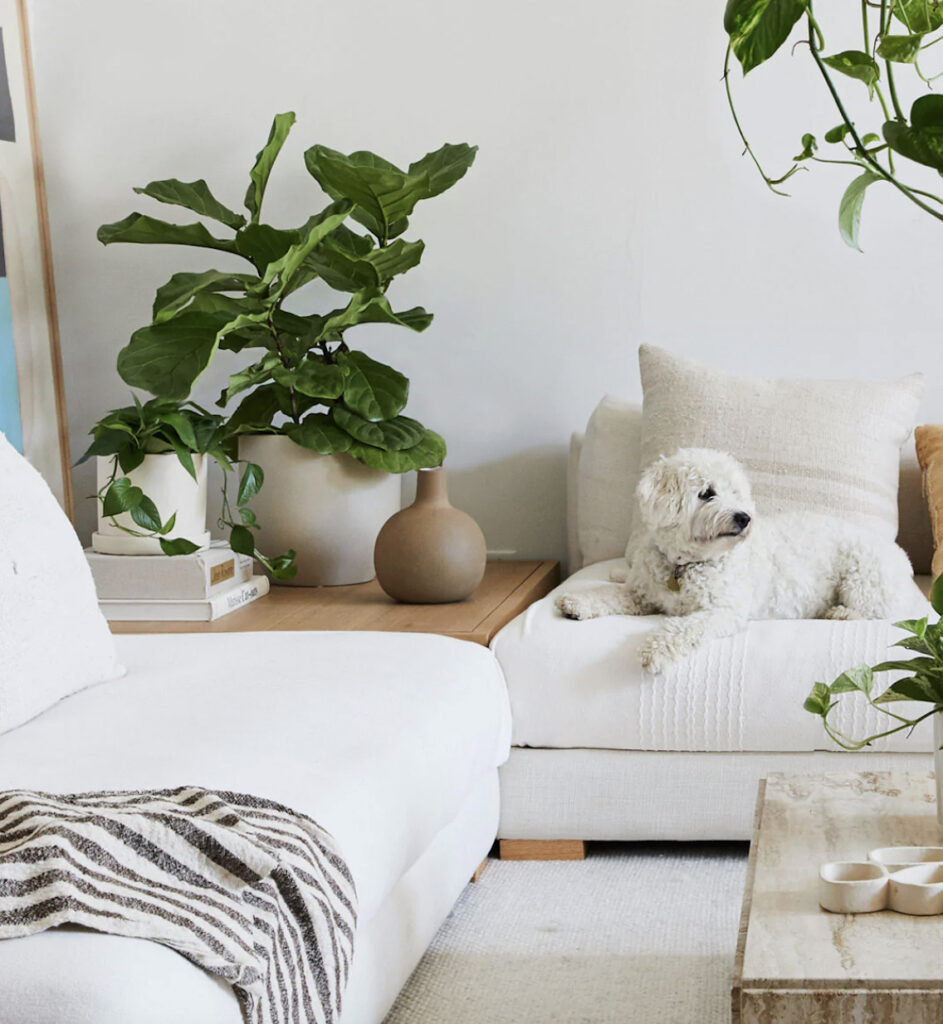 Large Fiddle Leaf Fig Bush
The Fiddle Leaf Fig is surely the plant du jour, famous for its broad, vibrant green leaves with prominent veining and the architectural shapes of the leaves which complement interiors and accent pieces. The Fiddle Leaf Fig will thrive in a stable environment with bright natural light. Sized to ship best, Sill's large Fiddle Leaf Fig arrives with room to grow as it adapts to your home's conditions. Large plant measures between 30–40″ tall from the soil line to the top of the foliage and arrives in 10″ diameter grow pot. Check out this live plant and others at the www.thesill.com.