It's sexy, it's scandalous, it's the latest gay film now showing!
Chilean-born writer-director Sebastián Silva (Crystal Fairy & the Magical Cactus, The Maid) turns the camera on himself in the hilarious Sundance hit Rotting In The Sun, a riotous meta-comedy that thunders through Mexico's city streets and nudist beaches.
Sebastián is a depressed director who spends his days doom-scrolling and taking absurd amounts of ketamine. In an attempt to snap him out of it, his manager sends him on vacation to a gay beach town to unwind. There, he encounters the gregarious Instagram influencer Jordan Firstman (also playing a derisive version of himself), and reluctantly agrees to collaborate on an upcoming project.
But when Jordan arrives in Sebastián's Mexico City studio to get to work on their project, Sebastián is nowhere to be found and his skittish housekeeper Señora Vero (past Silva collaborator, Catalina Saavedra) seems to know more than she's letting on.
Watch a clip here:
In his first leading role, Firstman is phenomenal as a moronic influencer attempting to get to the bottom of Silva's disappearance as he dances, sleeps and snorts his way through the city. Silva's fresh and funny black comedy skewers not only the business of filmmaking, but also our self-obsessed culture, also highlighting the cross cultural tension of Americans in Latin America, and all that is lost in translation.
Interview with Sebastián Silva:
What was going on in your life when you were conceiving this movie?
Sebastián Silva: I'd recently moved to Mexico from New York and I was staying at my friend Mateo's building in an apartment that I turned into my painting studio. I was going through an existential crisis and just wanted to shit on humanity. I didn't want to make movies, I just wanted to paint. I couldn't help but enjoy the narrative of the people who were working in the building, including Señora Vero (a major character in the film) and Beto, a construction worker. Class differences are on a whole other level in Mexico, and there was this Upstairs Downstairs vibe among the building's residents and the people who worked for them. I thought about making a movie called 'The Muppets', where you don't know whether the Muppets are the people working for us, or ourselves. It was going to be a movie that shit on everybody — privileged artists, the working class, humanity.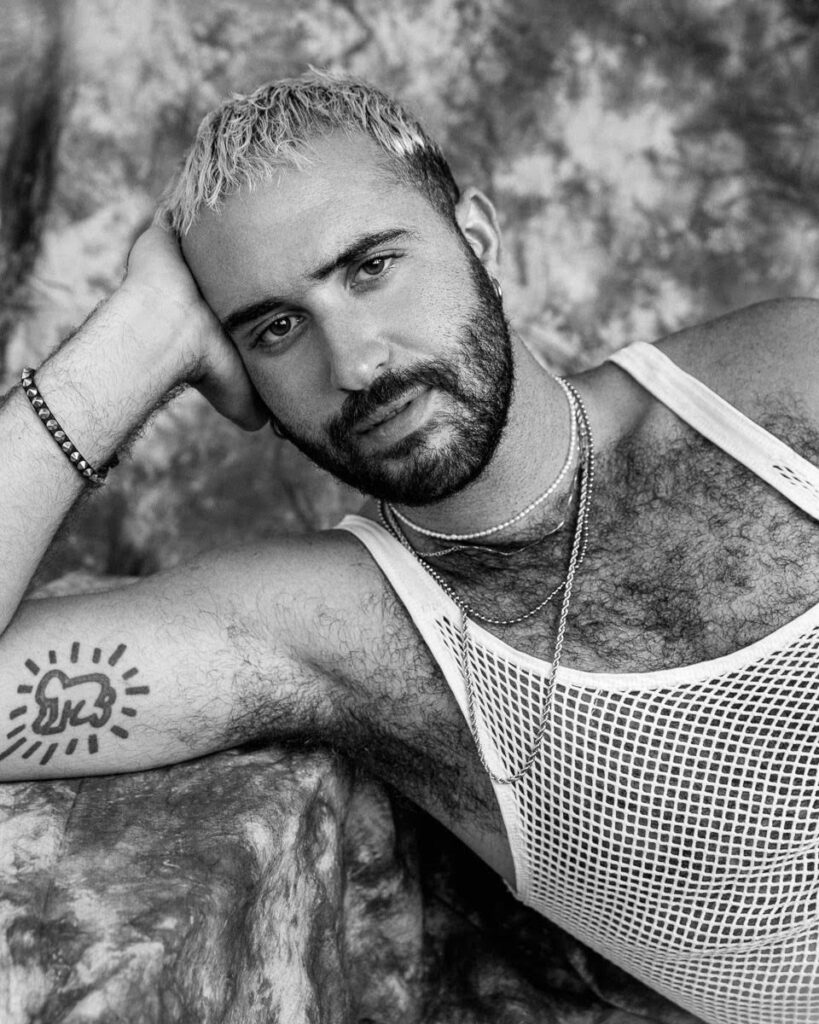 How did Jordan Firstman enter the picture?
I live right in front of the Plaza Rio de Janeiro, in the building you see in the movie, and had taken my dog there when Jordan approached. He was on a Grindr date and said he and I had met previously through Alia Shawkat when he was a writer on Search Party. I'm really close with Alia but I don't remember meeting Jordan, and I hadn't seen his Instagram at that point. Apparently, we had met in New York City some years back. Coincidentally he had watched Crystal Fairy & the Magical Cactus with his Grindr hookup the night before, so he was flabbergasted and very excited to cross paths. We had dinner the next day. When you spend time with Jordan, you discover that he's an over-sharer and fairly out there. He asked me very personal, very abrasive questions about my life.
When did you know you wanted to create a character around him?
I had nothing solid written by that point, but I knew I wanted to make fun of working-class people and privileged people at the same time. I was considering casting Michael Cera as an influencer, but after looking at Jordan's Instagram, he was fucking perfect. He's a very smart, funny guy and he really knows how to laugh at himself. He already had a huge following, and his relationship with sex, and with gay culture, was everything I needed for my story. I called him and told him I was writing this piece in which I would make fun of him and what he stands for — and not necessarily in a cute or playful way. I told him I wanted to humiliate him, his humor, his fashion and his followers. And he was down for it!
What happened next?
I sent him a treatment and he loved it. Then I reached out to Catalina Saavedra, who played a housekeeper in my breakthrough feature The Maid, to play my real-life housekeeper Señora Vero. When Catalina said yes, the movie came together quickly. An American friend, Jake Wasserman, who was a producer on my previous feature Tyrel, told me he would love to make an indie in Mexico, and I showed him my treatment. The writing took seven months. I worked again with my longtime collaborator Pedro Peirano, who I wrote The Maid with, and the story grew into this weird existential mystery-comedy with a shocking accident at its center. We flew everyone into Mexico City and shot it in 25 days.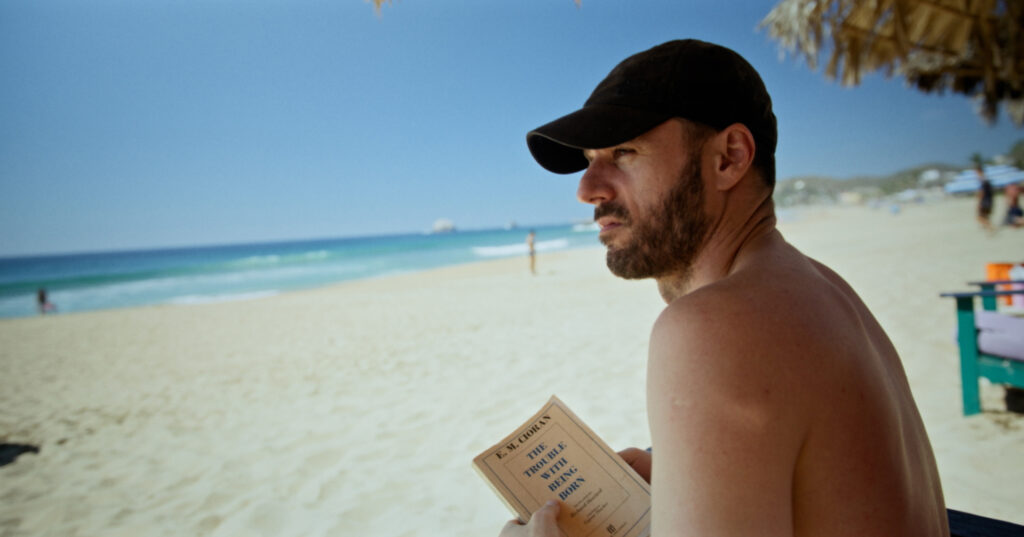 In early scenes, you explore gay hedonism at a notorious Mexican beach.
I'm making a point about promiscuity in the movie but there's also something very playful about the sex that goes on at the beach where I initially meet Jordan. Public sex and orgies are often seen by people as sordid and dark, but it's just men being men. I find orgies and gay sex to be very playful, everybody's fucking each other, nobody cares, there's often laughter; it's silly and goofy and nobody gets hurt. In the movie we call this gay mecca "Zicatela," which in real life is a heterosexual surfing beach somewhere on the Oaxaca coast. The New York Times had done a big article on the gay beach on the same coast, and I was asked by friends who are Mexican and involved in the scene there not to call it by its real name. It's the only nude beach in Mexico, and has been a gay destination for years, though only in the last three or four years has it become a trendy mecca.
What is your own relationship with this beach?
Before I had conceived this project, I went there for a little getaway and couldn't believe what was going on. I'm not a prude, or a nudist in any way, but you find yourself getting naked and fucking behind the rocks when you go to the beach there. I did stuff that I didn't know I was ever going to do! There was a 200-man orgy on the beach, which I missed, but I found being there so liberating.
Describe your depiction of sex in the movie as it pertains to Jordan.
Jordan himself is a very sexual guy. He loves to talk about sex, and he loves to have sex, so all the sex in the movie comes from Jordan's experiences. Sex surrounds Jordan, and informs his character, like when he tells me on the beach how much he loves me and then ten seconds later he's getting his dick sucked behind a rock. I'm not in any way criticizing his behavior as much as I'm making fun — celebrating it while defiling it.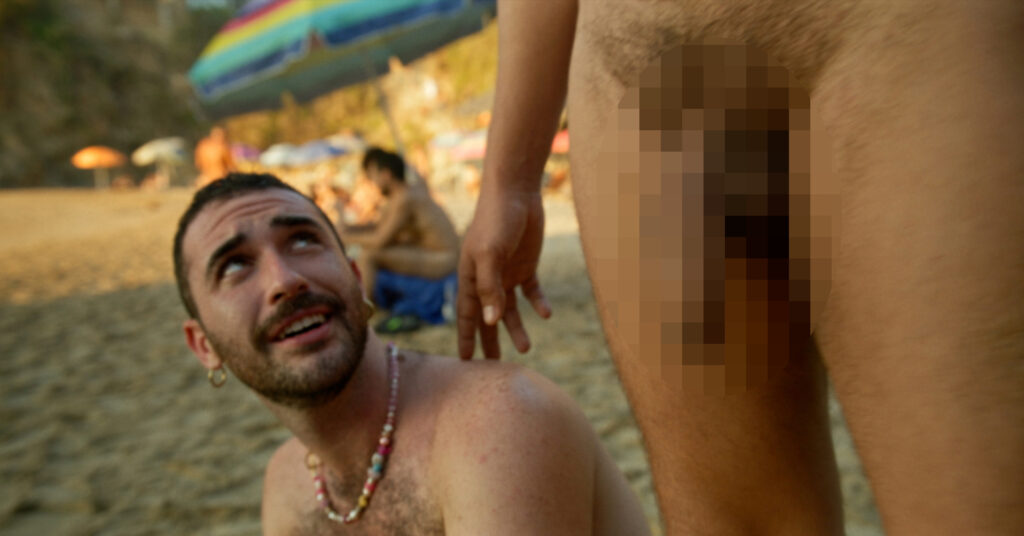 You seem equally enchanted with sex and in particular gay sex.
There's a lot of dicks in this movie, and a lot of sex, but the sex is never abrasive or shocking or disturbing, just mostly funny. Raunchy, explicit gay sex added comedy to the movie in a way I really wasn't expecting. Sex in this movie is not treated at all like in Blue is the Warmest Color, where you can tell the director is enjoying himself way too much. Here it's just raunchy, silly, sloppy, messy and raw.
You're also very frank about drug use in the movie.
My intake of Ketamine started late in life, five years ago, but I was very young when I learned about this drug that could give you out of body experiences. I've also always had a fascination with lucid dreaming and astral projection, and the occult writings of Gurdjieff and the Theosophical Society. I initially tried Ketamine because I wanted to go into a K-hole—it was never my intention to take a bump and go to a party. I wanted a religious experience where you enter the bright lights for a couple of minutes and then you're back out. Every K-hole you go into is an ego death, and you deconstruct language to the point where none of your thoughts or judgments are valid anymore, because language and reason have dissolved.
What was it like working with Catalina Saavedra again?
Catalina is hands down the most talented actor I've ever worked with. Respect to all the other actors, but nobody comes close to Catalina — she's on another level. I was a little bit afraid because she's Chilean and Señora Vero is Mexican, and I care about accents in my movies. I was worried she wasn't going to get the working-class Mexican accent right, but she loved the script, got an accent coach early on, and totally nailed Señora Vero. Every Mexican that has watched the movie cannot tell that she isn't local. Not only was it a treat working with Catalina again, it was a pleasure getting killed by her.
Death figures prominently in a lot of your movies.
A festival programmer told me she thought this movie was like all of my movies rolled into one, with death permeating through all of them. I would agree that death as an alternative to being alive and death as an option for suffering has been a consistent subject in my films. The fact that a maid kills me and it's the same actor who played the maid in The Maid and the fact that I killed a homeless man in Nasty Baby, and got killed in another movie, well, it all feels very incestuous.
How would you describe the unique tone of this movie?
I've done two comedies in my life, Rotting in the Sun and Crystal Fairy & the Magical Cactus. The others have moments of humor, but this one is approached as comedy. From my dog eating shit in the park to me showing Señora Vero the dog's balls so she remembers that he's male to her accidentally killing me — you don't know whether to laugh or feel terrified, but it's a comedy. I approached it from the beginning as a comedy and I hope it's read as one. There is a serious aspect to it, in terms of what it's saying about queer creative people. I'm very brutal in the way I criticize my own people, but I'm also shitting on HBO, and social media — the fact that Jordan gains more followers because he's posting about a missing person. In the end, Jordan and Sebastian's problems are empty compared to the ones Señora Vero faces. Including a corpse on the rooftop.
How did you shoot this movie differently from your previous features?
I had been painting for a while instead of making movies, so when I decided to make another feature, I wanted to make it differently, with a very small crew. The producer acquired seven late-model iPhones and we shot footage but it looked like shit on the big screen, so we got the Red Komodo 6K with a zoom lens and used natural lighting as much as possible when we started filming.
Describe the personal aspect of some of your locations in your work.
For The Maid, I shot the movie in the house I grew up in, and in Nasty Baby, I filmed in the apartment in Brooklyn I was living in, and for this one it was the same thing except that I involved everyone that was living or working in the building in the production. I always say I'll never do it again, because it's very invasive to have a film crew in your apartment, but the dynamics and movements are so organic — you know every nook and cranny, so it's easier to write something and then shoot it when you know the location. I lucked out that my friend Mateo was willing to let us borrow the building for those few weeks. It worked out amazingly.
Darkly funny, refreshingly audacious in its depiction of sex, and with pitch-perfect performances, Rotting In The Sun is a wildly unconventional quasi-detective story from a master of cringe comedy, produced in collaboration with Robert Pattinson's production company Icki Eneo.
Described as "hilarious and dazzling" (RogerEbert.com) Rotting in the Sun is streaming on MUBI September 15 and in theaters now.