James Hormel, first out gay US ambassador, has died at 88
Tributes pour in at the passing of a true LGBTQ trailblazer, philanthropist, ambassador, and cofounder of HRC.
James C. Hormel was America's first openly gay US ambassador, serving in Luxembourg from 1999-2000. Nancy Pelosi, House Speaker, and Hormel's friend, announced his death on Friday, Aug. 13.
In October 1997, President Bill Clinton first appointed Hormel to the diplomatic post. Hormel was nominated by the Senate Foreign Relations Committee to the full US Senate in 1997 but conservative Republicans vehemently opposed his gay rights advocacy and blocked the vote.
Clinton renominated Hormel for the position in 1999 and used executive privilege to appoint him and to bypass Congress while it was in recess.
"The process was very long and strenuous, arduous, insulting, full of misleading statements, full of lies, full of deceit, full of antagonism," Hormel recalled of the firestorm around his nomination. But the outcome was favorable and The State Department changed its regulations allowing openly homosexual individuals to be appointed and serve.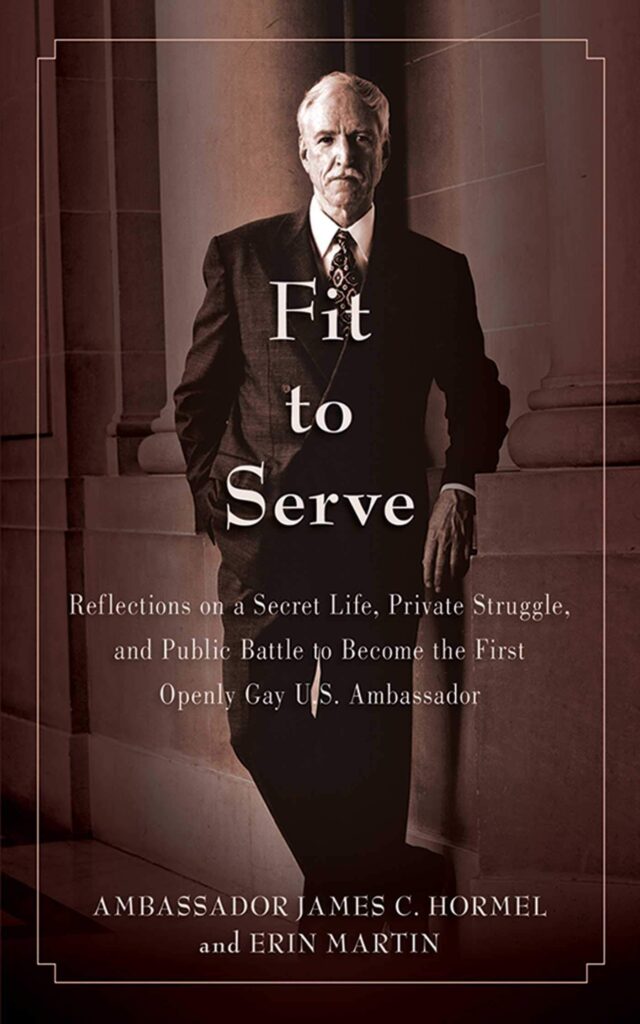 His memoir Fit to Serve recounts his personal and political journey and delivers a message of hope about the opportunity individuals all have to take a stand and change the world even in the face of opposition.
Prior to his ambassadorship, Hormel was a member of two US delegations to United Nations and was the dean of students at University of Chicago Law School, where he received his law degree. He was also cofounder of Human Rights Campaign (HRC), which grew to become the nation's leading advocacy force for LGBTQ+ people.
Alphonso David, president of HRC, called Hormel a "giant" in the fight for LGBTQ+ equality. David stated in a statement that David was "a history-making, barrier-breaking diplomat who showed future generations LGBTQ+ young men that there is no limit on what they can accomplish."
Kamala Harris, Vice President and former US Senator from California, released a statement saying that "Jim's kindness, commitment and concern for human rights, such as his efforts to found the Human Rights Campaign, and advocate for HIV/AIDS-positive people, has changed lives and inspired generations.
Nancy Pelosi, who officiated at the couple's marriage, remembered Hormel "a beloved figure within our community" who "paved the way for a new generation of leaders and elevated the voices of LGBTQ voices within our foreign policy."
"When the AIDS epidemic descended upon San Francisco, he called on our conscience and rallied the city to help our neighbors suffering from the ferocious disease. His work served as a model for national policy to defeat HIV/AIDS and improve the lives of all affected," Pelosi stated.
NCLR's former Executive Director Kate Kendell, who also knew Jim well, shared this statement: "Jim's passing leaves a gaping hole in many hearts. From my earliest days at NCLR, Jim invested in both me and our work. His support, love, and friendship through the years helped sustain me through many challenging moments. He embodied an impish joy even as his resume lauded many accomplishments. We will miss everything about him and I know NCLR will continue to fight on in his legacy."
Hormel resided in San Francisco with his husband, Michael Nguyen where he supported many of the local institutions. He enjoyed donating his time to the creation of the San Francisco Public Library's Gay and Lesbian Center.
Hormel is the father of five children born to a previous marriage.
He was born in Minnesota, and was an heir to Hormel Foods. His grandfather, George Hormel, founded company, and grandson James went on to devote his life to the advocacy of basic human rights and social justice. His political and philanthropic interests focused on supporting individuals and organizations that advanced equality and fairness, and promoted public service.
He wished to be, and was, recognized nationally for his ability to unite people of different backgrounds and perspectives around shared values and mutual interests.