Joe Posa in special birthday tribute to comedy icon Joan Rivers
Joan Rivers (a)LIVE will celebrate the 90th birthday of the beloved performer with the NYC show to benefit charity God's Love We Deliver.
Internationally acclaimed celebrity impersonator and actor Joe Posa will celebrate the 90th Birthday of the iconic entertainer Joan Rivers with his show Joan Rivers (a)LIVE on Saturday, November 25 at 7:00 PM at New York's The Green Room 42 as part of his national tour.
Known to be Rivers' personal favorite impersonator, Posa brilliantly recreates the legend's look, mannerisms, and signature frenetic energy in a non-stop 75-minute tribute to the late comedic genius. Joe lovingly and skillfully channels the edgy and politically incorrect humor as only Joan Rivers could. Joe's demeanor, physical appearance, facial expressions, wit, and energy pay homage to Miss Rivers, and allow us to laugh at a time when we all really need to. Following the New York show, Posa's Joan Rivers (a)LIVE 90th Birthday tour will travel to Key West, London and beyond.
The full schedule is available at JoePosa.com.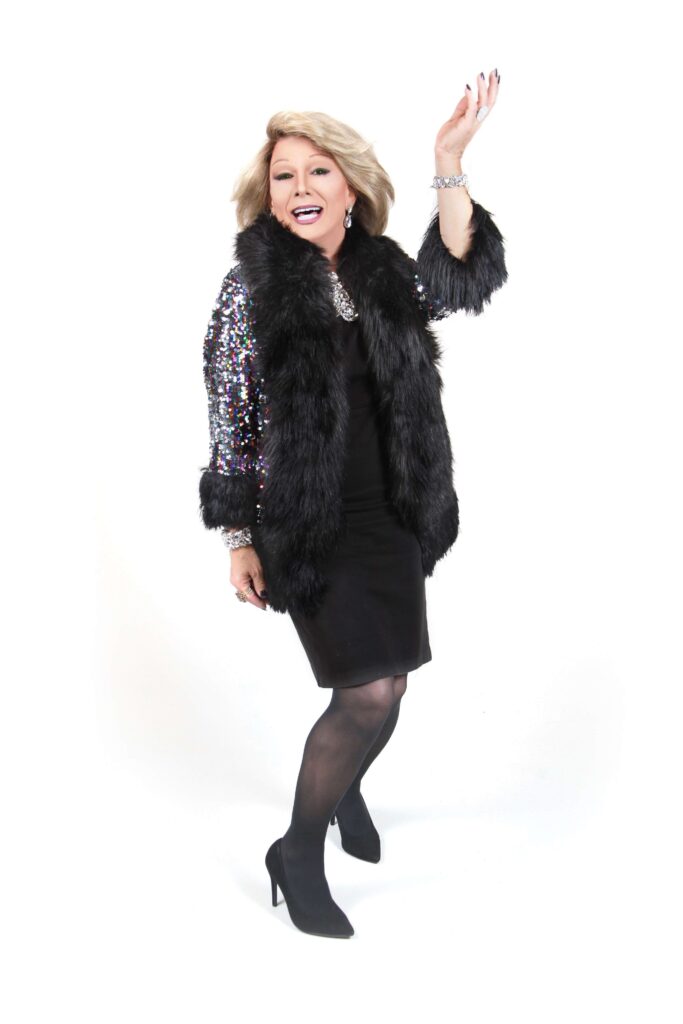 As a way to invite everyone to the table for Thanksgiving, a portion of the proceeds for the New York show will be donated to Joan's favorite charity, God's Love We Deliver.
Joe Posa began his career in musical theater and was cast in the international touring company of West Side Story. Other musicals include productions of A Chorus Line, Grease, South Pacific, and Anything Goes. His film credits include Rooftops, Scent of a Woman, Carlito's Way, Night and the City, The Associate, and The Mirror Has Two Faces. Television credits include "Law & Order," "NYPD Blue," and "The Sopranos."
In 1993, Joe became a cast member of "An Evening at La Cage" in New York City, where he portrayed Barbra Streisand and Liza Minnelli. He was then cast in revues in Aruba and St. Martin, adding Gloria Estefan and Michael Jackson to his repertoire. On television, he portrayed Susan Lucci's Erica Kane character alongside her on "All My Children," as well as Tina Fey's Liz Lemon's character with her on "30 Rock." Then he added Joan Rivers to his act, and the rest is history.
He has appeared alongside Ms. Rivers on multiple occasions and shared the stage with Tony Tripoli, Joan's head comedy writer, co-executive producer of "Fashion Police," and Joan's opening act. Joe has produced and starred in multiple shows in NYC, Boston, Provincetown, Puerto Vallarta, Ogunquit, Rehoboth, London and other cities for nearly 25 years. His productions include "Guys As Dolls" with costar Joanna, "Joe Posa Poses," "An Evening at the Birdcage" with co-star Thirsty Burlington, and "Tributes" with co-star Seth Sikes, as well as his stand-up shows portraying the iconic Joan Rivers. Joe can also be seen working the red carpet as Joan for events and fundraisers.
Saturday, November 25 at 7:00 PM at The Green Room 42 (570 Tenth Avenue at 42nd Street, on the 4th Floor of Yotel). The cover charge ranges from $20-$45. A livestream option is available for $20. For tickets, please visit www.TheGreenRoom42.com.