Jonathan Bardzik serves up chestnuts and Brussels sprouts for the Holidays
Here is a delicious side dish perfect for the Christmas table.
I am a total size queen. And you know that can only lead to disappointment. When it comes to Christmas trees, bigger is always better. With my 9' ceilings I usually bring home a 9" tree, trusting that the fresh cut off the bottom will give me the 2-3" of clearance I need to get it in the stand and fit the tree inside the house. "What about the star?" you might ask. I tuck it up against the leader at the top giving the tree an even fuller look.
Until this year. When Dan, owner of Agora Farms arrived at my door to deliver our tree, my first thought was that he had just brought this six and a half footer to show me because it was a nice tree. "Is this ours?" I asked.
"It is," he replied looking apologetic and like he had just been waiting for this response. Dan told me about the shortage of trees this year and said I was lucky to have this. He also said, with a half-hearted grin, that as a good Catholic he would spend the entire season feeling guilty about the smaller and more expensive trees he was delivering this year. I said "thank you" with an equally forced smile as he left.
To be honest, I was devastated. More than I should have been. I don't know if I was revisiting the loss of magic I felt as a child, discovering the truth about Santa or if it was one more blow on top everything else in the past two years. I called my parents, I talked to my therapist and finally, in resignation, I said to my husband, "I don't suppose wrapping a security blanket around the trunk and singing will make it grow two feet taller, will it."
So, is Christmas ruined? Nope, the tree is beautiful and a couple apple crates gave it just the lift it needed, plus it gave me room to surprise my husband by placing a train around the bottom, a desire he has expressed for years. And, while I certainly won't let this get in the way of next year's 9 footer, it was quicker and easier to light.
In the face of disappointment I whined, then grabbed myself by the short hairs and made the magic happen. There is always joy to found. There is one other thing I did. The most important thing.
Shortly after Dan left I thought, "this is going to be a tough season for him and he always goes out of his way to find us a beautiful tree." So I sent him a text:
"Dan, I just want to say thank you again. I know this is a tough year with low inventory and I am truly grateful for the beautiful tree you brought us today. Thank you."
It took two more days for that thought to migrate from my head to my heart but when it got there the gratitude felt good.
---
Brussels Sprouts and Chestnuts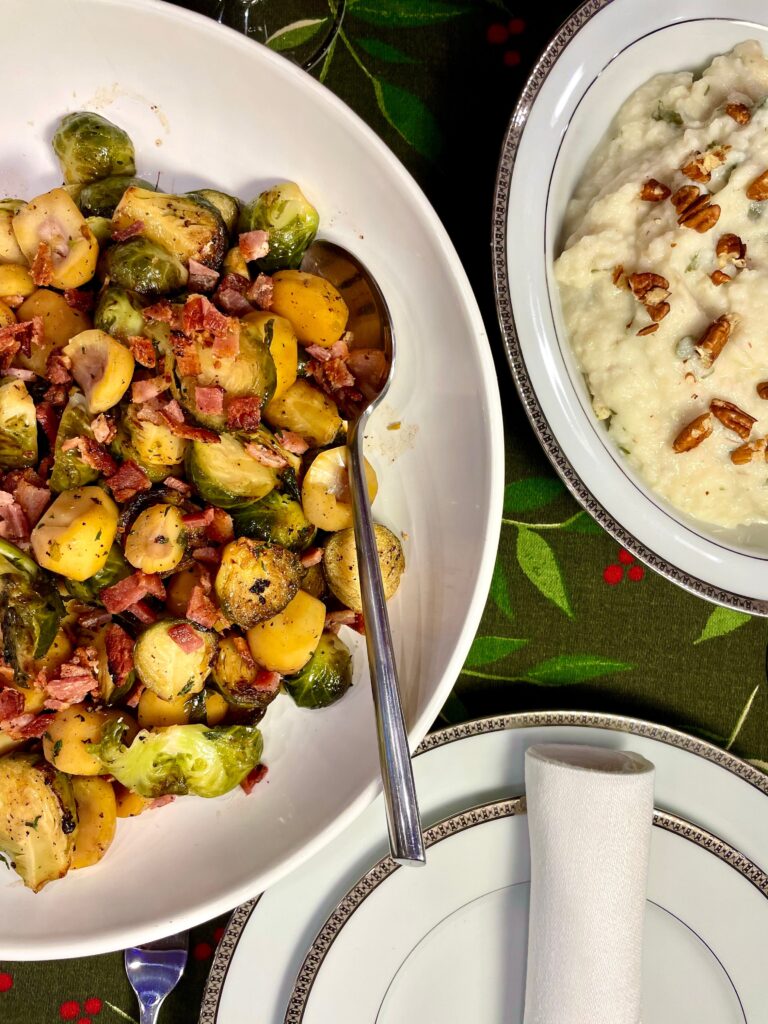 Serves 6
I served these 25 years ago, the first year I cooked Christmas dinner, and my family has asked for them every year since. Tender, fresh Brussels sprouts lightly browned in bacon fat balance any cabbage-y notes with rich chestnuts, salty bacon and lightly sweet Maple syrup. Prep the Brussels sprouts and chestnuts ahead of time and you can finish the dish in 5-10 minutes right before dinner.
Ingredients:
12-15 brussels sprouts
12-15 chestnuts, roasted and peeled*
2 cups chicken or vegetable stock
3-4 slices thick cut bacon
2 tbs maple syrup
1 tbs minced fresh thyme
Nutmeg
Sherry vinegar
*Or buy pre-cooked and peeled. You can find them with dried fruits, with other nuts in the baking aisle or in the freezer section of your grocery store.
Directions:
Prepare Brussels sprouts: Trim the dry end from each sprout and remove any loose leaves. Cut a shallow "x" in the bottom of each sprout which allows the tough core to cook at the same pace as the leaves. Add sprouts to a steam insert set over water in a 3-4 quart saucepan. Set heat to high and cook until bright green but still crisp, 5-7 minutes. Remove from pot. When cool enough to handle, cut each sprout in half.
Prepare chestnuts: Combine chestnuts and stock in a 2 quart saucepan. Bring to a simmer over medium-high heat. Reduce heat to medium and simmer until chestnuts are tender, about 15 minutes. Remove chestnuts from stock, reserving stock.
Cook bacon: Warm a 12" skillet over medium heat. Add bacon and sauté until crispy and fat is rendered. Remove to paper towels leaving the bacon fat in the pan. When cool enough to handle, chop bacon.
Finish dish: Return pan to medium heat with bacon fat. Add sprouts and sauté until crisp-tender, about 2 minutes. Add chestnuts and warm through, about 2 minutes longer. Increase heat to medium-high. Add maple syrup and thyme with a 1/4 cup of the reserved stock. Cook, stirring frequently, until liquid reduces to a glaze and coats the Brussels sprouts and chestnuts. Season to taste with salt, pepper, a pinch of nutmeg and a splash of Sherry vinegar.
TIP: Err on the side of undercooking the Brussels sprouts at each step so they don't end up overcooked by the time the dish is finished.
---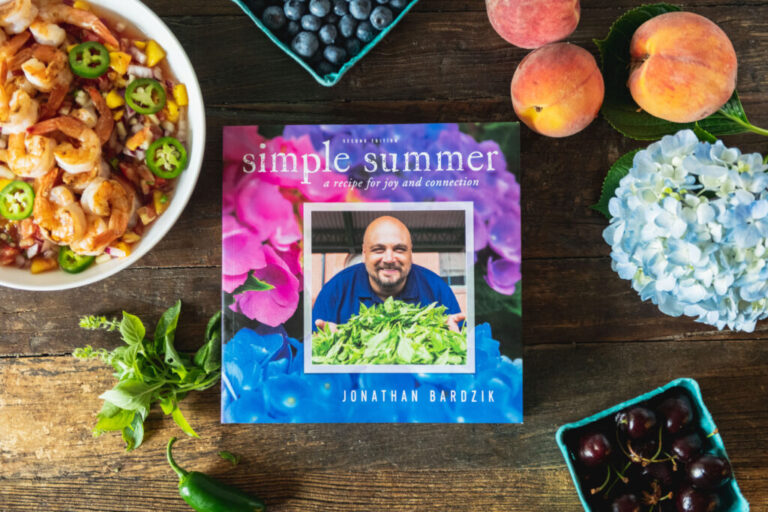 Get my newest cookbook Simple Summer: a recipe for joy and connection at jonathanbardzik.com/cookbooks.
Jonathan's Kitchen: Seasons to Taste is now streaming on demand at Revry.tv. The show is produced by Parrlime Productions & Tarnów Entertainment and directed by me.
Jonathan's Kitchen sponsors include Central Farm Markets, Five Ways Forward LLC, All-America Selections, Red Bear Craft Brewery, and Seasons Olive Oil & Vinegar Tap Room.