Kristen Kish invites you to LGBTQ beach party in Colombia
The fabulous Top Chef host and former Queer Forty Cover star Kristen Kish has a special LGBTQ foodie event coming up in a very exotic location!
Blue Apple Beach – a boutique hotel, restaurant, and beach club located on Tierra Bomba Island off the coast of Cartagena – will welcome American chef Kristen Kish, founder of Arlo Grey in Austin, Texas, for a guest chef weekend on Saturday, February 18 and Sunday, February 19. You may recall that Vacationer interviewed the out-and-proud LGBTQ+ chef last year about her co-hosting duties on the Iron Chef reboot on Netflix.
Blue Apple's founder Portia Hart and executive chef, Pedro Mosqueda will bring the special guest chef weekend. It all kicks off on Saturday, February 18, starting with an intimate multi-course dinner prepared by Kish, alongside chef Mosqueda and Martine Hudson, Kish's sous chef at Arlo Grey, Martine Hudson. Guests will enjoy a family-style feast consisting of Kristen Kish's inventive dishes inspired by her Midwestern upbringing, her restaurant Arlo Grey, and of course, local Colombian ingredients. On Sunday, February 19th, Kish will host a ticketed beachfront BBQ alongside Spread Your Wings, Blue Apple's world-renowned day party, and Cartagena's first openly LGBTQ+ party in a mainstream venue. The weekend events are in partnership with S.Pellegrino and Copa Airlines!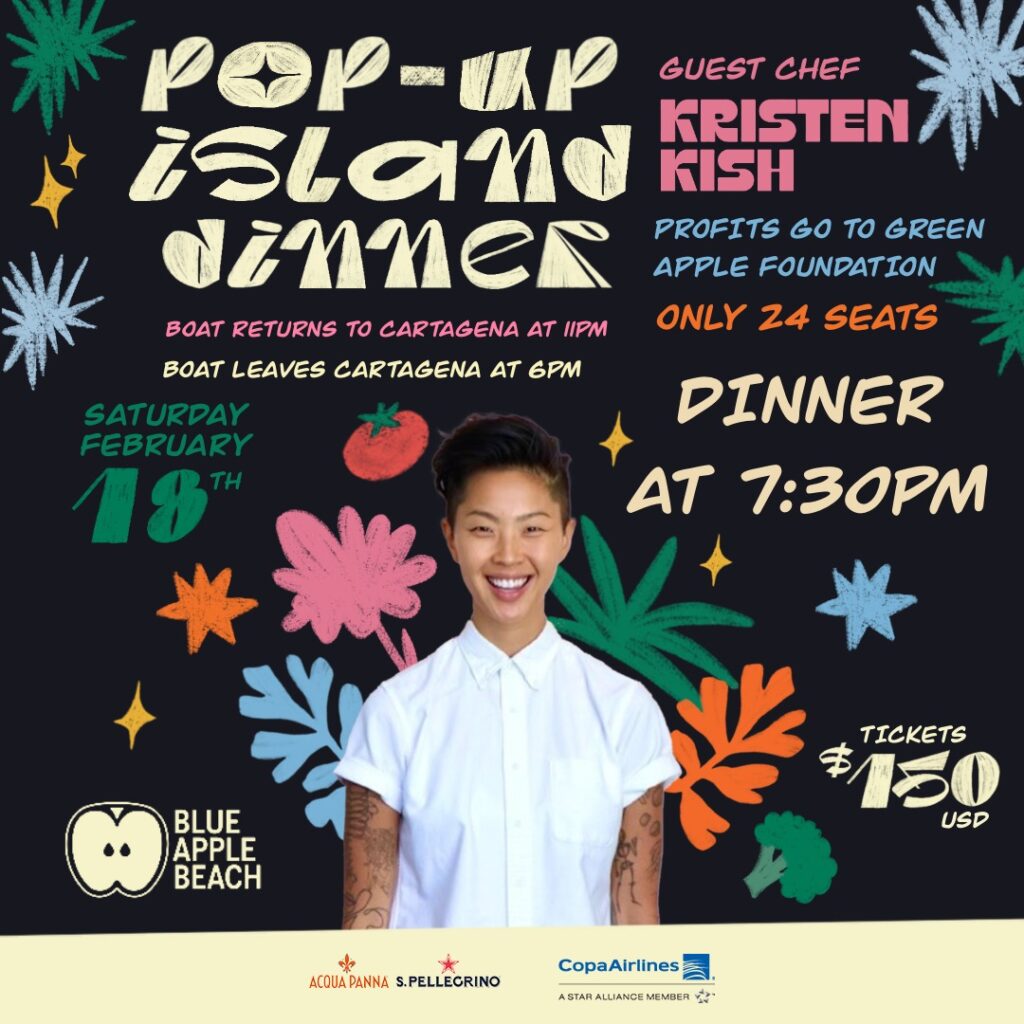 A portion of the proceeds from the guest chef weekend will benefit Green Apple Foundation, the hotel's charitable arm and the first glass recycling organization in Cartagena, which has diverted over 180 tons of glass and food waste from landfill since launching in 2018. Green Apple has created over a dozen new jobs for locals and works with over 20 businesses to recycle glass waste, with some materials being made into restaurant glassware, currently in use at Blue Apple's restaurant and some of the top restaurants in Medellín, Cartagena and Bogotá. 
Again, here's a quick recap of the guest chef weekend:
What: A weekend of culinary events at Blue Apple Beach with American celebrity chef Kristen Kish. The first event is an intimate, ticketed dinner hosted by Kristen Kish alongside Blue Apple chef, Pedro Mosqueda; the second event will be a beachfront BBQ the following day, coinciding with Blue Apple's Spread Your Wings party. 
Where: Blue Apple Beach on Tierra Bomba Island, off the coast of Cartagena, Colombia

When: Saturday, February 18, and Sunday, February 19, 2023


Tickets for Saturday's guest chef dinner can be purchased here and tickets for Sunday's Spread Your Wings beachfront BBQ are available to purchase here, via Tock. Click here for more information about Blue Apple Beach.