Lesbian playwright's latest work looks at queer super fans searching for home
TOSOS presents Kathleen Warnock's Rock the Line, inspired by women in rock 'n' roll and the queer fans who love them.
Kathleen Warnock's play Rock the Line tells stories of people whose lives aren't often honestly explored in the arts. The play doesn't look down on the people because they're working class, and (mostly) queer. They've had to make hard choices and keep quiet about who they truly are. In their close community of fans, lifelong friendships are made as life on the road shapes these fans' lives.
In the parking lot of a Rust Belt rock club, in the mid-1990s, a group of fans arrives early on the morning of a show to get the best spots to see their idol, rock icon Patti Roxx, up close and personal. It's their mission, their journey, their pilgrimage. They spend the day talking, laughing, arguing, fighting, making up, and drawing blood. Alliances shift and lives change by the time the doors open. The fans love Patti because she understands them: Together they're a band of outsiders who form a community that doesn't question why you'd sell your soul for rock and roll.
Director Mark Finley says, "Rock the Line is about the kinship between die-hard super-fans. But to me it's also about the everyday bravery a queer person needs not only to survive in this world, but to thrive in it. It's about what it's like to dare and the impact those who dare have on others.  It does all this with great honesty, humor and bad-assery.  I love it."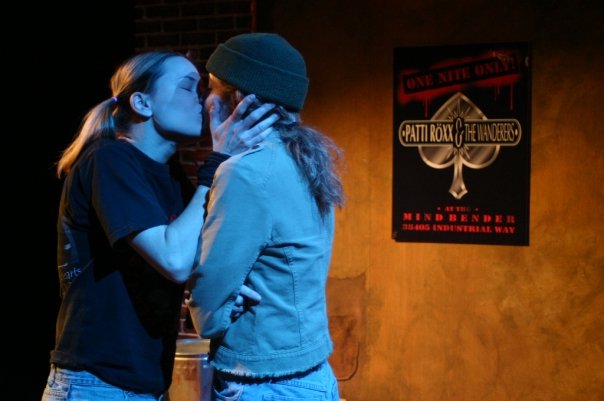 Playwright Kathleen Warnock says that Rock the Line is inspired by her years of following Joan Jett & the Blackhearts up and down the East Coast, and a few other places (Denmark, Australia, Palm Springs). One of Warnock's favorite writing credits are the liner notes to the Joan Jett CD, Unfinished Business.
We caught up with Warnock to find out more about Rock the Line.
---
Where did this play come from and how does it fit in with your other work?
Kathleen Warnock: This play started, as many of mine do, as a short play called "I'm Gonna Run Away," and was the first piece I wrote about the world of being a hardcore fan. It kept growing as I continued to roadtrip to many (well over 100) Joan Jett & the Blackhearts shows. Under the guidance of Tina Howe at Hunter College, and the late, great Doric Wilson (my fairy godmother and godfather), I expanded the play into a full-length. Doric offered me a reading in TOSOS's Robert Chesley/Jane Chambers Playwrights Project. I got a production out of that reading, with Emerging Artists Theatre. Doric always told me he wished that TOSOS had produced the play. And now, we are!
One of the themes that runs through most of my plays is a search for home: not a specific house or an apartment, but a space where the characters feel the most comfortable, accepted and can be themselves with family: bio or chosen. Rock the Line is part of a narrative arc that began with What to Throw Out, my first play with queer characters as its focus. That one was about a woman coming out to herself. The next play, Grieving for Genevieve, is about returning to and being accepted into her a bio family as a queer person.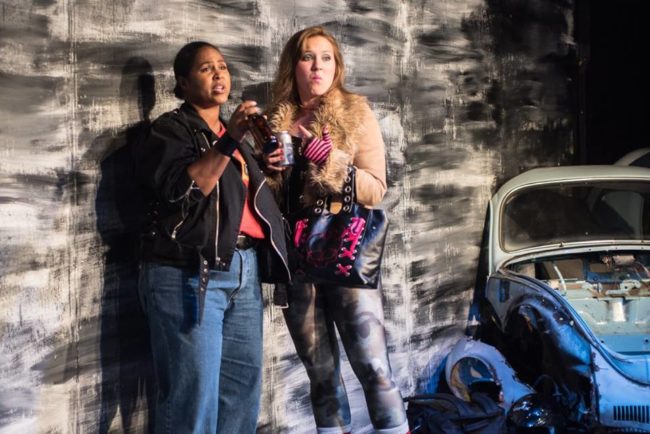 Rock the Line gives its protagonist a queer community, and is about her wanting, and taking action to find a romantic relationship. Outlook, the play after that (which still needs to be produced in New York!) is about creating a family with a partner, and parenting in that relationship. I'm working on the next play, called Dirty Stories, which is about the end of life, and the role of community in taking care of each other.
In all of these plays are moments of grace: that is, times when someone gets a chance to live in a moment where all is well, and everything is happening as it should. Moments of grace can take different forms: at the end of a long bus trip to see the rocker who inspires you; clearing away the clutter in preparing for a move; taking care of a family member who needs you. I look for them in real life as well, and know that they will come, and then they will end, but another one will come along when it should.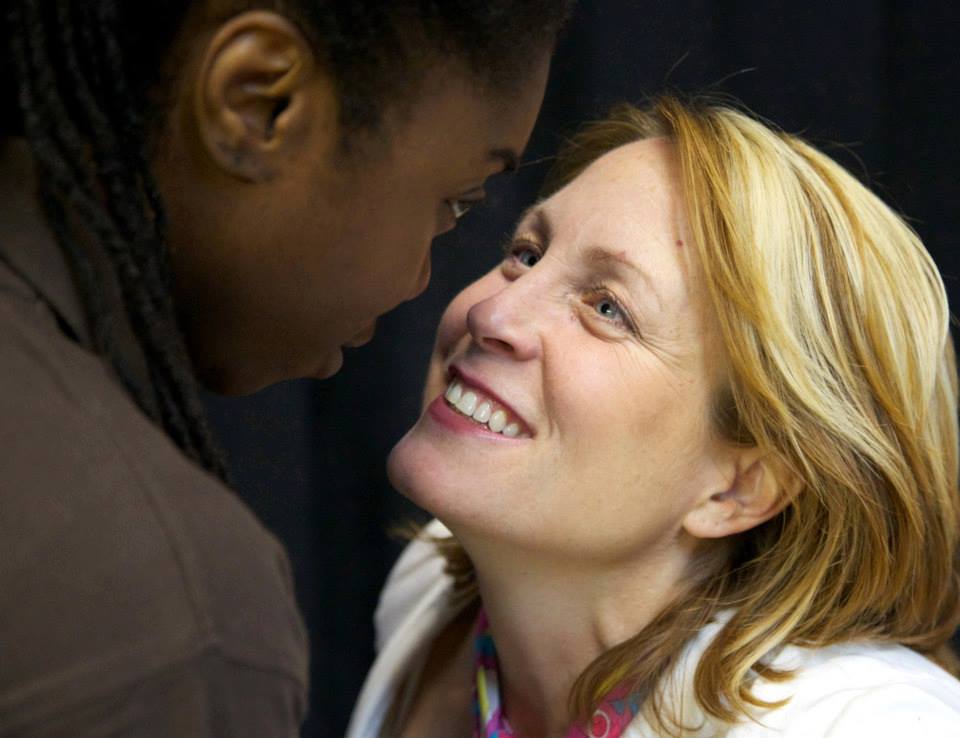 For the most part, my characters are people who live paycheck-to-paycheck (if they have regular jobs). So money, or the lack of it, informs their actions. They have places to live, but didn't always, and some of them probably don't go to the doctor when they need to because they have crappy (or no) medical insurance.
These are the operative factors for many Americans, and they are reflected in the reasons why people do the things they do in my work. Their moments of grace light up their lives like a flash of lightning, and they will do a lot to make them happen.
Tell us about the queer characters.
Kathleen Warnock: Most of the characters in the play are queer; the only two who aren't are basically sidekicks. (Funny straight sidekick and the one guy). So they've created a supportive community among themselves, and they include the two "others" on their own terms. Nancy and Lucy are a long-term couple, co-parenting Nancy's daughter (who is named after Patti, of course).
Joanne's been out for awhile, and has built a life and career, but is afraid of intimacy after having had the rug pulled out from under her by both the Marines and her long-term girlfriend. She's a hot butch, but hides behind her swagger.
Leslie is coming into her own. She's finally come out to herself and is able to articulate what she wants: a relationship after a lifetime of being alone. She's smart, funny and more and more able to hold her own with the others.
Mickey is the guy they like and consider a friend, because he's not an asshole, and he isn't threatened by them, just likes having friends with a common love of the music he can hang out with.
Rock the Line is a play that's had a few productions; why did you and TOSOS decide to produce it as your next production?
Kathleen Warnock: I met Doric Wilson, our founder, when I was working on this play; he offered to give it a reading at TOSOS's reading series, the Robert Chesley/Jane Chambers Playwrights Project. It was a wonderful reading and led to the first production of the play, by Emerging Artists Theater. Doric always expressed regret that TOSOS hadn't produced Rock the Line, and now we have a chance to make that happen.
About Kathleen Warnock
Kathleen Warnock's (she/her) plays have been produced in New York, London, Dublin (Ireland and Georgia), Australia, and the U.S. Recent productions include The Butt Trumpet and Unseasonable, (International Dublin Gay Theatre Festival); How to Get Married in Five Steps and 17 Years, (Project Y, IDGTF, Lower East Side Theater Festival), as well as The Further Adventures of… (NY Fringe, IDGTF) Outlook, (IDGTF) and That's Her Way, (Frigid Fest, IDGTF) all presented by TOSOS. Some Are People was produced by Emerging Artists Theatre in New York and Dublin, and at Philadelphia GayFest. Grieving for Genevieve was presented by En Avant Playwrights at the Midtown International Theater Festival, and by Venus Theater (MD). Rock the Line was originally produced by Emerging Artists Theatre, and later produced by Venus Theater. Kathleen founded and curates the reading series Drunken! Careening! Writers! at KGB Bar the third Thursday of every month (since 2004). She is Associate Artistic Director for Community & Partnerships for TOSOS, Ambassador of Love for North America for the International Dublin Gay Theatre Festival, proud member of The Dramatists Guild, and on the Honor Roll of women playwrights. She writes for Gay City News and other publications. Kathleen is a member of Community Board #1, Queens.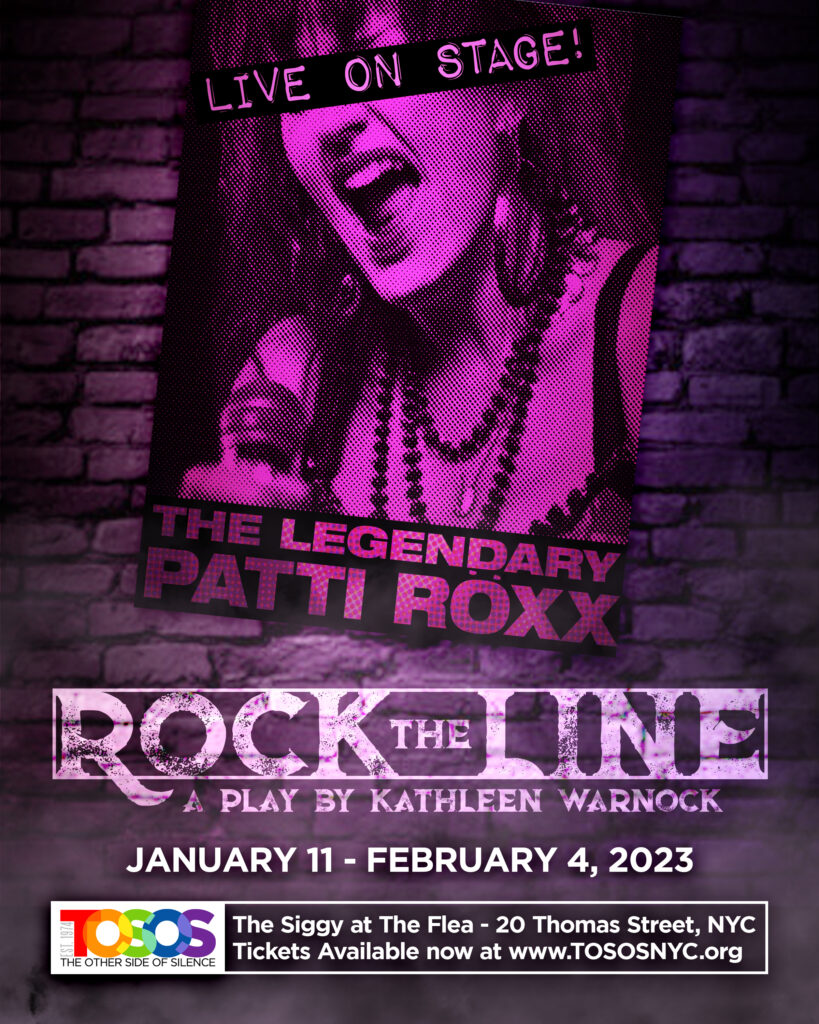 Rock The Line is produced by TOSOS (The Other Side of Silence) and previews January 11-13, opening January 14 at The Flea Theater, where it runs through February 4. Performances are at 7 p.m. Wednesday-Saturday. An ASL-interpreted performance is on Jan. 20. Tickets start at $35. Tickets and information here.