LGBTQ candidate Victor Reyes earns top endorsements
Out New Mexico candidate Victor Reyes has earned endorsements from Equality PAC and LGBTQ Victory Fund.
Victor Reyes, Democratic candidate for Congress, has announced the endorsements of Equality PAC and the LGBTQ Victory Fund. The campaign also announced the first co-chairs of his campaign's LGBTQ+ Organizing Committee. These local leaders will help organize support in their communities for Reyes all across the district.
"This is a people-powered campaign and I'm going to work hard to earn the support of every voter and community leader," said Reyes. "I am so honored to be endorsed by Equality PAC and the LGBTQ Victory Fund and to have the support of local LGBTQ+ leaders across New Mexico's First Congressional District. Their support will help us build on our grassroots movement, earn the Democratic nomination, and continue the progressive leadership this district deserves in Congress." 
Equality PAC is the political arm of the Congressional LGBTQ Equality Caucus, supporting and electing openly LGBTQ+ individuals and strong LGBTQ+ allies to the United States Congress who are committed to passing the Equality Act and to ensuring full civil rights and protections for all LGBTQ Americans.
"Victor Reyes will be the first LGBTQ+ person of color to represent New Mexico in Congress, growing the diversity of our caucus and increasing Latino representation in the House," said Equality PAC Co-Chair Chairman Mark Takano. "Equality PAC is proud to stand with Victor in this important campaign, which will be one of the first races since the inauguration of President Biden where Democrats will be fighting to defend our majority. In Congress, Victor will be a fierce advocate in helping pass the Equality Act while working to end discrimination for every American – no matter their gender, color of their skin, or who they love."

"Victor is running a strong, grassroots campaign and represents the next generation of progressive leadership in New Mexico," said Equality PAC Co-Chair Congressman David Cicilline. "Victor brings with him a diverse set of experiences and a strong voice that is desperately needed in the House and in our caucus. We know representation matters and we look forward to working with Victor to help him achieve victory."
The LGBTQ Victory Fund works to change the face and voice of America's politics and achieve equality for LGBTQ Americans by increasing the number of openly LGBTQ elected officials at all levels of government.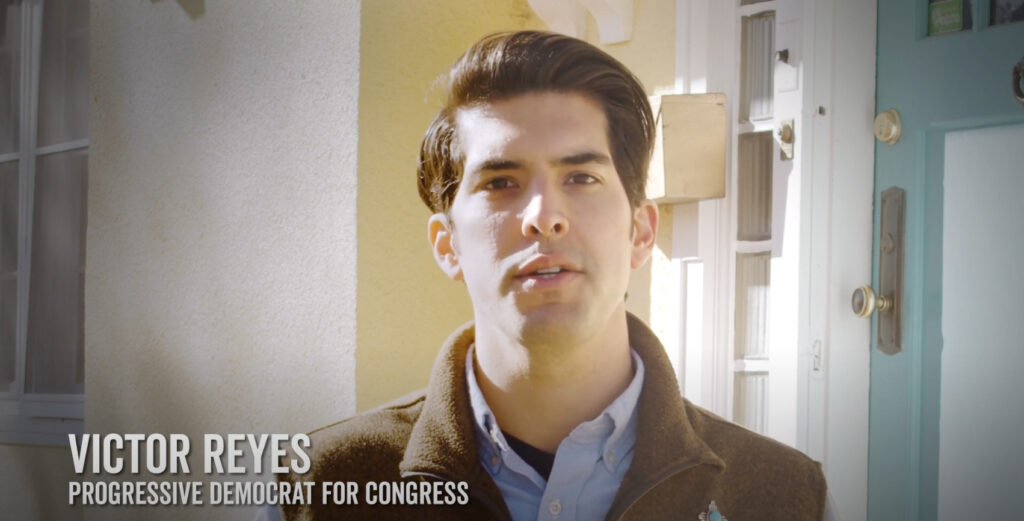 "Victor Reyes is a voice we have never before seen in Washington," said Mayor Annise Parker, President & CEO of LGBTQ Victory Fund. "Victor will become the first LGBTQ Mexican-American elected to Congress and the first LGBTQ person elected from New Mexico. He will grow our LGBTQ+ representation in the House to ten members, building our power in the halls of Congress. Victor will bring his unique and underrepresented perspective to Congress to prioritize and pass legislation to protect and advance the LGBTQ+ community." 
It comes as Reyes, a top aide to Governor Michelle Lujan Grisham, progressive leader, and chairman of New Mexico's Community Development Council, launched his campaign for United States Congress in the First Congressional District. In his video announcement, Reyes said, "Growing up, my mother always told me: 'Tienes que ser una voz para los que sienten que no tienen las palabras o el poder.' You've got to be a voice for the people who feel they don't have the words or the power themselves. That's what being a representative in Congress should be all about. That's what I've done my whole life."
"I'll fight for racial justice, reproductive justice, and LGBTQ and transgender rights. Together, with the support of the voters of the district, we'll prioritize criminal justice reform and provide real support for our families and small businesses amid this pandemic. Just like I've done here in New Mexico, I'll never back down to the NRA and the gun lobby. When it comes to being there for our educators and organized labor, you know you can always count on me. We can only do this together. And we will."
For more information about Victor Reyes and his campaign go here.