LGBTQ+ Victory Fund undergoes timely and joyful rebrand
LGBTQ+ Victory Fund, which works to achieve true equality by raising the number of LGBTQ+ elected officials, has rebranded with a new look and name!
This new brand and identity honors LGBTQ+ progress since the organization's inception in 1991, celebrates LGBTQ+ people's joy and resilience in the face of ongoing anti-LGBTQ hate, and recognizes the broad diversity of the LGBTQ+ community through the addition of the plus sign.
Watch the brand launch video here!
"In many ways, the LGBTQ+ community is at an inflection point. While LGBTQ+ people continue to run for office in record numbers, we still have to elect over 35,000 more out LGBTQ+ people to office to achieve equitable representation," said Mayor Annise Parker, President & CEO of LGBTQ+ Victory Fund. "Our look may be new, but our mission to elect pro-choice LGBTQ+ leaders to public office has not changed. Until we achieve true equality, we will continue supporting LGBTQ+ candidates up and down the ballot who are ready to serve their communities."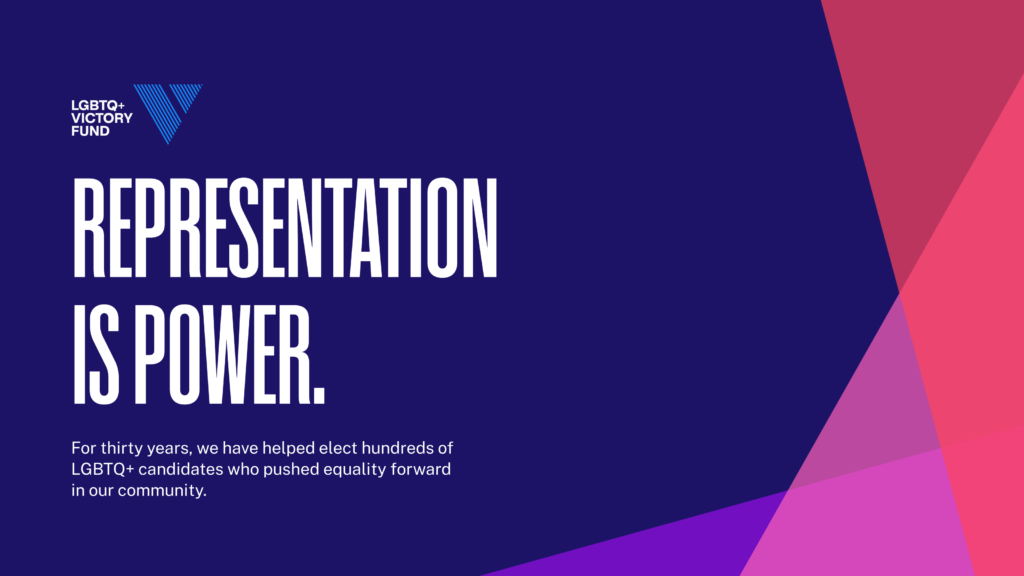 "At its core, our new visual identity is a love letter to the LGBTQ+ community. We hope it will honor the progress we've made while also highlighting the joy and resilience LGBTQ+ people are channeling in the face of an avalanche of anti-LGBTQ hate," said Jarod Keith, Creative Director of LGBTQ+ Victory Fund. "When LGBTQ+ people are united, we are a powerful force for progress across the globe, which is why this new brand is also a rallying cry for our community to support LGBTQ+ candidates or consider running for office themselves. Our work is not done until LGBTQ+ voices are in all halls of power."
About LGBTQ+ Victory Fund
LGBTQ+ Victory Fund works to achieve and sustain equality by increasing the number of out LGBTQ+ elected officials at all levels of government while ensuring they reflect the diversity of those they serve.