Luxury lifestyle and LGBTQ friendliness in Atlanta
The LGBTQ capital of the Southeast, Atlanta is undergoing a resurgence and in some areas, a reimagining. That's good news for LGBTQ travelers who wish to enjoy luxury lifestyle and Southern hospitality.
Midtown is the epicenter of Atlanta's LGBTQ life but another area, the upscale Buckhead, is a must-visit for a number of reasons. Pack a credit card and an empty suitcase because you'll be coming home with good memories and lots of goodies!
The Phipps Plaza redevelopment is a new, iconic, luxury mixed-use shopping and lifestyle precinct, full of fabulous premium retail finds, cosmopolitan eateries that bring the world to you, and fitness and recreation, all on the same block. Phipps Plaza, a Simon Center property, is also the home of the stunning Nobu Hotel Atlanta, the first Nobu location in Georgia—and its 15th worldwide!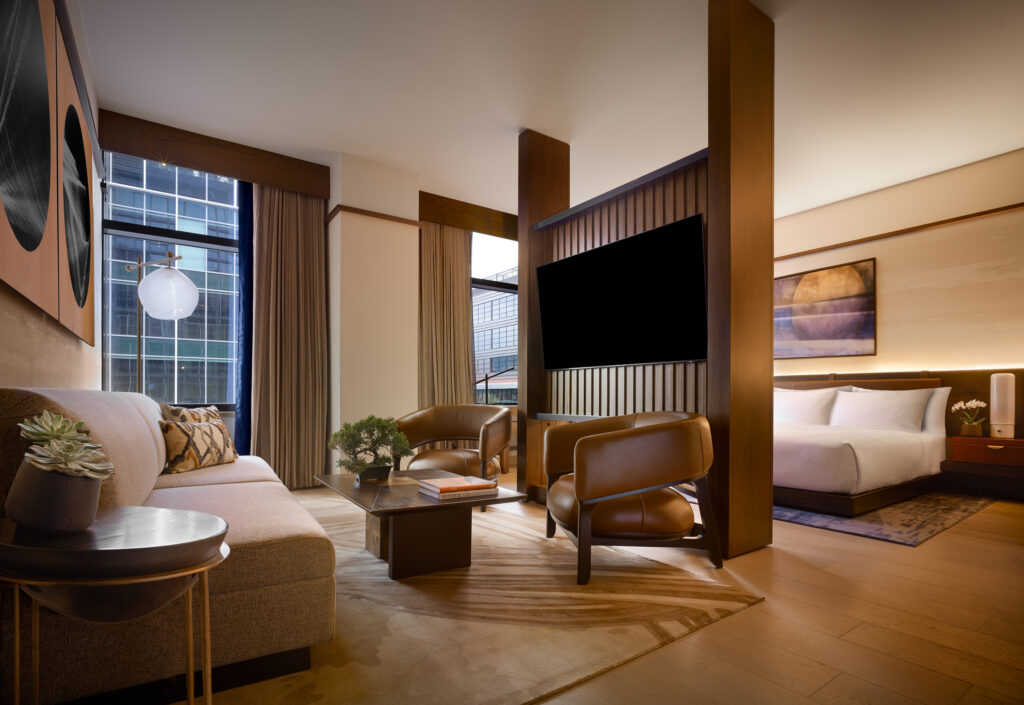 Located at Phipps Plaza, Nobu Hotel Atlanta is open and welcoming guests and Nobu Restaurant, right off the lobby, has already become a destination for dining.
Designed by Rockwell Group, Nobu Hotel Atlanta has of course been lavished with the upscale yet zen experience that is the hallmark of the brand. This property boasts 152 guest rooms and suites, a sleek rooftop pool with city and forest views, a penthouse event space, corporate rooms, and a state-of-the-art fitness center with Technogym equipment.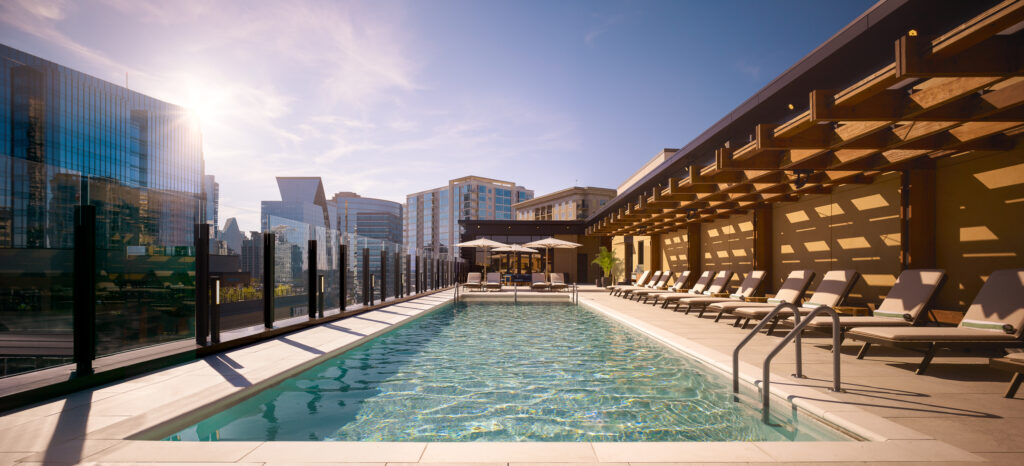 That zen experience begins the moment you check in with a cup of herbal tea served at room temperature, and take in the sedate and soothing surroundings of the sleek lobby, the welcoming friendliness of the staff, the vibrant flower decorations which are made locally by ikebana experts, and of course the individual rooms' design which feature balanced and neutral interiors finished with warm-toned wood panelling and plush natural fabrics. And those little extra touches are so welcoming: Signature Nobu beds with luxury linens, Nespresso coffee and tea machines and traditional Japanese tea set, marble bathrooms with Natura Bisse amenities—and a choice of plush bathrobe or robe in Nobu's kimono style. If you're a screen person you'll enjoy the 65″ Smart TVs with interactive web technology, and of course free high speed Wi-Fi.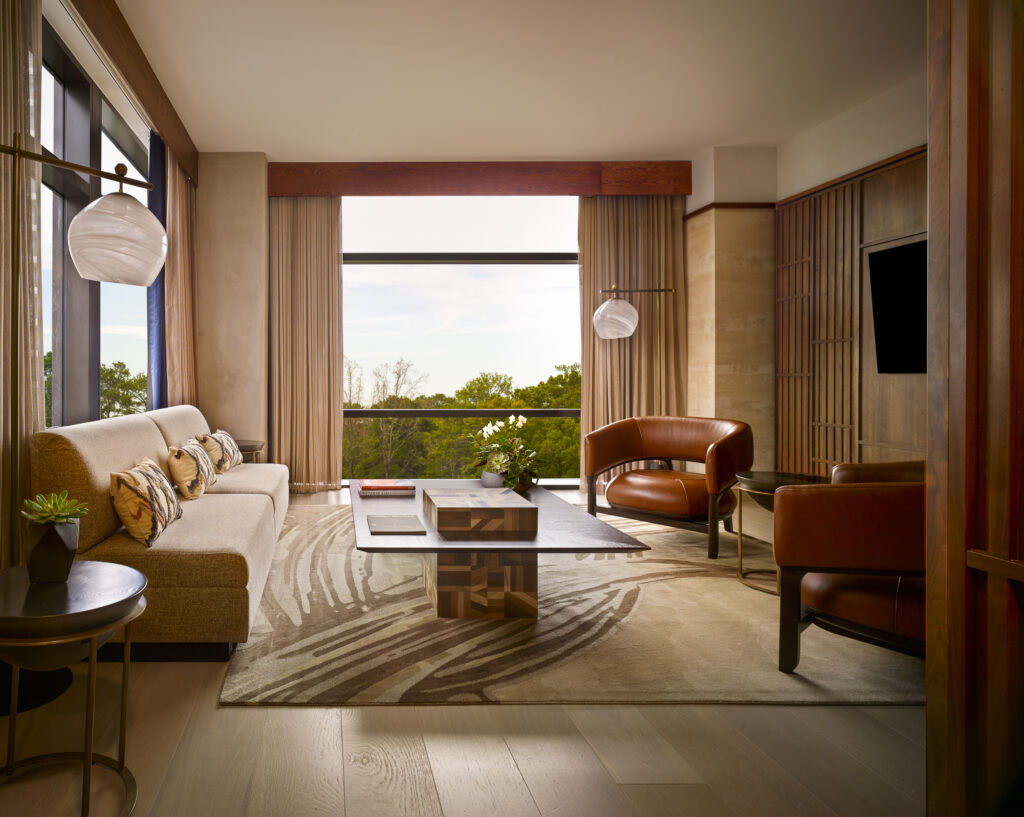 When you stay at Nobu Hotel Atlanta, you enjoy access to the Life Time Athletic, a luxury athletic country club, which offers 90,000 square feet of amenities such as pool and cabanas, gym, yoga studios, spa and wellness center, childcare center, cafes and bars, and much more including Life Time Work, a 30,000 square-foot co-working space.
Nobu Atlanta Japanese restaurant, bar & lounge
Now, although you'll be spoiled for choice of dining while in Atlanta—the New York of the South has been experiencing a culinary resurgence and ascent for a few years now—Nobu Atlanta Restaurant is something truly special. The 10,000 square foot dining room is elegant and iconic, and the kitchen serves the dishes that have made Nobu the most famous Japanese-fusion restaurant brand in the world. You know that Yellowtail sashimi with Jalapeño dish that is a staple in just about every modern Asian-fusion restaurant? It started at Nobu and of course it's served at Nobu Atlanta. As is the ever-popular and much-imitated Lychee Martini! Which reminds me: the bar and lounge located off the main dining room is a great place to taste locally-inspired cocktails, meet up with friends, or unwind after a day of shopping.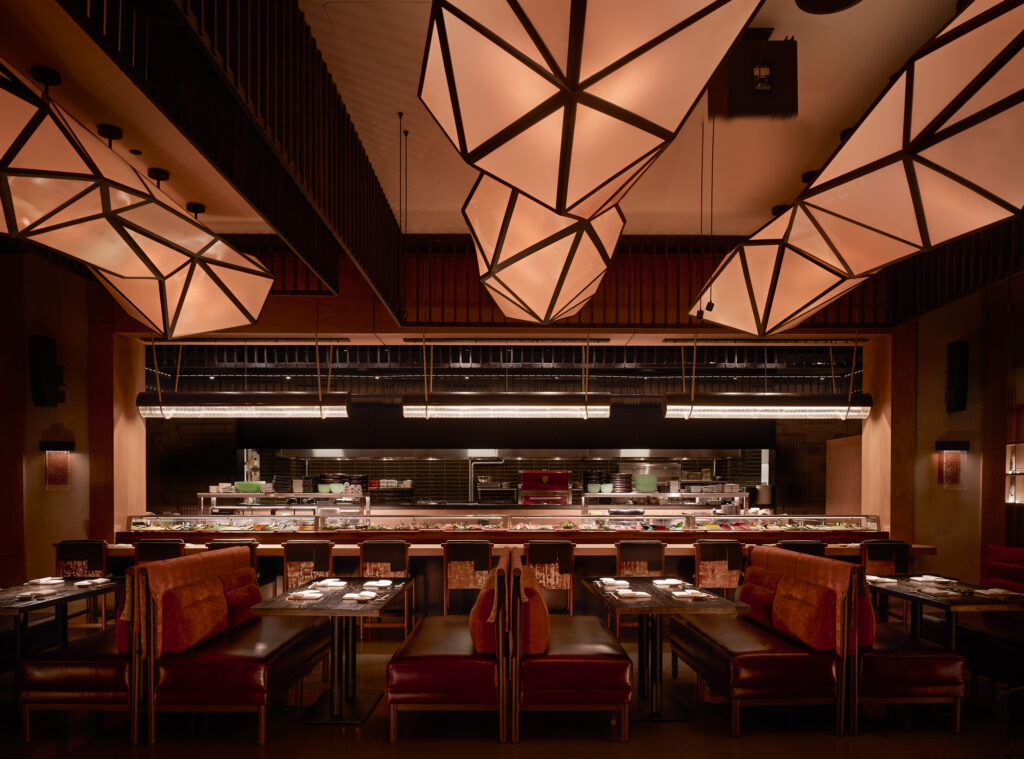 The 10,000 square foot dining room is elegant and iconic, and the kitchen serves the dishes that have made Nobu the most famous Japanese-fusion restaurant brand around the globe. You know that Yellowtail sashimi with Jalapeño dish? It started at Nobu and it's served at Nobu Atlanta. As is the ever-popular and much-imitated Lychee Martini!
Chef Nobu's philosophy has been carried out to a tee here, with classic, clean, mouthwatering, light dishes such as Tuna Tataki with Tosazu, Sashimi Salad with Matsuhisa Dressing, Black Cod with Miso, and Rock Shrimp Tempura Creamy Spicy or Butter Ponzu. View the extensive and delectable menu here. Chef Nobu's cooking is right at home in Atlanta. His signature heart or kokoro, and soul, are evident in every dish which melds traditional Japanese sushi technique with aspects of comfort food from North and South America, using the freshest quality ingredients, with an emphasis on seafood and shellfish. Every dish is a dance between sweet and umami, rich and light, healthy and maybe just a little bit decadent.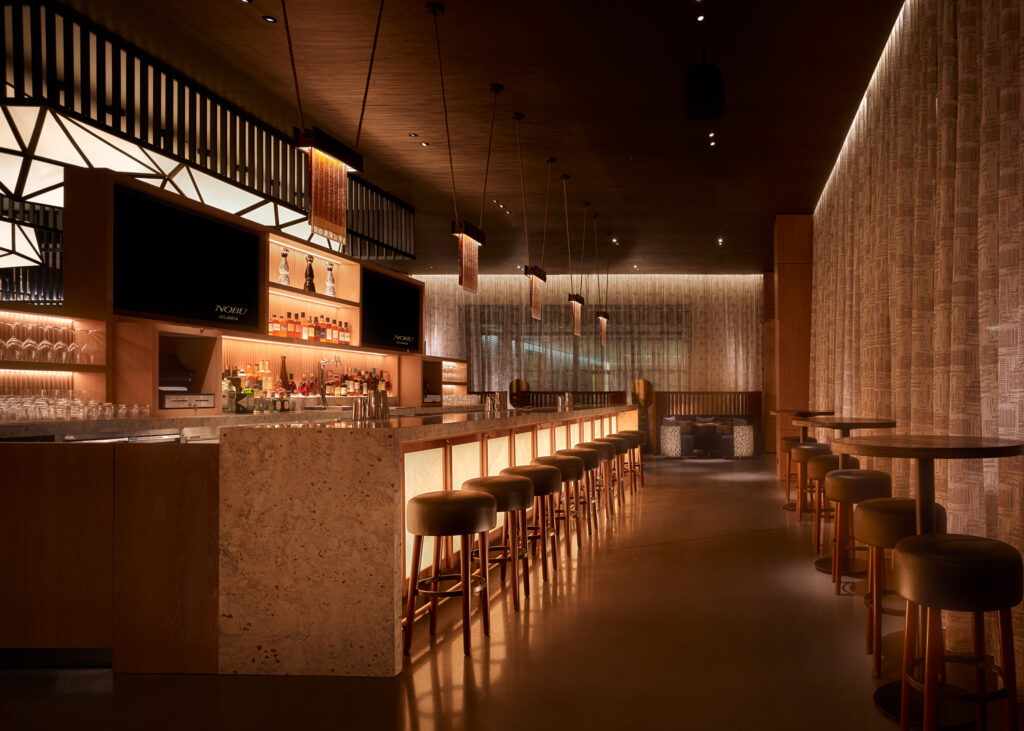 The bar and lounge located off the main dining room is a great place to taste locally-inspired cocktails. A Private Dining Room, and the Sake Room, can accommodate 24 or 12 guests and are perfect for a special occasion.
Now, adding to the overall luxe vibe of both the hotel and the restaurant, Porsche Cars North America has teamed up with Nobu Hotel Atlanta to offer a Porsche-themed experience during your stay, should you wish. This past May, Nobu Hotel Atlanta became the first Nobu property worldwide to unveil a Porsche Icon Suite and a Porsche Classic Room, with Porsche-themed decor, memorabilia, and amenities.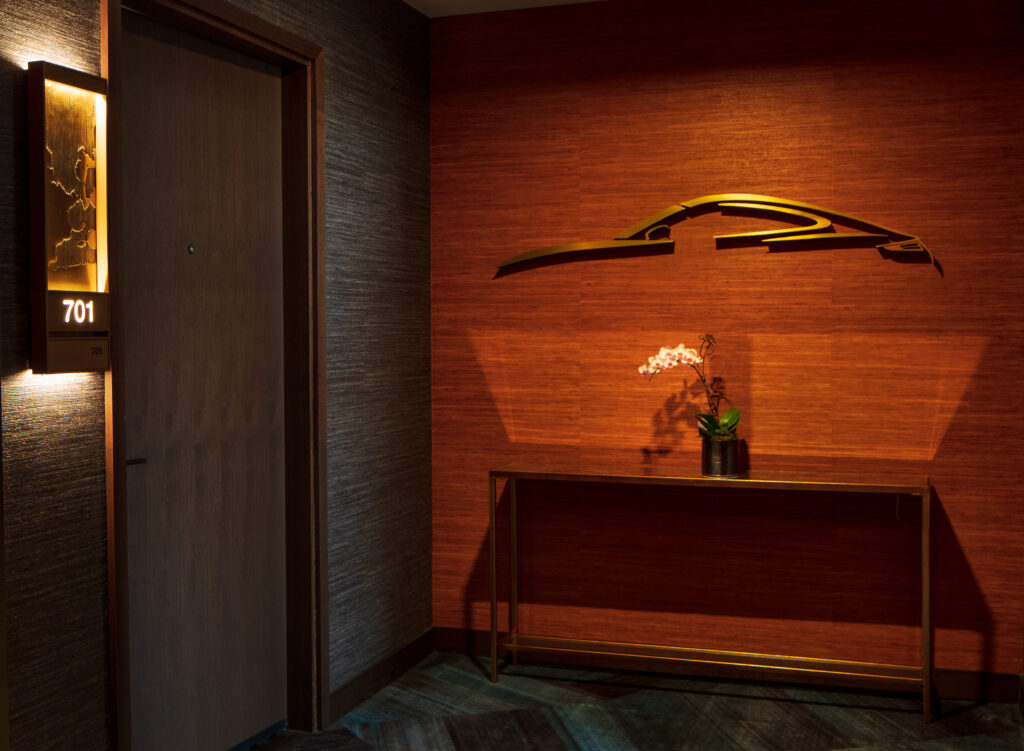 When you book your stay at Nobu Atlanta, ask about the elevated two-night Porsche package, which includes Nobu's Signature Omakase dining experience and other fun Porsche-themed perks. Perfect for a special occasion or just for the fun of it!
The Porsches themselves are onsite for guests' enjoyment and if you need a ride to a nearby location, such as Lenox Square shopping center where there are some great bargains to be found (e.g. Macy's basement), you can take a smooth ride in one of Nobu Hotel Atlanta's all-electric Porsche Taycan house cars, driven for you by one of the hotel's personal drivers.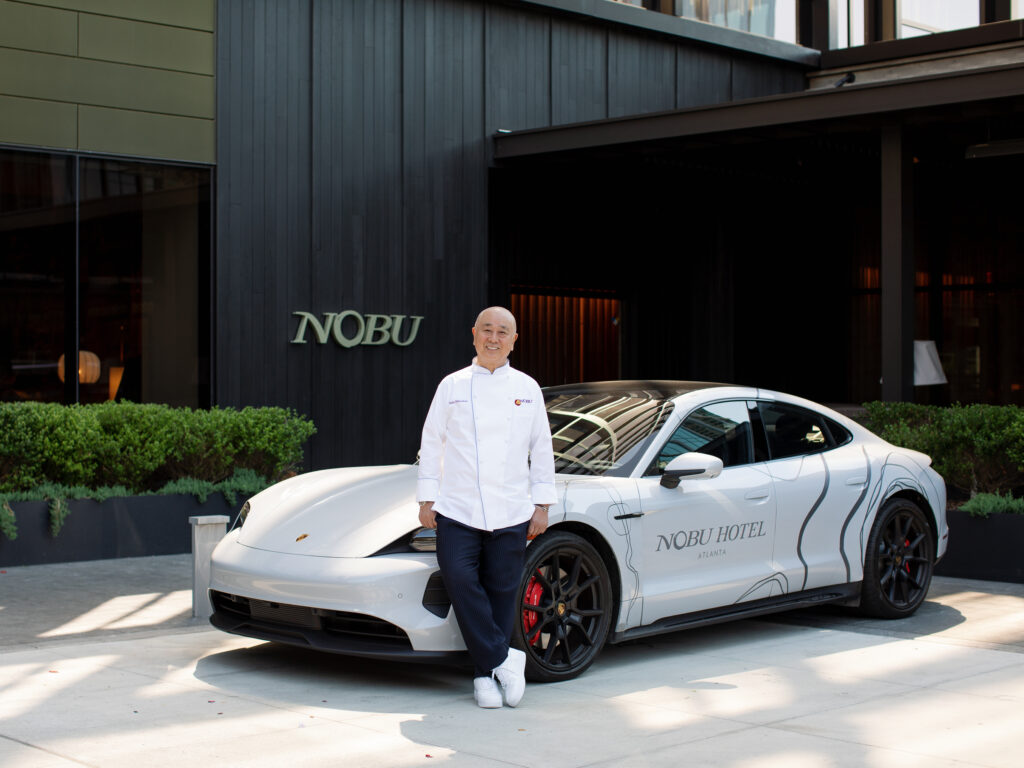 What you'll find at Phipps Plaza
Simon Property Group, a global leader in premier shopping, dining and entertainment destinations, is the entity behind the plans to create the Southeast's premier mixed-use development at Atlanta's Phipps Plaza, headlined by the new Nobu Hotel and Nobu Atlanta Restaurant. Equally destination-worthy is the dynamic and visionary 90,000 square-foot Life Time® Athletic healthy living and entertainment property—and it's your playground for a workout, a spin cycle, barre, yoga class, or a swim on the rooftop pool. The idea behind this mixed use space, which includes LifeSpa, LifeCafe, Life Time Kids Academy and a lavish rooftop beach club and bistro, is healthy living and healthy aging.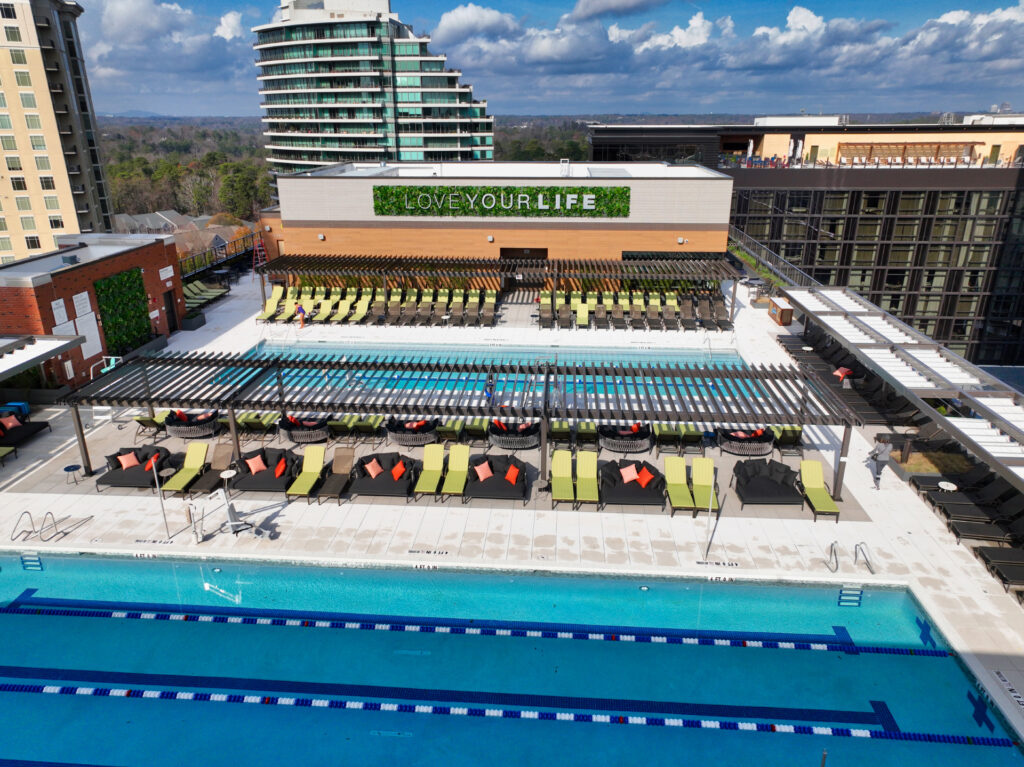 For shopaholics, Phipps Plaza's premier retail wonderland offers unbeatable luxury shopping including Alexander McQueen, Balenciaga, Balmain, Bottega Veneta, Cartier, Dior, Fendi, Gucci, Jimmy Choo, Louis Vuitton, Nordstrom, Prada, Tiffany & Co, Tom Ford, Versace, and our favorites: Saks Fifth Avenue, which offers a unique experience including personal shopping; and a new discovery for us—unisex Swedish fragrance brand, Byredo.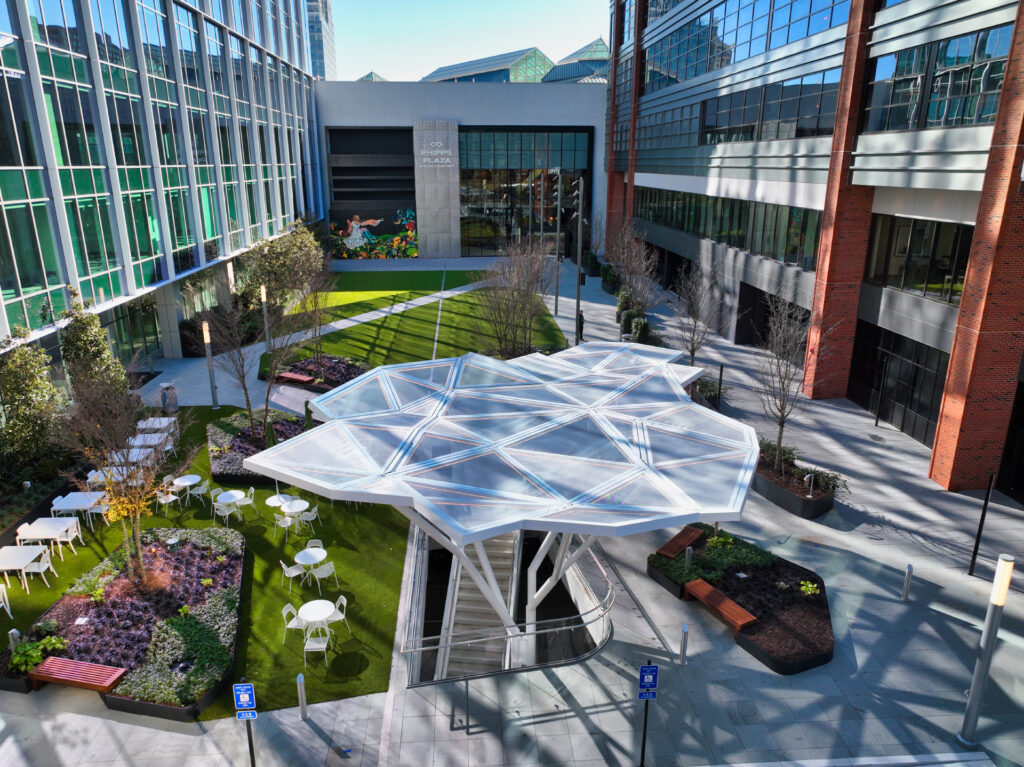 And when all that shopping makes you hungry, there is a good choice of places to eat and re-fuel onsite indoors, or in the tranquil ambience of The Green. Our favorite places to nosh are Alon's which is perfect for breakfast and lunch with a choice of house-baked pastries and breads (which end up as scrumptious sandwiches); or Citizen's Market, which offers freshly-prepared food from around the world, such as Spanish, Asian, Middle Eastern and more. Take your perfectly-prepared and packaged nourishment outside to The Green, and settle into a large Adirondack chair and do a little people watching!
There is no doubt Simon has transformed Phipps Plaza in recent years by adding hospitality and residential components and sophisticated food offerings to an enviable and unique collection of stores. On the night I had dinner at Nobu, I turned to my new friend who was part of our group and she had grown up in Atlanta. She told me this is not gentrification. Far from it, it is a re-imagination of what Atlanta has always been. "The world has always come to Atlanta," she said, then told me about her grandmother who enjoyed and expected cosmopolitan shopping and dining adventures in her home town, and this redevelopment was a continuation of that long-held cultural expectation of Atlanta residents and visitors alike.
---
LGBTQ-friendly restaurants and bars
After 'losing' several Northeastern friends to the Big Peach, and after our whirlwind visit, I can't say I blame them for defecting to the City in the Forest. Always a Black mecca, Atlanta is also now a gay mecca with LGBTQ-friendly restaurants including Campagnolo Restaurant & Bar, Henry's Midtown Tavern, and Zocalo Mexican Kitchen & Cantina. They are all right at the rainbow corner and the heart of gay Atlanta, which is Midtown.
And as for nightlife, do what the locals do and head to award-winning lesbian bar My Sister's Room (MSR) for karaoke on Wednesdays, drag shows, dancing, weekly events, and watch parties such as The Ultimatum: Queer Love, which was hosted by reality TV star and Atlanta resident Mal Wright.
Other recommended spots for LGBTQ nightlife, which cater more for the boys but which are friendly to all genders, include Blakes on the Park, Oscars, Felix's, MIXX and Atlanta Eagle. For an old school gay bar/dive bar experience, head to Mary's. And if you feel like dancing, Nonsense is serving up hot mess dance pop stylings from DJ Kimber, one such event being Heyday '80s Dance Party on July 1.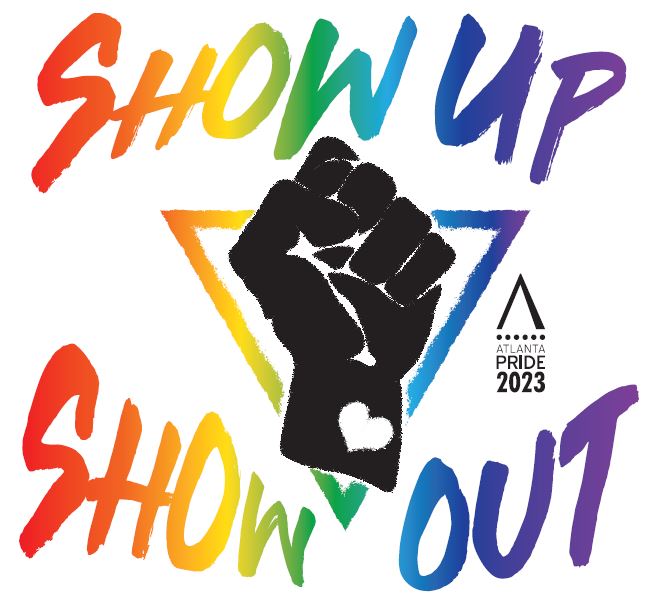 Atlanta Pride
The city's first Pride parade was held in 1971 from 7th Street to Piedmont Park. Ever since then, the city's LGBTQIA+ community has made the active choice to "Show Up and Show Out." The Pride parade, and subsequently the festival, galvanized local community to show up for each other and to show out with acts of protest, activism, education, and celebration. Half a century later, Atlanta Pride remains committed to those same goals and hopes to remind locals to 'Show Up and Show Out' all year long. In a time of increased political turmoil, violent attacks on the transgender community, specifically trans folks of color, attacks on gender-expansive youth, and unprecedented threats and legislation aimed at drag performers, join Georgia's LGBTQIA+ community on October 14-15.