Lynda Carter: Actress, songstress, defender of drag
LGBTQ+ ally and gay icon Lynda Carter came to the defense of the drag community this week in the wake of a movement by conservatives in Texas to ban children from attending drag shows.
In response to Rep. Lauren Boebert's (R-CO) tweet:
 "Take your children to CHURCH, not drag bars."
Carter replied: "Have you ever been to drag brunch? They have bread and wine, loving community, and men in fabulous dresses. Sounds a little like church to me!"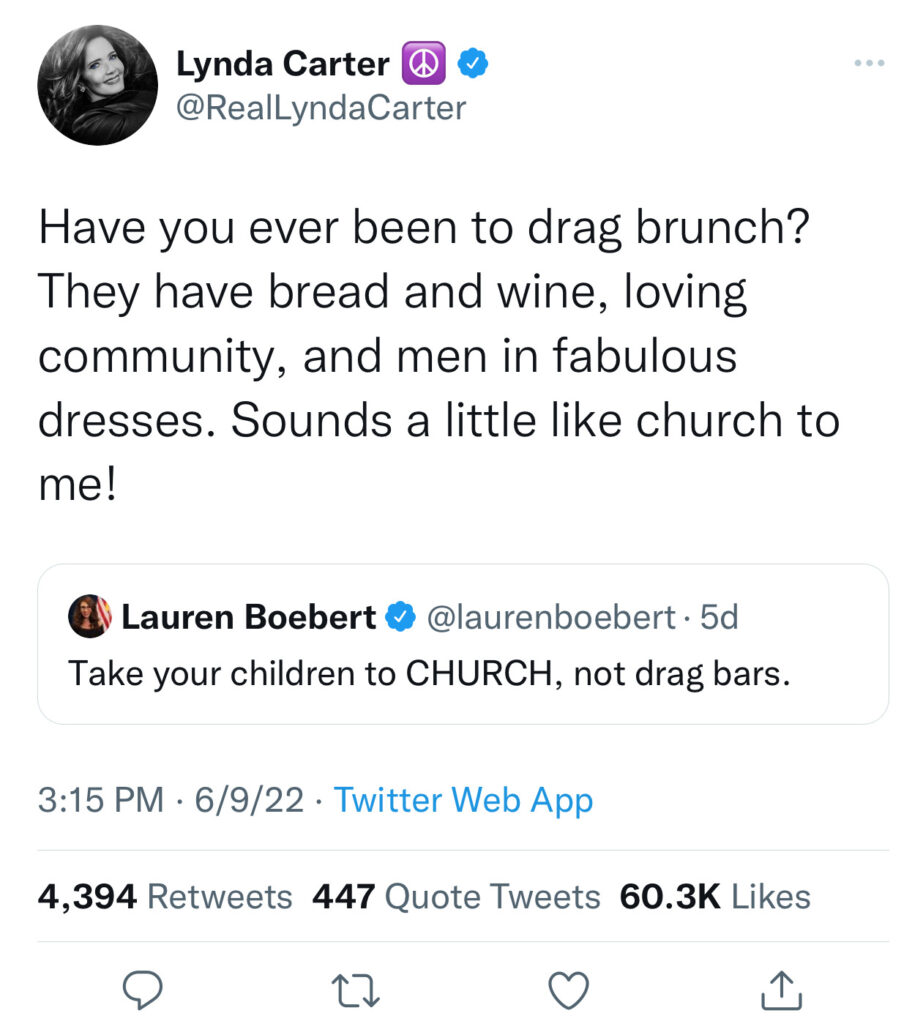 Carter's cheeky response prompted tweets of support from her adoring fans and drag queens around the country and only makes us love her more. This is just another example of how Lynda Carter has utilized her worldwide recognition as a celebrity and a performer to bring to light to issues of discrimination, equality and female empowerment. 
Fans already know that Lynda Carter is the epitome of a consummate entertainer—she's made her mark reinventing the role of the superhero, appeared alongside the highest profile stars on television and on Broadway, was "the face" of a worldwide cosmetic company and even a singing character in a post-apocalyptic video game. 
What many don't know is that since the age of 14, when Lynda's career officially began, it was her singing and songwriting talent that initially got her noticed.  The same is true today. Three and a half years after the release of her last album Red Rock N' Blues, Carter shares one of the most emotionally resonant songs of her career with "Human and Devine" which is available now at all digital retailers via Green Hill Music.
Says Carter: "Music is in our souls, in our hearts, in our minds and in our bodies. We mark events with certain kinds of music, we attribute love to certain kinds of music. Writing this song, I felt extremely vulnerable and inspired.  That is where the human and the divine come together.
I started writing the song about my own love story with my husband, while I was in discussions about appearing in the Wonder Woman '84 movie. As I was cast as Asteria in the movie, it became about the love between Steve and Diana, and then the love that some of us are so lucky enough to have in our lives, the great love stories over the ages.  My hope is that this song will inspire your connection to your own love in your life."
Take a listen to the song below: