Make a splash with these 1920s inspired bathing suits by Adam Porter-Smith
Spend the last days of summer looking dashing in these retro-style swimsuits by Adam Porter-Smith. Photos: Andrew Egan
The Smith Society, a lifestyle brand that was founded by Adam Porter-Smith to think outside the box when it comes to style announced the launch of its flagship swimwear line earlier in the Season and we're pleased to report it has made quite a splash.
With a series of trunk shows in the Hamptons and most recently Fire Island, Porter-Smith's bold, classic-with-a-new-twist designs turned heads and inspired many to grab one of these chic "it" items. Inspired by one-piece men's swimsuits from the 1920s and reimagined for the 2020s, the new line plays with masculine and feminine design through dashing silhouettes and classic colors: But even here there is a twist, with white, blue, and pink colors for all genders.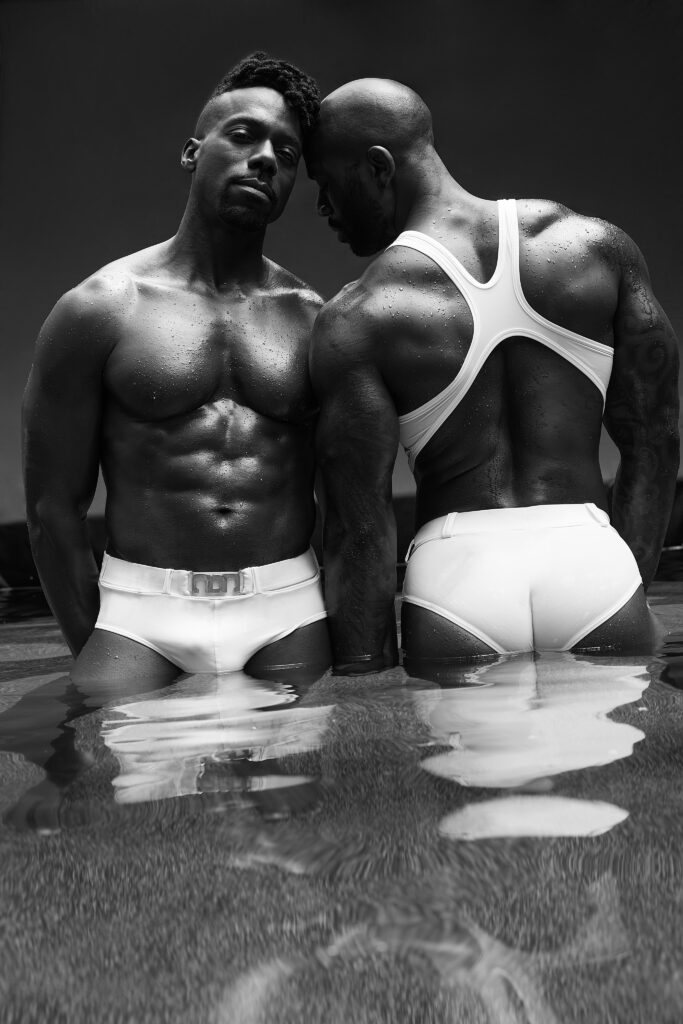 "Gender-specific doors in the world of apparel have been knocked down in the last four or five years, and much progress has been made with the degendering of fashion," said Porter-Smith, who is the husband of Billy Porter. "My design aesthetic was emboldened as I watched gay culture and beyond embrace silhouettes and new ideas around what we wear and the tone it sets in a new and more open world of fashion."
"I find it fascinating that up until the 1940s blue was not associated with boys and pink was not associated with girls," continued Porter-Smith. "Someone came along and made a conscious and very powerful decision to attach colors to genders. I don't see color as a gender marker, I see it as a way to express our true selves. Wear what makes you, you," continued Porter-Smith.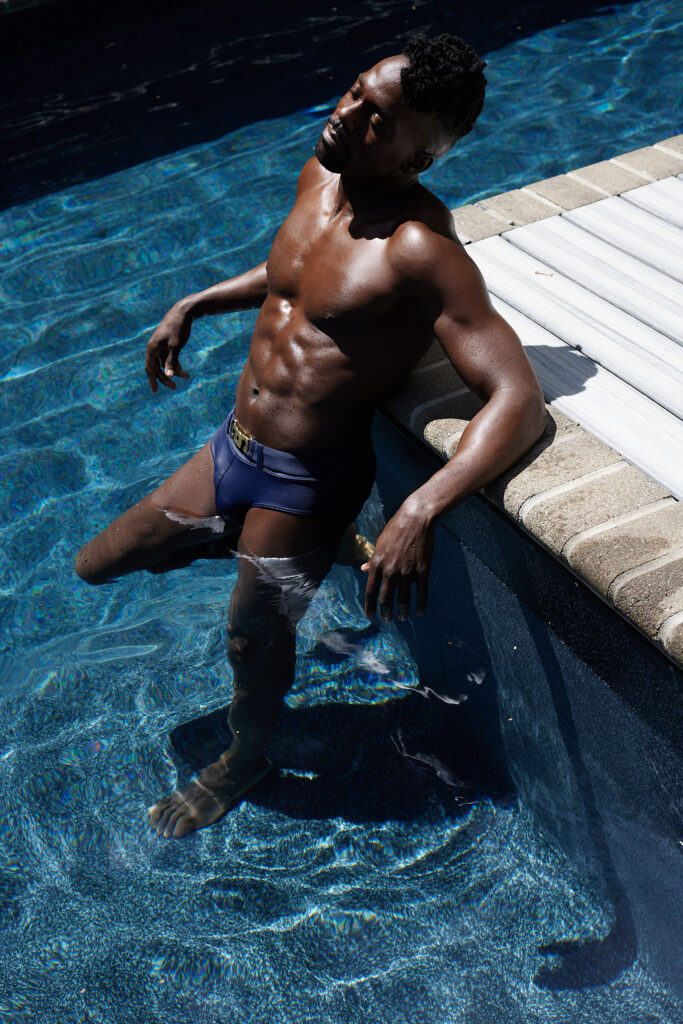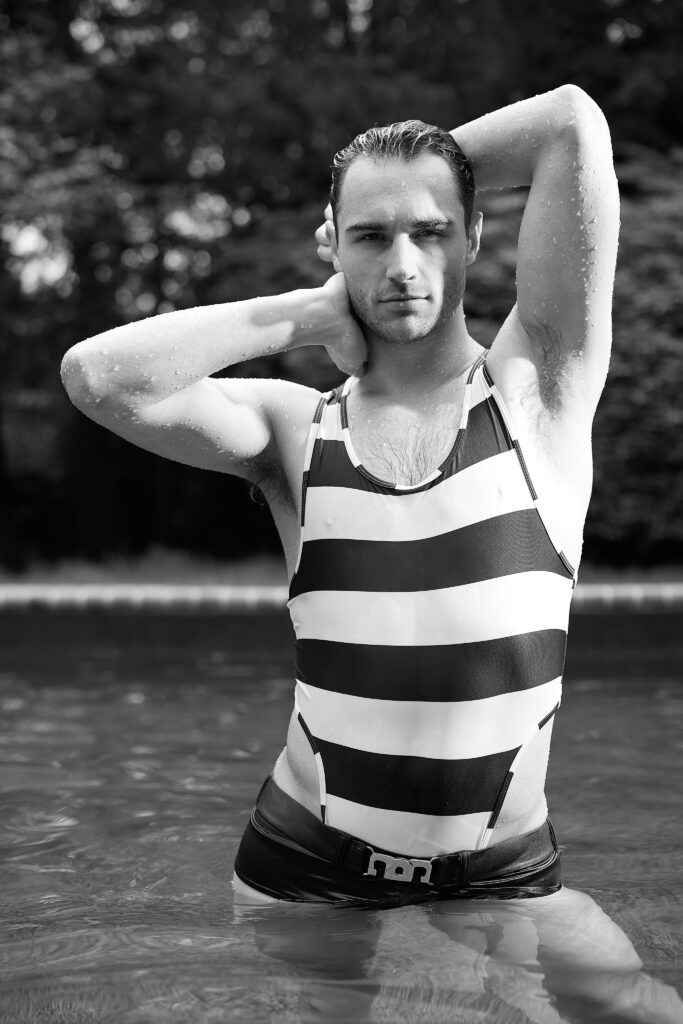 The new line includes four inspired pieces:
The Smith Society Classic Belted Bather – This classic swim brief includes an original logo buckle design and comes in black, white, and navy.
The Smith Society Y Back Tank – Reimagined tank features ultra soft fabric and can be worn with the Belted Bather for a classic 20s look. Available in black, white, and navy.
The Smith Society Racerback Cabana Stripe Thong – This sexy second skin comes in black and white, pink and white, and Mediterranean blue and white.
The Smith Society X Back – Modernized classic lifeguard style features a support waist belt and functional logo buckle design. Available in black, white, and navy.
So far, the Gay A-List are proving to be fans of the line, with Luke Evans wearing the Navy Y back paired with the classic belted bather over 4th of July weekend at Porter-Smith's home. Broadway's J Harrison Ghee has also been seen in the Navy X back belted bather, and of course Adam's husband Billy Porter is a huge fan of the line.
Since some of our readers are not of regular, ready-made sizes we asked Porter-Smith out of the four styles, which one he would recommend for fuller figure or plus-sized folks? "The Y back tank paired with the classic belted bather," suggested Porter-Smith. "The Y back provides complete coverage of the mid section, highlighting the shoulders and back." Note: The maximum size on offer is 2XL.
In conjunction with the launch The Smith Society released a series of collectible NFTs available at thesmithsociety.cent.co. The NFTs feature early sketches and design ideas for the collection. On the day of specific trunk shows, a special NFT is released via a QR code available exclusively in real life at the event. The NFT is not only collectible but also unlocks access to other trunk shows, sneak previews, an upcoming launch party, and much more.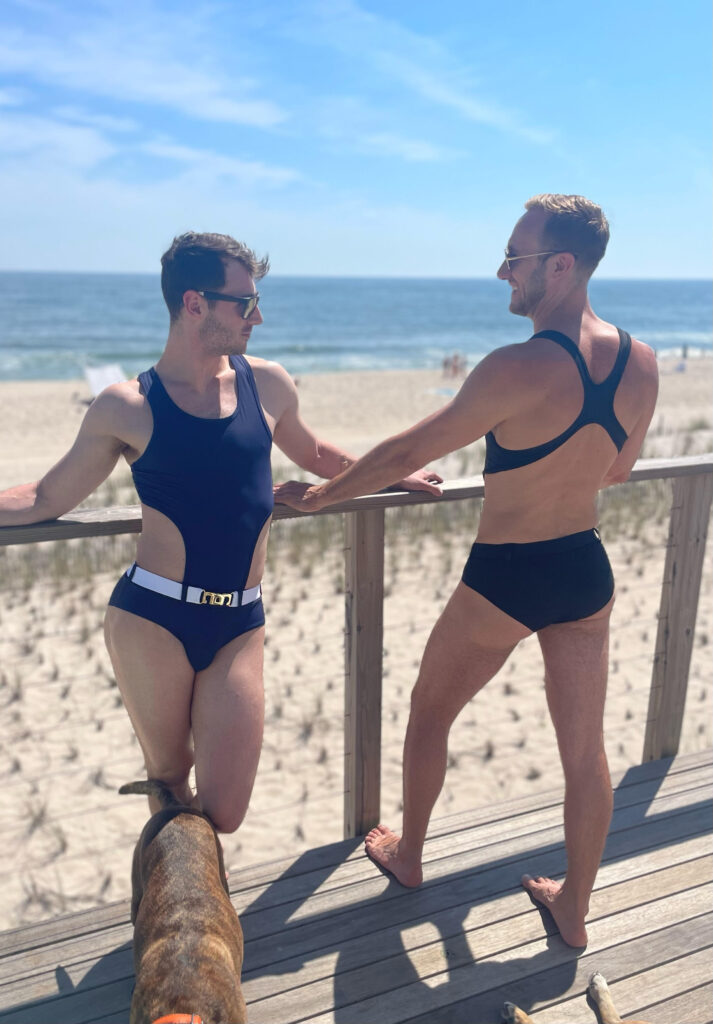 Brian Perrin, head of creative partnerships for Cent said: "At Cent we build communication tools to help artists and brands connect with their fans. Our flagship tool, Cent Pages, accomplishes this by making it easy for brands to share digital collectibles in the form of NFTs.
"The NFTs created by the Smith Society are given away freely and establish a kind of loyalty club between Adam and his audience. Holders of the NFTs will receive special perks and access to exclusive Smith Society events. It's a new way to build enduring relationships, and we're very excited about exploring the possibilities."
About The Smith Society
Founded by Adam Porter-Smith, The Smith Society is a lifestyle brand that rethinks "it items" for social settings. Adam and his creative partner Andrew Egan have conceived a flagship swimwear line that reimagines 1920s American men's bathing suits with a fresh perspective for the 2020s. With sexy silhouettes and classic colors, The Smith Society is modernizing timeless fashion by playing with feminine and masculine designs for a new generation. For more information subscribe at thesmithsociety.cent.co.
To shop the line visit thesmithsociety.com.